Copyright 2017, InterAmerica, Inc.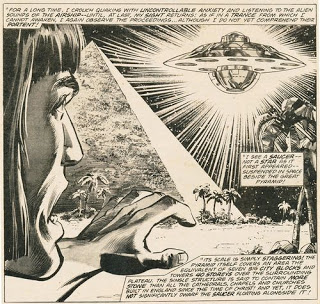 Image above from Pinterest
In various human endeavors or obsessions, people can cope with the vicissitudes of the endeavor or obsession because the endeavor or obsession is limited in scope; that is, what people get hooked by (whether it's science or gambling or housebuilding, et cetera) is not convoluted, not even quantum mechanics.
The UFO topic (or study of it: ufology) is rife with a variety of elements that maximize the topic, the phenomenon extruding a number of possibilities, laden with all kinds of interpretation.
UFOs are like quantum artifacts: UFOs do not exist until they are observed and they behave erratically, mysteriously.
But unlike quantum artifacts, UFOs have not been amenable to study (scientific or otherwise).
There are no tests or formulae to deal with UFOs.
UFOs need an observer. But then the observer (the measurer) becomes part of the equation, the observation convoluted by those observing the observer – the UFO researchers and investigators who bring an extra dimension to the observation.
And you know the flaws with UFO researchers and investigators.
UFO observers add ingredients to the observation that have to be taken unto account: perceptive abilities, neurological and psychological conditioning, intellectual or mental qualifications, cultural conditioning, et cetera.
A book, Creation of the Mind: Theories of Artifacts and Their Representation, edited by Eric Margolis & Stephen Laurence [Oxford University Press, 2007] provides much that impacts how artifacts are perceived.
The 358 page book is not for the intellectually faint-hearted; it's abstruse and complex, much as the UFO enigma is, even though ufologists (UFO buffs) have dumbed down the enigma and the reportage of it.
I've called for "forensic" study of sightings, old and new, but UFOs need more than forensics. It needs the intense scrutiny of many disciplines, most of which are outside the ability of UFO researchers and investigators, an inept and ignorant lot pretty much.
(I don't write that cavalierly. It's just a palpable "fact.")
There are many examples of the ineptness of UFO buffs, serious and otherwise, one can see here, at this blog, by me and by those commenting.
Kevin Randle's blog is replete with commentary ignorance as are the blogs of other UFO aficionados. (Need I name them?)
The UFO phenomenon has been treated badly, since the onslaught of sightings beginning in 1947 and the study of the phenomenon retroactively also.
The book cited above tells me that UFOs have gotten nowhere the study that is required to understand or explain the things or the people who think they've see one of two.
Can that change? Not with current crop of UFO dullards "debating" (and I use that word lightly) the phenomenon.
And millennials or Gen Z humans couldn't care less.
RR
http://ufocon.blogspot.com – The UFO Iconoclast(s)
Source:
http://ufocon.blogspot.com/2017/04/why-ufos-ufology-are-is-so-difficult-to.html