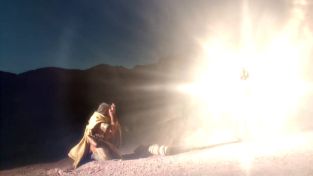 Copyright 2017, InterAmerica, Inc.
In reading a New York Review of Books review by G.W. Bowersock about the new book The Kingdom by Emmanuel Carrère that transposes Carrère's autobiographical effort to Christianity, The Acts of the Apostles by Luke, St. Paul, the Damascus episode, et cetera, I see a UFO connection. [NYRB, 4/20/17, Page 60 ff.]
The review might only be interesting to Gilles Fernandez and other intellectuals so I won't bore you with a synopsis of the review or book.
What stirred me was the reprise of St. Paul's hallucinogenic episode where a light from Heaven surrounded him [Paul] asking, "Saul, Saul, why persecutest thou me?" (Saul was Paul's Jewish name, as you know.)
I've always thought this was an epileptic-like hallucination brought on by Paul's guilt for persecuting followers of Jesus.
But in the context of other similar episodes – Moses and the burning bush, Ezekiel's vision of an odd wheeled object, Socrates "conversation" with a mysterious phantom soldier, Joseph Smith's brush with the angel Moroni, the appearance of a specter in Malcolm X's jail cell, et al. – and the many weird encounters filling the pages UFO lore, I think my pal and colleague Jose Caravaca's Distortion Theory with an external agent conjuring up images and incidents, using the psyche of the person involved, may be a cause and explanation for such events.
Of course I lean toward a neurological episode to explain such visions and/or sounds, but that such things happen to persons without further psychotic like incidents beggars the neurological etiology.
That is, persons having such "hallucinations" don't go on to have more, usually, and the incident they experience is unique to time and place.
Why? I do not know.
But Señor Caravaca's "theory" opens the door to a possible "external intrusion" but, again, to what end?
In the Moses or Smith visions ("hallucinations') the purpose seems to be a catalyst to further a "plan" of Caravaca's "external agent" whether it's God, a demon, or just a being from the id or someplace else (another dimension, time, or universe).
I hope some of Jose's erudite Facebook friends see this and offer suggestions.
Image above from patheos.com
RR
http://ufocon.blogspot.com – The UFO Iconoclast(s)
Source:
http://ufocon.blogspot.com/2017/04/does-jose-antonio-caravacas-distortion.html