For a moment I thought it was a UFO hidden in a colorful cloud formation but the spectacular rainbow cloud in the sky over Caxias, Brazil is a phenomenon known as an iridescence cloud.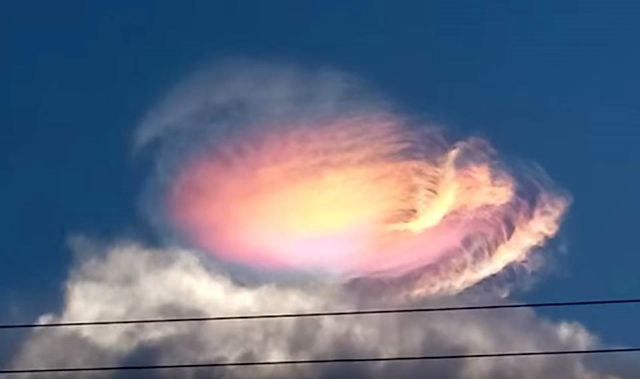 Iridescent clouds, known as "fire rainbows" or "rainbow clouds," occur when sunlight diffracts off water droplets in the atmosphere, mostly seen at cloud edges or in semi-transparent clouds, and newly forming clouds.
The amazing cloud was filmed by Oliver Lima on December 6, 2016 who posted the original video on Facebook.
Though the ingredients for rainbow clouds seem simple, they're not spotted often, and are even less frequently photographed.
Check out more contributions by
Jeffery Pritchett
ranging from UFO to Bigfoot to Paranormal to Prophecy
~~~~~
Most people who use social media have figured out that Facebook and Google are in cahoots with the government. For those who are well aware of the issues, it's high time you switched over to Seen.life. It is a website that is similar to Facebook but without all the censorship.
Firearm friendly, you may buy sell or trade anything allowed by site TOS rules.