Story Views


Now:
Last Hour:
Last 24 Hours:
Total:
TradCatKnight: Planet X Incoming: US Weather Disasters 2017: Double Than Average and Costing USA Record-Breaking $5 Billions Already
Tuesday, April 11, 2017 16:59
% of readers think this story is Fact. Add your two cents.

Planet X Incoming: US weather disasters 2017: Double than average and costing USA record-breaking $5 billions already
http://tradcatknight.blogspot.com/2017/04/planet-x-incoming-us-weather-disasters.html
In addition, Extremely bright green fireball lights up the sky over much of San Diego and Los Angeles, California, Arizona, Nevada and New Mexico (videos)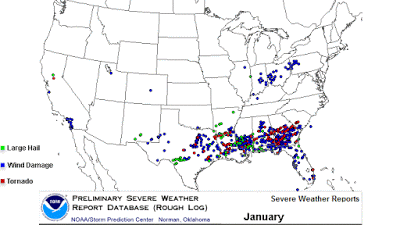 The U.S. has endured a destructive start to 2017 from the multiple severe weather outbreaks since January. There have been 5,372 preliminary reports of severe weather across the United States in 2017 through April 8.
This is more than than double the average of 2,274 for the same period of time during the past 10 years (2007-2016). In that decade, only 2008 had about the same number of severe weather reports by this point in the year with 5,242.
The animation below shows how the occurrences of wind damage, large hail and tornadoes have piled up month-by-month this year. Portions of the South have been hit the hardest, but the Midwest has also seen a high concentration of severe weather reports.

Weather disasters cost more than 5 billion dollars in 2017. A record. Severe weather reports grow across the country from January into early April. Wind damage has accounted for about 61 percent of the 5,372 severe weather reports, followed by large hail with 29 percent and tornadoes at 10 percent. Gif © NOAA/Storm Prediction Center
Seventy-one of 100 days have featured one or more reports of severe weather from Jan. 1-April 10. Monday marked the 26th consecutive day with at least one severe thunderstorm report logged in the U.S.
Seven states have yet to see a report of severe weather in 2017: Alaska, Connecticut, Hawaii, Maine, Rhode Island, South Dakota and Vermont.
Severe thunderstorms are largely responsible for the record number of U.S. billion-dollar weather-related disasters in the first three months of 2017. Three separate severe weather outbreaks have caused damage of a billion dollars or more, NOAA says.
This year has also been unusual in how far north severe weather, including tornadoes, has occurred for so early in the year:
Massachusetts was hit by two EF1 tornadoes Feb. 25, one near Conway and another near Goshen. No other February tornadoes are known to have struck the state during that month in the historical record.
Just over a week later, Minnesota experienced a similar rare early-season event when severe thunderstorms spawned three EF1 tornadoes March 6. Those were the earliest known twisters for a calendar year in the state by nearly two weeks.
Extremely bright green fireball lights up the sky over much of San Diego and Los Angeles, California, Arizona, Nevada and New Mexico (videos)
For a few seconds on Monday, night turned into day as an extremely bright green fireball lit the sky over much of California, Los Angeles, Arizona, Nevada and New Mexico, blinding all-sky meteor cameras.
The AMS has received 295 reports so far (and counting…) about of a fireball event seen over San Diego, CA on Monday, April 10th 2017 around 9:00pm PDT (April 11th – 04:00 UT.).
If you enjoy the TradCatKnight blogs, please recommend above as a contributor!
Read more and watch related videos at article link above.