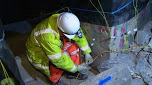 During the weekend immediately preceding 9/11, security cameras were powered down and the normal patrols with bomb sniffing dogs were curtailed. "That's an indisputable fact," says Brasscheck TV on Sunday.
The question of the century is: Did a single weekend give enough time for the two towers (and WTC 7) to be wired for demolition?
Covert wiring for demolition is a common tactic used by special military forces, according to Dupré's source.
One other insider, a photographer, told Dupré that the Twin Towers were built with demolition in mind. The crime plan was ten years in the making. [Photographer Who Confessed Shocking 911 Criminal Conspiracy Complicity Silenced, Targeted]
The video below answers the wiring for demolition question with a "yes" and suggests how it was done.
"As soon as I learned the North Tower had been hit, all I could think of was that I had personally seen the faces of those directly in charge of this operation," Tom Gordon told Deborah Dupre in an exclusive interview.
Read: Photographer Who Confessed Shocking 911 Criminal Conspiracy Complicity Silenced, Targeted
Sources: Xendrius/YouTube, Brasscheck TV