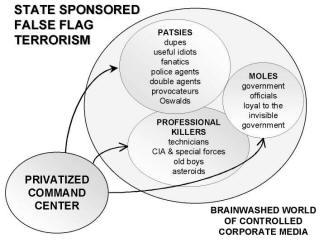 Leading to the 9/11 15th anniversary of the New York massacre and disappearance new age technology, the establishment is again attacking the public this year with a new disinformation weapon of war pertaining to Saudi Arabia. Derailing the Un-American, un-Godly, never-ending war on terror's death and destruction requires, according to Prof Michel Chossudovsky of Global Research, that we must be absolutely clear that neither Al Qaeda nor Saudi Arabia could have conducted the 9/11 massacre.
Even topping his predecessor George Bush, Barack Obama is running the biggest terrorist operation that exists, maybe in history, according to Noam Chomsky. Viewing short 9/11 videos by world renown intellectuals, scholars, and investigators independent of corporate government fudning, revealing deep geopolitical facts and evidence that the shadowy government's propaganda machine hides, can help save humanity, that today, is on the brink of collapse.
911 Extraordinary Mind Control Reversal Conference
Republican and Democrat US presidential hopefuls have a major likeness: most of their rhetoric — be it about the economy, refugee crisis, crime, racial tensions — is directly or indirectly based on fraud, a false flag operation: "9/11″ that continues killing people globally.
9/11 imperialist-driven covert operation's mass mind control turned the world on its head, along with all common sense reasoning to the point that most Americans were even led to believe torture and war means peace.
9/11 created more violence against more innocent people, including targeted individuals, than the planet has ever seen.
9/11 displaced more people as US imperialist war refugees to the point that today, one in every 200 children on Earth is a refugee: fifty million children have been driven from their homes, according to UNICEF, doubling in ten years up to 2015.
9/11 catapulted a cohort of innocent targeted individuals, fodder for the ever increasing lucrative surveillance weapon system. Last but not least:
9/11 intensified an already existing racism crisis into phobias.
All of the above and more atrocities under the guise of a manufactured war on terror, a terror created and driven today by the US for its stated aim: control of everything, land, air, sea and humans, "Full Spectrum Dominance."
Knowing that the aim of the 9/11 massacre in New York City was for a "war on terror" impacts daily life. For example, it can cast doubt on both of today's main US presidential candidates' credibility. Perhaps someone in Syria by the Facebook user name of Majd summarized the 9/11 dirty war on the people better than anyone.
Two years ago, "Majd" commented on a Facebook page: "I am Syrian… living in Syria in the middle of everything. We have seen horrors. It was never a revolution nor a civil war. The terrorists are sent by your government. They are al Qaeda Jabhat al Nusra Wahhabi Salafists Talibans etc and the like extremists jihadists sent by the West and the Saudis and Qatar and Turkey. Your Obama and whoever is behind him or above him are supporting al Qaeda and leading a proxy war on my country. We thought you are against al Qaeda and now you support them."
Government propaganda and NGO misinformation have colored the story of the war on Syria from its inception. To set the record straight, GRTV host James Corbett interviewed Prof. Tim Anderson to explore the real beginnings of the conflict, players behind it, and their agenda.
Government propaganda and NGO misinformation have coloured the story of the war on Syria from its inception. Stepping in to set the record straight, Dr. Tim Anderson explores the real beginnings of the conflict, the players behind it, and their agenda in his new book, "The Dirty War on Syria: Washington, Regime Change and Resistance."
'Muslim Takeover' Real Threat or NWO Psyop?
Clandestine Group Secretly Producing Hateful Humans: New Research Report
The US-led dirty war on Syria, where troops are already — immune from mainstream's propaganda "news" reporting, as with all the US-led dirty wars on Middles Eastern nations and the US-led war at home on Americans, relies on a level of mass disinformation not seen in living memory. Corbett says that in seeking 'regime change,' the big powers sought to hide their hand, using proxy armies of 'Islamists', demonising the Syrian Government, and constantly falsely accusing it of atrocities, as the US has done time and time again since 9/11.
That is how Syrian President Bashar al Assad, a mild-mannered eye doctor, became the new evil in the world. That is also what added to the world's refugee crisis, that now includes one in every 200 children.
"Three popular myths of this [Syrian] dirty war – that it is a 'civil war', a 'popular revolt' or a sectarian conflict – hide a murderous spree of 'regime change' across the region.
"The attack on Syria was a necessary consequence of Washington's ambition, stated openly in 2006, to create a 'New Middle East'. After the destruction of Afghanistan, Iraq and Libya, Syria was next in line."
Earlier this year, Dr. Anderson, in an interview with 'The Conscious Society', Tim Anderson, professionally recounted evidence reflecting the western role in not just creating the war on terror, but also using it for its imperialistic agenda.
Dr. Anderson covers today's Middle East occupation and creating fundamentalist extremists, such as Al Qaeda and ISIS to gain control of resources and power in independent nations, such as Syria and Libya.
Anyone doubting the US military-industrial complex's role in creating the dirty war on terror and the Israeli, Saudi Arabian and Turkish connections must watch this interview below. Dr. Anderson explains that many of the world's recent acts of terror are false flags conclusively linked to this shadow power dynamic.
In response to US declarations of a "War on Terrorism" in 1981 and a re-declaration in 2001, Chomsky argues that major sources of international terrorism are the world's major powers, led by the US. He uses a definition of terrorism from a US army manual: "the calculated use of violence or threat of violence to attain goals that are political, religious, or ideological in nature. This is done through intimidation, coercion, or instilling fear." In relation to the U.S.. invasion of Afghanistan he stated: Wanton killing of innocent civilians is terrorism, not a war against terrorism. (9-11, p. 76) (Author's bold)
All indications point to 9/11 being a staged false flag/PSYOP conducte by an international network of criminals both in and out of government. Addressing this and more is: ANONYMOUS – NEW WORLD ORDER EXPOSED 2016 PROOF BANNED FROM TV 9/11 False Flag OP:
Dr. Judy Wood at Breakthrough Energy Conference in Holland, 2012 presents From Dust to Dawn: The 9/11 Psyop Exposed 16 (Dr. Wood, Thinking Critically, Evidence First) .
Taking on the Empire: Matt Rothschild on his Progressive Magazine's 100-year celebration introduced author of best-selling book, Shock Doctrine Naomi Klein, who talks about Taking on the Empire.
Note: The above set of 9/11 mind control and related PSYOP videos is an organic work in progress. Reader suggestions welcomed in comments below.