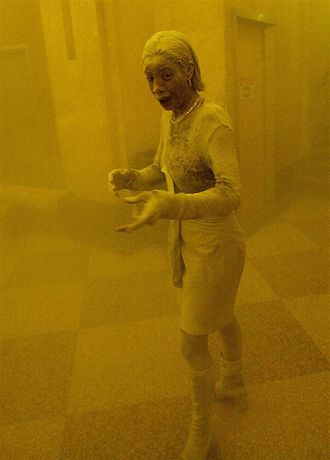 A new '9/11 Suspects' program aired Tuesday showed graphic details of one government insider responsible for thousands of casualties. Host James Corbett documented the numerous times one government official was caught on video, leaving little doubt that holding this person accountable is long overdue. Corbett features The Dust Lady photo that became an iconic 9/11 image.
"The image of a woman, shocked and disoriented, completely covered in dust from the demolition of the Twin Towers, brings the nearly incomprehensible events of that day down to a human scale," reported Corbett.
The Dust Lady, Marcie Borders, an American Bank clerk in the World Trade Center, died August 24 last year from stomach cancer, with a related crippling debt of $190,000. Borders said she could not even afford to have her prescriptions filled.
911 Extraordinary Mind Control Reversal Conference
"In hours, days, and weeks that followed, thousands upon thousands of victims, first responders, emergency personnel, clean up crews, and residents were subjected to the poisonous stew of asbestos, benzene, mercury, lead, cadmium and other particulates from which many are now dying," Corbett reports.
The government left at least 900 first responders to die within nine years of 9/11. Corbett names a key insider rsponsible for these deaths, those who died since then, and those dying today: Christine Todd Whitman, featured in the film director Penny Little's documentary, "911 Dust and Deceit at the WTC." Little's film tells the story of the environmental disaster of 911 — through voices of scientists, waste management specialists, government officials, workers, volunteers, the heroes and victims of the toxic dust of 911. Opening scene of Dust and Deceit's trailer features Whitman.
Whitman served in President George W. Bush's cabinet as Administrator of the Environmental Protection Agency from January of 2001 until June of 2003. (She had been the state of New Jersey's 50th Governor, its first woman governor from 1994 until 2001.) The Environmental Protection Agency, the agency meant to literally protect Americans from environmental harm, has been responsible for 9/11 casualties, suffering and deaths that continue today.
'No Public Health Concern' Mind Control
As weeks and months dragged on after 9/11, "Whitman, the EPA and its officials made statement after statement after statement reaffirming that contaminant levels were 'low or non-existent' and that the air quality in Manhattan posed 'no public health concern.'"
Daily Beast Dangerously Mind-Controls Readers
Corbett asserts, "We now know that these reassurances were outright lies. On September 18th, the very same day that Whitman and the EPA were encouraging New Yorkers to return to work, the agency detected sulfur dioxide levels in the air so high that 'according to one industrial hygienist, they exceeded the EPA's standard for a classification of 'hazardous'." By that time, first responders were already reporting a range of health problems, including coughing, wheezing, eye irritation and headaches."
Today, the greatest health concern of most first responders is cancer.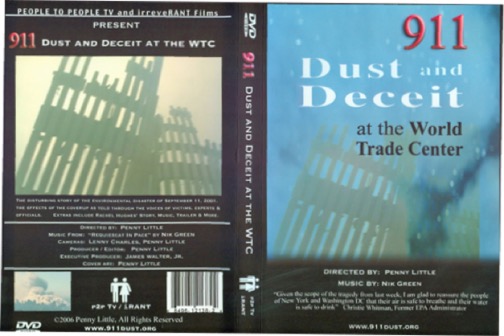 "911 Dust and Deceit at the WTC" is now available at http://www.911dust.org.
See Related Article
911 Extraordinary Mind Control Reversal Conference