If you want to understand the dynamics of California and how, under Governor Jerry Brown, we are all under threat from the Chinese and their related interests. This is not an easy document to review as one will have to work to absorb massive amounts of documentation which demonstrates how California is being sacrificed, who is behind it and for what reason.
I previously reported the following with regard to California's attempt to become a separate and independent nation under the control of El Presidente, present California governor Jerry Brown.
According to Paul Preston, reports are coming in that numerous state legislators from California, including "California Senate pro tem Kevin de Leon), State representatives from Florida, Texas, New Mexico, Arizona, Nevada, Utah and Colorado have been meeting with members of La Raza, the Mexican government ( consulate), Mexican Mafia ("La EME"), California's violent Mexican gangs (Nortenos /Sureños/ Sur 13), La Familia (Nuestra Familia) and religious leaders (Catholic / Jesuits) to come up with a plan to separate from the United States the above mentioned states". Governor Brown, his aides, and the Bank of China have been in attendance in several of these meetings designed to sever California from the US. Further, The Common Sense Show has learned, independent of Paul Preston, that George Soros is bankrolling some of the costs associated with this movement as is the Bank of China.

What is significant here is that if Calexit does not happen peacefully, the radical gangsters listed above, will force the California exit through the use of violence. Paul Preston and his sources have learned that many of the above mentioned groups will begin to execute white people and force a mass exodus of this population group from California. This information comes from an embedded eyewitness to many of the meetings.
What was not known at the time I published the above passage, is that the United Nations is at the center of this conspiracy. Paul Preston, through his inside informant, we call "Mike", revealed the brains behind the Calexit movement is actually the United Nations. When California exits the Union, they will be largely controlled by the Chinese, but will be under the political control of the UN with Jerry Brown as their leader. And as you will soon see, that California's food supply is being handed over to the Chinese.
.
The Chinese Connection to Calexit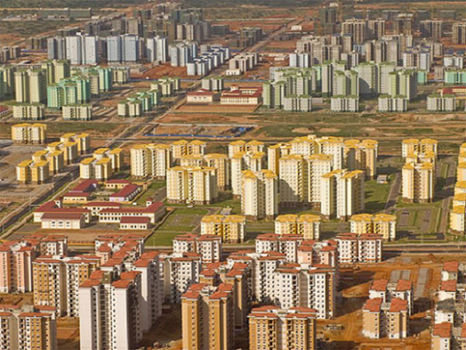 The Chinese government is in the process of relocating 250,000 people per week from rural farmlands to densely populated urban areas into what has been dubbed as the Chinese ghost towns. Many of us have heard about these Chinese ghost cities. However, until this year we didn't really know the true purpose of why these ghost cities were being built. However, the veil is being lifted and now it is becoming very obvious as to what the Chinese are up to.
Chinese political refugee and Princeton University professor, Cheng Xiaonong, stated in that in lots of places in China, farmers are being forcibly relocated at gun point and forced to relocate to urban areas. Cheng said, "[Party chief] Bo Xilai has been promoting a policy of moving farmers into towns, building apartments and moving forcibly relocated farmers into these stack and pack apartments and treating this as urbanization." Cheng said urbanization isn't about calculating how many farmers are relocated into cities, but about farmers being able to move into the city and gaining some measure of sustainable employment and adequate living conditions. These relocated farmers, without the prospect of jobs is a recipe for economic and social disaster. Soon, there will be tens of millions of Chinese totally dependent on government handouts to survive. This is the power that governments strive to obtain because it gives them total control. This Chinese scene is reminiscent of the Agenda 21 inspired movie, Hunger Games.
Cheng makes the same observations as many other Chinese experts as he added that "urbanization is generally accompanied by economic growth as was the case in the US. In other countries, urbanization happens naturally, but in mainland China, urbanization is the result of the Chinese regime forcefully pushing farmers off of their land."
Another key globalist, Dominic Barton, the global managing director of McKinsey & CO, and he too sounds like a Paulson clone as recently stated, "The good news is that there is an underlying force of growth and that's urbanization. What we're basically seeing is more we than 250,000 people moving from rural areas to cities every week."
George Soros is also a player in this mass migration movement. If job demand is not fueling urbanization, then what is?
Since the Chinese are not industrialized to the point which would justify the mass movement of 1 million people per month into its ghost towns, any reasonable person would be asking the question, why?
THE CHINESE ARE FACING REBELLION AND POSSIBLE REVOLUTION FROM ITS OUTLYING PROVINCES. THE MOVEMENT OF CHINESE FROM THESE OUTLYING AREAS TO THE GHOST CITIES IS DESIGNED TO PREVENT A REVOLUTION AGAINST THE CHINESE STATUS QUO. HOWEVER, CHINA WILL SOON HAVE A FOOD PRODUCTION PROBLEM IN LIGHT OF THIS MASS MIGRATION.
Enter Hank Paulson and Who could forget Hank Paulson, the former Secretary of the Treasury and the former CEO of Goldman Sachs and the author of the bail outs? Paulson is championing the strategy of forced relocation. In relation to Paulson's observation and encouragement of Chinese urbanization he states, "The country's economy is heading in the right direction. This is more important than achieving short-term growth." Paulson went on to say that the economic growth in China has made urbanization a necessary and proper development. Are you kidding me? We have heard from Chinese experts, both inside and outside the country, who claim that economics is not fueling urban growth. Chinese urban growth is being fueled by bayonets and bullets. s the real reason. And this push for increased Chinese industrial output will benefit the globalists. However, what will the Chinese do about the food shortage?
China Will Soon Own California's Food
China will soon have a serious food production problem. However, the Chinese government, through relocation is preventing a revolution. Further, the Chinese have positioned themselves, under the auspices of the United Nations to take as much food from California as needed as a means to offset the loss of food production in the outlying provinces.
The California drought, as I have covered before is the product weather manipulation. The artificially contrived California drought combined with an increasing Chinese presence in California will ultimately lead to a complete Chinese takeover of all California's agricultural farm land. The Chinese military, posed as energy front men at the many solar farms, will soon spring into action and seize all major farmland following the completion of Calexit. Chinese soldiers which are present in large numbers at the California Inland Ports (e.g. Sacramento and Stockton) and they are poised to takeover.
How is this possible? Enter Dianne Feinstein and her husband Richard Blum. Feinstein entered the Senate as a millionaire and is now a billionaire. Their conflicts of interest are legendary. California and the EPA have enacted policies that drive farmers and ranchers off of their land by the thousands. This exodus of California farmers is being accomplished through the denial of water to ranchers and farmers. Richard Blum is buying up distressed properties and then selling them back to Chinese interests. In other words, China will control California's food supply when Calexit becomes a reality. The food will be sent back to China as an offset against the loss of farming in the outlying provinces. This will produce catastrophic consequences regard food supplies and prices in the near future in the United States. I should note that the globalist desire to destroy the United States takes a big step forward with this plan.
To add to the coming misery, I interviewed Paul Martin and he stated that his colleague, Ed Petrowski, provided Paul with information that there is an acute national shortage of farmers. Record numbers of farms are being auctioned off. Paul said that Ed told him we are headed for a major famine in the United States.
The short Paul Martin interview can be heard here.
There is one more major consideration that is under investigation by The Common Sense Show, and that has to do with the Oroville Dam. If the dam, as many predict, does not survive the coming spring runoff, the fertile agricultural lands between the dam and Sacramento will be temporarily gone along with its farmers and ranchers. The Chinese, courtesy of the Feinsteins, will buy up this land for pennies on the dollar. People between Oroville and Sacramento need to realize that there is now a political motive to allow the dam to fail.
Paramilitary Operations Within the United States
I recently reported on paramilitary operation centers being built inside the United states by Spanish speaking foreign workers.I am still investigating but would you be willing to bet that the Bank of China is funding this operation?
In 2015, the Chinese control of the Long Beach Port was completed. The deep water port at Long Beach is the only of its type on the West Coast. And this country's government has GIVEN AWAY the Long Beach deep water port to the Chinese in one of the biggest acts of treason in this country's history. The giveaway of both the military installation and the deep water port went live in 2015.
The Chinese can bring in any type of personnel, undetected, and this means Chinese military and eventually .
Along with the paramilitary operations exposed by Judicial Watch and Marlon Brock, Paul Present informed that the Chinese Military is buying up massive amounts of abandoned buildings from which they can bring in their military. Here is the interview with Paul Preston where this is discussed.
Conclusion
In summary, California is on the path to becoming its own nation controlled by the United Nations. California Governor, Jerry Brown, is leading the way. After Calexit, the UN will assume control over California. The food interests of California will be controlled by the Chinese as America is already facing serious food shortages due to the mass departure of farmers. Further, these developments will go a long way towards handing off control of the California food supply to the Chinese. Most disturbingly, California, under Jerry Brown, will become a base of operation for the Chinese military who will have unrestrained access to California as a staging area for its military.
Bit by bit America is being occuped by covert Chinese forces who will not be covert much longer.
In a future article, I am going to tie this entire plot back in to the UN and this was foretold 20 years ago.
---
Please Donate to the Research Efforts of The Common Sense Show
PLEASE SUBSCRIBE TO OUR YOUTUBE CHANNEL AND DON'T FORGET TO "LIKE" US
This is the absolute best in food storage. Dave Hodges is a satisfied customer. Listeners to The Common Sense Show will receive 5% off their next order by mentioning "Hodgesnov5" in the coupon code box. Don't wait until it is too late. Click Here for more information.