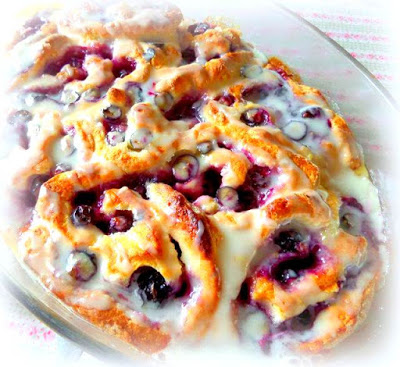 I normally like to pull out all the stops for breakfast at the weekend. A leftover from my working days I suppose. I didn't have a lot of time during the week to make much of a cooked breakfast, so Saturdays usually meant I would do us something special. I hear we are supposed to have some nice weather this weekend as well. I am loving these longer, brighter and warmer days!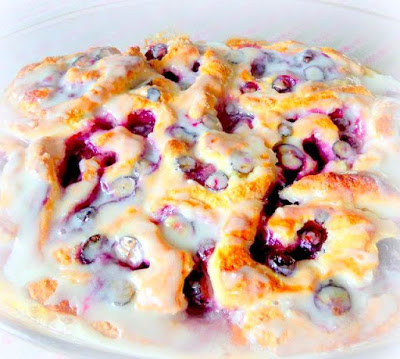 Retirement means that every day is a bit of a holiday it seems, although in truth I don't know how I ever got everything I had to do done when I was working full time as my retirement time seems to just evaporate into thin air! I still reserve goodies like this for the weekend however . . . old habits die hard.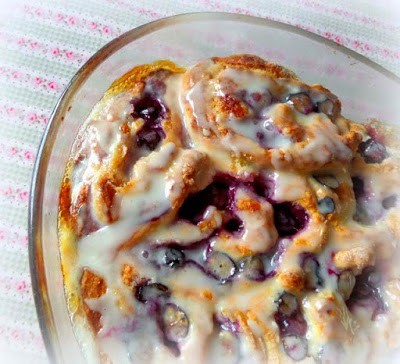 I saw something similar to this on Pioneer Woman Cooks a couple of years back, but you know . . . yeast breads are truly not my forte, and I am rather lazy on top of it all, so I never did anything about it. I got to thinking though, I could really actually do something similar using a buttermilk scone dough . . .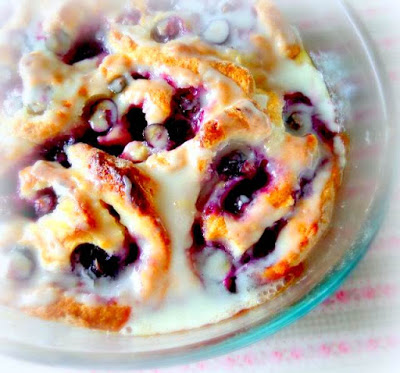 And so that is what I did. I created a flaky and light buttermilk scone dough, flavoured with a bit of fresh lemon zest . . . I rolled this out flat into a rectangle. I then rubbed butter, sugar and more lemon zest together until it was a bit crumbly. I sprinkled this over top of the dough . . .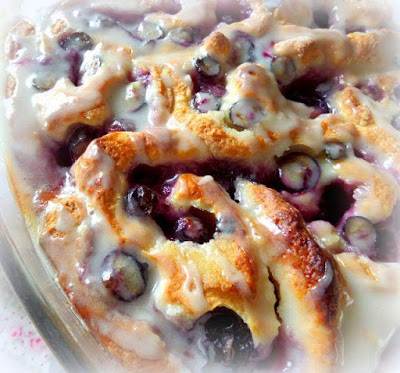 I scattered fresh blueberries over top and rolled it all up tightly and cut it into thick slices which I placed into a butter glass baking dish, brushed with some more butter milk and then baked in a hot oven until the scone dough was all puffed up and golden brown and that lucious lemon and blueberry filling was just slightly oozing. Slathered with a lemon buttercream drizzle hot out of the oven it made a GORGEOUS breakfast bake.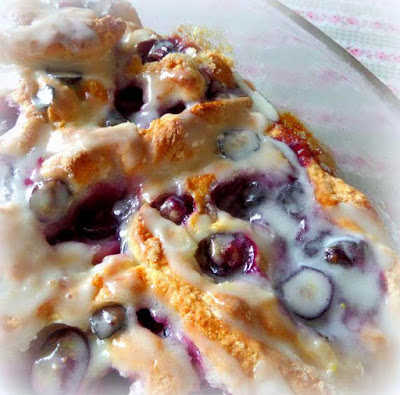 And to think . . . it didn't take hours of waiting for dough to rise or any such thing. Almost instant, pure taste gratification. You can spell that SCRUMMDIDDLYUMPTIOUS! That's almost like supercalifragilisticexpialidocious, except its a whole LOT better. ☺ Tastier too!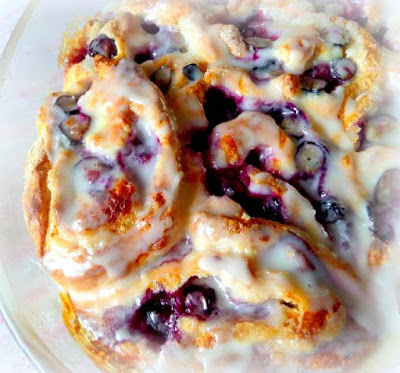 *Blueberry & Lemon Breakfast Buns*
A delicious breakfast bake with tender buttery lemony scone dough, spread with a scrummy lemon sugar, sprinkled with blueberries, rolled up, cut and baked,
then slathered with a delicious butter lemon icing when done.Served warm, this will have your family oohing and ahhing and thinking about it all day.
250g of plain flour (1 3/4 cup plus 1 TBS)
finely grated zest of 1/2 lemon
40g unsalted butter, softened (3 TBS)
75ml of butter milk (1/3 cup)
(may need more as needed to create the perfect dough)
the finely grated zest of one lemon
250g of fresh blueberries (scant 2 cups)
a bit more buttermilk for baking
195g of icing sugar, sifted (1 1/2 cups)
the finely grated zest 1/2 lemon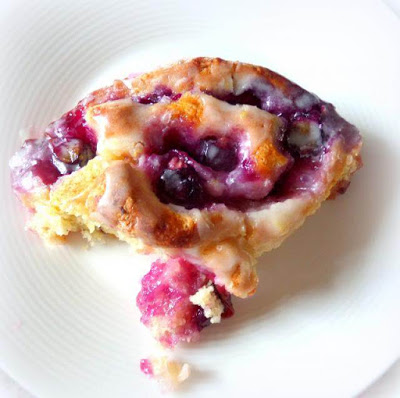 Pre-heat the oven to 200*C/400*F/ gas mark 6. Butter a deep oval baking dish really well. (Mine is about 12 inches long at it's widest and 8 inches across at it's deepest, and about 3 inches in depth.) It's important that you butter it well. Set aside.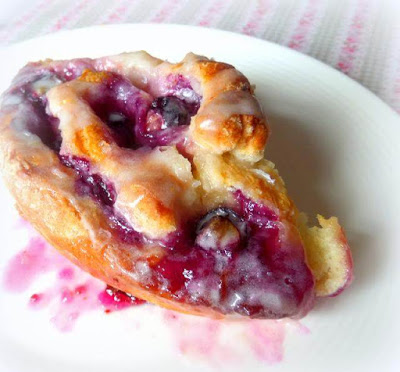 Sift the flour and baking powder into a bowl. Whisk in the lemon zest, sugar and salt. Drop in the butter and then rub the butter into the flour mixture with your fingertips until you get a mixture resembling fine bread crumbs. Beat the egg and buttermilk together. Stir this into the flour mixture using a round bladed knife. You made need to add a bit more milk if the dough seems dry. Knead gently and turn out onto a floured board. Pat out into a rectangle measuring roughly 8 inches by 12 inches, and about 1/2 inch thick.
Rub the lemon zest, sugar and butter together for the filling. Sprinkle this evenly over top of the patted out dough. Scatter the blueberries over top evenly, pressing them down lightly into the dough. Starting from the long end, roll up the dough to make a fat roll, trying to roll it as tightly together as possible, and keeping as much of the filling intact as you can. Press the ends gently to firm up. Using a very sharp knife, cut into 8 evenly sized slices. Place the slices into the buttered dish. I used a very large sharp chef's knife to cut the slices and then let them fall on top of the knife and used the knife to move them to the dish. Take any bits of berry or sugar that fall out in the process and stick them back in once you get them into the dish. They will be a fairly snug fit, but not to worry, this is the way it should be. Brush the top of all with some more butter milk.
Bake in the preheated oven for 20 to 25 minutes until well risen and golden brown on top. It should look dry and beginning to just turn brown on the bottoms, which you should be able to see if you have used a clear glass dish.
While the buns are baking whisk together the icing sugar, lemon zest, lemon juice and softened butter to make a smooth somewhat thin icing. As soon as you take the buns from the oven slather this delicious icing over top of the warm buns to cover them all. Let it settle in a bit and then serve warm, separating the rolls and placing each onto serving plates for eating.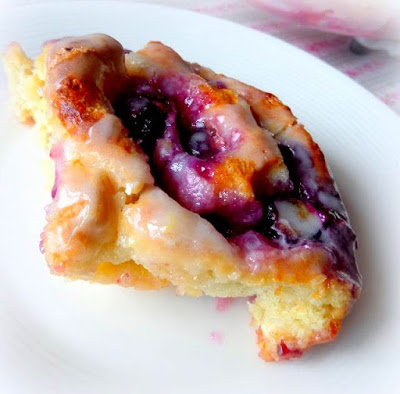 I really hope you will give these a go this weekend and that if you do, you enjoy them as much as we did. Happy Saturday. Hope the sun shines on you also. Bon Appetit!
Debunking the myths of English Cookery, one recipe at a time.
The English Kitchen
http://theenglishkitchen.blogspot.com/
Source:
http://theenglishkitchen.blogspot.com/2017/03/blueberry-lemon-breakfast-buns.html