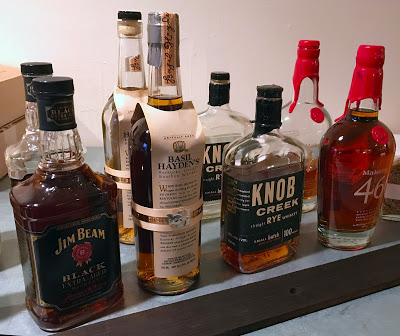 With a background in food service and a lifetime love of food, Nichola Hines enjoys sharing her dining experiences with readers of her food blog, "A Dining Diva." Recently, the Diva hosted a Bourbon Tasting experience in partnership with Jim Beam Distillery with inspired noshes prepared by Chef Joe Marshall. Each of the 4-courses were paired with sips from the Jim Beam family of whiskeys ranging from on the rocks, cocktails or straight.
A Jim Beam Bourbon ambassador was on hand to educated guests on the history of bourbon peppered with interesting facts. For instance, there are more barrels of whiskey aging in Kentucky than there are residents of the state. Jim Beam is one of the best-selling brands of bourbon in the world. Since 1795 (except during Prohibition,) seven generations of the Beam family have been involved in whiskey production. The named the brand "Jim Beam" in 1933 in honor of James B. Beam, who rebuilt the business after Prohibition ended.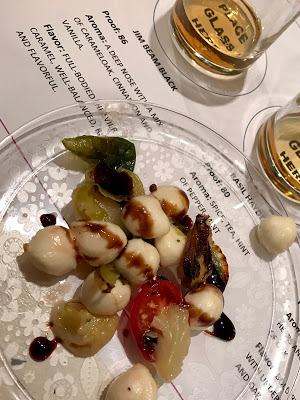 We began the tasting tour with a charred tomato and Brussels sprout salad with bit-size mozzarella drizzled with a gastrique of honey and Jim Beam White Label which was a beautiful as it was delicious. Next was a smoky lobster bisque served in a diminutive bread bowl topped with bourbon-infused olive oil paired with 86-proof Jim Beam Black Label. The caramel and cinnamon notes were a nice addition flavor to the creamy soup.
The peppery, honeyed flavor of Basil Hayden made a great complement to cardamom-spiced seared scallops and bitter kale served atop a roasted red pepper coulis, while lemony-sage chicken with a sweet potato puree and chocolate vinegar reduction was contrasted by the expansive herbal notes of Knob Creek Rye with its bold rye spiciness and undertones of vanilla and oak. We ended the evening with a dessert of bourbon cheesecake with chocolate ganache and an incredibly sippable Makers 46 with rich, complex notes of oak and caramel and a nice warm finish.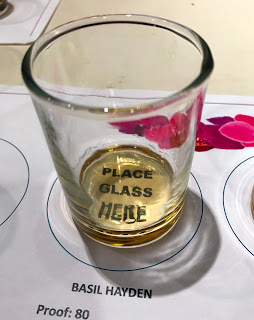 As if that weren't enough, the Diva sent us home with a hand-dipped Maker's Mark cocktail glass, a nightcap of Jim Beam Black Label and an adorable set of Jim Beam Apple earbuds. All-in-all a tasty and educational evening of whiskey and cuisine.
Disclosure: I attended this event as a brand Ambassador for CulinaryLocal. While the whiskey and dishes I sampled were complimentary, the content and photographs are original and all opinions are unsolicited.
Source:
http://www.welike2cook.com/2017/03/bourbon-food-experience.html