On Dec. 4, high wind and high seas are believed to be at least partly responsible for a fatal fire at an oil platform in the Caspian Sea. Reports from a local worker's association put the death toll at 32, though those reports have not been confirmed by SOCAR, the Azerbaijani state oil company which operates Platform #10 in the Gunashli oil field.
According to a statement on SOCAR's website dated December 11, "no signs of oil spills have been observed at the accident area." However, a Sentinel 1A satellite image collected by the European Space Agency a few days earlier on December 7 suggests a different story.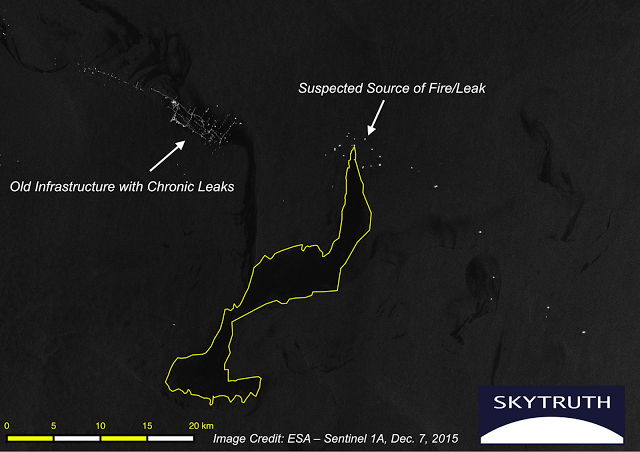 We observe a dark slick measuring 192 square kilometers in area, and appearing to originate from the same coordinates as the fire and smoke plume seen on these MODIS satellite images. Assuming this is oil, and operating on the conservative estimate that this slick is only one micron thick, that 192 sq. km. slick translates to over 50,000 gallons of contaminant. Furthermore, that does not count the many other smaller oil slicks that we routinely see emanating from the surrounding, aging infrastructure in the Caspian Sea.
Intriguingly, the Dec. 11 statement from SOCAR also implies that the company will be monitoring the site using daily satellite images obtained from "Azercosmos', which turns out to be the state-owned satellite service provider. Azercosmos operates a small fleet of satellites including "Azersky", an earth observation satellite launched last summer.
If this report sounds familiar, then you should recall that we followed as gas well blowout at the SOCAR #90 well back in 2013.
Source:
http://blog.skytruth.org/2015/12/socar-10.html