By Javier, Guest reporter Borderland Beat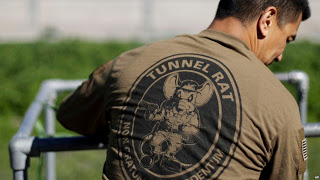 They are called "tunnel rats", when referring to the U.S. Border Patrol agents who descend into underground Narco Tunnel that have appeared along the U.S., Mexico border over the past 20 years. What may appear clear above ground, could have border patrol on duty below the surface.
Sinaloa Cartel capo Chapo
Guzmán
, is credited as the innovator behind the drug tunnels, used primarily to traffic drugs.
But the most infamous usage of the Guzmán tunnels, which increasingly have become very sophisticated over the years, was on
the night of July 11, 2015, when chapo disappeared into the underside of his prison cell shower, descending a ladder,
to the tunnel, hopped on a motorbike and exited to freedom.
Albeit, for only six months.
Arguably, the greatest factor of Sinaloa's trafficking success, are the tunnels. It provides the ability to transport drugs, in bulk, to its number one customer, the United States.
The tunnel is equipped with a rail system and electricity, used to move massive loads of drugs. It is critical to Sinaloa for high risk transports.
In the San Diego area alone, in the past 10 years more than 30 tunnels have been discovered.
The tunnels are the last great frontier for drug trafficking. Tunnel detection is usually by happenstance.
It is rumored and reported in Mexico, that some of Mexico's finest geologists, engineers, and architects have designed the tunnels and also the underground labs. Not always by choice. And not with a happy ending for the professional coerced into the project.
Source:
http://www.borderlandbeat.com/2017/03/border-patrol-tunnel-rats.html