Translated by Otis B Fly-Wheel for Borderland Beat from a Riodoce article
Subject Matter: Juan Jose Esparragoza Monzon
Recommendation: No prios subject matter knowledge required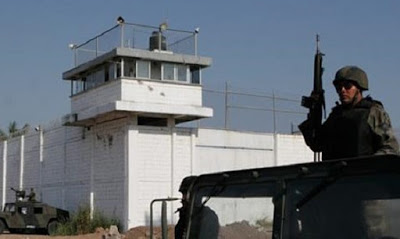 Reporter: Alejandro Monjardin
The Chief of Security from the prison of Culiacan, an Agent of State Preventative Police, Jose Mario Murillo Rodriguez has disappeared, after the escape of five prisoners yesterday, informed the Secretary of Public State Security. Genaro Robles Casilla.
He said yesterday they called him for the operation implemented after the escape yesterday, and today he had not been located and that he is being investigated along with some custodians. The Attorney Generals office has begun an inquiry to establish how the escape was made.
The Under-Secretary of Security, Cristobel Castaneda Camarillo, indicated that it has not been ruled out that they had been aided by prison guards, and may have escaped hidden in vehicles.
The escaped prisoners are, Juan Jose Esparragoza Monzon, El Negro, son of El Azul, financial operator of the Sinaloa cartel, Jesus Pena, El Veinte, operator of El Mayo Zambada, Rafael Guadalupe Felix Nunez, El Changuito, leader of Los Antrax, Francisco Javier Zazueta Rosales, El Chimal, designated as responsible for the attack on the Military convoy to rescue El Kevin where five soldiers were killed, and Alfonso Limon, El Chuba, collaborator of El Chapo Guzmans faction of the Sinaloa Cartel.
An article by Riodoce today reports that 11 prison guards and Commanders have been dismissed from their posts at the prison following the escape on Thursday.
Original article in Spanish at Riodoce
Proceso are also carrying this Story but focus on El Negro, son of El Azul, who was in prison awaiting extradition to the United States on charges of narco trafficking and money laundering.
Source:
http://www.borderlandbeat.com/2017/03/five-prisoners-escape-from-culiacan.html