Dead dog left with message enfrente de Zona Rio bar
In the early morning hours, the dog's crumbled body lay in front of the door, a bow macabrely wrapped around his neck, a twisted, mocking message of disrespect, blood ran across the lifeless animal, dropped outside Caval Antro Y Bar on Paseo Independencia, in Zona Rio.
Alongside the dog, lay a cardboard cut out with a message. The exact message was not revealed by authorities responding to the scene, but the message was said to threaten bands scheduled to perform at the bar over the weekend.
"El Fantasma" and Los Populares de Illano, are set to tomorrow night, from the businesses facebook page. This comes a few weeks after a banner signed by CTNG and CJNG, was placed at Las Pulgas, in anticipation of a performance by Los Nuevos Rebeldes, known for Culiacan, and Sinaloa corridos.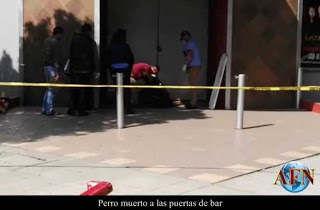 The message left at Las Pulgas stated their would be consequences if the group performed, the performance was canceled. Referencing an escalating blood feud between groups who performed for both Sinaloa backed Aquiles, and their rivals in Tijuana, the banner claimed they would kill those who sang for them, because their singers had also been killed. Lenin Ramirez was mentioned by name, 'We are going to kill Lenin Ramirez".
Animals, sometimes pigs, and dogs are often used to send a message to rival groups, slaughtered to send the ritualistic message of disrespect and disregard. In Northwestern states, groups associated with Zetas and the CDG have left dead pigs at the scenes of body drops, or by themselves.
In 2010, after a double murder in Tijuana, a CAF lieutenant, Jose Najera Gil, under what was once known as the Fernando Sanchez Organization, ordered a dead dog to be thrown at the headstones of the victims, in Chula Vista, San Diego. The order was carried out, a dead dog was thrown against the headstones, with a message saying "The family is next".
Sources: AFN Tijuna
Source:
http://www.borderlandbeat.com/2017/03/tijuana-dead-dog-with-message-left-in.html