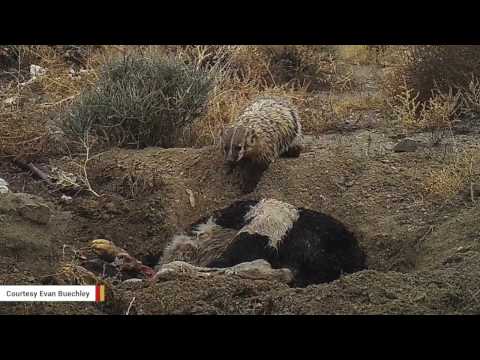 A conservation biologist studying scavenger animal behavior in a Utah desert was amazed when his game cameras captured footage of a badger burying an entire cow!
Evan Buechley discovered the never-before-seen phenomenon after he returned to where he had left the specimen and found that it had vanished.
When he examined what the cameras had got, Buechley was stunned to see a diminutive badger spend five days furiously digging around the dead cow until it was completely buried.
According to his subsequent research, the creature then constructed its own makeshift underground home nearby and proceeded to consume the cow over the next 11 days.
Additional investigation indicates that this is apparently a regular technique used by badgers in the area as Buechley also found a similarly-buried calf in the desert.
Animal experts marveled at the new insight into the animal's method for both obtaining and retaining such a massive amount of food.
While the badger's behavior does not specifically connect to the infamous cattle mutilation mystery, one wonders if a similarly prosaic yet heretofore unknown animal behavior may someday explain that vexing enigma.
Source: NatGeo
Most people who use social media have figured out that Facebook and Google are in cahoots with the government. For those who are well aware of the issues, it's high time you switched over to Seen.life.
Seen.life is a website that is similar to Facebook but without all the censorship. Firearm friendly, you may buy sell or trade anything allowed by site TOS rules.
Check out more contributions by Jeffery Pritchett ranging from UFO to Bigfoot to Paranormal to Prophecy