In a previous post titled, Black Lives Matter's Twisted Plans To Escalate Chaos and Force Martial Law, I covered the June 10th hacking of the Twitter account belonging to Black Lives Matter activist DeRay Mckesson. As part of the hack, it was revealed in Mckesson's own words that he was in contact with the Obama administration. Referring to an alleged conversation Mckesson had with Loretta Lynch, he wrote:
"We spoke two weeks ago, and they want us to start really pushing how racist Trump is now instead of waiting so the others can start getting the protesters ready to shut both conventions down."
Several new reports that have surfaced are covered below, the most recent being from the Next News Network, all of which seem to confirm the goal is to bring down BOTH conventions, because the ultimate goal is to force Obama to declare Martial Law, allowing him to remain in office, and with unchecked power.
In the first video, DAHBOO77 reveals more of what was revealed in the June 10th hack. Black Lives Matter activist Mckesson wrote the following to a fellow activist:
"If we can get both conventions shut down for messing over Bernie, and for racist Trump, then we can get Martial Law declared so Obama can stay in office…"
I've said this before, but I'll say it again. What DeRay Mckesson and Black Lives Matter are planning is NOT "activism," and it is NOT exercising their First Amendment. They are conspiring to commit acts so vile, that Martial Law has to be declared. Those are their words, not mine. That is "TERRORISM" any way you slice it!
"Black Lives Matter" needs to be dealt with for what they are: DOMESTIC TERRORISTS. Yeah, that's right. I said it. Deal with it.
TERRORIST DEFINED: "A Person Who Uses Terror In the Pursuit of a Political Aim."
Take a look at the first video from DAHBOO77, and then we'll dig deeper. Be sure to get through the whole article, because there are videos and information not to be missed, not to mention a wealth of links at the end to support everything said.
SUBSCRIBE TO THE TOP STORIES OF THE WEEK IN THE NEWSLETTER HERE
FOR MORE NEWS BY VOICE OF REASON CLICK HERE!
Next, in the video below, I review what I've been talking about for months, which is the fact that not only is Martial Law "possible," before the end of the year, it's moving much closer to "likely" at the pace things are going. With today's decision by the FBI to not recommend the indictment of Hillary Clinton, it's uncertain how the sleeping giant is going to react to the massive corruption within the federal government, which demonstrates time and again it has zero respect for the will of the people, or the rule of law.
BE SURE TO CHECK THELASTGREATSTAND.COM FOR SURVIVAL GEAR!
FREE DETAILED GUIDE TO SURVIVING ECONOMIC COLLAPSE OR MARTIAL LAW HERE
Here is what we know: Thanks to a Department of Defense training manual obtained via a Judicial Watch Freedom of Information Act Request (FOIA request), Barack Obama's Department of Defense defines a "domestic extremist" as follows:
Americans who are 'reverent of individual liberty,' and 'suspicious of centralized federal authority' are possible 'extreme right-wing' terrorists.
The document linked above also lists people who embrace "individual liberties" and honor "states' rights," among other characteristics, as potential "extremists" who are likely to be members of "hate groups."
Finally, the document goes on to call the Founding Fathers, "extremists."
We also know Barack Obama's Department of Injustice doesn't view a serial felon as a problem running for President, and they don't have any problem with Black Lives Matter planning acts of terror that are intended to cause such massive civil unrest, that Martial Law needs to be declared. For anyone who STILL doesn't understand just how fast all this can spiral out of control, the next video should make it pretty clear what happens when radical political groups obsessed with race find themselves confronted with one another.
FACEBOOK | GOOGLE+ | TWITTER | PINTEREST | STUMBLE UPON | TUMBLER
CHECK OUT THE NEW GOOGLE+ PAGE!
As I said above, what Black Lives Matter activists are planning has NOTHING to do with the First Amendment. They are acts of terror. Anyone suggesting their plans are about the First Amendment should do the world a favor, and put a sock in it. Save the oxygen for those who still have working brains. Please.
BLACK LIVES MATTER HAS A RIGHT TO PROTEST?
HAS DERAY MCKESSON EVEN READ THE FIRST AMENDMENT?
The First Amendment reads:
"The First Amendment (Amendment I) to the United States Constitution prohibits the making of any law respecting an establishment of religion, impeding the free exercise of religion, abridging the freedom of speech, infringing on the freedom of the press, interfering with the right to peaceably assemble or prohibiting the petitioning for a governmental redress of grievances. It was adopted on December 15, 1791, as one of the ten amendments that constitute the Bill of Rights."
Does causing so much chaos that Martial Law needs to be implemented sounds like "peaceably assembling?" I didn't think so. Now, go do what I said with the sock. Take a good look at the chaos that took place in the video below. The events took place on June 26th, 2016, in Sacramento California. This is what happens when radical groups obsessed with race confront one another.
BE SURE TO CHECK THELASTGREATSTAND.COM FOR SURVIVAL GEAR!
FREE DETAILED GUIDE TO SURVIVING ECONOMIC COLLAPSE OR MARTIAL LAW HERE
Now, perhaps it's understanding why over 55,000 people have petitioned to Allow Open Carry of Firearms at the Quicken Loans Arena during the RNC Convention in July. Republicans are understandably scared to death of being defenseless sitting ducks against radical Islamic terrorists AND far-left groups like Black Lives Matter at the same time.
SUBSCRIBE TO THE TOP STORIES OF THE WEEK IN THE NEWSLETTER HERE
FOR MORE NEWS BY VOICE OF REASON CLICK HERE!
Finally, the last video from The Next News Network is the latest report indicating Black Lives Matter has every intention of bringing down BOTH conventions. Is there ANYTHING in George Soros' history, or in Black Lives Matter's history that gives you any reason to doubt they mean what they say?
SUGGESTING TO PREPARE FOR DISASTER OR MARTIAL LAW IS NOT "FEAR MONGERING…"
IT'S COMMON SENSE, SO IT'S EASY TO SEE HOW LIBERALS GET CONFUSED!
FACEBOOK | GOOGLE+ | TWITTER | PINTEREST | STUMBLE UPON | TUMBLER
DO WE REALLY WANT THIS ALL OVER AGAIN?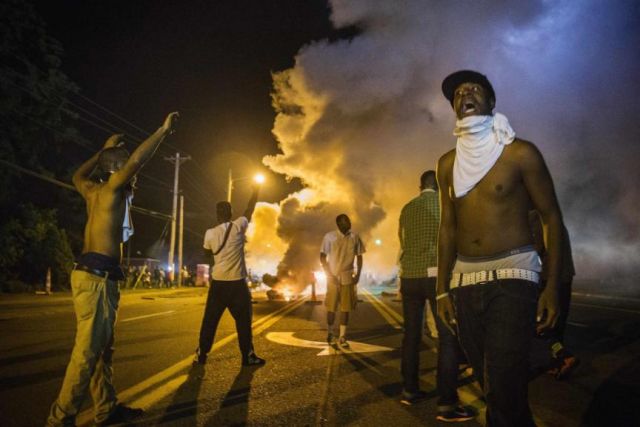 FOR MORE ON THE CHAOS COMING FROM THE 2016 ELECTION:
Looks Like President Barack Obama May Suspend 2016 Presidential Elections…
Is Obama Really Going to Suspend Elections and Declare Martial Law? (Videos)
When Obama Suspends 2016 Election, a Guide to Survive Martial Law (Videos)
Black Lives Matter and Soros Plan to Escalate Chaos Forcing Martial Law (Video)
Prepping: Know Where FEMA Camps Are Before Martial Law Gets Declared (Videos)
Proof Massive Underground Military Bases and Complex Tunnels are Real (Videos)
Americans Are Protesting the Fake Election Process Everywhere; Media Silent
Former Military Officer: The 2016 Election Doesn't Even Matter (Videos)
Trump Protesters Admit Answering Craigslist Ad Paying $16/hr to Protest (Video)
Stop 2016 Election, Then Begin Martial Law Is Goals of Soros' Democracy Spring (Video)
A Former Federal Prosecutor Warned: Obama Plans to Incite Race War This Summer (Video)
FOR MORE LINKS ON MARTIAL LAW:
Major Update to Military Movement and Actual Documentation of Their Plans (Video)
United Nations Troops on U.S. Soil Prepared to Assist With Martial Law? (Videos)
Patriot Films Shocking New Video of a FEMA Camp Recently Discovered in Texas
Obama Has Prepared FEMA for All Four Storms… Are You Prepared?
13 States Obama Is Using for His Nefarious Secret Agenda (Video)
Obama: Be Ready For EMP Attacks, Engineered Pandemics, Earthquakes, and Martial Law
How Likely is Martial Law in the US, and What Happens Under Martial Law
Law Enforcement Preparing For Rioting on National Scale (Videos)
All Armed Americans To Be Detained In FEMA Camps Starting In 2017? (Video)
Beware of Martial Law: Obama Will Confiscate Firearms Of All 50 States in 2016
Army Not Prepping for Battle; Training For Riot Control and Martial Law
Pentagon Says Preparing For Huge Civil Unrest in U.S. (Videos)
The Department Of Justice Prepares To Step Up War On "Domestic Extremists"
Congress Declares Martial Law As Dollar Rapidly Collapses
Political Dissidents Homes Being Marked By FEMA Prior to Martial Law?
All You Need To Know About Obama's Coming Gun Grab
Obama Signs Executive Order Permanently Implementing Martial Law
FEMA Concentration Camps Disguised As Malls Being Built Everywhere
Government "Threat List:" 8 Million People To Be Detained Immediately
SUBSCRIBE TO THE TOP STORIES OF THE WEEK IN THE NEWSLETTER HERE
FACEBOOK | GOOGLE+ | TWITTER | PINTEREST | STUMBLE UPON | TUMBLR
FREE GUIDE TO ECONOMIC COLLAPSE OR MARTIAL LAW…
AT THE OFFICIAL BLOG SITE BELOW!
FACEBOOK | GOOGLE+ | TWITTER | PINTEREST | STUMBLE UPON | TUMBLER