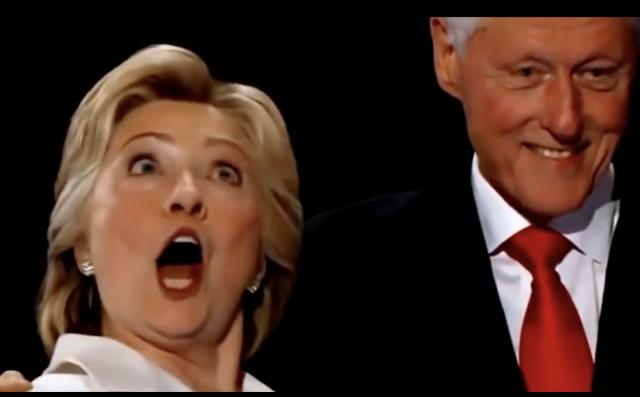 Much of the following information comes from a recent article published by Rick Wells, someone I cite quite often in my own posts. Be sure to get all Rick's social media and contract information after the last video below…
WHO IS GOING TO WIN THE 2016 ELECTION?
The first video below is in slow motion, and has made its share of the rounds to most of the major alternative media sites already. It's strange to say the least. Note the facial expressions of those around her. The fact that there has been no official comment about the strange behavior makes the behavior even more strange, but keep reading, as more information will be revealed…
Watch the first video, then we'll dig deeper…

SUBSCRIBE TO THE TOP STORIES OF THE WEEK IN THE NEWSLETTER HERE
FOR MORE NEWS BY VOICE OF REASON CLICK HERE!
In the next video video, I explain many of the strange Hillary outbursts that have been caught on camera capturing Hillary's very strange behavior, and which could very well mean she has a potential medical condition the public is unaware of. With as much evidence as there is on film floating around, it's hard to deny that there is SOMETHING wrong with Hillary's physical health.
Concern for whatever could be wrong with Hillary is only compounded by the fact Hillary's Campaign has not addressed the issue at all, and the videos do NOT lie. SOMETHING is going on. As I mention in my video, often times the cover-up is far worse than actual issue, but which will it be here? Time will tell… check out the video:

SUBSCRIBE TO THE TOP STORIES OF THE WEEK IN THE NEWSLETTER HERE
FOR MORE NEWS BY VOICE OF REASON CLICK HERE!
In the third video, observe the same sequence of extremely disturbing behavior exhibited by Hillary Clinton in the first video for a second time, and once again be sure to take note of how the reporters around her were started and taken aback by Hillary's strange and uncontrollable outburst.
The reaction of those around her says more than any press release (which has never come incidentally), ever could. Her actions appear to be a small seizure of some unknown type, or a loss of motor function of some kind. It's what happens after the strange episode I find so alarming…

FACEBOOK | GOOGLE+ | TWITTER | PINTEREST | STUMBLE UPON | TUMBLER
CHECK OUT THE NEW GOOGLE+ PAGE!
After the strange and seemingly uncontrollable bodily movement by Hillary Clinton, once the episode passes, her only response was:
"You've got to try the Thai Tea," as if nothing had just taken place…
REALLY? Is that how YOU would respond? This is hardly the only example of Hillary losing control of her facial muscles… continue reading…
The new photos of Hillary Clinton being helped up a short flight of steps has focused new attention on Hillary Clinton's physical condition, a question that Donald Trump was asking last year due to her frequent disappearances on the campaign trail.
The next video is one from an incident last week in Las Vegas in which some protesters now seem to have caused Clinton to seize up and lose her grasp on where she was and what was happening. At a minimum she looks to have been incapable of movement and rescued by her specially chosen Secret Service agent, the large black man with the medical credentials.
According to mainstream media, she was distracted by animal rights activists that held up a large banner and yelled near her rally stage in Las Vegas today while the candidate spoke, but that doesn't explain the large man (who is not Secret Services) who came running to her aid carrying a Diazepam pen. Trying to calm her down, the man tells her to start speaking again in what appears to be an effort to help her regain control, which seems to work.
After she resumes speaking, Clinton clearly does not appear to be at one hundred percent. After Hillary freezes in fear at the rally – it's only after she's told to "keep talking" by the mystery man carrying the Diazepam pen that she seems to settle down and resume.

SUBSCRIBE TO THE TOP STORIES OF THE WEEK IN THE NEWSLETTER HERE
FOR MORE NEWS BY VOICE OF REASON CLICK HERE!
As you'll see, the one agent gets the other agents off stage in what appears to be an effort to eliminate the stress creating factors as one agent approaching from his rear seems ready to administer a medication he retrieves from his inside jacket pocket.
The man is dressed like a secret service agent but his actions prove otherwise.
In a recent campaign stop in a Union Hall in front of a sparse crowd, at about the time when some liberal protesters began to protest, Hillary Clinton suddenly froze. She looked dazed and lost. Seeing this, a group of men rushed to assist the candidate on the stage. One man however gently pats the candidate's back and then says, "Keep Talking."
Secret Service agents walk on stage during Hillary Clinton rally https://t.co/Btp1na4Pxt
— ABC News Politics (@ABCPolitics) August 4, 2016
An expert on Secret Service tactics told TGP Secret Service agents would not touch a candidate in the manner that this individual did and especially Hillary Clinton. It has been widely reported on Hillary's disdain for the agents who work to protect her. The man who touches Hillary may be a member of Hillary's close staff – but he is NOT a Secret Service agent.
Now this…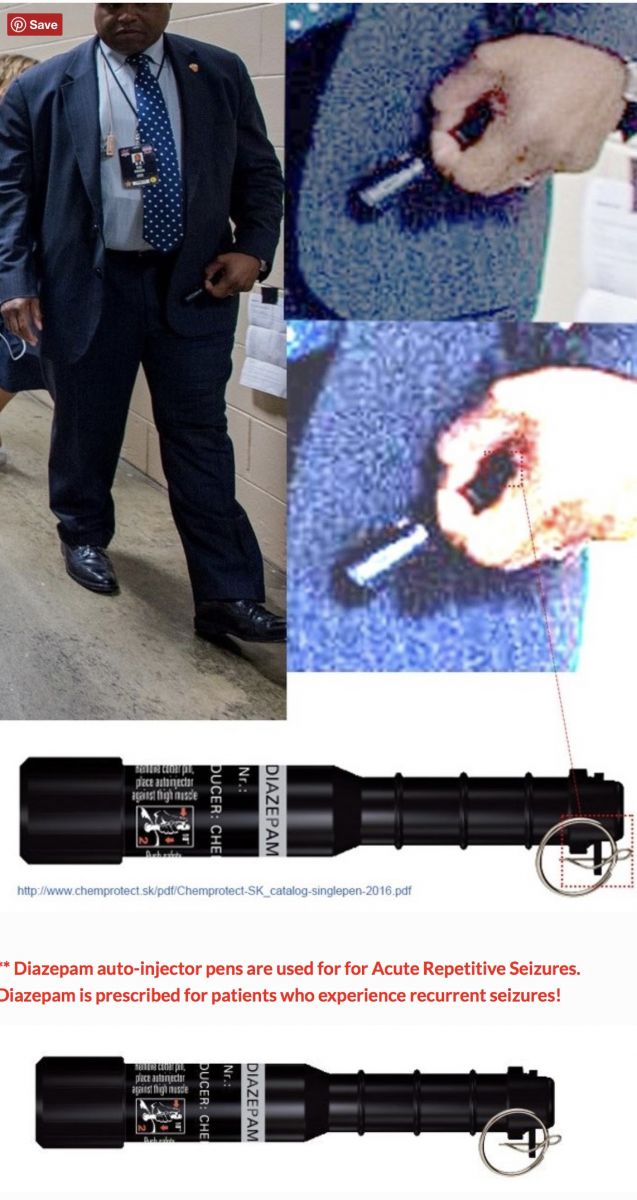 Mike Cernovich pointed out that Hillary's handler carries a Diazepam pen.
Finally, in the video below, Paul Joseph Watson gives a very good presentation of the both the odd behavior and potential causes in the video below. The video at the top showed her odd head motion that was suddenly triggered by multiple reporters asking simultaneous questions.
Clearly something his up with this woman and as much as she and Hussein Obama want to create the impression that Donald Trump is unfit to hold the highest office in the land it is his opponent who does not have what it takes. The same strange and uncontrollable head motion can be seen in the last video below…
What she already lacked moral qualifications and the ability to do the job are now compounded by whatever physical ailments she may be suffering from. The fall that sent her to the hospital, if that is in fact what happened seems to have left her unfit for office. Those facts are being made undeniably apparent to all as her condition seems to be worsening.
Some things even Clinton and Obama can't lie to Democrats about and be believed. But keep trying, the longer she stays in, the better for America when she finally is forced out of the race.
FACEBOOK | GOOGLE+ | TWITTER | PINTEREST | STUMBLE UPON | TUMBLER
CHECK OUT THE NEW GOOGLE+ PAGE!
Finally, in the last video, William Mount, who has been a GREAT source of information on Obama/Clinton/Democrat corruption reveals information about the hole in Hillary's tongue that was photographed by numerous sources at the Democrat Convention.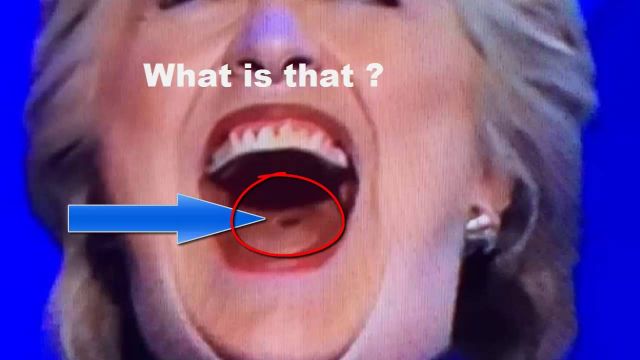 Three things cause a hole in the tongue like that:
1. Not Human
2. Biopsy for Oral Cancer
3. Biopsy of Oral Cancer and HPV – which is a venereal disease that means that mouth has been somewhere it shouldn't have been.
HPV is short for human papillomavirus. HPV is a group of more than 150 related viruses. Each HPV virus in this large group is given a number which is called its HPV type. HPV is named for the warts (papillomas) some HPV types can cause. Some other HPV types can lead to cancer, especially cervical cancer. There are more than 40 HPV types that can infect the genital areas of males and females. But there are vaccines that can prevent infection with the most common types of HPV.
How do people get HPV?
HPV is transmitted through intimate skin-to-skin contact. You can get HPV by having vaginal, anal, or oral sex with someone who has the virus. It is most commonly spread during vaginal or anal sex. HPV is the most common sexually transmitted infection (STI). Anyone who is sexually active can get HPV, even if you have had sex with only one person.
HPV is so common that nearly all sexually active men and women get it at some point in their lives. HPV can be passed even when an infected person has no signs or symptoms. You can develop symptoms years after you have sex with someone who is infected, making it hard to know when you first became infected.

SUBSCRIBE TO THE TOP STORIES OF THE WEEK IN THE NEWSLETTER HERE
FOR MORE NEWS BY VOICE OF REASON CLICK HERE!
As a defender of the US Constitution against the globalist Fascists who are attempting to destroy the United States, censorship is an unfortunate reality. Much of the media, including social media, is under the control of the anti-American globalist camp.
Please like me on my New Facebook page that I've created in response to strangulation censorship. Find me at Stop The Takeover, https://www.facebook.com/StopTheTakeover/ and please follow me on Twitter @RickRWells I'd also appreciate it if you SUBSCRIBE in the right sidebar on my website at http://RickWells.us, as there's no telling what the America-hating nation pirates will do next. Thanks, Rick!
BE SURE TO CHECK THELASTGREATSTAND.COM FOR SURVIVAL GEAR!

FREE DETAILED GUIDE TO SURVIVING ECONOMIC COLLAPSE OR MARTIAL LAW HERE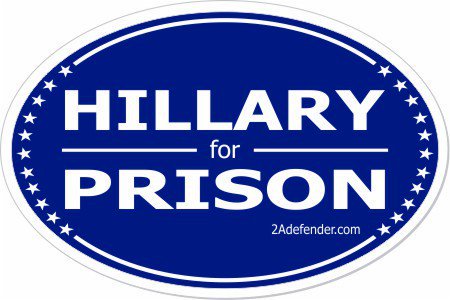 MORE EGREGIOUS HILLARY POSTS:
Wikileaks Promises to Release 'Proof Hillary Rigging Presidential Election' (Video)
Hillary Clinton Freezes in Fear – Secret Agents Says to "Keep Talking" (Video)
DNC Insider: Clinton Being Pounded in Polls – Don't Believe Mainstream Media! (Video)
Clinton Adds +5 to Body Count in 6 Weeks Totaling 67 Dead Associates (Video)
New Polls Are Being Rigged for Hillary Up to 9 Points (Video)
NSA Whistleblower Shocks Radio Host: We Have All Hillary's Deleted Emails (Video)
Hillary in Deep Trouble – "Hordes of Wall Street Executives" Descend Upon Philly
Former Clinton Hitman Confesses to Murdering People for Money (Video)
Trump Releases Second Hillary "Legendary Lie" Video; Leaves Her In Shock (Video)
C.I.A. Links Top Clinton Donor, George Soros, to Terrorist Bombing (Videos)
Clinton Author Drops Huge Bombshell About FBI if Hillary Not Indicted (Video)
Secret Audio Of Hillary Clinton's Real Plans For Guns Leaks Out (Videos)
Most Unbelievably Scandalous Video Hillary Wishes Never Saw Daylight (Video)
Another Clinton Associate Found Dead, Bill and Hillary's Body Count Increases!
FOR MORE ON THE CHAOS COMING FROM THE 2016 ELECTION:
Looks Like President Barack Obama May Suspend 2016 Presidential Elections…
Is Obama Really Going to Suspend Elections and Declare Martial Law? (Videos)
When Obama Suspends 2016 Election, a Guide to Survive Martial Law (Videos)
Black Lives Matter and Soros Plan to Escalate Chaos Forcing Martial Law (Video)
Prepping: Know Where FEMA Camps Are Before Martial Law Gets Declared (Videos)
Proof Massive Underground Military Bases and Complex Tunnels are Real (Videos)
Americans Are Protesting the Fake Election Process Everywhere; Media Silent
Former Military Officer: The 2016 Election Doesn't Even Matter (Videos)
Trump Protesters Admit Answering Craigslist Ad Paying $16/hr to Protest (Video)
Stop 2016 Election, Then Begin Martial Law Is Goals of Soros' Democracy Spring (Video)
A Former Federal Prosecutor Warned: Obama Plans to Incite Race War This Summer (Video)
FOR MORE LINKS ON MARTIAL LAW:
Martial Law Convoys Sent to Baton Rouge, Dallas, and St. Paul Before Shootings (Videos)
Pentagon Approves U.N. Use Of Force Against American Civilians (Video)
What Is the U.S. Government Endlessly Preparing For (Videos)
Patriot Films Shocking New Video of a FEMA Camp Recently Discovered in Texas
Major Update to Military Movement and Actual Documentation of Their Plans (Video)
United Nations Troops on U.S. Soil Prepared to Assist With Martial Law? (Videos)
Obama Has Prepared FEMA for All Four Storms… Are You Prepared?
13 States Obama Is Using for His Nefarious Secret Agenda (Video)
Obama: Be Ready For EMP Attacks, Engineered Pandemics, Earthquakes, and Martial Law
How Likely is Martial Law in the US, and What Happens Under Martial Law
Law Enforcement Preparing For Rioting on National Scale (Videos)
All Armed Americans To Be Detained In FEMA Camps Starting In 2017? (Video)
Beware of Martial Law: Obama Will Confiscate Firearms Of All 50 States in 2016
Army Not Prepping for Battle; Training For Riot Control and Martial Law
Pentagon Says Preparing For Huge Civil Unrest in U.S. (Videos)
Political Dissidents Homes Being Marked By FEMA Prior to Martial Law?
All You Need To Know About Obama's Coming Gun Grab
Obama Signs Executive Order Permanently Implementing Martial Law
FEMA Concentration Camps Disguised As Malls Being Built Everywhere
Government "Threat List:" 8 Million People To Be Detained Immediately
SUBSCRIBE TO THE TOP STORIES OF THE WEEK IN THE NEWSLETTER HERE
FACEBOOK | GOOGLE+ | TWITTER | PINTEREST | STUMBLE UPON | TUMBLR
FREE GUIDE TO ECONOMIC COLLAPSE OR MARTIAL LAW…
AT THE OFFICIAL BLOG SITE BELOW!
FACEBOOK | GOOGLE+ | TWITTER | PINTEREST | STUMBLE UPON | TUMBLER