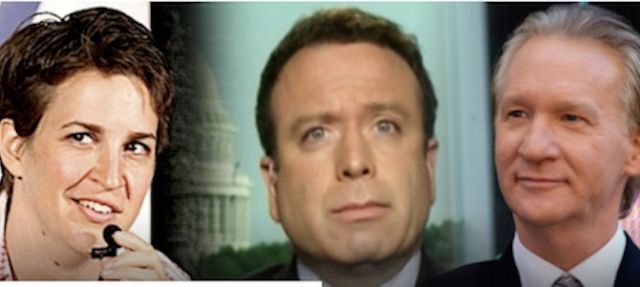 There's righteous egg on the face of The New York Times, Rachel Maddow, and nearly everyone at a Time Warner property
Donald Trump's ascendancy to the White House did more than give voice to the neglected working class of the red states and flyover country.
It did more than just lift the Republicans to major wins, with a majority of conservatives on the Supreme Court now all but assured.
The Huffington Post is biased, unrestrained in its leftism, selective in its reporting, and truculent. And proud of it.
It did more than ensure a new national commitment to border security; the long-delayed construction of the Keystone XL and Dakota Access oil pipelines; and the repeal of Obamacare.
Trump's win also delivers a well-earned rebuke of unparalleled magnitude to many on the Left. They worked hard to earn this rebuke throughout 2015 and 2016. There are many, but here are the top 12 liberals who deserve Election Day's results the most.
BUT… BEFORE THE LIST BELOW, YOU ABSOLUTELY HAVE TO CHECK OUT THE TOP 10 MOST OBNOXIOUS LIBERAL LIST PROVIDED BY WATCHMOJO.COM
SUBSCRIBE TO THE TOP STORIES OF THE WEEK IN THE NEWSLETTER HERE
FOR MORE NEWS BY VOICE OF REASON CLICK HERE!
1) Bill Maher
Bill Maher wins the top spot. Maher's show is known for over-the-top invective, not always from the atheist host. On Friday, guest Thomas Friedman called Trump's election "a moral 9/11." Think about that metaphor for a second and think about what it says about how they view the 60.5 million Trump voters.
Maher tried to plead with voters the week before the election, saying he was wrong about Republican Mitt Romney in 2012. He cried wolf, he said. The truth is, he and his angry guests would have cried wolf against squishy John Kasich too. Maher got the Republican president he earned.
2) Radical Climate Change Fear-Mongers
A staffer at the Democratic National Committee apparently threw a fit after Hillary Clinton lost, and told interim Chairwoman Donna Brazile: "You and your friends will die of old age and I'm going to die from climate change. You and your friends let this happen, which is going to cut 40 years off my life expectancy." Many climate activists feel this way, which shows why they reject the science they claim to embrace: There is no credible climate-change theory that claims all people will soon lose substantial life expectancy.
3) Stephen Colbert
Colbert makes the list over many other talk show hosts on non-HBO TV: the inconsequential Trevor Noah and Samantha Bee; the retired David Letterman; the weepy Jimmy Kimmel. Colbert has become unrestrained after the Trump win, claiming Rudy Giuliani is fecal matter at the bottom of a swamp. A partisan Democrat, he's not funny and he's extremely mean-spirited. And if we're lucky, he will soon be cancelled.
4) The Washington Post
The Post threw in with Hillary Clinton and largely ignored very important leaks on Clinton. The paper that made its bones with leaks played leaks down when the leaks hurt the Democrats. Keep in mind that when thousands of Sarah Palin's official emails were made public in 2009, The Post asked its readers to help sift through them. Its columnists, especially Dana Milbank, also became hysterical when Trump became the nominee. Milbank's election night tweet was self-pitying and alarmist, but also made many laugh.
5) Hollywood
Is there anything more unpatriotic than saying if your party doesn't win, you will move to Canada or Europe? Bryan Cranston and many others said it. Canada would likely welcome most of these people. But it's cold up there — so bring flannel.
6) Stephen King
King has always been a strident liberal, a Christian-basher, and a poor sport. After Trump won, he said he was "shutting down." So Trump's win is also a win for the classics. Forget King. Read Hemingway or Philip K. Dick.
7) and 8) MSNBC's Mika Brzezinski and Rachel Maddow
Brzezinski went over the top a few times at MSNBC, but few people were as delusional as her coworker, Rachel Maddow, who suggested last summer that Mississippi was in play for Clinton.
9) The New York Times
The Times publisher Arthur Sulzberger Jr. issued a faulty mea culpa post-election. He admitted the paper didn't understand the Trump wave and didn't foresee it. But he also said they covered Trump fairly — which is not true. Their reporters often went on Twitter and engaged in a frenzy of Trump bashing. This is the best example of the Manhattan-D.C. bubble the elites get into — everyone in the world knew The Times had become a parody of itself, except for the people at The Times.
10) The #NotMyPresident Protesters
The protesters are shocked because they bought into the myth that President Obama was a permanent agent of change. Now they face the reality that he may be a fluke. Their shock at Trump's win shows they do not understand America. Their violence shows they are not willing to learn.
11) CNN
There are many examples of CNN's foolishness this cycle. The best is commentator Brian Stelter, 31, who proved that while it's good to know insiders as you work your way up the media ladder, there is no substitute for shoe-leather experience, something he and many of his peers lack. There's also Van Jones, the former Obama adviser who has been the best example of the Left's new weepy alarmism. A second Time Warner product to make the list. There are few media companies as consistently leftist as Time Warner properties HBO, TBS, CNN, etc.
12) The Huffington Post
No media outlet embarrassed journalism more than The Huffington Post. At first, they tried to ignore Trump. Then they posted an insolent editor's note at the end of every Trump story, stating he was racist. The Huffington Post is the real-world version of that lousy, left-wing college newspaper you read when you were 20. It's biased, unrestrained in its leftism, selective in its reporting, and truculent. And proud of it.
SUBSCRIBE TO THE TOP STORIES OF THE WEEK IN THE NEWSLETTER HERE
FACEBOOK | GOOGLE+ | TWITTER | PINTEREST | STUMBLE UPON | TUMBLER
FOR MORE ON LIBERALISM: THE IDEOLOGY OF HATE, GENOCIDE, & IDIOCY:
Veterans Are Dying Everywhere; VA Wants To Perform Sex-Change Operations
Scientists: 40% Of People Have Newly Discovered Brain Parasite (Video)
Disbarment Charges Are Filed Against Baltimore State Attorney Mosby (Video)
Obama Changed U.S. Citizenship Oath Specifically to Accommodate Sharia and Islamic Law
Video: Sharpton Begs for Mercy as Megyn Destroys Him on National TV
New World Order's Plan for the Fall of America Upon Us? (Video)
Watch: BLM Protesters Block Roads… Motorists Take Brutal Action (Video)
New World Order's New Super Weapon Almost Complete (Video)
Millennials: History Tells Us Socialism Always Ends in Genocide (Video)
Top 10 Liberal Lies About The Constitution
Florida Drunken College Students 'Urinate and Spit' On Wounded Veterans
Which Corporations Use Aborted Fetal Cells to Sell You Products
Peter Schiff: This Is Who Really Determines U.S. Presidents
FACEBOOK | GOOGLE+ | TWITTER | PINTEREST | STUMBLE UPON | TUMBLER
"I'M WITH THE DEPLORABLES" T-Shirt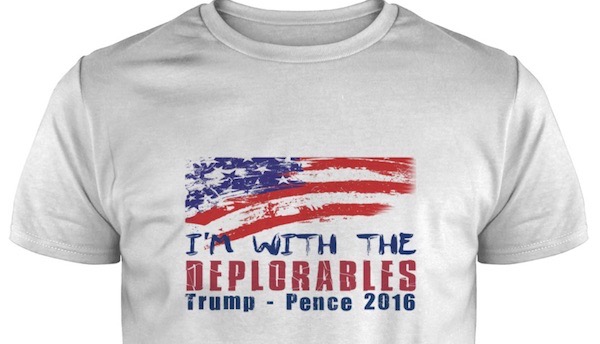 FACEBOOK | GOOGLE+ | TWITTER | PINTEREST | STUMBLE UPON | TUMBLER