The videos below from TruthUnveiled777, and the article that follows by Michael Snyder, both address the recent issue of how "terror attacks" and mass killings are happening so rapidly right now around the world, that it's really difficult to keep up with them all. In the article, Michael primarily sticks to reporting on just the undisputed facts, and only in the last few lines does he offer up his own conclusions. The videos takes a rather different tact. In the videos, TruthUnveiled777 tries to draw your attention to the "bigger picture," and present logical conclusions people should be drawing based on history.
In the first video below, TruthUnveiled777 talks about the messaging coming from the mainstream media, and how not just the stories, but even the specific words used within the stories are being chosen very carefully, and for a specific purpose. There is no denying that these days, it seems like every time you turn on the TV, you can't even go a single day without hearing phrases such as "terrorist attack," "lone gunman," "ties to ISIS," and "threat to national security." We keep hearing those words over and over. In the first video you'll learn:
Just within past week alone, there have been several alleged "attacks" all throughout the world. First there were the "shootings" in Munich, Germany, — a few days ago on Friday, July 22nd, 2016. Then the alleged bombing in Kabul, Afghanistan on Saturday, July 23rd, 2016 — around the SAME TIME! Along with the explosion in Ansbach, Germany, and two other coordinated "attacks" in Germany — for a grand total of four "attacks" in Germany WITHIN THE SAME WEEK!
Meanwhile, in Florida, another nightclub shooting was said to have taken place in Fort Myers, only six weeks following the Orlando incident. And just recently, another attack happened near Tokyo, Japan, when a lone knife man decided to randomly go on a killing spree at a facility for the disabled… All on July 25th, 2016 — on the SAME DAY!
In the article, Michael Snyder reports that so far in 2016, there have been a total of 1274 Islamic terror attacks that have resulted in over 14,000 injured, and more than 11,000 dead. Those numbers are staggering, and with the exception of people who live in an alternate reality and think the world is safer today than it's ever been (cough, OBAMA, cough), the obvious concern should be that at some point "Islamic terrorists" will get their hands on chemical, biological and potentially even nuclear weapons, and they will not hesitate to use them.
NEWS: When Obama Suspends 2016 Election, a Guide to Survive Martial Law (Videos)
One of the major concerns expressed by TruthUnveiled777, and rightfully so, is that a major theme coming from both the Democrat Convention and throughout Western Europe, is continued discussions about more gun control, increased surveillance, and a heightened military police state, but who exactly is pushing that message?
SUBSCRIBE TO THE TOP STORIES OF THE WEEK IN THE NEWSLETTER HERE
FOR MORE NEWS BY VOICE OF REASON CLICK HERE!
WORK WITH ME TO CONNECT SOME DOTS: The media continues to report that many of the attacks around the world are "ISIS related," or "ISIS inspired." To any readers arriving late to the party, here's a news flash: Western allies are the ones funding ISIS. That fact has been proven time and time again, and Putin has even said as much when he directly blamed Obama on the floor at the U.N.
Look at the effect the continued "terrorist" attacks have had on the Western society. Are we more or less free as a result? Are we more or less able to defend ourselves if attacked? In France, because of the highly suspicious "terror attacks," French citizens have been living under a state of emergency with very tight restrictions for over a year now. Then there's Turkey.
BE SURE TO CHECK THELASTGREATSTAND.COM FOR SURVIVAL GEAR!
FREE DETAILED GUIDE TO SURVIVING ECONOMIC COLLAPSE OR MARTIAL LAW HERE
Turkey is a key NATO ally that is currently in a state of total chaos, and under a state of Martial Law. As a result of last week's staged "military coup," there are reports that over 50,000 people are now either under arrest, locked up, or running for their lives. I'm not saying the coup was faked, however what better excuse could there be to wage war on 50,000 domestic political enemies, than to orchestrate a failed "military coup" where the party in power remains unscathed at the conclusion?
Despite warnings from world leaders about not being too aggressive with responding to the alleged "military coup," Turkey is in danger of becoming an Islamic dictatorship, and that presents a real problem. It just so happens that because Turkey is the location of NATO's forward staging ground in the event of a war with Russia. That makes Turkey the home to an undisclosed number of B61 tactical nuclear bombs (probably around 50), as well as home to about 50 B-61 hydrogen bombs. It also makes Turkey NATO's largest nuclear storage facility, with about a quarter of all theater nuclear weapons in the alliance's stockpiles. Check out the video below from Next News Network.
UPDATE: All Armed Americans To Be Detained In FEMA Camps Starting In 2017!??!
FACEBOOK | GOOGLE+ | TWITTER | PINTEREST | STUMBLE UPON | TUMBLER
CHECK OUT THE NEW GOOGLE+ PAGE!
The problem TruthUnveiled777 has with all this, and I agree, is that while NATO's largest nuclear storage facility currently resides in a nation under Martial Law and drifting toward Islam, and yet the globalist controlled mainstream media in all the Western countries remains focused more on taking rights from law abiding citizens, then confronting the actual "threats" faced. All of that leads to a rather obvious question: How real is the "threat" after all, and therein lies the whole problem. First disarm, then depopulate has been the plan of the New World Order for a long time, and everything we are witnessing seems to be fitting the plan to a tee.
In France, despite being under a "state of emergency" for over a year, the government just extended the hightened state out even further, and in Germany, leaders have begun discussing trying to revise the German Constitution to remove restrictions on its military to act domestically. Activist Post writes:
Bavarian Interior Minister Joachim Hermann is now pushing for going so far as to revise the German Constitution so that limits placed on using the military domestically can be removed, allowing the German military to be used inside Germany for "large-scale terrorist situations."
The limits on Germany's military were put in place after World War II and in response to Germany's experience with the Nazi regime with all its excesses, totalitarianism, violence, and genocide.
Here in the U.S., all we hear from the Democrats is more talk about gun control. In a prior post this week titled, Monumental Collapse of America: Greatest Empire in History Falling, I reviewed the typical pattern of the global elite. The process they follow is simple: 1) Create a problem large enough to get massive attention (make sure the problem is a "global problem," because "global problems" will require "global solutions"); 2) Use the problem to force a knee jerk reaction from the masses; and 3) Never letting a crisis go to waste, so while emotions are high, move quickly for a "global solution."
BE SURE TO CHECK THELASTGREATSTAND.COM FOR SURVIVAL GEAR!
FREE DETAILED GUIDE TO SURVIVING ECONOMIC COLLAPSE OR MARTIAL LAW HERE
In the final video, TruthUnveiled777 comes to the very plausible conclusion that the attacks we've been witnessing on Western allies are all part of a much larger, and well orchestrated plan. furthermore, as Americans we should plan on the attacks coming to America, and probably soon. From the links below, we already know the U.N. has peacekeeping troops ready to act if called upon here.
United Nations Troops on U.S. Soil Prepared to Assist With Martial Law? (Videos)
Major Update to Military Movement and Actual Documentation of Their Plans (Video)
Pentagon Approves U.N. Use Of Force Against American Civilians (Video)
SUBSCRIBE TO THE TOP STORIES OF THE WEEK IN THE NEWSLETTER HERE
FOR MORE NEWS BY VOICE OF REASON CLICK HERE!
Terror attacks and mass killings are happening so rapidly now that it is really difficult to keep up with them all. In fact, as you will see below, so far there have been several this week alone. This latest attack in France during which radical Islamic terrorists slit the throat of a Catholic priest was particularly disturbing. Just a few days ago I warned that churches in the western world would be targeted, and now it is happening. According to thereligionofpeace.com, there have been 1274 Islamic terror attacks in 2016. These attacks have been spread across 50 different nations, and as a result of these attacks more than 11,000 people have been killed and more than 14,000 people have been injured. When are we going to finally wake up and understand how serious this threat really is?
PREPPING: Know Where FEMA Camps Are Before Martial Law Gets Declared (Video)
Very few people would have imagined that a sleepy Catholic church in France would be the target of an Islamic terror attack on Tuesday morning, but that is precisely what happened. The following description of the attack comes from the New York Times…
Mass was ending around 9:30 a.m. when two young men with knives burst in. They forced the auxiliary priest, the Rev. Jacques Hamel, 85, to kneel. When he resisted, they slit his throat. They held several worshipers and at least one nun hostage, while another nun escaped. Officers from a specialized police unit descended on the church. A short while later, officers shot the young men dead when they emerged from the church.
We have all seen images of ISIS slitting the throats of Christians in the Middle East, but now it is taking place in Europe.
As the terrorists emerged from the church, they reportedly shouted "Allahu Akbar" before being shot dead by the police.
ISIS has already taken responsibility for the attack and is referring to these two young men as "two soldiers of the Islamic State". And France knew that one of them had tried to go to Syria to join ISIS twice, but still allowed him to roam free for at least part of the day…
One of a pair of ISIS knifemen who stormed a church in Normandy before slitting the throat of an elderly priest has been named as known terror threat Adel Kermiche.
The 19-year-old 'ISIS soldier' was being monitored with an electronic ankle tag after he was arrested for twice attempting to flee France to join the terror group in Syria.
Despite having been released early from prison, Keriche's bail conditions allowed him to roam unsupervised between 8.30am and 12.30pm, leaving him free to murder the priest in the attack which was carried out between 9am and 11am.
This horrific attack in France came on the heels of a tremendous tragedy in Japan. Mass killings are fairly rare over there, and so virtually the entire Japanese nation is in shock at this point. The following comes from the Washington Post…
Early on Tuesday morning, a man identified as Satoshi Uematsu allegedly attacked a care home for disabled people in Sagamihara, about 35 miles west of Tokyo. Armed with three knives and tie cables, the assailant killed 19 people and wounded many before he drove to a police station and turned himself in.
BE SURE TO CHECK THELASTGREATSTAND.COM FOR SURVIVAL GEAR!
FREE DETAILED GUIDE TO SURVIVING ECONOMIC COLLAPSE OR MARTIAL LAW HERE
And that mass killing in Japan came on the heels of a suicide bombing in Ansbach, Germany on Sunday…
The Syrian man who blew himself up outside a bar in Ansbach vowed the people of Germany "won't be able to sleep peacefully anymore" in a video filmed before the attack.
Investigators said the suicide bomber, known only as Mohammad D., had declared loyalty to Islamic State in the recording – and announced "a revenge act against Germans because they are standing in the way of Islam".
Further details have emerged about the 27-year-old, who injured 15 people – four of them seriously – when he detonated a backpack filled with explosives and shrapnel after being turned away from a music festival being attended by thousands of people.
Of course just prior to the suicide bombing in Ansbach, there were two other acts of terror in Germany that made headlines all over the globe…
The bombing has rattled the German public following a week of violence in southern Germany that began on July 18, when an immigrant teen, apparently also inspired by ISIS, stabbed passengers on a train in Wurzburg in Bavaria.
That was followed by a shooting spree Friday in which nine people were killed in the Bavarian state capital, Munich, before a Syrian asylum seeker killed a woman in Reutlingen, in the neighboring southern German state of Baden-Wurttemberg, on Sunday, hours ahead of the Ansbach attack.
Are you starting to get the point?
DON'T MISS: Be Ready For Any Emergency – Crucial Guide For Any Family
In the summer of 2016, it has been terror attack after terror attack and mass killing after mass killing.
And in this article I haven't even mentioned Orlando, Dallas, Nice or Baton Rouge at all.
As I have written about extensively, we have entered a period of time when our world seems to be going crazy. The love of most people has grown cold, and we are being hammered with headlines about horrific acts of violence almost every single day now.
The terrorists are not just going after military and political targets. In fact, they seem to take glee in hitting us where we are most vulnerable.
Just recently, I wrote about how all the members of one particular church here in America ended up on an ISIS kill list. It appears that ISIS is collecting names from church directories and synagogue directories that they find on the Internet. So if you run a church or a synagogue you should take note of this.
Even bigger attacks than we have seen so far are coming. At some point Islamic terrorists will get their hands on chemical, biological and potentially even nuclear weapons, and they will not hesitate to use them.
Many of our politicians are promising to rid the world of these terrorists, but I don't think that they even know what we are really dealing with or how to really fight this battle.
After a decade and a half of dropping bombs and spending trillions of dollars fighting in the Middle East, the threat of Islamic terror is worse than ever. And even nations that were never heavily involved in the "war on terror" are seeing Islamic terror rise to unprecedented levels.
The blind are leading the blind, and meanwhile the terror attacks and the mass killings are just going to continue to get even worse.
SUBSCRIBE TO THE TOP STORIES OF THE WEEK IN THE NEWSLETTER HERE
FACEBOOK | GOOGLE+ | TWITTER | PINTEREST | STUMBLE UPON | TUMBLER
OTHER /FALSE FLAG POSTS
5 More Reasons to Question the Official Story of the Orlando Shooting (Video)
Why Are Mass Shootings Up 700% and at an All Time High Under Barack Obama
15 Ways To Detect A False Flag Operation
9 Reasons the Terrorist Attacks in Paris Could Be a False Flag Event
Surreal Video Of Special Ops Tossing Firecrackers During Paris Massacre
U.K. Paper Accidentally Reveals More Obama Lies on San Bernardino
Whistleblower Exposes CA Shooting Cover up – Guess Who It Implicates
Top 25 Most Popular False Flag Videos #12 Will Shock You to the Core.
ALERT: Craigslist Ad Asking for CRISIS ACTORS in Houston For JULY 4th
Another False Flag? Atlanta Craigslist Solicits Crisis Actors For Mock Disaster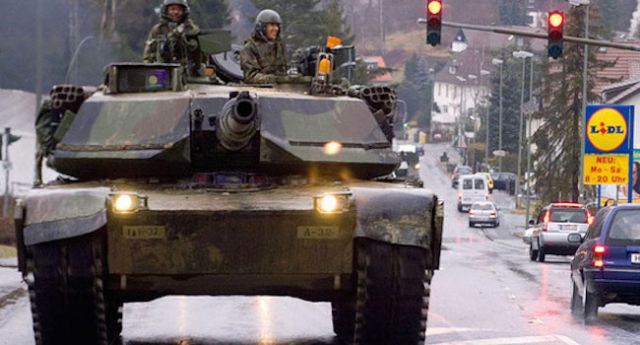 FOR MORE LINKS ON MARTIAL LAW:
Patriot Films Shocking New Video of a FEMA Camp Recently Discovered in Texas
Major Update to Military Movement and Actual Documentation of Their Plans (Video)
United Nations Troops on U.S. Soil Prepared to Assist With Martial Law? (Videos)
Obama Has Prepared FEMA for All Four Storms… Are You Prepared?
13 States Obama Is Using for His Nefarious Secret Agenda (Video)
Obama: Be Ready For EMP Attacks, Engineered Pandemics, Earthquakes, and Martial Law
How Likely is Martial Law in the US, and What Happens Under Martial Law
Law Enforcement Preparing For Rioting on National Scale (Videos)
What Exactly Does Global Economic Collapse Coming May 2016 Mean? (Videos)
Beware of Martial Law: Obama Will Confiscate Firearms Of All 50 States in 2016
Army Not Prepping for Battle; Training For Riot Control and Martial Law
Pentagon Says Preparing For Huge Civil Unrest in U.S. (Videos)
The Department Of Justice Prepares To Step Up War On "Domestic Extremists"
Congress Declares Martial Law As Dollar Rapidly Collapses
Political Dissidents Homes Being Marked By FEMA Prior to Martial Law?
All You Need To Know About Obama's Coming Gun Grab
Obama Signs Executive Order Permanently Implementing Martial Law
FEMA Concentration Camps Disguised As Malls Being Built Everywhere
Government "Threat List:" 8 Million People To Be Detained Immediately
SUBSCRIBE TO THE TOP STORIES OF THE WEEK IN THE NEWSLETTER HERE
FACEBOOK | GOOGLE+ | TWITTER | PINTEREST | STUMBLE UPON | TUMBLR
FREE GUIDE TO ECONOMIC COLLAPSE OR MARTIAL LAW…
AT THE OFFICIAL BLOG SITE BELOW!
FACEBOOK | GOOGLE+ | TWITTER | PINTEREST | STUMBLE UPON | TUMBLER
SaveSave