As I said in a prior post titled, More Fake News! Why Do They Refuse to be Honest, it's becoming more and more clear with each passing day, that members of the mainstream media are either 1) no longer capable of discerning what is real, and what is fiction, or 2) they think we're as gullible as they are, and that we actually believe the nonsense they are pushing out.
If the definition of insanity is doing the same thing over and over, and expecting different results, then for Americans to keep on thinking that the mainstream media will come to its senses one day, and suddenly begin to conduct themselves with an ounce of journalistic integrity, is totally insane. Until the day comes when dishonest members of the mainstream media are held accountable for their lies and their reckless relationship with the truth, we may not get much honesty out of them. With that said, is it possible that day has finally arrived? Perhaps. As you're about to learn, CNN's Jeremy Diamond just had a recent request for an interview rejected handedly, and the reason why is priceless…
SUBSCRIBE TO THE TOP STORIES OF THE WEEK IN THE NEWSLETTER HERE
CHECK OUT THE SOCIAL MEDIA PLATFORM FOR CONSERVATIVES:
GRASSFIRE, and REAL AMERICA TV
Now that CNN has been labeled Fake News by President Donald Trump, interviews are a much more difficult to get. Here's the response from Sheriff Clarke's office to CNN reporter Jeremy Diamond when the reporter asked for an interview…
CNN is beyond parody at this point.
Right now they're mad at President Trump for keeping his campaign promises.
For real.
It's almost like they're trying to tell us they love big government and career politicians or something.
Forget the first 100 days. It's only been a week and Donald Trump is reinventing the presidency.
Amid a torrent of action, disruption and protest, the new President's moves on trade, immigration and foreign policy have honored his campaign promises — and dramatically reshaped Washington's role in national and global affairs.
Some things are clear at the end of this jarring week. Trump won't have an epiphany and suddenly embrace Beltway conventions. As president, he will keep conjuring his own reality and is happy to use the backdrop of the White House to advance his many rhetorical wars.
His staff is learning how to work together as they jockey for power. And amid it all, Trump still manages to surprise: Lawmakers and business leaders say the larger than life president and former reality show star listens more than he talks.
But his unorthodox style is also raising questions about whether a presidency built on creative destruction will simply exhaust the political system. Trump's conveyer belt of executive orders is an effective symbolic device, but they are noticeably lacking in details and actionable plans. Sooner or later, he will have to show proficiency in the harder task of shepherding his agenda through Congress.
Trump's first week in office leaves one fundamental question in its wake: Can he successfully govern a complicated and divided country without bringing his erratic behavior under control? For now, there is no answer.
…
But the determination to keep campaign promises is verging on an obsession inside the Trump White House.
Sorry, CNN.
Trump's main sticking point was that he'd honor his promises and that he wasn't a politician.
Don't worry, though.
When you guys grow up you'll see that conservative policies work and liberal policies don't.
FACEBOOK | GOOGLE+ | TWITTER | PINTEREST | STUMBLE UPON | TUMBLER
FOR MORE ON LIBERALISM: THE IDEOLOGY OF HATE, GENOCIDE, & IDIOCY:
Look What Group Plans to "Massively" Resist Voter Fraud Investigation… (Video)​
Investigation Launched into Obama's DHS Hacking State Election Systems (Video)
New Study Reveals Shocking Information About Trump's Voter Fraud Claims (Video)
Michelle Obama Just Bailed on Barack and Girls; Off to Billionaire's Island Alone (Video)
Case Closed! Trump Was Right, Obama's Birth Certificate A Fake …
You Won't Believe What CNN and the Mainstream Media Are Doing Now… (Video)
Celebutards Call for 'Total Hollywood Strike' Until Trump Resigns (Video)
Look Who's Really Behind Snopes, Facebook's New "Fact Checkers" (Video)
Old Soviet Union 45 Goals to Destroy America Perfectly Match Liberal Ideology!?!? (Video)
Child Abuse? 9-Year-Old Transgender Girl Makes History on Magazine Cover??? (Video)
George Soros Funding Facebook's New "Fake News Fact Checking" Group (Video)
"Fake News!" Donald Trump Just Exposed CNN in a Massive Scandal (Video)
Americans Reject Their Continued Brainwashing Via Political Correctness (Video)
Tucker Carlson Chews Up, and Spits Out Privileged Liberal Student On Live TV (Video)
Tucker Carlson Ruthlessly Annihilates Liberal Reporter on Live TV (Video)
12 Liberals Who Absolutely Deserve the Karma of a Trump Presidency (Video)
Veterans Are Dying Everywhere; VA Wants To Perform Sex-Change Operations
VETERAN FREEZES TO DEATH OUTSIDE HOSPITAL: The VA Hospital Refused Him Treatment
Scientists: 40% Of People Have Newly Discovered Brain Parasite (Video)
Disbarment Charges Are Filed Against Baltimore State Attorney Mosby (Video)
News Flash: Being Offended Doesn't Make You Right (Video)
Black Lives Matter Do The Unthinkable To War Heroes Graves
Top 10 Liberal Lies About The Constitution
Florida Drunken College Students 'Urinate and Spit' On Wounded Veterans
"Americans Going Over the Cliffs of Insanity" (Video)
Peter Schiff: This Is Who Really Determines U.S. Presidents
FACEBOOK | GOOGLE+ | TWITTER | PINTEREST | STUMBLE UPON | TUMBLER
"I'M WITH THE DEPLORABLES" T-Shirt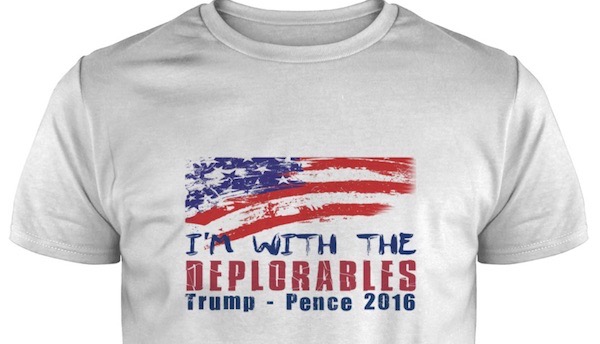 FACEBOOK | GOOGLE+ | TWITTER | PINTEREST | STUMBLE UPON | TUMBLER