In his book American Crisis bin 1776, Thomas Paine famously wrote,
"These are the times that try men's souls. The summer soldier and the sunshine patriot will, in this crisis, shrink from the service of their country; but he that stands by it now, deserves the love and thanks of man and woman. Tyranny, like hell, is not easily conquered; yet we have this consolation with us, that the harder the conflict, the more glorious the triumph. What we obtain too cheap, we esteem too lightly: it is dearness only that gives every thing its value. Heaven knows how to put a proper price upon its goods; and it would be strange indeed if so celestial an article as FREEDOM should not be highly rated. Britain, with an army to enforce her tyranny, has declared that she has a right (not only to TAX) but "to BIND us in ALL CASES WHATSOEVER" and if being bound in that manner, is not slavery, then is there not such a thing as slavery upon earth. Even the expression is impious; for so unlimited a power can belong only to God."
It appears Barack Obama never got the memo about how unlimited a power can only belong to God. The article that follows from Michael Snyder's Economic Collapse Blog has been supplemented with both videos, and also with additional information that further demonstrates that unlike any U.S. President before him, Barack Obama has established a "base camp" just two miles from they White House property from which he plans to operate with the intent of establishing "a shadow government" to oppose President Trump, and all his initiatives, regardless of how many innocent lives get lost in the process.
DO NOT MISS: Pentagon Approves U.N. Use Of Force Against American Civilians (Video)
Already, we've seen at least 30,000 "soldiers," aka domestic terrorists, that are loyal to Obama, and are working with him to help Obama maintain as much of the agenda that impoverished those helping in the first place. It's truly remarkably how foolish people blind faith can be. Not only has Obama effectively stolen the wallets of all those supporting him, but now he's convinced them to help him get them back from President Trump. It's insanity at its finest.
The real question now, is now long before violence escalates to a point where pro-Obama forces meet Pro-Trump forces? Then what? Everyone shakes hands and goes home? Anything who doesn't see a bloody future ahead really should go out of their way to get a clue. Borrow money and buy one if you have to. Please.
DO NOT MISS: Top US General Pleads With Troops Not To Revolt Over 2016
SUBSCRIBE TO THE TOP STORIES OF THE WEEK IN THE NEWSLETTER HERE
FOR MORE NEWS BY VOICE OF REASON CLICK HERE!
Throughout American history, most ex-presidents have chosen to move away from Washington D.C. once their terms have ended, and the vast majority of them have tried very hard not to interfere with their successors. Unfortunately, Barack Obama has opted for the exact opposite approach. His new home is less than two miles from the White House, and from this "command center" he will be directing the activities of an army of more than 30,000 anti-Trump activists.
DO NOT MISS: United Nations Troops on U.S. Soil Prepared to Assist With Martial Law? (Videos)
In fact, as you will see below, this army has already been heavily involved in many of the protests and riots that have been popping up around the nation in recent days, sabotaged is a very strong word, but it is becoming apparent that Obama intends to do all that he can to sabotage the Trump administration, and that is very bad news for the American people.
On Saturday, the New York Post ran an excellent article by author Paul Sperry that was entitled "How Obama is scheming to sabotage Trump's presidency". In that piece, Sperry actually accuses Obama of setting up "a shadow government" to oppose Trump…
When former President Barack Obama said he was "heartened" by anti-Trump protests, he was sending a message of approval to his troops. Troops? Yes, Obama has an army of agitators — numbering more than 30,000 — who will fight his Republican successor at every turn of his historic presidency. And Obama will command them from a bunker less than two miles from the White House.
DO NOT MISS: Mainstream Media Comes After Me Personally For FEMA Camp Coverage (Video)
In what's shaping up to be a highly unusual post-presidency, Obama isn't just staying behind in Washington. He's working behind the scenes to set up what will effectively be a shadow government to not only protect his threatened legacy, but to sabotage the incoming administration and its popular "America First" agenda.
The "army of agitators" that Sperry is talking about is actually a nationwide network of "community organizers" known as "Organizing for Action".
If you go to the official website of Organizing for Action, you will see that there is a big picture of Obama right in the background of the homepage. Organizing for Action "grew out of Barack Obama's first presidential campaign", and it claims to have 250 local chapters around the nation.
DO NOT MISS: U.N. Soldier Says They Will Soon Occupy America: "Going Door-to-Door Taking Guns…"
If Hillary Clinton had won the election, Organizing for Action would almost certainly have faded from the spotlight, but now that Trump is in the White House they are rapidly raising money and gearing up for war.
And one of the first things the organization is trying to do is to save Obamacare. The following comes from NBC News…
To defend Obamacare, the group says it has planned 400 health care-focused events in 42 states this year with partners that include mainline liberal groups, like the Center for American Progress and Planned Parenthood, as well those from the progressive wing, like MoveOn.org.
OFA says 20,000 people have used their tool to call senators' offices to urge them not to repeal Obamacare and says one million supporters have already taken action with OFA.
The goal is to further hinder the already stalling momentum around repeal the Affordable Care Act.
DO NOT MISS: All Armed Americans To Be Detained In FEMA Camps Starting In 2017!??!
But Organizing for Action is not just about peaceful political action. In fact, according to Sperry some of the anti-Trump marches that Organizing for Action helped put together actually "turned into riots"…
Far from sulking, OFA activists helped organize anti-Trump marches across US cities, some of which turned into riots. After Trump issued a temporary ban on immigration from seven terror-prone Muslim nations, the demonstrators jammed airports, chanting: "No ban, no wall, sanctuary for all!"
Run by old Obama aides and campaign workers, federal tax records show "nonpartisan" OFA marshals 32,525 volunteers nationwide. Registered as a 501(c)(4), it doesn't have to disclose its donors, but they've been generous. OFA has raised more than $40 million in contributions and grants since evolving from Obama's campaign organization Obama for America in 2013.
So many people have been pointing the finger at George Soros for funding and organizing anti-Trump activists, but the truth is that Organizing for Action is perhaps even more involved than Soros is.
And Barack Obama is guiding and directing Organizing for Action from his brand new compound less than two miles from the White House.
The ironic thing about all of this is that Obama is currently building a very tall brick wall around his compound while at the same time his army of activists is highly criticizing Trump for wanting to build a border wall to protect the United States from unwanted intruders.
Take a good look below at just how much that lying sack of skin hates walls, judging by his speech. Then, perhaps ask him why he and Joe Biden, and Hillary Clinton, and 64 House Democrats and 23 Senate Democrats voted for the wall in 2006, many of whom are still serving to this day…
Among other notable lying pieces of human filth include: Senate Minority Leader Chuck Schumer, Barbara Boxer (CA), Sherrod Brown (OH — then in the House), Tom Carper (DE), Dianne Feinstein (CA), Barbara Mikulski (MD), Bill Nelson (FL), Debbie Stabenow (MI), and Ron Wyden (OR), and the list goes on.
INSTAGRAM | FACEBOOK | GOOGLE+ | TWITTER | PINTEREST | STUMBLE UPON | TUMBLR
FOR MORE NEWS BY VOICE OF REASON CLICK HERE!
If Obama doesn't like walls, he should tear down his own wall first.
Another form of sabotage against the Trump administration is coming from Obama loyalists that are still embedded within various government agencies.
According to Trump, those loyalists are responsible for the very disturbing leaks that have been happening…
President Donald Trump pointed the finger at Obama administration holdovers at the White House and National Security Council for leaking information about private phone conversations he had with leaders of Australia and Mexico.
"It's a disgrace that they leaked because it's very much against our country," Trump told Fox News Sunday, accusing "Obama people" in civil service positions for the leaks. "It's a very dangerous thing for this country," he added noting that these individuals were still being sought out and replaced.
Needless to say, after eight years under Obama many government agencies are absolutely crawling with people that are still very loyal to him. Trump needs to do a major housecleaning, and that is going to take some time.
What is going on between Obama and Trump is a microcosm of what is happening to society as a whole.
DO NOT MISS: Over 1,500 Pages of New Documents Reveal Martial Law and FEMA Camp Domestic Agenda in the U.S
Obama and his loyalists have totally bought into the radical progressive agenda of the global elite, and Donald Trump and his followers are very much against it.
I don't know that it is possible for there to be much compromise between the two sides, and so that means that more conflict is ahead.
The election of Donald Trump has fired up the radical left like never before, and I believe that the protests and riots that we have seen so far are only just the beginning.
And if things go really bad under Trump, it is very easy to imagine widespread civil unrest erupting all over the nation.
Unfortunately, throughout all of this we are going to be having an ex-president sitting less than two miles from the White House guiding and directing the anti-Trump forces every step of the way.
BE SURE TO CHECK THELASTGREATSTAND.COM FOR SURVIVAL GEAR!
FREE DETAILED GUIDE TO SURVIVING ECONOMIC COLLAPSE OR MARTIAL LAW HERE
I know that Trump is quite eager to get things done, but putting out this executive order at this particular moment was definitely a case of poor timing.
We are a nation that is deeply, deeply divided, and now this latest controversy threatens to divide us even further.
When I was out earlier today, I saw a pro-Trump billboard that some business owner had put up that was urging liberals to quit their whining.
On the surface that may sound funny, but it definitely doesn't do anything to bring us together.
If you give anger enough fuel, eventually it leads to violence. I am certainly not suggesting that we should ever compromise on what we believe, but what I am suggesting is that there is a wise way to handle things and an unwise way to handle things.
Someday, widespread civil unrest is going to sweep across the United States and major American cities will burn.
My hope is that we can put this off for as long as possible.
In fact, I sincerely hope that this will not happen at all during the Trump/Pence era.
But you would have to be blind not to see the hate, anger and frustration that are all growing like cancer in the hearts of our young people.
This is a time for the peacemakers. If there are any left in Washington, we need them to rise up now and try to bring healing before it is too late.
For those of you who are finally starting to realize there is major trouble on the horizon, largely as a result of the corruption within our own government and the 2016 election, the failure of the U.S. Dollar and Western banks, deteriorating conditions here domestically, or perhaps even because of nuclear tensions reaching all new heights, then I suggest you get your FREE GUIDE for how to survive Martial Law here, because if/when things begin to go south, by then it will be too late to do anything about it.
For anyone with no idea where to begin making preparations, a very good, and very inexpensive tool to teach you how and what you should be preparing, is a book called "Conquering the Collapse." Since I've practically worn out my own iPad reading my copy, in the following link I provide you with a review of the book: Be Ready For Any Emergency – The Crucial Guide For Any Family's Safety (Videos).
If you do nothing else, you can learn more about the coming crisis in the links at the bottom under the heading titled, "If nothing else, these links are essential." The writing is on the wall everywhere… I strongly suggest checking out the post titled, Start "Doubling Up On Your Prepping;" Countdown to Economic Collapse.
BE SURE TO CHECK THELASTGREATSTAND.COM FOR SURVIVAL GEAR!
FREE DETAILED GUIDE TO SURVIVING ECONOMIC COLLAPSE OR MARTIAL LAW HERE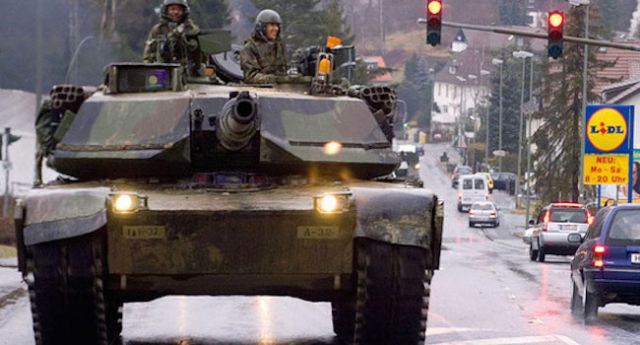 FOR MORE LINKS ON MARTIAL LAW:
The United States Is Sitting on the Edge of Civil War (Video)
Reports of Active U.S. Military Drilling for "Authoritarian Rule of Law" (Martial Law)
U.N. Soldier Says They Will Soon Occupy America: "Going Door-to-Door Taking Guns…"
1,500 Pages of New Documents That Reveal U.S. Government's Martial Law Agenda (Video)
Mainstream Media Blasts Alternative News Personality on FEMA Camps (Videos)
Ron Paul: Undeniable Proof Martial Law Is Coming Because of the Economy (Video)
Virginia Police and Homeland Security Doing Exercises for Marital Law Conditions (Video)
Latest News on Government's Preparing For Civil War or Martial Law (Videos)
Martial Law Convoys Sent to Baton Rouge, Dallas, and St. Paul Before Shootings (Videos)
Pentagon Approves U.N. Use Of Force Against American Civilians (Video)
What Is the U.S. Government Endlessly Preparing For (Videos)
Patriot Films Shocking New Video of a FEMA Camp Recently Discovered in Texas
Major Update to Military Movement and Actual Documentation of Their Plans (Video)
United Nations Troops on U.S. Soil Prepared to Assist With Martial Law? (Videos)
Obama Has Prepared FEMA for All Four Storms… Are You Prepared?
13 States Obama Is Using for His Nefarious Secret Agenda (Video)
Obama: Be Ready For EMP Attacks, Engineered Pandemics, Earthquakes, and Martial Law
How Likely is Martial Law in the US, and What Happens Under Martial Law
Law Enforcement Preparing For Rioting on National Scale (Videos)
All Armed Americans To Be Detained In FEMA Camps Starting In 2017? (Video)
Beware of Martial Law: Obama Will Confiscate Firearms Of All 50 States in 2016
Army Not Prepping for Battle; Training For Riot Control and Martial Law
Pentagon Says Preparing For Huge Civil Unrest in U.S. (Videos)
Political Dissidents Homes Being Marked By FEMA Prior to Martial Law?
Government "Threat List:" 8 Million People To Be Detained Immediately
SUBSCRIBE TO THE TOP STORIES OF THE WEEK IN THE NEWSLETTER HERE
FACEBOOK | GOOGLE+ | TWITTER | PINTEREST | STUMBLE UPON | TUMBLR
FREE GUIDE TO ECONOMIC COLLAPSE OR MARTIAL LAW…
AT THE OFFICIAL BLOG SITE BELOW!
FACEBOOK | GOOGLE+ | TWITTER | PINTEREST | STUMBLE UPON | TUMBLER