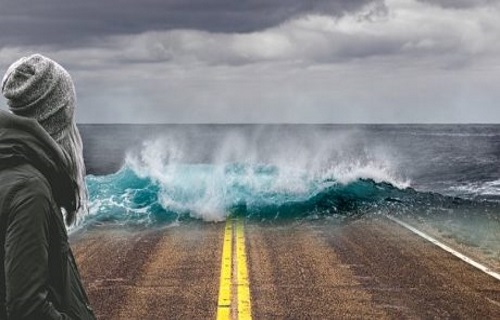 Scientists Warn That The Coming California Megaquake
Over the years, many people have been shown that someday a giant earthquake will cause significant portions of California to fall into the ocean. But up until now, most scientists have disputed the idea that this could ever actually happen. Well, now all of that has changed. According to a brand new study, a megaquake along the west coast "could plunge large parts of California into the sea almost instantly". In fact, the researchers that conducted this study say that it is almost certain to happen eventually. Of course they probably don't believe that such an event is imminent or else they would be moving out of the state like so many other people are.
When I came across news stories about this brand new study I was absolutely astounded. Here is a short excerpt from one of them…
The Big One may be overdue to hit California, but scientists near LA have found a new risk for the area during a major earthquake.

They claim that if a major tremor hits the area, it could plunge large parts of California into the sea almost instantly.

The discovery was made after studying the Newport-Inglewood fault, which has long been believed to be one of Southern California's danger zones.
Could you imagine what such a catastrophe would do to our nation and how many lives would be lost if that were to happen today?
According to the study, a California megaquake would potentially cause some sections of southern California to suddenly drop by as much as 3 feet, and that could result in vast stretches of land "ending up at or below sea level"…
In total three quakes over the last 2,000 years on nearby faults made ground just outside Los Angeles city limits sink as much as 3ft.

Today that could result in the area ending up at or below sea level, said Cal State Fullerton professor Matt Kirby, who worked with the paper´s lead author, graduate student Robert Leeper.
Wow.
And we are not talking about something that would happen over a period of weeks or months. According to these scientists, it would be a "very rapid sinking"…
"It's not just a gradual sinking. This is boom — it would drop. It's very rapid sinking," Robert Leeper, lead author of a new study published in Nature, carried out with the help of the US Geological Survey, told the LA Times.
So could a substantial portion of southern California someday actually slide into the ocean like we see in the movies?
The scientists that were involved in this study say that the answer is yes…
Cal State Fullerton professor Matt Kirby, who worked with the Leeper on the study, said the sinking would occur quickly and likely result in part of California being covered by the sea.

"It's something that would happen relatively instantaneously," Prof Kirby said. "Probably today if it happened, you would see seawater rushing in."
If you follow my work regularly, you know that I have warned that great natural disasters are coming to the United States, and that a California megaquake will be one of those disasters.
Others have been issuing similar warnings for many years. For example, just consider what Dr. Maurice Sklar was shown…
I saw a massive earthquake that just seemed to crack off the coast of California. It reminded me of a Saltine cracker that just cracked in two! The great cities along the West coast just fell into the ocean, all the way from Mexico up to Alaska and giant waves flooded inland until much of the West Coast just wasn't there! It had disappeared into the Pacific Ocean.
Let us hope that we have as much time as possible before anything like this actually happens. But scientists are also telling us that a tremendous amount of seismic tension has built up in southern California, and that this tension could cause a major earthquake at any time. In fact, in my recent article about why people are moving out of California, I included a quote from an ABC Los Angeles story about how researchers are warning that a major earthquake in southern California is "way overdue"…
A recently published study reveals new evidence that a major earthquake is way overdue on a 100 mile stretch of the San Andreas Fault from the Antelope Valley to the Tejon Pass and beyond.

Researchers with the U.S. Geological Survey released the results of the years-long study warning a major earthquake could strike soon.
Today, more than 38 million people live in the state of California, and as a population density map of the state shows, much of the population is concentrated along the coastline…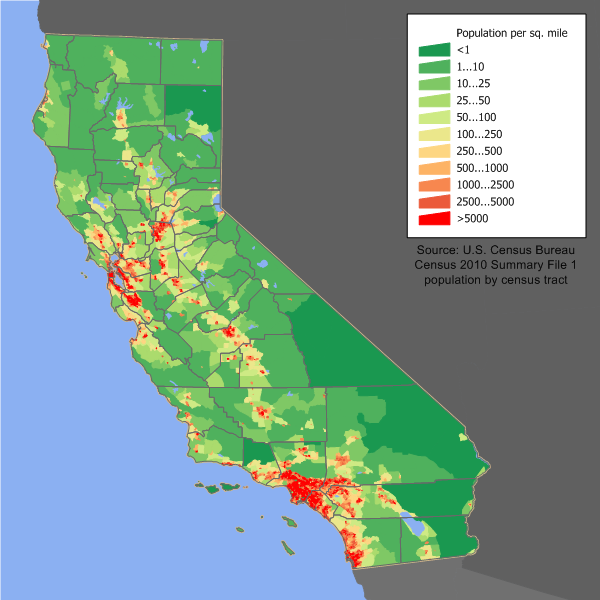 So if large sections of the California coast did end up plunging into the ocean, what would the death toll be?
Would it be in the millions?
And what would such a disaster mean for the rest of the country?
The west coast of the United States sits along "the Ring of Fire". Roughly encircling the Pacific Ocean, this vast seismic zone contains approximately 75 percent of the active volcanoes in the world and it produces more than 80 percent of all major earthquakes.
In other words, anyone that lives near the Ring of Fire would be foolish to assume that they are immune from massive natural disasters.
In 2011, a major earthquake along the Ring of Fire on the other side of the Pacific Ocean caused a massive tsunami to wash inland in Japan for many, many miles.
If such a thing were to happen in Los Angeles or San Francisco, the death and destruction would be on a scale that would be absolutely unimaginable.
When the big Hollywood film entitled "San Andreas" came out in 2015, a lot of people mocked the idea that the things portrayed in that film could ever happen in real life.
But now scientists are telling us that a megaquake could cause large portions of California to plunge into the ocean and that it is quite likely that this will actually happen someday.
Survival Food Prepping Ideas/ULTIMATE Top Skills 2017
Discover how to survive: Most complete survival tactics, tips, skills and ideas like how to make pemmican, snow shoes, knives, soap, beer, smoke houses, bullets, survival bread, water wheels, herbal poultices, Indian round houses, root cellars, primitive navigation, and much more at: The Lost Ways
The Lost Ways is a far-reaching book with chapters ranging from simple things like making tasty bark-bread-like people did when there was no food-to building a traditional backyard smokehouse… and many, many, many more!
Here's just a glimpse of what you'll find in The Lost Ways:
From Ruff Simons, an old west history expert and former deputy, you'll learn the techniques and methods used by the wise sheriffs from the frontiers to defend an entire village despite being outnumbered and outgunned by gangs of robbers and bandits, and how you can use their wisdom to defend your home against looters when you'll be surrounded.
Native American ERIK BAINBRIDGE – who took part in the reconstruction of the native village of Kule Loklo in California, will show you how Native Americans build the subterranean roundhouse, an underground house that today will serve you as a storm shelter, a perfectly camouflaged hideout, or a bunker. It can easily shelter three to four families, so how will you feel if, when all hell breaks loose, you'll be able to call all your loved ones and offer them guidance and shelter? Besides that, the subterranean roundhouse makes an awesome root cellar where you can keep all your food and water reserves year-round.
From Shannon Azares you'll learn how sailors from the XVII century preserved water in their ships for months on end, even years and how you can use this method to preserve clean water for your family cost-free.
Mike Searson – who is a Firearm and Old West history expert – will show you what to do when there is no more ammo to be had, how people who wandered the West managed to hunt eight deer with six bullets, and why their supply of ammo never ran out. Remember the panic buying in the first half of 2013? That was nothing compared to what's going to precede the collapse.
From Susan Morrow, an ex-science teacher and chemist, you'll master "The Art of Poultice." She says, "If you really explore the ingredients from which our forefathers made poultices, you'll be totally surprised by the similarities with modern medicines." Well…how would you feel in a crisis to be the only one from the group knowledgeable about this lost skill? When there are no more antibiotics, people will turn to you to save their ill children's lives.
If you liked our video tutorial on how to make Pemmican, then you'll love this: I will show you how to make another superfood that our troops were using in the Independence war, and even George Washington ate on several occasions. This food never goes bad. And I'm not talking about honey or vinegar. I'm talking about real food! The awesome part is that you can make this food in just 10 minutes and I'm pretty sure that you already have the ingredients in your house right now.
Really, this is all just a peek.
The Lost Ways is a far–reaching book with chapters ranging from simple things like making tasty bark-bread-like people did when there was no food-to building a traditional backyard smokehouse… and many, many, many more!
SOURCE : http://www.prepperfortress.com/scientists-warn-coming-california-megaquake-plunge-large-portions-state-ocean/