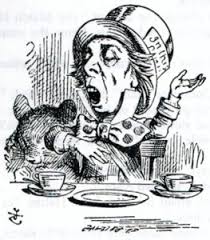 Copyright 2017, InterAmerica, Inc.
An Anomalist link, via our pal William Murphy, to an Open Minds notation for John Greenewald's eminent site, The Black Vault, provides access, by way of the Freedom of Information Act, to some documents that offer information about a 1980s intrusion by UFOs over a nuclear plant in Nebraska.
Phew. Click
HERE
for the link.
Among those documents are a few asides that indicate, what I see as, madness…
"The other report is a bit more difficult to summarize. The NRC writes:
The individual expressed vague concerns about finding low-level radiation within the last year where his daughter, whom he believes is an alien or alien transplant, passed. In addition, the individual believes that travel speed can be increased using the relativity equation with minor modifications. Finally, the individual has observed UFOs. [Italics mine]
The NRC responded that this was out of their jurisdiction and perhaps the individual should contact the Department of Defense."
Note the not quite compos mentis remarks by the "individual."
Such remarks are legion in UFO lore. (See Jerry Clark UFO book mentioned in previous posting here.)
In the literature of "insanity," there are mad thoughts of various kinds by persons said to be "insane." But only in the UFO literature do persons resort to observations not based in sexual inadequacy or anxiety. Neurotic and psychotic people have delusions and psychic pain that pertains to their personal being. They do not extrapolate their fantasies to include aliens (extraterrestrials) or space ships containing aliens.
For some reason, UFO madness is accepted by almost everyone as a harmless quirk, not a reason to put those exhibiting such madness in a strait-jacket or madhouse.
The UFO madness is harmless enough, only isolating those so afflicted to a category of loopy or loony, daft. They are not pronounced "mad" or "insane" but they are, to some degree.
UFO madness is not dangerous, just bizarre behavior.
Some, like the contactees, even managed to curb their madness into a productive (for them) con, producing some income and a modicum of fame.
Others persist in capturing the public's attention without being institutionalized: Whitley Strieber for instance.
Then there are the so-called abductees (experiencers) who suffer from repressed sexual happenings in their youth, who take the ET kidnapping route rather than going to a psychotherapist.
And don't get me started on the Ancient Astronaut theorists.
UFO madness is of a kind, a kind that is often (usually) overlooked as benign. And it is.
But it still is madness: insanity.
RR
http://ufocon.blogspot.com – The UFO Iconoclast(s)
Source:
http://ufocon.blogspot.com/2017/03/ufo-madness-is-one-of-kind.html