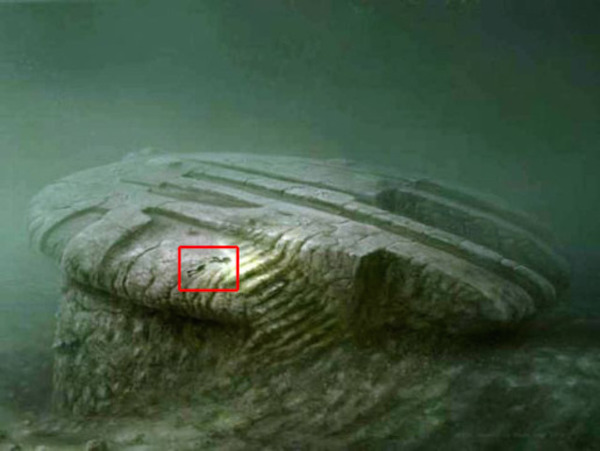 One of the most amazing stories I ever read or posted was about a 13,000 Year Old Satellite Orbiting Earth Sending Radio Signals Down to Earth (Video). In an article listing 20 amazing facts about the "Black Knight" satellite, Ancient Code revealed that according to monitoring agencies around the world, The Black knight satellite has been transmitting radio signals for over 50 years now, and that rumor has it that it was Nikola Tesla who was the first man to "intercept" a signal from the black knight satellite in 1899 after building a high-voltage radio device in Colorado Springs. Given the technological advances that we've gotten from the work of Nikola Tesla, there is a strange irony there.
When I first saw the picture of the mysterious object at the bottom of the Baltic Sea, I was mildly interested, but I stress mildly. It was at least enough to get me to watch the video below. Upon learning about the skid marks, and the problems with radio equipment directly above the submerged object, it makes me hope that Ocean X, a private treasure hunting company, gets the additional funding it needs to continue researching this strange object. Could the 13,000 Year Old Satellite Orbiting Earth been placed in Earth's orbit to establish contact?
14,000 Year Old UFO – The Baltic Sea Anomaly
CHECK OUT OTHER STORIES BY THE UN-SILENT MAJORITY HERE:
CHECK OUT THE NEW GOOGLE+ PAGE HERE:
Is the Baltic Sea Anomaly a 14,000 year old alien spacecraft that crash landed?
In what seems to come straight out of a Star Wars film, something like a crashed Millennium Falcon has been spotted at the bottom of the Baltic Sea.
The image first appeared on the sonar of Ocean X, a private treasure hunting company, a couple of years ago.
You can see its strange and artificially circular shape. It looks something like a UFO.
Also note the streak marks behind it. Look at the way they are shaped….it looks like whatever this thing was crashed and skidded along the ground before coming to a stop.
The team that discovered this object noted that when their boat was directly above it some of their electrical equipment stopped working. When they sailed away , the equipment started working again.
The dive team that explored the sunken object also explained how the object appeared to have steps leading into an egg shaped entrance.
Parts of either the object or rock that had formed around it were dated to be around 14,000 years old.
Still, some experts say this could completely be a natural geologic rock formation.
But, to me at least, the way it stands out on a sonar scan, the steps and entrance the divers note, and the apparent skid marks that trail the object… a natural geologic rock formation seems like an unlikely culprit.
Just what is this object laying at the bottom of the Baltic sea? Could it be an alien spacecraft that crashed long ago?
See the original article here:
FOR OTHER POSTS ON MYSTERIES IN SPACE:
10 Things You Didn't Know About Black Holes – #9 Seems Impossible!
4 Weird "Clues" That Parallel Universes Exist
Video: Hear the Erie Sound Every Planet Makes In Outer Space
10 Insane UFO Conspiracy Theories That Might Actually Be True
15 Space Pictures That Will Actually Make You Think
Breaking Video: Crazy HAARP Weather Explosion In Mid Air
HAARP? A UFO? Time Warp? Top Secret Military Experiment? (Video)
Secret Military Spy Plane (TR-3A) Videotaped in Space (Video)
Cloaked UFO Or HAARP? Lights Over Indiana Top Secret or Cosmic?
This "Alien" Discovery is Throwing NASA Into a State of Bewilderment!
Elusive Planet X Caught on Video in the U.S. After Sundown (Video)
13,000 Year Old Satellite Orbiting Earth Sending Radio Signals (Video)
Aliens on the Moon: The Truth Exposed
Possible Alien Structures Spotted on NASA's Image of Ceres
CHECK OUT OTHER STORIES BY THE UN-SILENT MAJORITY HERE:
CHECK OUT THE NEW GOOGLE+ PAGE HERE:
BE SURE TO GO MY PROFILE'S BELOW AT OTHER SOCIAL MEDIA:
FACEBOOK | TWITTER | PINTEREST | STUMBLE UPON | TUMBLER
~ THE UN-SILENT MAJORITY ~