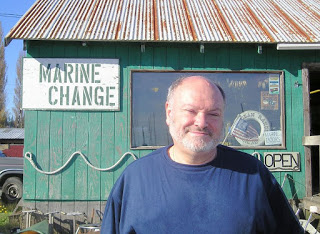 My friend and one of SkyTruth's original board members, Dr. Elliott Norse, is stepping off our Board of Directors after 14 years of tirelessly enthusiastic service. An internationally acclaimed forest ecologist and marine biologist who founded and ran the Marine Conservation Institute, Elliott has more accomplishments than I can list, but among them: he was an early proponent of the concept of biodiversity and shaped the field of marine conservation biology in its formative years; and he coined the name SkyTruth. So, in a very literal way, we owe our identity to him.
And in a era where ecopragmatism is on the upswing, and tactical compromises and tradeoffs are redefining environmentalism, Elliott has always been an ardent ecospiritualist: a guiding star to keep us inspired to work on behalf of conservation, not just because it's something that benefits humankind, but because it's the right thing, the moral thing, to do.
We've benefited greatly from his wit and wisdom, his generosity and leadership. I know Elliott is still just a phone call away, and we'll be able to drop in and get his thoughts when we're wrestling with decisions large and small, and in need of some perspective. I can't complain: we've had a good run with Elliott, and because of Elliott, and for that I am deeply grateful.
Thank you Elliott, from your friend, admirer and colleague,
John Amos
President
–
With Elliott's permission, I'd like to share his message to our Board:
–
Dear SkyTruth boardies,

There are 2 kinds of actors: those who don't know when to get off the stage and those who do.

Timing is everything. Now that SkyTruth is rapidly ascending and I see how smart and devoted our boardies are to John's vision, SkyTruth's methods and our crucial conservation mission, it is my sad but heartfelt pleasure to tell you that I am resigning from SkyTruth's Board of Directors effective 12/31/15, when I am also resigning my day job at Marine Conservation Institute.

I've had the pleasure and honor of knowing John since 1985 or so. 30 years. And I've seen how he's used his talent—which in the for-profit world would have made him rich—to make our world a better place.

John has great vision, a great heart, a great presence as a speaker and very good luck when it comes to choosing the people around him. You make him even better at what he does so brilliantly.

As you all know, how humans relate to our planet is absolutely key to the complex systems of business, society, politics and ecology. It's not easy to understand the behavior of complex systems because we don't see all that they do until they do it. But one thing we know about complex systems is that they tend to resist change until they pass an inflection point (or tipping point, as people now see it, thanks to Malcolm Gladwell), the moment when systems reorganize. Nonlinearity is a defining characteristic of complex systems. And my sense is that SkyTruth is positioned to become a much more important part of the most important of global conversations: the one about what to do to our blue, white, green and brown planet, on which we and all our progeny live.

I've devoted years to seeing SkyTruth succeed, and I now want to watch it ascend to a new level of influence over what people are doing to the Earth and one another. SkyTruth is about seeing and depicting the environmental truths—local, regional, national and global—on land, freshwaters and the sea. By taking a satellite's view (backing off to take in the greater context), SkyTruth provides the iconic views and analyses of big things that are happening on our planet, from the structural failure of coal ash dams and the regulatory failure of mine reclamation to the hemorrhaging of oil leaks and the metastasis of illegal fishing far out at sea. And with more than a billion people armed with phones that can photograph time-stamped geolocated human activities, SkyTruth has the gravitas and technological savvy to interpret these iconic images for a worldwide network of individual citizens, advocacy organizations and government agencies. The stars are aligning for SkyTruth's ascent into a higher orbit, as they are for Marine Conservation Institute. These outstanding nonprofits deserve to have younger, fresher minds to help our staffs do great things for this truly unique real estate we inhabit. After working on small, not-so-small and really big things for well over a decade, SkyTruth has shown special capacity to see and understand how things happen and affect nature and people.

John, Paul and their team have done a brilliant job. Their successes are not one-offs; SkyTruth has all the elements needed to reach a higher orbit.

I think our board needs a few scientists who have exceptional vision, strong pro-Earth ethics and the ability to integrate nature and people. I think we need more contacts in both the nonprofit environmental advocacy community and the for-profit world of business (the government people who see your products will be compelled to flock to you). And SkyTruth needs lots more money to succeed, as we all want it to. So this is the time for SkyTruth's strategic revisioning and rebooting, keeping our other boardies but also upgrading the geographical ecology position(s) and adding formal economics and social marketing savvy, giving us both substantive credibility and the ability to move lots more people now, while there's still a brief window of time to succeed.

Worry not for me. I've spent more than 37 years fighting to save the Earth I love. Now I'm ready to take better care of my health and my loved ones, to grow my vegies, to watch my amazing backyard birds, to read, to think and do whatever life brings me. If I've done good things for this organization and Marine Conservation Institute, I feel it's the right time to quit while I still have some relevance, not to wait until I'm no longer good enough to play a game this important. I'm exiting my way, and it feels really good.

Knowing that our baby is in very good hands allows me to leave the stage now. I'm not going to disappear, so if John, Paul or any of you needs to talk, I'll still be at this email and phone number. If I don't answer, please know it's not because I'm hunting for funding or meeting with the most powerful people who'll give me an audience; it's because I'm working out, watching hummingbirds feed from flowers I've planted specifically for them, caring for my beautiful grandchildren (they don't have any of my genes!), traveling with my wonderful wife of 23 years, reading a novel or doing something else that's physically, mentally, emotionally and spiritually rewarding. Don't worry about me. Just do really good things for SkyTruth and I'll watch your progress and celebrate.

Thank you all for the great privilege of working with you.

Peace and love for you and for the Earth,

Elliott
–
Source:
http://blog.skytruth.org/2015/12/a-message-from-elliott.html