Story Views


Now:
Last Hour:
Last 24 Hours:
Total:
Update on Fishing Fleet at MH370 Search Site
Monday, January 25, 2016 20:01
% of readers think this story is Fact. Add your two cents.

I would like to provide an update on our post from earlier this month on the Fu Yuan Yu Fleet appearing near the search site for Malaysian Airlines Flight 370. We were puzzled to see a large number of fishing vessels at this remote location. Since our post we have received information indicating that these vessels are licensed Chinese fishing vessels targeting small pelagic species.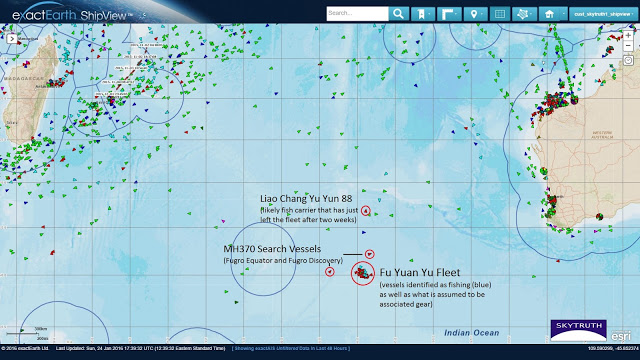 The Fu Yuan Yu fleet now appears just south of the area being surveyed by MH370 search vessels Fugro Equator and Fugro Discovery. The Liao Chang Yu Yun 88 can be seen headed north after spending two weeks with the fleet. This Chinese flagged vessel is likely a fish carrier.
If as reported the Fu Yuan Yu vessels 070, 071, 072, 073, 075, 076 are targeting small pelagic species (not tuna) then they would not need to be licensed by an RFMO (Regional Fishery Management Organization) in the Indian Ocean. However we are still curious about the fishing methods of this fleet, described as lightning purse seiners. The lightning presumably refers to use of light attraction in their fishing operation.
Each parent vessel appears to be associated with a string of 5 or 6 AIS beacons attached to some type of gear. The vessel and gear can be drifting and strung out in a 30 mile string as seen in the recent screenshots below. Or at other times each parent vessel and set of associated gear is in the same location. This pattern made us think of setting and retrieving a longline but these vessels have now been reported as purse seiners so the fishing operation is puzzling.
Below you will see track for one of the fishing vessels, Fu Yuan Yu 070, as well as what we assume is a piece of associated fishing gear (070 04). The two tracks can be seen to overlay closely. We are looking for further information to clarify the fishing operation taking place.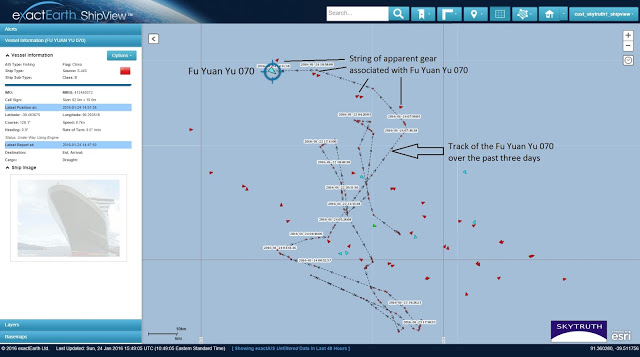 The track of the Fu Yuan Yu 070 (black dashed line) over three days. Other vessels of the Fu Yuan Yu Fleet also appear to the south each with string of what is assumed to be associated fishing gear extending southeast about 30 km. All vessels have been described as lighting purse seiners.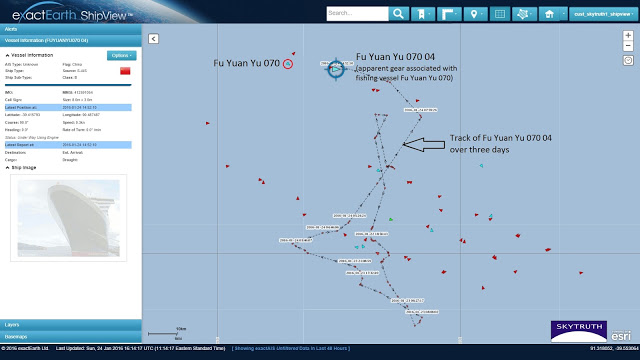 Here is shown the three day track of one of presumed pieces of fishing gear associated with the Fu Yuan Yu 070. The track has fewer broadcast AIS positions but it can be seen to closely follow that of the parent vessel.
Source:
http://blog.skytruth.org/2016/01/update-on-fishing-fleet-at-mh370-area.html