We have seen strange wave anomalies in the past. The most recent anomaly is coming from Antarctica.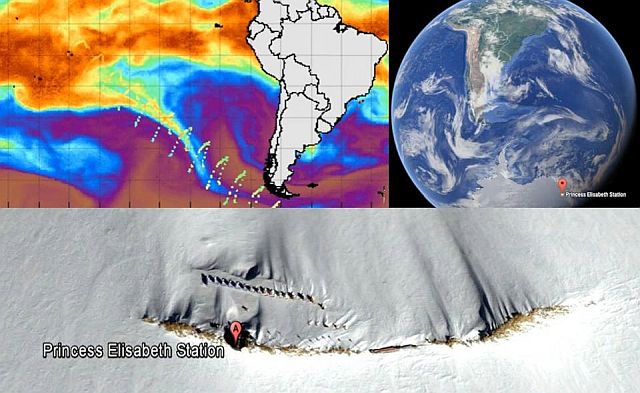 All we have to go off of is the MIMIC Maps that leave out the poles and if you make a line down into Antarctica the path crosses the mysterious Princess Elisabeth Station located on Utsteinen Nunatak in Queen Maud Land. Coordinates: 71.949960°S 23.347503°E
The station is situated at the base of pyramid-like structures while four large rectangular strange objects, partially buried under the snow, are located at about 2.5 km from the station.

In the video below Dahboo777 gives further details on the strange anomaly, but one thing is for sure, something is creating this anomaly in Antarctica and it is shooting out into the Pacific Ocean.
Thanks http://ufosightingshotspot.blogspot.com/
Check out more contributions by Jeffery Pritchett ranging from UFO to Bigfoot to Paranormal to Prophecy
~~~~~
Most people who use social media have figured out that Facebook and Google are in cahoots with the government. For those who are well aware of the issues, it's high time you switched over to Seen.life. It is a website that is similar to Facebook but without all the censorship.
Firearm friendly, you may buy sell or trade anything allowed by site TOS rules.