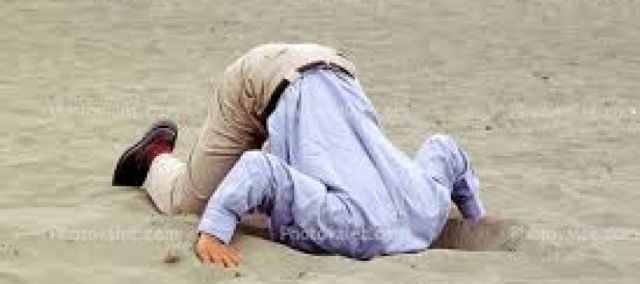 WAIT… THEY ARE ONE IN THE SAME AREN'T THEY?
WELL, THAT EXPLAINS THAT!
All kidding aside, to those who turn their backs on what is very obvious from an EVIDENTIARY standpoint, and very real from a COMMON SENSE standpoint to anyone in possession of the FACTS, people who REFUSE to investigate the facts might as well just turn their backs on their own families and loved ones because in the end THAT is who will pay for their ignorance. Heck, the people I'm talking about will not even look at the EVIDENCE when someone else DOES all the research for them and provides dozens and dozens of sources.
I'd like to steel a quote that Andrew Wilkow said today when he was referring to willfully ignorant liberals who continue to push this nonsensical narrative about some connection between conservatism and racism, only I want to apply his quote to ALL liberals and ALL those of ANY political persuasion who REFUSE to LOOK right at reality. Wilkow said it better than anyone when he said:
"We are dealing with people who have consumed copious amounts of bat droppings and it has made them crazy . . . and probably other scat while they're at it too, like I don't know what the market is for bat droppings, but they might eat deer pellets, or those little raisins that guinea pigs make, but there's something wrong with their brains. And they're serious when they speak of these things…"
BAM!
WELL SAID WILKOW!
For those that don't know ANDREW WILKOW is on XM Sirius Radio from noon to 3pm M-F, and I think he's the best voice in conservative radio. It doesn't hurt that Wilkow is the host that Mark Levin, aka "The Great One," a brilliant attorney and well known major voice for the conservative movement turns to for his own listening preference. As entertaining as I find Rush, I LEARN when I listen to Wilkow. He's a Republican, but his show is 5% rhetoric, 95% political analysis based on the Constitution.
NOW, LET'S DIG IN AND TALK ABOUT SOME TOPICS AMERICANS ARE WILLFULLY IGNORANT ABOUT!!!!
TOPIC #1: FEMA CAMPS
Why don't we start with the pink elephant in the room right now that deals with a topic most Americans, regardless of their political persuasion REFUSE to look at the EVIDENCE that fully supports: FEMA CAMPS! THE SUPREME COURT HAS ADDRESSED THE ISSUE, more specifically SUPREME COURT JUSTICE SCALIA HAS COMMENTED ON THEM, AND PRESIDENT OBAMA HAS PERSONALLY GIVEN A SHOCKINGLY HORRID SPEECH ON FEMA CAMPS.
[Audio/Video below cannot be seen in Newsletter - have to go to Blog]
To deny these camps exist is sheer buffoonery. The problem is so pervasive, that it shocks the conscious to those of us that ARE sane and rational people who have not REFUSED to LOOK at the evidence. For the rest of the population, they suffer from a horrible case of a psychological principal known as COGNITIVE DISSIDENCE!
Because of the psychological principal, COGNITIVE DISSONANCE, no amount of direct or circumstantial proof would convince some people that the United States could ever fall to a third world nation because our economic status deteriorated to badly. All of MY life, nothing has ever been too much for the American people to handle, so the vast majority of people just assume things will always be that way. To think otherwise would be too upsetting for most.
ALL I CAN SAY IS ROME WAS AN EMPIRE ONCE TOO!
SAD THAT THE SAME THING WILL BRING US BOTH DOWN…
Anyway, cognitive dissonance refers to a person who has received information so shocking, so upsetting, that they CANNOT ADEQUATELY PROCESS that information and then instead denies the validity of the proof that anyone else can see.
IF YOU'RE NOT IN DENIAL, EXPLAIN OBAMA'S COMMENTS.
I'M ALL EARS!
TOPIC #2: OBAMA IS A TRAITOR
IT'S ABOUT DAMN TIME…
AND WE HAVEN'T EVEN GOTTEN TO BENGHAZI!
Like it or not, EGYPT is our ALLY. They have the most powerful military in the Middle East, much of their hardware from the United States, and more recently much of their newer hardware from Russia (making things interesting), but they are the cultural and military power of the Middle East that we NEED to stop ISIS and hopefully prevent Iran from becoming nuclear if it's not already too late.
EGYPT HAS CHARGED OBAMA AND HILLARY WITH AIDING AND ABETTING TERRORISTS!!!!
READ THE AGAIN IN THE EVENT IT HAS NOT SUNK IN YET!
Hmmmm… do you think this was the 400 STINGER MISSILES THAT WERE BEING ILLEGALLY FUNNELED TROUGH THE LIBYAN EMBASSY THE NIGHT OF BENGHAZI that ultimately resulted in Christopher Stevens being killed when he was hung out to dry? Or do you think it might be because those same STINGER MISSILES WERE USED TO SHOOT DOWN AN AMERICAN HELICOPTER?
No… wait… maybe it was aiding and abetting the enemy by GUTTING our military on a STALIN LIKE PURGE OF ITS BEST AND HIGHEST RANKED OFFICERS! Could that be it? Wait, wait, let's not forget the recent article by Michael Connelly, Constitutional Attorney who wrote about SIXTEEN EXAMPLES OF OBAMA AIDING AND ABETTING THE ENEMY! Of course, they might be referring to ADMIRAL LYONS WHO HAS REPEATEDLY SAID OBAMA CONSPIRED WITH THE ENEMY IN AN ACT OF TREASON! Maybe that's it.
THERE ARE SEVERAL ADMIRALS AND SEVERAL GENERALS WHO HAVE ALL COME OUT AND ACCUSED OBAMA OF OUTRIGHT TREASON!
YOU KNOW WHAT? HERE IS WHAT I KNOW:
ARTICLE III, SECTION 3:
"Treason against the United States, shall consist only in levying war against them, or in adhering to their enemies, giving them aid and comfort. No person shall be convicted of treason unless on the testimony of two witnesses to the same overt act, or on confession in open court."
SOMEONE SAVE ME A SEAT IN THE GALLOWS!
The Egyptian government has charged President Barack Obama and former Secretary of State Hillary Clinton with being accessories to terrorism.
The charges stem from Obama and Clinton working with the Muslim Brotherhood, an organization that Egypt has declared a terrorist group.
WAIT, NOT THE SAME MUSLIM BROTHERHOOD BARACK'S BROTHER MALIK IS THE HEAD OF A TERROR CELL?
NOT THAT MUSLIM BROTHERHOOD RIGHT?
AND 4/10 DEMOCRATS IN A RECENT POLL SAID OBAMA SHOULD BE "KING?"
The complaint against Obama names him as "an accessory to crimes committed by the Muslim Brotherhood in Egypt."
The charges go on to state that Obama, "cooperated, incited, and assisted the armed elements of the Muslim Brotherhood in the commission of crimes."
STRANGE HUH? THE SAME THING A U.S ADMIRAL HAS SAID LIKE 10 TIMES… AT LEAST THE EGYPTIANS WERE LISTENING EVEN IF THE DEMOCRATS WEREN'T!
Several Admirals and Generals Accusing Obama of Treason!
Admiral: Obama Conspired With Enemies to Kidnap Chris Stevens
FOUR STAR ADMIRAL: "Obama Conspired With the Enemy!"
Top Admiral: Obama A Benghazi Co-Conspirator…
17 Generals/Admirals & High-Ranking Military Officials Purged By Obama
Obama Fired 3 Generals, Admiral To Cover Up Benghazi…
FOLKS, THIS HAS ALL BEEN IN THE LINKS FOR MONTHS!
READ THE LINKS I PROVIDE!!!!!
The U.S. State Department does not list the Muslim Brotherhood as a terror organization even though they have known ties to Hamas.
The charges against Clinton include that she worked to overthrow Gen. Abdel-Fattah el-Sissi, the current leader of Egypt.
Clinton is said to have been in contact with Naglaa Mahmood, the wife of Muslim Brotherhood member and Egyptian President Mohammed Morsi.
Morsi and the Muslim Brotherhood were ousted by a military coup led by el-Sissi in 2013.
Obama and Clinton are also charged with attempted bribery, stemming from the White House giving the Muslim Brotherhood $8 billion to open up the Sinai Peninsula to Hamas, allowing the terror group to launch attacks on Israel (H/T Joe for America).
The so-called "Arab Spring" that was strongly supported by the Obama White House went from being a showcase of democracy to a foreign policy failure in a matter of months as long-time allies of the United States were ousted from power some of the most radical Muslim extremists on the planet filled the voids.
This, of course, was the direct result of Obama's naive worldview when it comes to radical Islam and Islamic terror — the same worldview that allowed for the rise of the Islamic State.
The consequences of that worldview are now plain for everyone to see.
PLEASE SHARE THIS ON FACEBOOK AND TWITTER IF YOU THINK THE UNITED STATES NEEDS TO TRY THEM FOR TREASON!
Read the article at Conservative Tribune here:
TOPIC #3: WAKE UP! GLOBAL ECONOMIC COLLAPSE IS IMMINENT!
OK, some things have begun to happen, and some very important people in the financial world are getting VERY nervous. If you're not already well versed in who Gerald Celente is, then Google him and do 20 minutes worth of reading on him. After about three minutes of reading, I'm sure you'll be sufficiently convinced that Celente takes the term "FINANCIAL GENIUS" to a new level. The guy has predicted almost every financial hiccup and crash in his lifetime to the minute it seems like. In my post titled: IF YOU SEE THESE PEOPLE PACKING UP, OR YOU NOTICE THEY ARE NO LONGER AROUND, THEN THE WHEELS ARE ALREADY OFF, AND IT'S ABOUT TO GO DOWN, the author says:
"My insider sources inform me that the same thing is happening in various federal organizations by those who have recently retired from the CIA, DHS, NSA and FEMA. This fact is indisputable. I have firsthand knowledge of four ex-fed officials and their families who have relocated to safety enclaves when doing so was very disruptive to their respective family's lives. Increasingly, it is looking like some major event(s) is/are coming and persons with insider information are attempting to remove themselves from harm's way.
When government officials, from the various alphabet soup agencies, retire en masse, it is not necessarily a noteworthy event. However, when the same officials retire en masse and then relocate to form their own survivalist enclaves, then this is something that we should all sit up and take notice of, especially when we are seeing the same behavior on the part of Wall Street executives."
Gerald Celeste is ONE OF THE PEOPLE that article is talking about. He is one of the brightest minds in all of finance saying, and he is already saying "IT HAS BEGUN…" So, not knowing what, when, or how fast things may or may not unwind, who's to say when I take some advice given by a fellow blogger some time ago:
"Some of my very best contacts have told me that it is time to stop warning the people, because it is now time to start hiding from the wrong people."
With that said, I want to get a few things across right away. First, if you haven't already, you might want to contact a local OATHKEEPERS near you. Oath Keepers is a non-partisan association of current and formerly serving military, police, and first responders who pledge to fulfill the oath all military and police take to "defend the Constitution against all enemies, foreign and domestic."
Something else you might think about if there are people like you close by that you trust and care about nearby is to consider setting up an ORGANIZED COMMUNITY DEFENSE: THEY WILL BE AMERICA'S LAST HOPE! I would also find a few minutes to print and put HOW TO SURVIVE MARTIAL LAW – DETAILED GUIDE somewhere close, or in your "GO" bag. Whoever wrote that guide was not the best writer, because it took me forever to transcribe it and make it read like it does, but what that person lacked in writing graces they MORE THAN make up for with their survival knowledge. Finally, if you've smart enough to know you don't know everything and you've read this far, keep feeding yourself with knowledge. the following two articles EVERYONE should be REQUIRED to read. They are THAT useful!
If I were you, moving forward I would be VERY careful with my spending, just based on watching Gerald, and try to come up with SOME kind of plan for what you will do, or where you will go if things get ugly. Folks, here is what I can tell you… I'm in no better shape than anyone else despite the fact I've known about this coming crash as long as I have. I chose to get my doctorate for reasons largely personal, and I owe more for that sheet of paper than the average American mortgage is worth… not to mention a mortgage of my own, and not earning NEAR enough to "PREP" and keep all my bills paid.
WHY AM I TELLING YOU THAT?
Because no matter how bombastic or sarcastic I can be at times (some might even say rude… can you imagine?)… my goal has never changed. I've always wanted to help my fellow patriots to the best of my ability. For 2-3 years I've had a few hundred nights I did not sleep so I could get my posts out. Anyone getting the newsletter that emails each post as I complete them wakes up many mornings to a full inbox. I've said all along, if you don't have the means to "PREP," or to BUILD A MILLION DOLLAR UNDERGROUND MANSION, if you do NOTHING ELSE… have a plan to get to your family no matter what.
BE SURE YOU CHECK OUT THIS GUIDE TO SURVIVING MARTIAL LAW!
When this goes south, if you're LUCKY you can expect MARTIAL LAW, and with it there will be soldiers likely restricting people's ability to travel. They can't be everywhere at all times… our military just isn't that big… so figure out how you'll meet the kids if they're at school and you're at work… or whatever. I don't know your situation… you do. In the words of one of the most "CONNECTED" men on earth…
"HAVE AN EXIT PLAN" – Matt Drudge
By the way, I'd have a drastically alternate plan in the event you don't have soldiers on every street corner restricting travel. If it's not the military, I've often joked about it, but It's not funny: EXPECT MAD MAX TYPE CONDITIONS! If you can't picture what that looks like… picture Ferguson but without the police.
2015 IS ALREADY GOING DOWN A DARK PATH…
WE'VE GOT ERIC HOLDER FORMING HIS OWN GESTAPO…
O'BUMMER HAS A LIST: THE FIRST 8 MILLION TO ROUND UP ASAP!
STAY VIGILANT! BE YOUR BROTHER'S KEEPER!
AND KEEP AN EYE ON GERALD CELENTE!!
WORLDWIDE PANIC IS BEGINNING & THERE IS NO RECOVERY!
TOPIC #4: MARTIAL LAW IS COMING
U.S. MILITARY MANUALS HAVE BEEN CHANGED AUTHORIZING U.S. MILITARY TO OPEN FIRE ON PEACEFUL PROTESTORS!
Obama claims he will develop "An Appropriate Legal Regime" to permanently detain people PRIOR to having committed any crime. The idea of these detentions would be to prevent any individual from committing a FUTURE crime. Obama even goes as far as to say he might detain someone up to TEN YEARS before they MIGHT commit a crime.
I've showed you an older version of the U.S. ARMY TRAINING MANUAL ON ROUNDING UP U.S. CITIZENS INTO DETAINMENT CAMPS. I've showed you a SUPREME COURT JUSTICE TELLING YOU MORE OR LESS TO COUNT ON DETAINMENT CAMPS IN THE FUTURE.
There is a never ending list of military and paramilitary type behaviors I have never seen in my 40 years in this country. At what point does it become OBVIOUS, rather than CONSPIRACY THEORY?
I get responses ranging from, "DUH" to "NEVER GONNA HAPPEN." People don't seem to have the motivation to do what could SO EASILY TAKE BACK OUR GOVERNMENT, yet they are going to fight with guns to the bitter end?
GIVE ME A BREAK!
NEWS FLASH: TRILLIONS hasn't been spent for no reason. The infrastructure is in place. When they decide to use it? ONE D.H.S. AGENT SAYS THEY ARE JUST WAITING FOR A HISTORIC EVENT! People won't fight with a PHONE, where none of their loved ones die, but they'll fight a war? It's amazing the lies one can tell themselves to sleep better. It truly is.
The new Army manual, known as ATP 3-39.33, provides discussion and techniques about civil disturbances and crowd control operations that occur in the continental United States (CONUS) and outside the continental United States (OCONUS).
This document, just published this past Friday, August 15, 2014, promises to change the way the "authorities" deal with protesters, even peaceful ones. The consequences of ATP 39.33 could prove deadly for protesters. Further, the provisions of this Army manual could prove to be the end of the First Amendment right to assemble peaceably.
In section 1-2., the manual states that "Civil unrest may range from simple, nonviolent protests that address specific issues, to events that turn into full-scale riots." This section of the manual clearly states that protesting is a right protected by the Constitution. However, the authorities leave themselves an out to "legally" engage in lethal force toward protesters when the manual states that "peaceful protests can turn into full-scale riots" and field commanders have the right to make that determination. Subsequently, all protests, peaceful or not, need to be managed by the potential for violence. In other words, all protests are to be considered to be violent and handled accordingly. This certainly explains the violent manhandling of the media by the DHS controlled and militarized police in Ferguson, MO.
Posse Comitatus Is Violated
On the surface, the Posse Comitatus Act (18 USC 1385) act should prevent the Army from deploying the troops in the midst of a protest that is not on the scale of something like the 1992 LA Riots. However, the Army claims exemption from Posse Comitatus in the four following areas.
​10 USC 331. When a state is unable to control domestic violence and they have requested federal assistance, the use of the militia or Armed Forces is authorized.
10 USC 332. When ordinary enforcement means are unworkable due to unlawful obstructions or rebellion against the authority of the United States, use of the militia or Armed Forces is authorized.
10 USC 333. When a state cannot or will not protect the constitutional rights of the citizens, due to domestic violence or conspiracy to hinder execution of State or Federal law, the use of the militia or Armed Forces is authorized.
House Joint Resolution 1292. This resolution directs all departments of the U.S. government, upon request of the Secret Service, to assist in carrying out its statutory duties to protect government officials and major political candidates from physical harm.
With regard to 10 USC 331, if the local authorities have lost control in the midst of a profound display of domestic violence (e.g. LA Riots), most Americans support the use of National Guard or the military. However, in 10 USC 332, 333 and House Joint Resolution 1292 are ripe with exceptions which open the door to federal authorities abusing the public for exercising their Constitutional right to protest.
In 10 USC 332, the phrase "unlawful obstructions or rebellion against the authority of the United States, use of the militia or Armed Forces is authorized," permits the federal government from being demonstrated against. An act of demonstration, or the most benign demonstrations of civil disobedience gives the government the authority to take "deadly action" against the public because there are no clear distinctions on when the use of lethal and nonlethal force is appropriate (see the two charts displayed below).
In 10 USC 333, any disruption of federal law can be decisively dealt with by the federal government. The phrase "…conspiracy to hinder execution of State or Federal law, the use of the militia or Armed Forces is authorized" is a telling passage of this Army document. If 10 USC 333 is applied to the letter of the written Army policy, the protesters who recently objected to illegal aliens being deposited in Murietta, California, could be subject to deadly force. Further, the protesters in Ferguson could be subject to the use of lethal force as well (Again, see the charts below).
The next time a community decides that it does not want to accept illegal immigrants, or protest the shooting of an unarmed 18-year-old, they could be met by the following:
​
The fourth exception claimed by the Army, with regard to the Army's right to violate Posse Comitatus, is presented to the American people under the veil of the need to protect politicians.
House Resolution 1292 claims any protest which makes a public official feel "threatened" would be illegal and subject to intervention by the U.S. Army. Hypothetically, if 100 protesters were to gather outside of Senator John McCain's office in Phoenix, would that be enough to trigger a violent response by the Army? If McCain says he feels threatened, regardless if his claims are legitimate or not, it most certainly would justify the strongest response possible from the Army. Therefore, all a politician has to do is to say they feel threatened by any gathering to have the gathering dispersed and the protesters dealt with in any manner seen fit by the field commander. Make no mistake about it, this is the end of the First Amendment's right peaceably assemble.
Army Depictions On How Best to Kill An American Citizen Who Expresses Disagreement with the Government
Do you remember the uproar when DHS was caught distributing target practicing sheets of pregnant women to be used for DHS agents when they were engaged in target practicing?
Do you remember the uproar when DHS was caught distributing target practicing sheets of pregnant women to be used for DHS agents when they were engaged in target practicing?
And of course, I am certain that you recall the use of an elderly person's image to be used by DHS agents for the same purpose. The implication is clear; The American people are the new terrorists.
Below, is the graphic depiction of the Army's version of a terrorist, and worse yet, there are instructions on how to best maim and kill an American citizen who is engaged in their Constitutional right to protest
The second chart is a sample guideline on when the application of lethal force is appropriate to be applied to protesters. Please note the ambiguity with regard to the application of lethal force. It is also noteworthy to point out that the following chart provides for the planned use of snipers to target the perceived leaders of the protest. These procedures remind one of the events in Kiev prior to the ouster of the Russian-friendly Prime Minister. It would appear that CIA agents were beta testing these procedures in Kiev prior to the coup.
Conclusion
ATP 39.33 is quite clear in its intent which is to eliminate the act of protesting from the American landscape. More disturbingly, the right to summarily execute peaceful protesters is contained in this Army manual due to the purposeful ambiguity of when it is appropriate to use deadly force against protesters. This Army manual is an example of hardcore, in-your-face martial law befitting the most violent regimes in the history of the planet.
There is another message contained in ATP 39.33, and that is the clear anticipation that the American people are going to feel the need to be protesting in earnest in the foreseeable future. What exactly are the American people going to feel compelled to protest that remains unspecified in this manual? Could it be resistance to mandatory Ebola vaccinations? Could we be looking at food riots in the future? Will it be a currency collapse that puts Americans in the street? Will America rise up and say no to the plans for World War III and the coming conscription of both potential military personnel and civilian labor slave force as described under Executive Order 13603?
Not only should this document be a frightening wake-up call for all Americans, it should also serve as a warning for what is to come.
Read the article at The Common Sense Show here:
DOES THIS LOOK LIKE A NATION PREPARING FOR INTERNAL PEACE?
THE U.S. MILITARY SURE SEEMS READY FOR AN UPRISING OF SOME KIND!
AND THEY'VE BEEN PREPARING A LONG TIME!
THIS LOOK "NORMAL" FROM WHAT YOU REMEMBER GROWING UP?
16 SPECIFIC EXAMPLES OF OBAMA'S TREASON!
ONCE AGAIN, MICHAEL CONNELLY BREAKS IT DOWN FOR US!
FOR THOSE WHO KNOW OBAMA'S ACTS HAVE BEEN TREASONOUS, BUT DON'T QUITE KNOW HOW TO ARTICULATE IT TO SOMEONE ELSE… HERE YOU GO!
DON'T KNOW WHO MICHAEL CONNELLY IS?
MICHAEL CONNELLY IS AS RESPECTED AS THEY COME IN LEGAL CIRCLES DEALING WITH THE CONSTITUTION. MICHAEL IS BOTH A CONSTITUTIONAL ATTORNEY (A REAL ONE, NOT THE OBAMA VARIETY), AND A UNITED STATES ARMY VETERAN.
ON HIS WEBSITE HE WRITES:
"I am a U.S. Army veteran, a Constitutional attorney, Executive Director of the United States Justice Foundation, and a published author, freelance writer, and teacher. I am the author of four books, "RIDERS IN THE SKY: THE GHOSTS AND LEGENDS OF PHILMONT SCOUT RANCH," "THE MORTARMEN," a story about my father's unit in WW II; my novel, "AMAYEHLI: A STORY OF AMERICA," and the newly released "AMERICA'S LIVELIEST GHOSTS." In addition, I have an affordable, pocket size booklet on the Constitution called "Our Constitution" that is receiving great reviews. You can read more about these books by going to the pages on each book on this website." You may also want to check out his radio talk show that airs every Wednesday at 4:00 Eastern.
Some of you might recognize Michael's name because he recently WROTE AND DELIVERED TO CONGRESS ARTICLES OF IMPEACHMENT FOR BARACK HUSSEIN OBAMA. That was NOT the first time he did that either. Before this most recent attempt, back in 2013, MICHAEL CONNELLY was nice enough to save Congress the laborious task of drafting Articles of Impeachment themselves, and he both wrote and distributed to Congress: U.S. CONGRESS RESOLUTION IMPEACHING BARACK HUSSEIN OBAMA, PRESIDENT OF THE UNITED STATES, FOR HIGH CRIMES AND MISDEMEANORS. – AUGUST 20, 2013. That was perhaps the first tangible example of the GOP showing no backbone with regard to holding Obama accountable. Most recently, Connelly wrote the following:
IT'S OFFICIAL! THEY ARE COMING FOR OUR GUNS!
I AM ALARMED AT HOW FEW READ THAT 'THINKING' THEY HAVE THE ANSWERS
As for Obama's Impeachment in 2013, many will argue that Obama was NEVER going to be Impeached anyway, because of Dingy Harry's Democrat led Senate. To those who would say that, contrary to popular opinion at the time, I SUGGESTED AN IMPEACHMENT HEARING COULD HAVE RESULTED IN A WIN/WIN SCENARIO FOR THE GOP, WHETHER OBAMA WAS CONVICTED IN THE DEMOCRAT LED SENATE OR NOT. Try reading THAT post for an eye popper. WARNING: REQUIRES THOUGHT! For everyone else who was SCREAMING for Obama's Impeachment, yet didn't have the FIRST CLUE the way Impeachment works, I wrote the piece: WHY HASN'T OBAMA BEEN IMPEACHED YET?
FOR MORE ARTICLES BY MICHAEL CONNELLY:
It's OFFICIAL: They Are Coming For Your Guns!
Michael Connelly: 306 Articles of Impeachment against Obama
UPDATED: 'Obama's Impeachable Offenses' by Michael Connelly, J.D.
Connelly: Obama Is Disarming Americans And Setting Us Up For Destruction
Connelly, "What the Hell Just Happened? Tyranny by Executive Order?"
This is Important and Frightening: 'A CASE OF SABOTAGING VETERANS'
Obama's Systematic Effort To Disarm, Disenfranchise, & Even Eliminate Vets
Michael Connelly: It's Time For A Reality Check. Stand Your Ground.
If A Child Tells A Pediatrician Parents Own Gun In The House, Feds Can Take
This is the ONE Person Who Can Legally Arrest the President of the United States
HERE IS THE WEBSITE CONTAINING THE LINK TO THE RADIO SHOW:
The Constitution of the United States provides a specific definition of treason against our nation. Article 3, Section 3 of the Constitution states: "Treason against the United States, shall consist only in levying war against them, or in adhering to their enemies, giving them Aid and Comfort." This has been legally interpreted as meaning that any action that seeks to strengthen our country's enemies or weaken our ability to defend ourselves against our enemies can be classified as treason. This can be direct support or the enemy or even an attempt to provide support.
There is no question that the enemy that we face and many other counties face is Islamic Jihad. It has manifested itself as Al Qaeda, the Taliban, ISIS, and other groups that promote the radical Islamic agenda of destroying or subjugating every country in the world to the Muslim religion. It is a religion that condones placing women in slavery, outlawing basic human freedoms, and killing its opponents in barbaric ways.
The following is a factual listing of the actions of the person who is masquerading as the President of the United States. You can decide for yourself if any or all of these fit the definition of treason by providing aid and comfort to the enemy.
Since taking office in 2009, Obama has had numerous known terrorists released from Guantanamo Bay, some without the prior notice to the members of Congress required by law. This includes the release of five top Taliban leaders in exchange for an Army deserter Bowe Bergdahl. At least one of these Taliban leaders is back in action with the Taliban and many of the other released terrorists have rejoined the Islamic Jihad against America.
Has openly supported the Muslim Brotherhood since he took office. He has supported it in the Middle East and appointed active members of the brotherhood to his administration including to sensitive positions in the Department of Homeland Security. The Muslim Brotherhood has a manifesto that openly calls for the imposition of radical Sharia law on the entire world and the destruction of all other forms of government and law.
Obama withdrew American troops from Iraq without leaving any forces behind to help secure the country, as was requested by the Iraqi government. This created a vacuum that has been filled by ISIS and affiliates of Al Qaeda.
Obama imposed rules of engagement on American troops in Afghanistan that limited their ability to be effective both offensively and defensively and led to the unnecessary deaths of American soldiers.
He refused to call the massacre of American soldiers at Ft Hood by Major Nidal Hasan, a committed Islamic fanatic, a terrorist attack, but labeled it as an act of workplace violence.
Obama released the identity of Seal Team 6 and that they had killed Bin Laden. Many people believe that this led to the deaths of many team members in Afghanistan.
Obama deliberately lied about Al Qaeda being decimated when he was aware it was getting stronger.
He covered up for weeks the fact that the slaughter of Americans in Benghazi, including the U.S. ambassador to Libya, was a terrorist attack despite the fact that the White House knew from the beginning that it was. He then refused to allow any rescue operations to be launched.
Has unilaterally eased sanctions on Iran after cutting a temporary deal that is favorable only to Iran. He has continued to allow Iran to kick a final deal down the road and they can continue to enrich uranium during these delays. That will allow them to build an operable nuclear bomb within a few months. Iran is also being allowed to acquire and test missiles that can be used against Israel, targets in Europe, and even U.S. targets.
He has seriously damaged our relationship with our allies and by allowing the release of sensitive intelligence information has seriously damaged our ability to get intelligence about possible attacks on Americans around the world.
Obama has opened our southern border so that criminals and terrorists have easy access to our country.
Obama also refused to acknowledge the threat of ISIS for over a year, even after being briefed repeatedly on the rise of ISIS.
Once he was forced into taking action against ISIS, it has been weak and mostly ineffective, with Obama micro managing our airstrikes so that many of the targets are empty buildings and vehicles.
Now he has made a speech asking the Congress to give him authority to fight ISIS, but has broadcast his intentions to the enemy that the actions will be very limited and not an all-out effort against the Islamic terrorists. Of course, he also still refuses to acknowledge that Al Qaeda and ISIS are in fact forces of Islamic Jihad.
He has minimized the brutal actions of ISIS by equating the Christian Crusades of a thousand years ago to what ISIS is doing now to innocent Christian men, women, and children as well as other Muslims who resist their radical views.
He held a secret meeting in the White House with Muslim leaders including some with direct contacts with terrorist organizations.
In my opinion, this is much more than political correctness run amok. The actions described above are those that clearly provide aid and comfort to the enemies of not just the United States, but to the entire free world. Let me know what you think.
Read the article at Red Flag News here:
TOPIC #5: OBAMA IS NOT ELIGIBLE FOR PRESIDENT!
Obama must simply be arrested and prosecuted for impersonating a public officer. This can be done in Washington DC without involving Congress. Obama is in fact not allowed to be impeached.
As I have said in the past, if you are just now becoming familiar with the so called "Birther" issue as many like to call it, I suggest you look into the facts of the matter, not the nonsense spewed by Obama and his supporters. Plain and simple: No one spends MILLIONS hiding their past if there is nothing to hide. Furthermore, the "Birther" issue has been debunked.
It was LAW ENFORCEMENT, not Right-Wing Tea-Baggers who proved the birth certificate Obama presented was a fraud when they set out to SHUT UP the "Birthers" by proving the birth certificate was authentic. As it turns out, not only did Arpaio's team prove the birth certificate is a fraud, it is a REALLY bad one from what they say.
In addition to the "Birther" issue as it's been known since 2008, there is the issue of Team Obama accidentally turning in THREE COMPLETELY DIFFERENT VERSIONS of his alleged birth certificate to Alabama in his run for President. Good luck getting liberals to conjure up anything that sounds even remotely intelligent to support that screw up. They won't. You'll be called a racist in minutes of beginning THAT debate. Recently the ALABAMA SUPREME COURT PUNTED ON THE ISSUE BY ESSENTIALLY RULING NOT TO RULE ON THE MATTER.
Many intervals of the "Birther" investigation are laid out in the post titled: ALABAMA SUPREME COURT PASSES THE BUCK, RULES "NO OPINION" IN OBAMA ELIGIBILITY CASE. I suggest taking a look. The most damning of the links in my opinion is: SHERIFF ARPAIO'S LEAD INVESTIGATOR DROPS BOMB ON WHITE HOUSE. At some point, even with liberals, common sense simply has to prevail. Sadly, the "Birther" issue is far from the minds of most conservatives these days. TREASON is a word heard much more frequently. The birth certificate is old news.
FOR MORE ON OBAMA'S LACK OF ELIGIBILITY FOR PRESIDENT:
Latest Update From Sheriff Arpaio's Cold Case Posse
Media Threatened By Feds If Obama Birth Certificate Story Reported
Obama Social Security Number Fraud Case Awaits Judge's Decision
Sheriff Arpaio's Lead Obama Investigator Drops Bombs On White House
Lawyer Files Autopsy Request for Person Who Verified Birth Certificate
Is President Obama Too Big To Jail?
Obama's Agent In 1991: 'Born In Kenya & Raised In Indonesia & HI'
Obama's SSN: 'Fraud & Treason By Acting Commissioner Of SSA
MORE HORRIBLY SHOCKING NEWS ABOUT OBAMA'S PAST!
DOJ Needs More Time to Respond to Obama's Fraudulent Use Of SS #
200-300 Phony Citizenship Investigation Kits Handed Out on Capital Hill
The Alabama Supreme Court May Collapse Obama's House Of Cards
Democratic Party Submits Different Version of Obama Birth Certificate!!!!
Alabama Case On Obama Eligibility Nears State Supreme Court Decision
British National Archives Show a Son Was Born to Obama Sr. in 1961 in Kenya
Obama's Kenyan Birth Certificate
Florida Congressman Does Not Believe Obama is Legal
Texas Congressman Assures His Folks Obama is Being Investigated!
Oh Oh… Over 100 Pages of Documentation Found – Of Obama's Kenyan Birth.
"Impeach Obama" Campaign Sweeping The Nation
Looks Like Sheriff Joe Arpaio Has More Good News – BOUT TIME
Hawaii Elections Clerk: "OBAMA WAS NOT BORN HERE!"
Obama Never Attended Columbia University Says "His" Graduating Class
Whistleblower: Obama WAS an Indonesian Citizen & Given Financial Aid As Foreign Student At Occidental College
I never use the word "bastard" because one was born of parents not married. But when it comes to a person who has usurped a public office, e.g., the highest office of our nation, I do. OBAMA IS A BASTARD !!!
NOTE: All children born of parents who are not married are gifts from God and they are to be raised as such. They are not mistakes and punishments, as Obama claims in his argument to murder unborn children.
The fact is that Obama is illegitimate and any attempt to impeach him would be an unlawful attempt to validate his "presidency" — nothing can be done to validate him as "the President," so he cannot be lawfully impeached. I don't know if Michelle Bachmann is trying to open up discussion in Congress about whether Obama is a usurper, or if she is trying to validate his "presidency" and "laws," "executive orders" and "appointments" he has signed, all of which are in fact void ab initio. If the House of Representatives unlawfully impeaches Obama, then they will also say that everything Obama has signed is legal. If the House acknowledges that Obama is a usurper and therefore cannot be impeached, they will for the first time be formally acknowledging the fact that Obama has usurped the Office of the President.
NOTE: Congress has been avoiding the word "usurper," because they knew he was ineligible in 2008 and 2012 when they counted the electoral votes without objecting to his ineligibility. For the members of Congress to come to the conclusion now that Obama is a usurper would be like putting the rope around their own necks. So, I doubt that they will change direction now. I believe that if they unlawfully try to impeach Obama it will not be for usurpation, but some other reason. They want the American people to think they are working for and representing them, when in fact they are avoiding the fact that Obama is a usurper and therefore willfully violating our representative form of government. Has anyone here read the articles of impeachment filed by Michelle Bachmann? Is usurpation mentioned in the articles? Probably not.
Our Constitution specifically provides that a president can be impeached. It does NOT provide for the impeachment of a usurper. Obviously a usurper is NOT a president. Dr. Vieira in Thought Must Precede Action states:
"Although Mr. Obama may have succeeded in gaining physical access to the office-space a legitimate President of the United States occupies in the White House, he never acquired legal access to "the Office of President," because, not being "a natural born Citizen," he was never constitutionally eligible, and is not now eligible, for that "Office". For Article II, Section 1, Clause 5 of the Constitution declares (in pertinent part) that "[n]o Person except a natural born Citizen * * * shall be eligible to the Office of President". If words have any meaning, a "Person" whom the supreme law of the land declares not to be "eligible to the Office of President" can never "gain access to" that "Office" in the sense of legally holding it or asserting any claim to it."
Definition of "Office"
"Office" is defined to be a right to exercise a public or private employment, and to take the fees and emoluments thereunto belonging.
NOTE: We know that Obama's father was never an American citizen, so the evidence proves that Obama is not a natural born Citizen and therefore he does not have the right to be a president of the United States of America. We need go no further to prove that Barack Hussein Obama II was never constitutionally eligible, and is not now eligible for the "Office of the President."
Article II, Section 1 clause 5 of our Constitution requires that a president have 100% natural allegiance to the United States.
Obama does not have the required allegiance.
The law does not apply the impeachment process for a usurper, but does provide for the arrest and prosecution of a usurper without involving Congress. The following is from Robert Christopher Laity, whose complaint of usurpation was denied for appeal by the U.S. Supreme Court, (i.e., "Certiorari Denied), which is what the Court says if it does not want to take the time for a case.
"According to U.S. Magistrate for the WDNY, Leslie Foschio, the USDC in DC is the proper venue to try Obama for usurpation. Ronald Machen, US Attorney for DC, however, has been evading the issue for years. Also see: DC Code 22-1404. Thus far there have been four complaints regarding Obama's usurpation filed with the Washington DC Police Department — the last was filed on May 15, 2014."
§ 22-1404:
Whoever falsely represents himself or herself to be a judge of the Superior Court of the District of Columbia, notary public, police officer, or other public officer, or a minister qualified to celebrate marriage, and attempts to perform the duty or exercise the authority pertaining to any such office or character, or having been duly appointed to any of such offices shall knowingly attempt to act as any such officers after his or her appointment or commission has expired or he or she has been dismissed from such office, shall suffer imprisonment in the penitentiary for not less than 1 year nor more than 3 years. In addition to any other penalty provided under this section, a person may be fined an amount not more than the amount set forth in § 22-3571.01.
Definition of "Public Officer"
"Public officer" is defined as an individual who has been elected or appointed to exercise the functions of an office for the benefit of the public. The president or state governors, are public officers charged with the duty to ascertain that the law is enforced and obeyed.
Read the article here at Of the Highest:
ONLY SO MANY TIMES I CAN ASK…
WHEN DO WE OWN UP TO WHAT WE'VE DONE?
Sure, It's an older story, but it goes hand in hand with my post yesterday titled: THE SMOKING GUN IN THE OBAMA ELIGIBILITY CASE: STANLEY ANN DUNHAM'S PASSPORT. In a post dated June 20th titled: OBAMA MUST BE ARRESTED & PROSECUTED FOR IMPERSONATING A PUBLIC OFFICER, the author goes into GREAT detail about Barack Obama's status as a USURPER of the Presidency. As such, the author tells us Obama CANNOT be impeached, because only a Lawful President can be Impeached. Obama was NEVER qualified for the office of the President of the United States. Rather, Obama hijacked it. He is an IMPOSTOR… a charlatan. Even OBAMA HIMSELF ADMITS THAT HE WAS BORN IN KENYA, but we're long passed the point of being able to do anything about it.
In 1979, an article was uncovered WRITTEN BY VALERIE JARRETT'S FATHER-IN-LAW ABOUT A MUSLIM PLAN TO PURCHASE THE PRESIDENCY OF THE UNITED STATES. If you READ that HORRIBLY disturbing article (that was written decades ago (and LONG before the years of the Obama Debacle), does the claim by an Iranian Commander that THE WHITE HOUSE IS ISIS HEADQUARTERS really seem THAT outlandish?
Perhaps that alone isn't enough. What about the OBAMA ADMINISTRATION DOING NOTHING TO STOP KNOWN JIHAD TRAINING CAMPS right here in the United States? What about FORMER CIA AGENTS COMING OUT AND SAYING OBAMA IS A "RADICAL ISLAMIST" AND ENEMY OF THE UNITED STATES?
We have FOUR STAR ADMIRALS WHO HAVE SAID OBAMA HAS CONSPIRED WITH THE ENEMY, other members of the CIA CONFIRM OUR WORST FEARS ABOUT BARACK OBAMA, and OBAMA'S INSISTENCE THAT AMERICAN SOLDIERS BE WILLING TO FIRE ON AMERICANS… does any of that concern you? Even the NEW ARMY MANUAL DETAILS THE USE OF LETHAL FORCE ON U.S. CITIZENS, EVEN THOSE PEACEFULLY PROTESTING!
AT WHAT POINT DO WE REALLY FACE THE FACTS OF WHAT WE'VE DONE?
WHEN DO AMERICANS TAKE OWNERSHIP OF OUR MISTAKE?
READ WHAT SENIOR CHIEF GEOFF ROSS WRITES ABOUT OBAMA'S SEALED PAST!
WHAT'S HEARTBREAKING…
IS THIS WILL NEVER MAKE THE EVENING NEWS….
We were right about EVERYTHING! Pick a subject, something liberals had a derogatory name for, and something they called us crazy about in 2008… pick anything… we were right on ALL of it. We have the most successful TERRORIST of all time sitting in the Oval Office. Hijack a plane? Heck, he took a country… and now, whether liberal or conservative, smart enough to see it coming, or probably not so much if you're a liberal, YOUR kids and YOUR grandkids will pay for YOUR mistake.
WHAT'S WORSE?
WE'LL READ THIS, NOD, AND GO ABOUT OUR DAY…
It appears the web is a buzz with information concerning the New Jersey court contest in regards to Barack Obama's eligibility to be on the state's ballot. At the center of the controversy now is the fact that Barack Obama's own lawyer has apparently conceded the fact that the document is a forgery.
[Audio/Video below cannot be seen in Newsletter - have to go to Blog]
[Audio/Video below cannot be seen in Newsletter - have to go to Blog]
[Audio/Video below cannot be seen in Newsletter - have to go to Blog]
According to TeaPartyTribune.com, attorney Alexandra Hill, of the Newark-based law firm Genova, Burn and Giantomasi, admitted that the image of Obama's birth certificate was a forgery and made the absurd claim that, therefore, it cannot be used as evidence to confirm his lack of natural born citizenship status. She concluded her analysis of the online birth certificate arguing that it is "irrelevant to his placement on the ballot."
She then went on to try and establish his eligibility by speaking of his political popularity, not legal qualification, in order to be a candidate!
Penbrook Johannson, editor for The Daily Pen wrote:
"Sadly, regardless of her moral deficiency, Hill is legally justified. Obama's eligibility is a separate matter than the charges of forgery and fraud. Of course, we have evidence that he is not eligible. But, evidence of forgery by as yet unidentified counterfeiters working on behalf of Obama is not what legally excludes Obama from appearing on a ballot, by itself, until some authority is willing to consider this as evidence of forgery on its merit as an indication of actual ineligibility in a court of legal authority. Until some court of competent jurisdiction is willing to hear evidence of forgery and fraud, you can't legally punish a political candidate for that crime which has not been proven that they committed. However, since Obama is not eligible because of a lack of authenticated evidence to the contrary, he could be held off the ballot for that reason."
So what this comes down to is legal tip toeing around the issue. Let me put it simply. Obama's own lawyer admits that the birth certificate which was put out by the White House is irrelevant to his placement on the e ballot. The birth certificate does not prove Obama is not a "natural born" citizen since it is a forgery. Therefore, the plaintiffs have not made their case and Barack Obama should be left on the ballot. I'll bet Mr. Bill "It depends on what is, is" Clinton was behind this bit of legal wrangling.
As far as I can see that makes it a bigger issue than just that of the State of New Jersey. This is most definitely a national issue. The President of the United States' own lawyer has just stated unequivocally that the President knowingly put out a forged document and claimed it was his birth certificate. Ladies and gentlemen, why in the world then, is there no immediate cries for impeachment and more than that, charges of treason brought against Barack Hussein Obama?
I'll tell you why. It's an election year for one. Two you have a Democrat led Senate that will never vote to convict him. That doesn't mean they shouldn't do it as their duty, but sadly the reality is that impeachment proceedings against a sitting President are purely political. However, I would hope that the Republican led Congress might get some brass ones and begin the proceedings anyway, letting people know they intend to carry out impeachment, even if Barack Obama is elected again and to encourage others to vote in those who are principled enough to uphold the Constitution, especially when it comes to a usurper in the Oval Office.
In a nut shell, the above is exactly why Barack Obama and the Democratic Party do not fear mocking the American people with their blatant forgery, lies and manipulation of the Constitution and the facts. In order to remove the man it would have to be done by force or by impeachment and impeachment will never happen with the way things are now. It is my opinion that since our military takes an oath to uphold and defend the Constitution from both enemies foreign and domestic, that they should be looking at the evidence and act accordingly.
UPDATE: Hill even argued that Mickey Mouse could be on New Jersey's Presidential ballot!
[Audio/Video below cannot be seen in Newsletter - have to go to Blog]
Read the story at Freedom Outpost here:
ISSUE #6: OBAMA IS ABSOLUTELY COMING FOR YOUR GUNS
TIME TO WAKE THE HELL UP!
EVER TAKEN DEPRESSION MEDICATION? NO GUNS!
VETERANS WITH PTSD? NO GUNS
YOUR CHILDREN TELL THE PEDIATRICIAN YOU HAVE GUNS: GONE!
WARNING: YOU ARE GOING TO HAVE TO READ THIS TO GET A CLUE!
THIS ARTICLE IS NOT WRITTEN BY SOME RIGHT-WING WACKO. MICHAEL CONNELLY IS AS RESPECTED AS THEY COME! IF YOU DON'T KNOW WHO MICHAEL CONNELLY IS, HE'S A CONSTITUTIONAL ATTORNEY (A REAL ONE, NOT THE OBAMA VARIETY), AND A UNITED STATES ARMY VETERAN. ON HIS WEBSITE HE WRITES:
"I am a U.S. Army veteran, a Constitutional attorney, Executive Director of the United States Justice Foundation, and a published author, freelance writer, and teacher. I am the author of four books, "RIDERS IN THE SKY: THE GHOSTS AND LEGENDS OF PHILMONT SCOUT RANCH," "THE MORTARMEN," a story about my father's unit in WW II; my novel, "AMAYEHLI: A STORY OF AMERICA," and the newly released "AMERICA'S LIVELIEST GHOSTS." In addition, I have an affordable, pocket size booklet on the Constitution called "Our Constitution" that is receiving great reviews. You can read more about these books by going to the pages on each book on this website." You may also want to check out his radio talk show that airs every Wednesday at 4:00 Eastern.
HERE IS THE WEBSITE CONTAINING THE LINK TO THE RADIO SHOW:
In 2013, Michael Connelly was even nice enough to save Congress the laborious effort of drafting Articles of Impeachment themselves when he wrote and distributed to Congress: U.S. CONGRESS RESOLUTION IMPEACHING BARACK HUSSEIN OBAMA, PRESIDENT OF THE UNITED STATES, FOR HIGH CRIMES AND MISDEMEANORS. – AUGUST 20, 2013. We all know the backbone the GOP showed on that one. For anyone who wants to start whining about how Obama have NEVER going to be impeached because of the Dingy Harry led Senate, try reading, I SUGGEST AN IMPEACHMENT HEARING WOULD HAVE BEEN A WIN/WIN WHETHER OBAMA WAS CONVICTED IN OR NOT. Try reading THAT ONE for an eye popper. WARNING: REQUIRES THOUGHT! For everyone else who was SCREAMING for Obama's Impeachment, yet didn't have the FIRST CLUE the way Impeachment works, I wrote the piece: WHY HASN'T OBAMA BEEN IMPEACHED YET?
THE TIME HAS COME:
STOP SHARING PICTURES & EDUCATE YOURSELF…
OR PREPARE FOR AN EARLY CURTAIN CALL!
PLAIN AND SIMPLE!
First, I am going to show you the first half of the Michael Connelly article. For anyone out there with so much as a THREAD of intelligence, continue reading after… not because I am a genius, but because I HAVE been very busy collecting PROOF dating back YEARS that this is not a game. For those who have already dismissed this article based on their supreme ability to gain knowledge through headline reading, and have probably even decided to show off their finely honed skills by posting an IDIOTIC COMMENT right below this post too, maybe YOU can get through to them. You might save their life.
Those of us that HAVE BEEN EDUCATING OURSELVES all this time have news for EVERY IMBECILE who has done ZERO research, and is busy mumbling under their breath, "They'll have to take my guns from my cold dead fingers…," don't you worry, THERE ARE ACTIVE COMMANDERS IN OUR MILITARY JUST WAITING TO PRY THEM FROM YOUR COLD DEAD FINGERS. You'd be best to remember Obama has done a STALIN LIKE PURGE OF THE MILITARY, AND FIRED OVER 300 OF THE MILITARY'S TOP OFFICERS HE HAD CONFLICTS WITH INCLUDING ADMIRALS AND GENERALS! SEE THE LIST HERE!
You think there is a law prohibiting our military from operating on American soil? WRONG! And you wonder why I keep telling people KNOWLEDGE is not in PICTURES! Not only is POSSE COMITATUS GONE under Obama (which prevented the military from acting on American Soil for over 200 YEARS), the NEW ARMY MANUAL AUTHORIZES LETHAL FORCE AGAINST EVEN PEACEFUL PROTESTORS, IF THEY ARE PROTESTING GOVERNMENT.
THIS IS NOT A GAME! THIS IS NOT A "THEORY!"
THIS IS PASSED LAW!
(by Michael Connelly, Constitutional Attorney) – It is official. 2015 is the year that progressives will make an all-out push to quash the Second Amendment and disarm the American people. I have been reporting on my blog for the last several years about the ground work that has been laid including the escalating efforts to disarm our veterans, the issuing of illegal Executive Orders by Obama to limit gun rights, the movement to get individual states to pass and enforce unconstitutional limits on gun ownership, and the signing of the UN Small Arms treaty.
Now they are ready to make their move and I predict it will consist of a number of assaults on the American people. In fact, some of them ARE ALREADY IN THE WORKS:
The DOJ is floating the claim that the

UN SMALL ARMS TREATY IS NOW THE LAW OF THE LAND

despite the fact that it has

NEVER BEEN SUBMITTED TO THE U.S. SENATE FOR RATIFICATION BY 2/3 VOTE

as

REQUIRED

by the U. S. Constitution. This means that Obama plans to enforce the provisions of the treaty without ratification and despite the fact that in 1957 the Supreme Court ruled that no treaty, even if signed by the President and ratified by the Senate can override the protection of individual rights guaranteed to Americans in the Constitution.
DO YOU THINK THE FACT IT IS NOT CONSTITUTIONAL WILL STOP OBAMA?
LISTEN TO JOHN "RAMBO" KERRY TELL SOME LIES…
[Audio/Video below cannot be seen in Newsletter - have to go to Blog]
Freedom Outpost writes: Kerry begins his lies with:
"This treaty will not diminish anyone's freedom. In fact, the treaty recognizes the freedom of both individuals and states to obtain, possess, and use arms for legitimate purposes. Make no mistake, we would never think about supporting a treaty that is inconsistent with the rights of Americans … to be able to exercise their guaranteed rights under our constitution."
Obama's enforcement of the UN treaty will include prohibiting the importation of firearms or replacement parts from other countries into the U.S, and providing a list to the UN of all American gun owners, importers, and exporters. In order to legally facilitate this, Congress would have to repeal the ban on funding of a national gun registration. However, I believe Obama plans on doing this by another illegal and unconstitutional Executive Order.
TO CONTINUE THE ESCALATION OF DISARMING U.S. VETERANS, THE PRIVATE MEDICAL RECORDS of veterans are being TURNED OVER ILLEGALLY TO THE FBI so that they can be put on the NICS list of people who CANNOT LEGALLY PURCHASE FIREARMS because of mental illness. However, mental illness of these veterans is based on minor PTSD, suffering from minor depression, or even letting their spouses pay the family bills. There is no adjudication of mental illness to the point of being a danger to themselves or others as required by law.
Veterans are also being required to tell the VA if they own firearms, how they feel about the federal government and/or the Obama administration and in some cases forced to submit to a

STRIP SEARCH t

o determine if they have any

"RADICAL TATTOOS."

No definition of what constitutes a radical tattoo is provided.

[

HINT:

AMERICAN FLAGS ARE LIKELY THE MOST EXTREME FORM OF RADICAL]
DON'T FORGET THE HOME RAIDS AUTHORIZED BY OBAMACARE! THEY WILL SURELY BE TARGETING VETERANS AS WELL!
Obama has by an illegal and

UNCONSTITUTIONAL AMENDMENT TO THE AFFORDABLE CARE ACT

overriding the prohibition on DOCTORS TO QUESTION THEIR PATIENTS ABOUT GUN OWNERSHIP. Obama has CALLED ON PEDIATRICIANS TO ASK YOUNG CHILDREN IF THEIR PARENTS have a gun in their home. Just recently I have also learned that seniors newly enrolling in Medicare are being required, when they go to a doctor for a routine physical, to take a test to determine if they are showing signs of Alzheimer's disease. The questions include repeating a sequence of numbers and letters and other memory type questions and then there is the question about whether they own a firearm. Obviously, this information is then sent to the Federal government.
Obama has also issued an Executive order that is being enforced by new HHS regulations that virtually set aside the HIPP law that protects the privacy of medical records. Under these new regulations, if your records contain anything indicating you have EVER BEEN DEPRESSED, HAD PTSD

, OR TAKEN

CERTAIN MEDICATIONS

YOUR RECORDS WILL BE TURNED OVER THE THE FBI and you will be put on the NICS list. THIS WILL APP

LY TO

EVERYONE. NOT JUST VETERANS.

Obama also has the Bureau of Alcohol, Tobacco, and Firearms changing the definition of mental illness to provide that anyone can be declared mentally ill to the point of being a danger to themselves or others for any reason without an adjudication of any kind, and therefore can be prohibited from owning firearms. This is already happening in states like New York that have adopted similar laws and regulations. A citizen of New York has been declared mentally ill and had his guns seized because he was seeking treatment for insomnia.
In the meantime, we have a Republican Senator casting the deciding vote to confirm Obama's appointment of a Surgeon General who believes that gun ownership constitutes a health threat. We have the EPA moving to control the manufacture of ammunition because it claims that the use of lead in ammo produces a threat to the environment.
The Department of Justice will continue its campaign to force banks to deny loans and even bank accounts to firearms dealers and will continue to harass them in other ways to force them out of business.
From my post titled: IT IS HAPPENING HERE: PERMANENT GUN CONFISCATION:
Numerous passages in President Obama's 23 executive orders concerning mental health and gun control issued in the wake of the Sandy Hook shooting sound eerily similar to what happened to Montgomery in New York State, with the White House effectively tapping doctors to amass data on gun owners during patient visits:
– "Improve incentives for states to share information with the background check system."
– "Direct the Attorney General to review categories of individuals prohibited from having a gun"
– "Clarify the Affordable Care Act does not prohibit doctors asking their patients about guns in their homes."
– "Release a letter to health officials clarifying scope of mental health services that Medicaid plans cover."
– "Commit to finalizing mental health parity regulations."
– "Release a letter to health care providers clarifying that no federal law prohibits them from reporting threats of violence to law enforcement authorities."
– "Address unnecessary legal barriers, particularly relating to the Health Insurance Portability and Accountability Act, that may prevent states from making information available to the background check system."
It was recently reported that a 'National Database Warehouse' is underway to store and manage the massive quantities of information being collected under ObamaCare:
The Department of Health and Human Services (HHS) is looking for vendors to run its "National Data Warehouse," a database for "capturing, aggregating, and analyzing information" related to beneficiary and customer experiences with Medicare and the federal Obamacare marketplaces.
Despite what may be the best intentions on the part of the government, these policies are being misused through the use of massive databases that contain sweeping information, and amount to a pre-crime Stasi culture that encourages secret reporting and an atmosphere based upon suspicion rather than evidence, at the expense of one's rights without even committing a crime.
PRE-CRIME? WHERE ELSE HAVE WE HEARD THAT?
[Audio/Video below cannot be seen in Newsletter - have to go to Blog]
NOW WAKE THE HELL UP AND START LEARNING!
WHAT CAN YOU DO?
Michael Connelly concludes:
In other words, multiple resources of the Federal Government and some state governments are going to be used to take our firearms, but we can and must fight back. As the Executive Director of the United States Justice Foundation (www.usjf.net) I plan on taking the following actions to:
Contact members of the U.S. Senate and urge them to re-file the "Veterans Second Amendment Protection Act" that will stop the efforts of the VA to disarm America's heroes. This law was previously defeated by Democrats in the Senate.
Continue our representation of individual veterans in their fights to reverse declarations that they are incompetent to handle their own financial affairs and cannot own firearms. We have won some recent victories in this effort.
File suits against the VA, FBI, DHS, and DOD to force them to comply with our Freedom of Information Act requests to gain documents about the attacks on veterans by these agencies.
Continue our involvement in lawsuits against states that are implementing and enforcing unconstitutional gun control laws.
Offer our support to any members of Congress who file suit against Obama to stop his use of illegal Executive Orders to implement gun control and other unconstitutional actions.
Continue to support the Constitutional Sheriffs and Peace Officers Association (CSPOA) in their efforts to recruit law enforcement leaders around the country to pledge that they will not allow unconstitutional laws or regulations to be enforced in their jurisdictions.
Read the article at Red Flag News:
KNOWLEDGE and YOUR VOICE are your BEST WEAPONS!
"Its been said if we lose that war and in so doing, lose this way of FREEDOM of ours, History will record with the GREATEST ASTONISHMENT… those who had the MOST to lose did the LEAST to PREVENT its happening."
WHEN HAVE YOU HAD ENOUGH AMERICA?
WHEN WILL WE SHOUT WITH ONE UNITED VOICE:
"THERE IS A PRICE WE WILL NOT PAY."
"THERE IS A POINT BEYOND WHICH YOU MUST NOT advance."
There is little doubt that the United States of America is at war. What is not so clear is where exactly the frontline is. We have soldiers throughout the world fighting a radical religion. Opportunists jump at every chance to progress the racial divide. Our government calls it's own citizen domestic threats and the very people we elect attack our constitution like it was written by the devil himself. American citizens are being attacked from every direction and the enemy has camouflaged itself in terms such as political correctness, islamiphobia, obamacare, income equality and other words with a hidden agenda.
Whether we like it or not, every American has the ability and duty to be a "SOLDIER." A soldier is defined in the urban dictionary as " someone who fights for their country and in what they believe, even if it means death." Personally, I prefer the term "PATRIOT." The fight for our Country is in our hands. Change is coming for the good, or for the bad and WE control that outcome.
The battlefield has been declared and we are under attack. So where will you fight? What front line will you defend? It really does not matter where you fight, just fight. KNOWLEDGE and YOUR VOICE are the greatest weapons we have. Combine that with shear numbers, and we have an unstoppable army. Our greatest obstacle is complacency. Our soldiers do not know they are soldiers. So, it is your duty to make them understand. As the army grows so does our strength and you will see the effects it will have.
The Declaration of Independence said:
When in the Course of human events, it becomes necessary for one people to dissolve the political bands which have connected them with another, and to assume among the powers of the earth, the separate and equal station to which the Laws of Nature and of Nature's God entitle them, a decent respect to the opinions of mankind requires that they should declare the causes which impel them to the separation.
We hold these truths to be self-evident, that all men are created equal, that they are endowed by their Creator with certain unalienable Rights, that among these are Life, Liberty and the pursuit of Happiness.–That to secure these rights, Governments are instituted among Men, deriving their just powers from the consent of the governed, –That whenever any Form of Government becomes destructive of these ends, it is the Right of the People to alter or to abolish it, and to institute new Government, laying its foundation on such principles and organizing its powers in such form, as to them shall seem most likely to effect their Safety and Happiness. Prudence, indeed, will dictate that Governments long established should not be changed for light and transient causes; and accordingly all experience hath shewn, that mankind are more disposed to suffer, while evils are sufferable, than to right themselves by abolishing the forms to which they are accustomed. But when a long train of abuses and usurpations, pursuing invariably the same Object evinces a design to reduce them under absolute Despotism, it is their right, it is their duty, to throw off such Government, and to provide new Guards for their future security….
REALLY READ THOSE WORDS AND UNDERSTAND THEM!
READ THEM!
239 years ago, these words were the words of your Forefathers, and mine. They are as relevant today as they were then. So, where do we stand? With a militia, or activist group? YES. Stand with anyone and everyone that believes in the same cause as you do.
STAND ALONE IF YOU HAVE TO!
JUST STAND FOR SOMETHING! PLEASE!
I STILL NEED BLOGGERS IF YOU WANT TO WRITE HERE!
Make your voices heard to anyone that will listen. Find your strength in the issues that you can not tolerate and draw that line in the sand. There is your front line. Remember the words of Reagan.
You and I have the courage to say to our enemies, "There is a price we will not pay." "There is a point beyond which THEY MUST NOT advance." Winston Churchill said, "The destiny of man is not measured by material computations. When great forces are on the move in the world, we learn we're spirits — not animals." And he said, "There's something going on in time and space, and beyond time and space, which, whether we like it or not, spells duty."
You and I have a rendezvous with destiny.
We'll preserve for our children this, the last best hope of man on earth, or we'll sentence them to take the last step into a thousand years of darkness.
LISTEN… TO WHO HE IS TALKING ABOUT!
[Audio/Video below cannot be seen in Newsletter - have to go to Blog]
BATTLEFIELD: AMERICA.
WE ARE AT WAR AND YOU ARE A SOLDIER…
Read the article here at Locked and Loaded News:
THE VOICE OF REASON
FOR MORE ON FEMA CAMPS:
FOR MORE ON ALL OBAMA'S TREASONOUS ACTS!
FOR LINKS TO UNDERSTAND THE ECONOMY & THE COMING ECONOMIC COLLAPSE:
FOR MORE LINKS ON MARTIAL LAW:
LEARN HOW FEDERAL AGENCIES ARE ALL NOW FULLY ARMED!
FOR LINKS ON OBAMA'S LACK OF ELIGIBILITY FOR PRESIDENT:
FOR MORE ON BARACK COMING FOR OUR GUNS!
FOR MORE ON LIBERALISM: THE IDEOLOGY OF HATE AND GENOCIDE:
BE SURE TO CHECK OUT THE GIFT SHOP!