HOW WOULD YOU FEEL, IF OUT OF THE BLUE, ARMY APACHE HELICOPTERS (PICTURED ABOVE WERE FLYING IN LARGE NUMBERS RIGHT ABOVE YOUR HEAD, AND NO ONE TOLD ANY EXPLANATIONS WHY….
For those who are not familiar with the Martial Law Training Exercises taking place across AT LEAST 10 states right now, be sure to see some of the links at the bottom of this post. Many seem like they are out of a horror movie they are so scary. THIS POST COVERS PROOF THAT THE MILITARY IS TRANSITIONING FROM EXERCISE TO AN ACTIVE OPERATION!
In addition to the DOZENS of conflicting stories being released by the military which are later refuted by those on the ground WITHIN the military, we know that Texans have a lot more to worry about this week that JUST a few Apache helicopters flying low over Texas. Just this week a report leaked out of Russia that there were plans to arm guerrillas WITHIN the United States as a retaliation for the U.S. providing Ukraine with defensive weapons. Given Obama's track record for truth, don't you find it a wee bit of a coincidence that the locations listen on the Russian report are IDENTICAL to where Operation Jade Help is taking place?
WORD IS, RUSSIA WILL BE ATTACKING!
SEE THE VIDEO, THE MAPS, AND THE "PROTECTION" GUARDING THE INFRASTRUCTURE!
[Audio/Video below cannot be seen in Newsletter – have to go to Blog]
According to Freedom Fighters:
Russian soldiers have been coming in through Canada for months, infiltrating parts of our entire country. They have spread far and wide waiting for the order. The latest move by the USA to arm Ukraine has pushed Russia too far, and Russia's response will be quick and severe. Recently a Texas Secessionist asked Russia for help, as it turns out their "help" might be coming to life. RUSSIA PLANS TO ARM INSURGENTS in the USA, specifically in the states of; California, New Mexico, Arizona, Nevada, Utah, Colorado and Wyoming. This move by Russia is under the guise of arming Mexico. They plan to "supply weapons to guerrillas in those states."
SO, FOR CLARIFICATION:
THESE ARE THE CITIES RUSSIA SAYS IT WILL ARM GUERRILLAS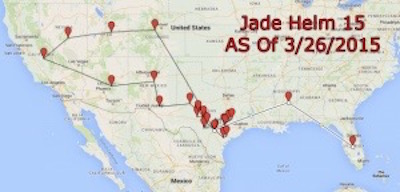 NOW: CITIES WERE JADE HELM IS TAKING PLACE…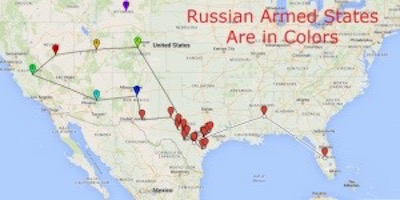 NOTICE ANY STRANGE COINCIDENCES?
Furthermore, if you missed my post on PUTIN INVADING U.S. AIRSPACE WITH NUCLEAR BOMBERS AGAIN THIS WEEK, it should be of no shock that Obama did not even send interceptor jets into the air at all. Do you hear me? I said AT ALL! That post also details the God awful relationship between the U.S. and Russia regardless of what the White House or the mainstream media say.
Recently, news broke concerning Texas Gov. Gregg Abbott's announcement that he ordered the commander of the Texas State Guard to mobilize his forces to monitor the activities taking place soon in his state that will be part of a domestic military exercise known as Jade Helm 15.
THE GOVERNOR IS NOT THE ONLY ONE CONCERNED!!
IT'S ALSO WORTH NOTING THAT MANY FORMER SPECIAL OPS VETERANS HAVE BEEN RUNNING COUNTER OPERATIONS THROUGHOUT THE MILITARY'S JADE HELM!
MANY OF THE DETAILS OF OPERATION JADE HELM CAN BE FOUND IN THE LINKS. THIS POST IS JUST THE TIP OF THE ICEBERG… MUCH IS STILL UNFOLDING!
We learned earlier this week that for many years, the government has been hard at work creating thousands of MASSIVE UNDERGROUND TUNNELS THAT LEAD TO MILITARY AND JOINT OPERATIONS BASES ALL OVER THE COUNTRY, but DEEP underground. These SECRET MILITARY BASES ALSO HAVE A STRANGE CONNECTION TO WALMART. Depending on where you live, you may have seen some WALMARTS SHUT DOWN. You can be sure nothing benevolent is going on inside. They are access points for these MASSIVE underground structures. How do we know that?
MANY OF THE MEN WHO ORIGINALLY WORKED ON THE TUNNELS TEN PLUS YRS AGO YEARS AGO ARE COMING FORWARD TO TELL THEIR STORIES!
SEE PICTURES BELOW!
Ok, so I have a lot of new information (or information that very few others have mentioned thus far) regarding the HUGE TUNNELS BEING FOUND AROUND THE COUNTRY LEADING TO A MASSIVE NETWORK OF UNDERGROUND MILITARY FACILITIES. Based on the information I have dug up, these tunnels and the massive facilities they connect seem about as dubunkable as FEMA CAMPS these days, or said another way: THE CAT IS OFFICIALLY OUT OF THE BAG! Check out just a few of the following shots: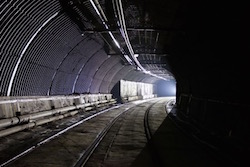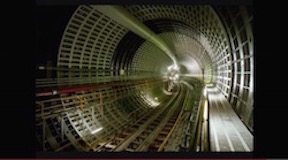 Join my Twitter feed | Like my Facebook page
EVEN HUMAN REMAINS HAVE BEEN FOUND IN THESE TUNNELS!
IT BLOWS MY MIND THAT PEOPLE DON'T SEE HOW ALL OF THESE STORIES CONNECT. THEY ARE ALL ONE BIG STORY.
OBAMA NEEDS MARTIAL LAW!
READ: 96% OF AMERICANS FEEL THERE WILL CIVIL UNREST THIS SUMMER!
CIVIL UNREST? CIVIL UNREST? TRY WAR!
EVEN PRESIDENTIAL CANDIDATES LIKE RAND PAUL ARE MAKING ANNOUNCEMENTS REGARDING OBAMA'S MARTIAL LAW PLANS!!!!
VERY FEW PEOPLE ARE AWARE OBAMA HAS GIVEN THE ORDER TO FIRE ON AMERICAN CITIZENS ONCE ALREADY!
OBAMA IS READY FOR WAR!!!!
WHY DON'T MORE KNOW?
THE FOLLOWING IS ALMOST 8 MINUTES OF THE SCARIEST VIDEO I'VE EVER SEEN AS AN AMERICAN!
DURING THE STANDOFF AT THE BUNDY RANCH, MOST PEOPLE DO NOT KNOW THINGS GOT SO DANGEROUSLY CLOSE TO ESCALATING INTO UNCONTROLLABLE DISASTER, THAT 'BUT FOR' A MOVIE DIRECTOR AT THE RANCH WHO JUST HAPPENED TO BE DOCUMENTING THE EVENT, WE MIGHT BE IN THE MIDDLE OF THE SECOND CIVIL WAR. HECK, I'D BET ON CIVIL WAR, HAD THE MASSACRE THAT OBAMA GREEN LIGHTED TAKEN PLACE!
LISTEN TO THE BLM SOLDIER IN THE VIDEO. HE SAYS THEY HAD A GREEN LIGHT TO FIRE ON THE MILITIA. WHAT IF THIS BRAVE DIRECTOR HADN'T ACTED OUT OF INSTINCT TO DIFFUSE TO THE SITUATION? IS THAT WHAT GOVERNMENT IS HOPING FOR? TO PUSH US OVER THE EDGE? WATCH FOR YOURSELF. BY MINUTE 7 OF AN 8 MINUTE CLIP, I COULD BARELY SWALLOW! IT SCARED ME TO DEATH!!!
[Audio/Video below cannot be seen in Newsletter – have to go to Blog]
Join my Twitter feed | Like my Facebook page
DO YOU THINK THE BLM IS THE ONLY AGENCY THAT WILL FOLLOW THAT ORDER?
THE U.S. ARMY MANUAL HAS INSTRUCTIONS ON WHEN TO FIRE ON PEACEFUL PROTESTORS (IF THEY ARE PROTESTING GOVERNMENT)!!!!
I've showed you NUMEROUS TIMES a copy of an older version of the U.S. ARMY TRAINING MANUAL ON ROUNDING UP U.S. CITIZENS INTO DETAINMENT CAMPS. I've also showed a COPY OF THE NEW ARMY MANUAL AUTHORIZING LETHAL FORCE AGAINST PEACEFUL PROTESTORS!
THERE IS NO SHORTAGE OF INFORMATION ON MARTIAL LAW:
FIRST OF ALL, THERE IS NOTHING ROUTINE ABOUT THESE EXERCISES!
LIE #!: THIS IS THE FIRST YEAR THE'VE BEEN CONDUCTED!
[Audio/Video below cannot be seen in Newsletter – have to go to Blog]
FOLKS, EVEN THESE STORIES ARE DIRECTLY RELATED!!!
FINALLY, ONE GOP PRESIDENTIAL CANDIDATE EVEN SAYS THERE MAY NOT BE AN ELECTION IN 2016 BECAUSE OF MARTIAL LAW!
[Audio/Video below cannot be seen in Newsletter - have to go to Blog]
The governor made the announcement after hearing an outcry from Texas residents who live in counties where the large special operations exercise will take place. Many feared the exercise would lead to a federal takeover of Texas or serve as the start of implementing martial law.
But the Pentagon issued a response to the Texas governor and residents of the state Monday, essentially telling them to chill out — dismissing claims of a possible federal takeover of the state as "wild speculation."
"Operation Jade Helm poses no threat to any American's civil liberties," Army Col. Steve Warren, a Pentagon spokesman, said Monday.
Jade Helm 15 will involve thousands of special operations military personnel, including Navy SEALs, Army Rangers, Green Berets and similar units training across seven states, including Texas, which was labeled as "hostile" for training purposes.
A spokesman for the Texas State Guard, a state-based military force that answers to the governor's office and cannot be pressed into service by the federal government, said, "The Texas State Guard stands ready to support the governor of Texas when called upon to serve."
While many Democrats and even a few Republicans blasted Gov. Abbott for his actions, 2016 presidential hopeful Ted Cruz defended the governor, saying, "You know, I understand the concern that's been raised by a lot of citizens about Jade Helm."
He added, "When you see a federal government that is attacking our free speech rights, our religious liberty rights, our Second Amendment rights, that produces distrust as to government." (H/T McClatchy DC)
There seems to be a split among Texans as far as concerns Jade Helm 15, which is set to launch in July. Some cities held council meetings allowing U.S. Army officials to present their operational plans for within city limits, allowing them to vote whether or not to allow the operation to move forward in their city. Many voted yes.
But there are plenty of citizens who smell trouble, standing by the idea that Jade Helm 15 is part of something much more sinister than a simple training exercise.
Share this on Facebook and Twitter if you think the citizens of Texas have something to worry about as long as President Barack Obama is in office.
Read the article at Conservative Tribune here:
By: Voice of Reason
FOR MORE NEWS BY VOICE OF REASON CLICK HERE!
THE VOICE OF REASON