BREAKING NEWS:
A CALL TO ACTION
OBAMA'S INELIGIBILITY IN U.S. SUPREME COURT SEPTEMBER 28th, 2015
8 days away!
Feature Editorial -the Post & Email
I looked into the validity of the claim that this goes before the Supreme Court appears to be true. On the official Supreme Court docket shown below it shows that there is in fact a scheduled conference on the Obama eligibility issue on September 28th. I have never tried a Supreme Court case, so I'm wholly unfamiliar with the process, but Cody Robert Judy said the following after Sotomayer denied his application for an extension suggesting that won't have any impact on the September 28th Conference.
Now the reason the APPLICATION FOR TIME EXTENSION was just a formality was because the Second CONFERENCE had already been scheduled for September 28th by the Court. My thoughts every since the Court had denied my in forma pauperis (IFP) Status was that they simply did so to buy more time to discuss it. That time would have necessarily disappeared if Justice Sotomayer had granted my APPLICATION FOR TIME, because what I proposed in that was actually "I wanna hurry this up and get it done during the Summer" and by Denying it Justice Sotomayer basically said, "We'd like to take some time on this and wait until September 28th where we have scheduled a "Long Conference" over it."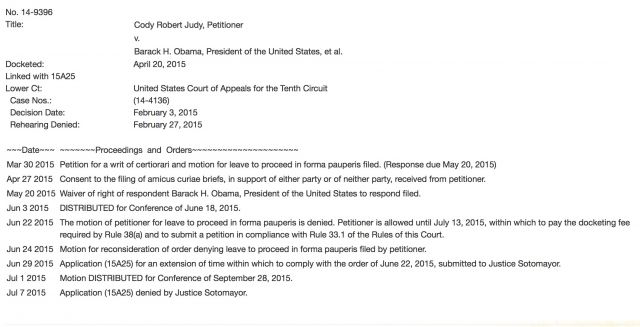 In light of information contained in Obama Ushers In Armageddon to America, and Captured ISIS Leader Makes Terrifying Confession About Barack Obama, anyone who emails me anything regarding something like, "Judy is a loon," can STIFLE IT! Whether or not Judy is a "loon" depends on who is writing about him. Whether not Obama has betrayed this nation is not debatable. I'll be watching to see how this unfolds and report back.
FOR MORE NEWS BY VOICE OF REASON CLICK HERE!
CHECK OUT THE NEW GOOGLE+ PAGE!
Saint John wrote in chapter 5 verse 8 – "Jesus said to him, "Rise, Take Up thy bed , and walk." It was a commandment of positive action. A call to action! In other words you should not sit there in bed laying there any more doing nothing. Get up off your bed, stop acting like you are paralyzed, sick, afflicted because that is not the case any more, and is not going to do you a bit of good. It would only lead to your demise and denial of the good happening now. You need to change the way you are acting and you need to do it now, even on the Sabbath. Such is the Lord's word given to me in a dream last night to give to you Patriots of the United States of America now to support the Case Judy v. Obama 14-9396 in the United States Supreme Court.
This is a very serious Call to Action for any American believing in the United States Constitution who has thus far idly sat on the fence post, or sat on their bed, just watching to see what happens. If you say to yourself, "yes, yes, I will watch for the Lord, and if he comes I will run and do as he says and all will be well with me and my family, you are not understanding "Prepare Ye For the Coming of the Lord" and that your help is what is needed now in order for his coming. We have got to defend the U.S. Constitution my fellow countrymen.
When the Lord says, 'Get right with me', or you hear your pastor, minister, preacher, bishop, prophet, or pope say, 'You need to get right with God', do you suppose that your Civil Responsibility is not included? I ask you one question in ascertaining your answer. What came first your religion or the United States Constitution in the United States of America?
Without the United States Constitution in the United States it is very doubtful your particular religion would exist right now. Do you understand that? Long ago a Revolution in this Land of the United States was fought to separate the Church and the State, not in morality of right and wrong, but in allowing all or many religions instead of just one who also directed the affairs of the State.
WHY SUPPORT A CASE CHALLENGING OBAMA'S INELIGIBILITY NOW?
"Why support a case challenging Obama's Ineligibility now? He's almost finished with his second term and will be out." Have you forgotten?
Yesterday, I heard an impassioned plea from Representative Peter Roskam of the 6th District of Illinois.
Iran Deal wins the Worst Idea ever Award
Roskam: Administration's failure to turn over IAEA Sign Deals is a Scandal
September 10th, 2015
FOR MORE NEWS BY VOICE OF REASON CLICK HERE!
One of the suggested 'hidden or secret ideas' in the Iran Deal, kept from the public view, I have learned is that Israeli Jets coming into Iran Air Space must be necessarily shot down and the U.S. is bound to do that by the agreement either by commission or omission in standing down as the firing upon Israel takes place in any action. It places the United States Military Force against Israel, who we know is surrounded by a lot of country's who do not even recognize them as a State and have unilaterally declared to wipe them off the map.
Representative Roskam and I do not agree on a lot of things, but there are quite a few Democrats I also join with in agreeing with him on this. Here is the letter I wrote to him explaining how it was that standing up with the U.S. Constitution on the qualifications of the Office of the President had a direct way in putting the Iran Deal to rest via his Facebook instant message, as well posted as a comment on his Facebook thread:
Dear Rep. Roskam Applaud your stand of transparency in Iran Deal/Treaty.
Wondered if you knew about Judy v. Obama 14-9396 that makes Obama a Constitutionally Defined "disability" before Congress?
Of course this negates the signature of any Iran Deal presented to Congress.
If you really think it's a bad deal, let's bring up hearings at least in Congress making Obama's signature illegal as unqualified in the Office of the President. (?)
I am the "only" Presidential Candidate in America who has a bi-partisan FEDERAL COURT RECORD in the principle of ' natural born Citizen' on both McCain and Obama.
It takes Obama's race card and tears it up.
If you are genuinely concerned you will/would bring up every Constitutional Defense to STOP this in my opinion.
Cody Robert Judy
For those who think God didn't create the heavens,sun, planets, stars and they are out of his jurisdiction?
The witnesses no different than you or I's, are there to struggle against.
Joshua – the sun stopped in the sky for a 24 hour period so they could win the battle. Josh 10-12
Hezekiah's life is lengthened 15 years God turns the sun shadow back 10 degrees as a witness. Isaiah 38:8
Of course the Star that was foretold in Num 24:17 and guided the wise men hundreds of years in the future to where Jesus lay in the manger Matt 2:2
We are also soon to witness the 4th and last Blood Moon in the tetrad, only 4 tetrads in the last 500 years Sept 28, 2015 Joel 2:31 Matt 24:29 Luke 21:25 Rev 6:12
The amazing Billboard of God giving us signs everyone can see. Kind of amazing to see these realities spoken of long ago in our days. Of course I think like any story God saves the best for last ..and a great falling away really only makes it more spectacular.
Amazing realities of nature defying the scopes we understand to serve his purposes.
Recent article I wrote shows some reflections of that too.
BLOOD MOONS – End of the Tetrad September 28th 2nd Obama Ineligibility Conference in U.S. Supreme Court
Sincerely,
Cody Robert Judy
CALL TO ACTION
My fellow Patriots, I have been in great prayer and fasting three days for the Lord's word in the depths of all humility I can express to you and I did not come away empty handed in the charge given to me to give to you today. We are just eight (8) days away from the unprecedented second conference in the U.S. Supreme Court case Judy v. Obama 14-9396.
My fellow Patriots it was not tacit laziness that earned my Case a number in the U.S. Supreme Court and a spot on their docket as Judy v. Obama 14-9396, nor was it laying around in bed that earned me the distinction of being the only Presidential Candidate in America with a bi-partisan Federal Court Record of Taking A Stand for the qualification demands in our U.S. Constitution for the Office of the President more especially understood as 'natural born Citizen' clause ie. born in the U.S. to Citizen Parents.
This offered distinction and a higher qualification demand in our Constitution then those demanded of a Representative or Senator in similar vicissitude as the "age" and "time-within-the-U.S." is higher for the President and Vice President then the lower offices of Representative and Senator. Please watch the very short two minute video Constitutional Reckoning explaining this in detail:
FOR MORE NEWS BY VOICE OF REASON CLICK HERE!
CHECK OUT THE NEW GOOGLE+ PAGE!
We are only eight (8) days away from September 28th, 2015, which marks a huge sign from God in the heavens no man could possibly put up there. It is the last day of the Blood Moons seen in the Tetrad cycle, also coordinating with the Super Shemitah Jubilee year that begins September 23, all remarkably coordinating exactly with the SECOND CONFERENCE of the United States Supreme Court in Judy v. Obama 14-9396.
What does the Super Shemitah Jubilee which comes in 50 year cycles represent? It represented a 'release of the land' In the context of the great debt of 10 Trillion Obama has placed upon America, a cut-throat stand alienating our allies, Obamacare, Obama Amnesty, Obama Lies, Obama Scandals, and Obama's Ineligibility would not a 'RELEASE' from Obama' stand as a witness of a great Jubilee?
Moreover, would it not be a great shaking off of the chains which Obama has bound us by in his racial divide and strike against the jobs in America, in the political realms of which you would gladly want to be apart of?
This CALL TO ACTION is for each and every American to reach down into their pocket and contribute to the Campaign in American taking a stand against all of this in one fell swoop! A RELEASE TO BE FREE FROM OBAMA!
The mandated taxes, the billion dollar web site that doesn't work, the freedom to keep your doctor, the respect of our allies that has been lost, the freedom to start in a new direction rather than to drag Obama into the next election cycle, and all the problems he has created with his stand to redistribute America, thin us out good by population, by standard of the dollar, and most importantly by the principles of our Nation found in the U.S. Constitution we patriots feel was divinely inspired. Where is your contributions Patriots?
By acknowledging Obama's signature a "disability", do you realize how much time and money this saves us from the next administration's headaches? Yes, we can still have an election, and I might not be your favorite person for the next President, but LOOK at what it recognizes as far as a rehabilitation service for our Nation. Free from the chains Obama has forged in the furnace-of-fraud he has placed your rights, freedoms, and liberties in the fire binding you up just like Satan would have you- in prison!
There are many prisons' my fellow countrymen and we must escape this one. Your help now is necessary.
I would like to share two other scriptures the Lord has given me to share with you TODAY in application of this CALL TO ACTION.
They come from Isaiah.- one of which is a stern warning directly to women in the Order to help and contribute in this work: Isaiah 38: 9
"Rise up, ye women that are at ease; hear my voice, ye careless ones; strip you, and make you bare, and gird sackcloth upon your loins."
What does this mean in context of the CALL TO ACTION? It means you can be just as strong as any man in this CALL. You are not exempt from helping and making your steady contribution to sure up this firm foundation. "Sackcloth" is tough, not worn out easily. It is strong and is not flimsy or delicate. This is a call for you to be determined and take great courage in supporting this cause. Dress yourself in the Lord's Strength by supporting and contributing what you can.
I cannot imagine our choice daughters in this land, beautiful daughters of God, standing idol when Jesus calls out , "I need your help in this", but of course that is your choice. You have received it and it is your choice to act upon it today, pass the message on if you are impoverished, pledge and support $3, $5, $10, or $20 a month. We need your help.
The next scripture I have been given to give to you by the Lord is Isaiah 58:8-11 which is a Promise and a Wonderful Blessing.
"Then shall thy light break fourth as the morning, and thine health shall spring forth speedily: and thy righteousness shall go before thee; the glory of the Lord shall be thy reward. v.9 Then shalt thou call, and the Lord shall answer; thou shalt cry, and he shall say, Here I am. If thou take away from the midst of thee the yoke, the putting forth of the finger, and speaking vanity; v.10 And if thou draw out thy soul to the hungry, and satisfy the afflicted soul; then shall thy light rise in obscurity, and thy darkness be as the noonday; v.11 And the Lord shall guide thee continually, and satisfy thy soul in drought, and make fat thy bones: and thou shalt be like a watered garden, and like a spring of water, whose waters fail not."
It was given to me that we together should set our Goal at raising $100,000 dollars before the September 28th Hearing in the United States Supreme Court. We have noticed in our past that many will be fence sitters and will not respond to a CALL OF ACTION. We notice in our history in the Revolution which carved our Nation as an invisible hand would carve a big boulder out of sheer rock that only 3% will head the call. One in about twenty heeded the call for the Revolution which would be about three million today out of 320 some odd million.
This would put our $100,000 dollar goal in a very generous range of ease to achieve, especially given what the cost would be considering the popular and leading Republicans Candidate for president consensus that Obamacare would be repealed on their first day and most would tear up the Iran Agreement or police it until it was broken. These cost are enormous and will undoubtedly come to the tax-payers.
Now we all know, Republicans have not been really big on delivering their promises in Election 2010, and 2012, and 2014, yet they have maintained the majority in the House and now control the Senate too. So I'm asking all Republicans in the general population, as well as Democrats, and Independents to join me in this CALL TO ACTION because we are in agreement on this one.
If your not in agreement, you certainly should not be seen beating your chest as a Constitutionalist, you should be hiding your head in shame.
Patriots of this Nation, what are you a Patriot for if you will not support and contribute to the RELEASE from Obama "period"! Nothing can do this accept the achilles of Obama's Ineligibility. Without a release, the next President will certainly have to deal with a majority or a lack of the majority in Congress. Obama has acted pretty hand-idly with executive actions, and the resentment for it is thick in America when he will not work with Congress.
Our Governments checks and balances were not placed within it so that the Executive Branch in the President could solve every last problem with an executive order as many think. Our next President will undoubtedly find the challenges of working with a Congress and working also in concert with the Judicial Branch. He will not be a King.
The biggest problem I believe Mr. Trump would find if he were to become the next president would be that working with Congress and the Judicial Branch is much more difficult than working with contractors to build a building. He will not be aloud to just bull-doze laws as easily as he might have with eminent domain working for him. He might find working with Putin much easier in fact than Congress and the Courts and I sincerely believe that the work that is necessary in doing this has not been represented in his character as his meager support for this effort has proven over the years.
Now, that aside, let me say, that supporting me in this action does not make your support for Donald Trump or Hillary Clinton, or Bernie Sanders, or Ben Carson or Jeb Bush or any of the qualified Candidates under the Constitution less, it makes their job much easier when and if they take the Office of the President. That is something we all can agree on they would look to you with gratitude for.
They most likely would not tell you to come and support this action mostly because of an ego factor or a conflict they might see as a construct of their own candidacy. That said, you can of your own free will and volition see exactly how much easier you would make their job by supporting this action. It just makes sense. So, please consider your support and contribution now in the safe and secure Paypal Link provided here.
Thank you!
Americans, get smart, get educated, and then stand up and support that which has given you so much in our U.S. Constitution, as a well that never fails and has made our Country great from the beginning.
God Bless You!
Please, consider a Contribution Now by clicking the secure Paypal link. You contribution Today will help make a Better America Tomorrow!
Sincerely,
Cody Robert Judy
2016 – D – Candidate for President
The CRJ TODAY for a BETTER AMERICA TOMORROW
Campaign Committee to elect Cody Robert Judy U.S. President in 2016.
Web Site www.codyjudy.us
Blog: www.codyjudy.blogspot.com
Cody's Record is one you can Trust as one in the public service, and one that has served our Nation and will serve our Nation well in the Office of the President. The nucleus of our Constitution that may just be the collaboration or difference between the Truth and the Lie you will have a choice in voting for.
FOR MORE NEWS BY VOICE OF REASON CLICK HERE!
Help Support Cody Robert Judy's Campaign for President Cody is doing what not even Mr Trump or any other Republican Candidate for President can do. Remember - Principle over Party!
CONTINUE TO READ ABOUT THIS FASCINATING DEVELOPMENT ALONG WITH A HISOTRY OF THE CASE THAT CAN BER VERIFIED HERE AR RIGHT.IS
FOR LINKS ON OBAMA'S LACK OF ELIGIBILITY FOR PRESIDENT:
Reporter Gets Death Threats Over Obama Birth Certificate & Photos
ALL HANDS ON DECK: "Calling For The Arrest of Barrack H. Obama!"
SMOKING GUN in the Obama Eligibility Case: Ann Dunham's Passport
NH State Legislator: Obamas Are a MADE-UP Family
THE SMOKING GUN in the Obama Eligibility: Mother's Passport
Barack Obama's Lawyer Admits Birth Certificate Is Forged
Sandy Hook and Obama's Connecticut Social Security Number
THE BEGINNING: Valerie Jarrett Exposed
PART I: The Russians Are Coming!
PART II: Putin, Obama, & The Banksters vs. All of Humanity
PART III: How & Why Behind Obama's Rise to the Presidency
An Open Letter To "President" Soetoro-Obama
Open Letter to the President of the United States – Senior Chief Ross
Obama's Mental Illness Justifies Removal Under the 25th Amendment
Unexploded Bombshell: Barack Obama Admits to Being Born in Kenya
Jarrett's Father-In-Law Article in 1979 Reveals Purchase Of U.S. Presidency
Arpaio 'Our Country is Under Attack; The Aggressor – Barack Obama'
WHY HASN'T OBAMA BEEN IMPEACHED YET?
FOR MORE NEWS BY VOICE OF REASON CLICK HERE!
CHECK OUT THE NEW GOOGLE+ PAGE!
BE SURE TO GO MY PROFILE'S BELOW AT OTHER SOCIAL MEDIA:
FACEBOOK | TWITTER | PINTEREST | STUMBLE UPON | TUMBLER
THE VOICE OF REASON