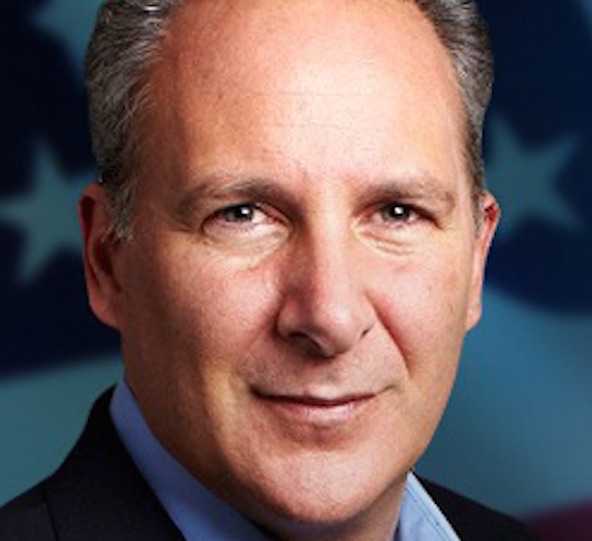 FOR MORE NEWS BY VOICE OF REASON CLICK HERE!
According to the Wall Street Journal, the August jobs report just released today was set to be THE deciding factor in whether the Fed was going to raise interest rates in September. That's the story we've been hearing. The reason I just posted, 50 Best Investment Blogs Giving You Straight News Without The Nonsense is because all we get from government is LIES, LIES, and more LIES. As Peter points out in the video below, does it make ANY sense whatsoever that the Fed would be waiting on a report that comes out two weeks before the Fed's decision. How often do those reports get revised? Uh, like all the time! So we're supposed to believe they were going to base a decision that has sent markets tumbling without even knowing the revised data later? PLEASE!
As Peter says, "The devil is in the details," and he talks about what is sure to be the nonsense Obama will be spewing next week…

As if our economy doesn't have enough problems, Russia has decided to kick the collapse of the U.S. Dollar into high gear by passing a law FORMALLY dumping the dollar. Remember that Russia and China own the world's largest oil company, and traditionally that has been the reason the Dollar has remained the Reserve Currency… because oil is traded in Dollars… or at least it was. This is just one more nail in the inevitable coffin as the U.S. Dollar is slowly being laid to rest.
Russia Is Going To Pass A Law Formally Dumping The U.S. Dollar
As I wrote in, Deathblow to the Dollar, Even Our Allies Abandoning U.S., and probably 50 other posts:
This generation of Americans has no concept of what losing that status will mean to our way of life. That's because they've never known life here in the U.S. as anything other than the Reserve Currency. Being the Reserve Currency has been an ongoing scam on the rest of the world, and the rest of the world has finally caught on. Other countries pay their workers crap wages to make OUR products, and then LEND us the money to buy the products THEY produce. It was only a matter of time before all these other countries figured out they didn't need to keep funding OUR extravagance at THEIR expense.
OBAMA SPITTING IN THE FACES OF OUR ALLIES HAS NOT HELPED AMERICA!
Being the world Reserve Currency has given America special privileges and ENORMOUS power. Our status has allowed us to borrow money at rates a fraction of our ALLIES. With everything being denominated in U.S. Dollars, it gave the United States control in everyone else's financial affairs. It appears everyone else got tired of it. Furthermore, whenever trouble has struck, America has just started up the printing press. Since taking office, Obama has printed approximately $85 BILLION PER MONTH OUT OF THIN AIR. By more countries DUMPING the Dollar, it says one thing:
YOU ARE BROKE, AND YOU ARE OBSOLETE!
The blows to America's economic might are descending rapidly and forcibly. This is going to get very ugly. The infrastructure is being built for a world without the United States. China has been working on a new long-awaited international payment system could go live as early as September or October. Together with the Russians they own the largest oil company in the world completely de-pegged from the Dollar, and it's only getting worse. This most recent step by Russia is just upping the ante one more time….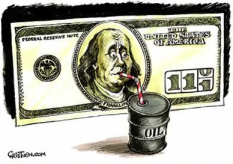 Michael Snyder at the Economic Collapse Blog writes:
Russian President Vladimir Putin has introduced legislation that would deal a tremendous blow to the U.S. dollar. If Putin gets his way, and he almost certainly will, the U.S. dollar will be eliminated from trade between nations that belong to the Commonwealth of Independent States. In addition to Russia, that list of countries includes Armenia, Azerbaijan, Belarus, Kazakhstan, Kyrgyzstan, Moldova, Tajikistan and Uzbekistan. Obviously this would not mean "the death of the dollar", but it would be a very significant step toward the end of the era of the absolute dominance of the U.S. dollar. Most people don't realize this, but more U.S. dollars are actually used outside of the United States than are used inside this country. If the rest of the planet decides to stop accumulating dollars, using them to trade with one another, and loaning them back to us at ultra-low interest rates, we are going to be in for a world of hurt. Unfortunately for us, it is only a matter of time until that happens.
When I first read the following excerpt from a recent RT article, I was absolutely stunned…
Russian President Vladimir Putin has drafted a bill that aims to eliminate the US dollar and the euro from trade between CIS countries.
This means the creation of a single financial market between Russia, Armenia, Belarus, Kazakhstan, Kyrgyzstan, Tajikistan and other countries of the former Soviet Union.
"This would help expand the use of national currencies in foreign trade payments and financial services and thus create preconditions for greater liquidity of domestic currency markets", said a statement from Kremlin.
For a long time, tensions have been building between the United States and Russia over Syria, Ukraine, the price of oil and a whole host of other issues. But I didn't anticipate that things would get to this level quite yet. It is expected that Putin's new bill will become law, and this is only one element of a much larger trend that is now developing.
You see, the truth is that Russia and China have both been dumping dollar-denominated assets for months. The following comes from a recent piece by Mac Slavo…
Last year Russia began unloading massive amounts of their US dollar reserves. In the month of December 2014 alone Putin sold some 20% of the country's U.S. Treasurys, a move that further increased tensions surrounding what can only be described as economic warfare between East and West.
Then, as if part of a coordinated effort, this summer it was revealed that China had implemented a similar strategy, dumping half a trillion in dollar denominated assets.
But that's just the beginning of the end for the US dollar. Amid a major meltdown in Chinese stock markets the People's Republic sold off billions in dollar assets last week in what was reported to be an effort to stabilize their collapsing financial markets.
And now, as Russia's economy collapses under the weight of American and European sanctions, including what many believe to be widespread downward manipulation of oil prices, Vladimir Putin is sending a clear signal to the central bank of the world's reserve currency.
China has the second largest economy on the entire planet, and Russia has the tenth largest. In recent years, these two superpowers have become much tighter. For example, just consider this headline from Sputnik News that I came across just today: "Crippling US Foreign Policy Draws Russia, China Closer Together".
And I don't know if you have noticed, but U.S. relations with China have turned rather sour lately. Lots of accusations about spying and trade violations have been flying around, and just this week five Chinese warships were spotted off the coast of Alaska. In the months ahead, expect our relationship with China to continue to unravel
If China and Russia were to both fundamentally reject the U.S. dollar at some point, much of the rest of the world may choose to follow suit.
So why is that important?
The fact that most of the nations of the world use our dollars to trade with one another creates a tremendous amount of artificial demand for our currency. In other words, the U.S. dollar is valued much higher than it otherwise would be just because it is the de facto reserve currency of the planet.
As a result, we can import massive amounts of products at super cheap prices. When we go to Wal-Mart or the dollar store, we can fill up our carts with lots and lots of ridiculously inexpensive stuff. Our standard of living is way higher than it actually should be.
And because the U.S. dollar is used so widely in global trade, major exporting nations end up with giant piles of our currency which they have been willing to lend back to us at ultra-low interest rates. This has made it possible to fund our massively bloated federal government and to go 18 trillion dollars in debt.
If the rest of the world stops using our dollars and stops playing our game, we will be in a tremendous amount of trouble. The cost of imported products would absolutely skyrocket and our standard of living would go way down.
In addition, the federal government (along with state and local governments) would have to pay much more to borrow money which would rapidly create a gigantic debt crisis.
So Russia knows where they could really hurt us. Most of the "power" that America currently projects around the world is based on having the de facto reserve currency of the planet. If you take our financial power away, we would be far, far less imposing on the global stage. Sadly, the truth is that the U.S. military is rapidly shrinking and has largely been defanged by the Obama administration.
A lot of people that will read this article will not understand this, but it is very, very important to keep an eye on this emerging Russian/Chinese alliance. I believe that it is going to play a critical role in world events during the years ahead.
FOR LINKS TO UNDERSTAND THE ECONOMY & THE COMING ECONOMIC COLLAPSE:
China Warns Washington It's Been Liquidating U.S. Treasuries
Peter Schiff: Global Ponzi Scheme Threatens Implosion
CNN Telling Americans That The Stock Market Is Not Going To Crash
2 Day Crash That Was Larger Than Any 1 Day Market Crash In U.S. History
10 Signs the US is Transitioning to Third World Country Status (Videos)
Peter Schiff On China's Currency Devaluation and the Federal Reserve Board
10 Horrifying Realities Americans Find Too Awful To Face
Gerald Celente: Massive Market and Trade Instability Will Cause WW III
Warning: New Technological Breakthroughs Threaten Up to 47% of U.S. Jobs
China Knocking on the Door of Reserve-Currency; World Teeters on Collapse
Peter Schiff on Greece, Puerto Rico, and America's Looming Economic Crisis
Peter Schiff: Greece Was a Sideshow. Americans Need to Worry About Starving
Gerald Celente Predicts Economic Collapse Means World War III (Video)
Can You Imagine Empty Grocery Stores?
Putin Makes Chilling Threat to Obama That Could Change Everything
Gerald Celente: America Headed Towards Total Financial Collapse
Peter Schiff: China and Switzerland is Killing U.S. Dollar
So it Begins: The Bond Crash Looks to be Here, and Investors Are Panicking
What Makes The Trans-Pacific Partnership So Bad? You Better Sit Down.
Global Reset Coming! Central Banks Are Losing Control Of Financial Markets
Deathblow to the Dollar – Even Our "Allies" Abandoning U.S.
What Will Happen To You When The Dollar Collapses?
Gerald Celente: "America Is A Collapsing Third World Country"
Trouble Ahead: 'Within One Year 9 Out of 10 Americans Would Be Dead'
How Will the Dollar Crash Affect ME PERSONALLY?
DOLLAR DOMINATION IS OVER!!!! – OMFIF Discusses Alternatives
Gerald Celente: A Worldwide Panic Is Beginning And "There Is No Recovery"
FOR MORE NEWS BY VOICE OF REASON CLICK HERE!
BE SURE TO GO MY PROFILE'S BELOW AT OTHER SOCIAL MEDIA:
FACEBOOK | TWITTER | PINTEREST | STUMBLE UPON | TUMBLER
THE VOICE OF REASON