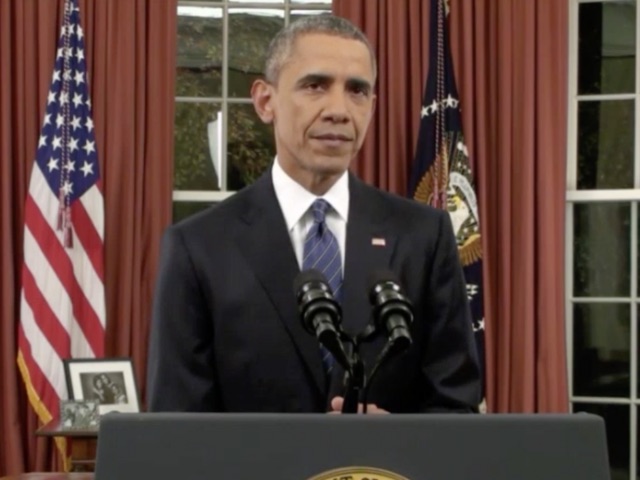 "Conspiracy Theorist!" There, I said it for you. Now you can close your mouth, and open your eyes instead, because in the information that follows, you will see more of what we've become all too accustomed to under the Obama administration, where mass shootings have gone up by over 700% compared to all his predecessors:
What you'll see is a narrative that makes zero sense. None.
First, in the video below, I give a brief breakdown of the inconsistencies already glaring in this case!
Here is the fact: Only one type of person needs to have others disarmed, and that is an executioner.
Period. Furthermore, we already know Obama wants every damn gun in this country CONFISCATED. Michelle Obama has publicly said as much, so what more do you need to know?
FOR MORE NEWS BY VOICE OF REASON CLICK HERE!
CHECK OUT THE NEW GOOGLE+ PAGE!
Obama will tell whatever fictional tales he has to, or conduct as many false flags as he has to, in order to garner enough support from left-wing loons to effectuate his plans.
If you're naive enough to think he won't, answer why mass shootings are up 700% during HIS presidency?
If you're naive enough to think that he can't, you are delusional.
Make no mistake, I am concealed carry holder myself, and firmly believe in our 2nd Amendment rights, but I'm not an idiot either.
I don't stand on platitudes and bumper sticker slogans as sources for my information.
I have an awareness that no matter how many times I utter, "from my cold dead fingers," KNOWLEDGE is power, and knowledge can only be acquired by reading. Headline readers and sound bite seekers are uninformed tools.
Because I read more than headlines, I know federal agencies didn't purchase 12 BILLION hollow point bullets for no reason. I've seen what a hollow point bullet can do. Take a look:
An Exclusive You Have To See: The Last Frontier of Free Press Is Here! No More Censorship, Unlike YouTube and Others!
CHECK OUT THE NEW GOOGLE+ PAGE!
I fully recognize that no matter how many guns I own, how much ammo I have stashed, or how high I wave my copy of the Constitution with the my 2nd Amendment rights, I am no match for ONE hollow point bullet, much less more than enough hollow points to shoot every man, woman and child on this earth more than once.
EVERYTHING you will see coming from the White House moving forward will be some warped attempt to mislead Americans into achieving gun confiscation. KNOW it. BELIEVE it.
THE PENTAGON IS PREPARING FOR MASSIVE CIVIL UNREST FOR SOMETHING HUGE!
Next, just so there is no confusion about what Obama said when his lies are compared to the ACTUAL facts on the ground, below is a full-length video of Obama's 12:18 of bullsh** last night. More of the same from the terrorist who hijacked the most powerful office on earth: LIES!
FOR MORE NEWS BY VOICE OF REASON CLICK HERE!
CHECK OUT THE NEW GOOGLE+ PAGE!
Even though Obama's speech was only twelve minutes, there is no need to pick apart every single line as total lies one by one (even though we could), just to prove that what is being reported on the San Bernardino shooting is fake narrative… AGAIN!
Obama and the leviathan that has become our federal government is far to inept at covering it's tracks to pull off a caper like this, and listening to Obama's voice over and over again, even if just to discredit him, could prove to be harmful to one's health. I for one am not taking the chance.
The following are some of the highlights of Obama lies, followed by some of the ACTUAL facts on the ground Obama conveniently didn't mention.
To begin, Obama opens his fairy tale to the American people with a pretty damning statement right off the bat. It went a little something like this:
"The FBI is still examining evidence in this situation…"
Is that right sir [COUGH]? Can you explain the video below then? Is it normal FBI procedure to let news outlets, including MSNBC, BBC, CBS News and CNN, broadcast live from the middle of a crime investigation?
In the video below you will find reporters toting cameras and microphones pushed through the open door and reported from inside the apartment of Syed Rizwan Farook and Tashfeen Malik.
An Exclusive You Have To See: The Last Frontier of Free Press Is Here! No More Censorship, Unlike YouTube and Others!
CHECK OUT THE NEW GOOGLE+ PAGE!
I know, I know, the excuse will sound something like, "The FBI already got all the evidence they needed from the scene… so that is why reporters were allowed in…."
Is that right?
In what amounts to one of the worst terrorist attacks on American soil since 9/11, the FBI was finished investigating the place where the alleged shooters LIVED already?
Has the government become such a demonstration in pure efficiency that within less than 48 hours, there is no chance anything was missed? Is that the story they are going with?
One question: Benghazi was when again? 2012. So which is it?
The government is a bumbling clusterfu** constantly covering up lies, or its the epitome of efficiency?
You can't have it both ways, so which is it?
Whatever answer Obama and the rest of Crime Inc. chooses, they're screwed. In either case Americans died, and that makes them as the group covering up the incidents, ACCOMPLICES!!!
That makes them lying, treasonous, murderers. End of story… or it it? Hardly. The lies never end from the Sociopath-in-Chief.
Moving on… Obama says,
"First, our military will continue to hunt down terrorists and enemy plotters in any country where it is necessary… Since the attacks in Paris, our closes allies, including France, Germany, and the United Kingdom have ramped up their efforts…"
Pardon the interruption sir [COUGH], but would you mind expounding on how much they've been willing to "ramp up their efforts" for the audience at home? I don't know how many troops all three nations are sending combined, but it's safe to say it's less than 10,000.
How come you didn't mention to the American people that there are already 150,000 VOLUNTEER Russian Troops in Syria with a Chinese Aircraft Carrier and Iranians Backing Them?
OH YEAH, IT DOESN'T FIT THE "NARRATIVE" THAT YOU'RE DOING ALL YOU CAN DO.
At around the 5:00 minute mark, when you said you are working with Turkey to close the Turkey/Syrian border, what did you mean by "working with" Turkey?
Can you explain that a little bit better for the folks at home who don't yet know what a lying jackass you are? Why didn't you tell the American people how Turkey responded to your request to "work together to seal the border?"
WHY DIDN'T YOU TELL AMERICANS TURKEY SAID, WHY DON'T YOU WORRY ABOUT MEXICO FIRST, THEN COME TALK TO US ABOUT HOW TO HANDLE OUR BORDERS?
OH YEAH, IT DOESN'T FIT THE NARRATIVE THAT YOU'RE DOING ALL YOU CAN DO.
From Daily Caller via WZ:
President Barack Obama wants Turkey to close its 60-mile-long border with Syria to end the influx of new Islamic State fighters pouring into Syria and Iraq.
If Turkey acquiesces to Obama's demands, no entry points will remain between the two countries. The entire border is 550 miles long, The Wall Street Journal reports.
But a Turkish official quickly pointed out to The Wall Street Journal the irony in Washington's call to close off the border, given the U.S. is completely unable to stop flows in and out of Mexico.
FOR MORE NEWS BY VOICE OF REASON CLICK HERE!
CHECK OUT THE NEW GOOGLE+ PAGE!
At around the 7:45 minute mark is when the BS begins to flow REAL thick and heavy, so put your boots on for this. It begins with the lie:
"My fellow Americans…"
Obama, I'm not your fellow anything… got it? He goes on to proclaim:
"The strategy we are working with now… working with local forces… who are fighting to regain control of their own country… that is how we'll achieve a more sustainable victory."
"We cannot allow this to cause us to turn against one another, by letting this be defined as a war between America and Islam…"
"ISIL doesn't speak for Islam. They are a cult… a group of thugs, killers, part of a cult of death… and a tiny fraction of Islam… including millions of patriotic Muslims who reject their hateful ideology…"
"If we are to succeed in defeating terrorism, we must enlist Muslim communities as some of our strongest allies, rather than push them away with suspicion and hate."
"Muslim leaders here and around the globe, HAVE to continue working with us decisively and unequivocally reject the hateful ideology that ISIL and al Qaeda promote, to speak out, not just against acts of violence… but also against what is incompatible with values of tolerance, mutual respect, and human dignity…"
"Just as it is the responsibility of Muslims around the world to root out the misguided ideas that lead to radicalization, it is the responsibility of all Americans, of every faith, to reject discrimination. It is our responsibility to reject religious tests for who we let into this country…"
OH WAIT! There is this though… It's part of the Federal Law when it comes to refugees. It ABSOLUTELY is part of the test, it just happens to be one more in a long list of laws Obama plans to ignore and demonize anyone loyal to the statute along the way.
8 U.S. Code § 1158(a)(2)(A) Safe Third Country states:
"Paragraph (1) shall not apply to an alien if the Attorney General determines that the alien may be removed, pursuant to a bilateral or multilateral agreement, to a country (other than the country of the alien's nationality or, in the case of an alien having no nationality, the country of the alien's last habitual residence) in which the alien's life or freedom would not be THREATENED on account of race, RELIGION, nationality, membership in a particular social group, or political opinion, and where the alien would have access to a full and fair procedure for determining a claim to asylum or equivalent temporary protection, unless the Attorney General finds that it is in the public interest for the alien to receive asylum in the United States.
CHECK OUT THE NEW GOOGLE+ PAGE!
So, let's be clear here: The iron clad Obama strategy of not pushing away all Muslims with suspicion and hate based on the acts of a tiny percentage of Muslims who are a group of "thugs" won't work with a tiny percentage of gun owners who have gone off the deep end? In one instance, with Muslims, all we need is community leaders to decisively and unequivocally speak out, not just against acts of violence, but also against what is incompatible with values of tolerance, mutual respect, and human dignity, but with gun owners, we need to take away all the guns?
AUTHOR'S NOTE: I thought "thug" had been reclassified as "racist" according to liberals, but the double standard evolves so quickly maybe it's not racist anymore. That being the case, now I can refer to Obama as a treasonous thug again. Cool.
Notice who we never hear Obama or liberals wanting to take guns from. We NEVER hear about the gun violence in the city with the strictest gun laws, Obama's hometown of Chicago. If more laws work, why is it everywhere that has them has the most gun violence? Did you notice the media was SILENT on the Mass Shooting in New Orleans, Where 300 Were Shot At, 17 Wounded? Why Silence? Why no Long Winded Carbon Footprint Leaving Speech By Obama and Liberals? As that post reports:
"You see, Allen is a black thug with a criminal record a mile long, so his violent acts don't fit into the current narrative that white conservative Christians are the largest threat to our nation. Plus, being a convicted felon, he shouldn't have even had a gun to begin with. The law forbidding him from owning one didn't work, and he was also a part of the catch and release program for violent thugs."
ARE YOUR EYES OPEN YET ABOUT WHAT SIDE OBAMA PLAYS FOR????
Tying this all back to the San Bernardino, and why there is reason to believe the event is one more in a long list of false flag shootings, which prompted the BS speech from Obama last night, and will ultimately set the stage for gun confiscation, is the following video from the family of the shooters attorneys. I am not suggesting Syed Rizwan Farook and Tashfeen Malik did not become radicalized, or did not shoot anyone. Like the attorneys though, I do question why the shooters were found face down, handcuffed, and riddled with bullets. A quick pulse check would reveal they were dead if shot first, so why the handcuffs? We'll probably never know the real story there.
CHECK OUT THE NEW GOOGLE+ PAGE!
Like all these other false flag shootings, this one begs the question, Why Do Law Enforcement Training Exercises Always Precede Mass Shootings? The following is from that post:
Jon Rappoport at Activist Post writes:
Note: Thanks to humansarefree.com. I found much information at the site, as well as links to relevant articles.
Whether mass shootings are approached as the mainstream reports them, or as false flags, staged scenarios, or outright hoaxes, there is a common thread which runs through some of them: official training exercises held just prior to, or at the same time as, the shootings.
I'm not trying to present an all-inclusive list here.
The November 13, 2015, Paris attacks: "Since the Charlie Hebdo attacks in January, from which 16 people died, Paris-area ambulance crews and emergency personnel have taken part in regular exercises designed to test their readiness for possible attacks. One such exercise was held on Friday morning, the day of the latest terror attacks. In a twist of fate, the simulated emergency was a mass shooting, according to Dr. Mathieu Raux, emergency room chief at the Pitié-Salpetrière hospital in Paris." (Bloomberg, 11/17/15, "Hours Before the Terror Attacks, Paris Practiced for a Mass Shooting")
9 WAYS TO KNOW THE PARIS ATTACKS WERE A FALSE FLAG
The Charleston, South Carolina, church shooting, June 17, 2015: See The Federal Law Enforcement Training Centers Advanced Training Schedule chart (in the article), which lists training courses in various locations. The chart indicates that, in Charleston, there was an "Active Shooter Threat Instructor Program" from June 15 to June 19, which overlapped the church shooting. (humansarefree.com, 6/24/15, "'Active Shooter Drills' Took Place in the Same Day as Charleston Shooting…")
Boston Marathon attack, April 15, 2013: In this case, the training exercise was called off, because the real thing happened before the exercise took place—"…the DHS-funded drill, known as 'Operation Urban Shield,' was intended to take place during the summer, according to the Boston Globe — that is until the 'real' event beat it to the punch. But the drill itinerary so closely resembles what actually occurred the day of the bombings that even the mainstream media source responsible for bringing it to light could not help but point out this incredible 'coincidence,' …The [training exercise] scenario had been carefully planned: A terrorist group prepared to hurt vast numbers of people around Boston would leave backpacks filled with explosives at Faneuil Hall, the Seaport District, and in other towns, spreading waves of panic and fear, explains the Boston Globe…" (Natural News, 6/22/13, "DHS documents prove Boston Marathon bombing was false flag 'drill' planned months in advance")
Sandy Hook school shooting, December 14, 2012: "By grim coincidence, even as the terrible events were unfolding in Newtown on Friday morning, the Putnam County Emergency Response Team ('ERT') happened to be assembled for regular training in Carmel, and team members were at that very moment engaged in a mock scenario of an active-shooter in a school. The ERT is comprised of specially trained and heavily armed officers from the Sheriff's Office and the Carmel and Kent Police Departments. When news broke of the Newtown shooting, the Putnam County ERT commander called Newtown Police and offered to have the ERT respond to the Sandy Hook school, but that response was not needed because Connecticut police had already secured the scene." (Southeast-Brewster Patch newspaper, 12/18/12, "Sheriff: Putnam Officials to Talk School Safety This Afternoon")
The July 20, 2012, Aurora, Colorado, "Batman" shooting: "The tragedy that played out in an Aurora movie theater Friday was ironically paralleled as a classroom learning experience in a medical school in Parker the same day. Rocky Vista University College of Osteopathic Medicine is in the middle of holding specialized classes in disaster life support for 150 second-year medical students. Along with response to natural disasters like hurricanes and floods and terrorist attacks, one of the scenarios being used to train the students is how to respond if a shooter fires at people in a movie theater and also uses a bomb in the attack. 'The irony is amazing, just amazing,' said Rocky Vista Dean Dr. Bruce Dubin." (Denver Post, 7/21/12, "Real life shooting imitates training exercise at Parker medical school")
This Book Could Save Your Life (Ad)
The Oslo bombing/shooting attack, July 22, 2011: "Only hours before Anders Behring Breivik began shooting children on Utøya, the police emergency squad concluded an exercise where they practiced an almost identical situation. Four days in advance, and also the same Friday the attack was carried out, the police special unit trained on an ongoing terror campaign that was approximately equal to the situation that hours later, met the 22 police officers within the emergency squad on Utøya. As far as Aftenposten has been informed, the training transcended directly into what the policed then faced in the Tyrifjord that very day; a mobile terror attack, in which one or more perpetrators only goal was to shoot as many people as possible and then shoot the police when they arrived. Only 26 minutes after the emergency squad's training had concluded, the car bomb went off in the government quarter. The Emergency Squad arrived early on the scene." (publicintelligence.net, 8/30/11, "Norwegian Police Conducted Drill for 'Almost Identical' Scenario Minutes Before Utoya Massacre")
The 7/7/2005 bomb attacks on the London underground: "A fictional 'scenario' of multiple bomb attacks on London's underground took place at exactly the same time as the bomb attack on July 7, 2005.
"Peter Power, Managing Director of Visor Consultants, a private firm on contract to the London Metropolitan Police, described in a BBC interview how he had organized and conducted the anti-terror drill, on behalf of an unnamed business client.
"The fictional scenario was based on simultaneous bombs going off at exactly the same time at the underground stations where the real attacks were occurring:
POWER: At half past nine this morning we were actually running an exercise for a company of over a thousand people in London based on simultaneous bombs going off precisely at the railway stations where it happened this morning, so I still have the hairs on the back of my neck standing up right now.
HOST: To get this quite straight, you were running an exercise to see how you would cope with this and it happened while you were running the exercise?
POWER: Precisely, and it was about half past nine this morning, we planned this for a company and for obvious reasons I don't want to reveal their name but they're listening and they'll know it. And we had a room full of crisis managers for the first time they'd met and so within five minutes we made a pretty rapid decision that this is the real one and so we went through the correct drills of activating crisis management procedures to jump from slow time to quick time thinking and so on. (BBC Radio Interview, 7 July 2005—as reported at Global Research, 8/8/15, "Ten Years Ago: The London 7/7 Mock Terror Drill: What Relationship to the Real Time Terror Attacks?")
9/11/01 attacks on Trade Center and the Pentagon: No less than 22 drills took place on that day, among which was a National Reconnaissance Office exercise in Chantilly, Virginia, involving a simulated plane crashing into a tall building. (See Kevin Barrett's chart of 9/11 training exercises "The 46 drills, operations, war games, and activities of 9/11", based on Webster Tarpley's book, 9/11 Synthetic Terror: Made in USA (5th Ed))
Finally, if Obama is so bent on stopping attacks like the ones in San Bernardino, why is are the budgets of law enforcement being cut across the board? Could the answer be because 12 billion hollow point bullets does a lot of law enforcement, and those are already paid for? I don't know. I NEVER claim to have the answers… only to show you that what you are being fed is pure BULLSH**. Which is more plausible below, a crackdown on terrorism or gun owners? You tell me. Also, ask yourself:
WHY IS THE PENTAGON PREPARING FOR MASSIVE CIVIL UNREST?
OBAMA'S ALLEGED CRACKDOWN ON TERRORISM:
Obama Cutting Budgets For FBI, DHS, TSA, CIA
7 Stats From Obama's Budget Proposal
White House budget: Homeland Security Agenda Includes Airport Security Gaps
PDF Copy of DHS'S Budget-In-Brief
TSA's Budget is About to Get Chopped by the House
Obama Demands Agencies Cut Spending by 5 Percent in 2017
OBAMA'S PREPARATION FOR A SHOWDOWN WITH GUN OWNERS:
DEPARTMENT OF AGRICULTURE LOADS UP ON BODY ARMOR???
U.S. POST OFFICE WAS ANNOUNCING A GIANT AMMO PURCHASE
THE I.R.S. GETS THEIR OWN S.W.A.T. TEAM?
EPA GETS THEIR OWN S.W.A.T. TEAM
SOCIAL SECURITY ADMINISTRATION GETS THEIR OWN S.W.A.T. TEAM
DEPARTMENT OF EDUCATION STOCKPILING FIREARMS AND AMMO.
FOOD & DRUG ADMIN. BUYS NIGHT VISION SUB MACHINE GUNS
D.H.S. MOST RECENT PURCHASE: 6 BILLION HOLLOW POINT BULLETS
FOR MORE NEWS BY VOICE OF REASON CLICK HERE!
CHECK OUT THE NEW GOOGLE+ PAGE!
BE SURE TO GO MY PROFILE'S BELOW AT OTHER SOCIAL MEDIA:
FACEBOOK | TWITTER | PINTEREST | STUMBLE UPON | TUMBLER
THE VOICE OF REASON
Schedule