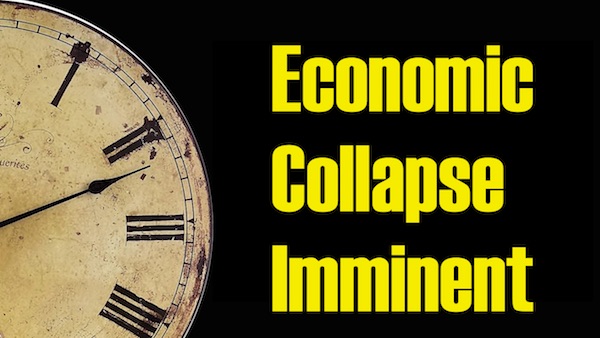 Want to know Why the Super Rich Leaving Major Cities, Even Renouncing Citizenship? If you've been listening to economists like Dr. Jim Willie, Peter Schiff, Michael Snyder, and Harry Dent for a while, then you know all four of them have a fantastic track record of being correct in their forecasts, and unfortunately for the rest of us, they keep warning about an inevitable Global Currency Reset. In the video below, Future Money Trends welcomes back Harry Dent, who was last on the show in August. In the video, Dent predicts that once the U.S. collapse begins, we'll be lucky if the Dow Jones halts its skid at 6,000, which would mean an evaporation of 66% of all wealth in the Dow Jones.
Consider for a moment that figure only includes those that are fortunate enough to have money in the stock markets to begin with. Close to 100 million Americans are unemployed, and in debt up to their eyeballs, who don't even have 66% of their wealth to give up, because they have no wealth! Then, after the video below, is an article Harry Dent wrote this week in FX Street that the financial Armageddon coming will be "The Largest Evaporation of Wealth in Modern History," and he's not even talking about in the United States!
When Dent refers to "The Largest Evaporation of Wealth in Modern History," Dent is referring to when China's Real Estate Bubble Bursts, which is eestimated would wipe out $12.2 TRILLION in China's net worth. Combine that with a 66% decline in Amerian net worth, and it's not hard to see how the world would spiral out of control. Dent says China could easily trigger the collapse of virtually EVERYTHING on the planet, including the oil investors in the U.S. who will be wiped out, the Dow stocks wiped out, tech stocks wiped out, the S&P gone, real estate prices will drop like a rock and it just gets worse…
SUBSCRIBE TO THE TOP STORIES OF THE WEEK IN THE NEWSLETTER HERE
FOR MORE NEWS BY VOICE OF REASON CLICK HERE!
Perhaps some of the single best subject matter on the coming global Currency Reset can be found below:
THE FOLLOWING TWO POSTS FEATURE BOTH PETER SCHIFF AND DR. JIM WILLIE:
Dr. Willie and Peter Schiff Together: Total Currency Collapse and Reset Coming
Peter Schiff and Dr. Jim Willie Warn Investors About Timing Fed Market Rally
ALSO DON'T MISS:
Jim Willie and How the Loss of the US Dollar as Reserve Currency Affects You Personally
Jim Willie: Americans Are Destitute Now, Wait Until The US Dollar Collapses
CHECK OUT THE NEW GOOGLE+ PAGE!
In FX Street this week, Harry Dents writes:
If there's anything the Chinese have going for them, it's savings. Only a handful of countries have a higher savings rate than they do. For a still relatively poor emerging country with GDP per capita about a fifth of that in the U.S., the Chinese get an A+ in this area.
But if diversification and asset allocation are the key to preserving wealth, then the Chinese get an F!
The reason: 75% of their wealth is in real estate, with the rest largely in cash. They've over-invested in one illiquid and bubbly asset that they wrongly believe can only go higher. Relative to income, China has seven of the 10 most expensive cities in the world.
In other words, it has the greatest real estate bubble in modern history!
Price to income ratios in the top cities are off the charts. Beijing is 33.5 times income, Shanghai is 30.2 and Shenzen is 30.0. The average condo in such tier I cities is only 650 square feet and would go for $460 per square foot, or $300,000. In a tier II city, we're talking $100,000.
That may not sound like a lot, but if tiny condos are selling for $300,000 in the biggest cities at 30 times income, that would suggest the Chinese are only making about $10,000 per year, which squares with the actual statistics!
That begs the question: how do they even do it!?
Wade Shepard put this question forward in a recent Forbes article called "How People in China Afford Their Outrageously Expensive Homes."
In China, owning your home is paramount. If you're a man, you have zero chance of getting a date if you don't. But with home prices running at exorbitant rates, what're their chances?
It all comes back to China's phenomenally high savings rate.
Compared with about 2% in the U.S., the Chinese on average save about 30% of their income. And for the most affluent, it's more than double that!
But it's not just the super-high savings rates.
It's the family and friends network that helps younger people buy such massively expensive homes – typically without a mortgage. Only 18% of homes have a mortgage, compared to half of all homes in the U.S., and minimum down payments on first homes is 30%. For second homes, it's 60%.
So the last thing China has to worry about is a foreclosure crisis like the U.S. saw with high percentages of homes in negative equity.
China's problem… is that they've invested their high savings in a massive real estate bubble and don't realize the risks to their wealth!
In urban areas, real estate has bubbled up between five and seven times just since 2000. It's even greater than the unprecedented housing bubble in Japan in the 1980s, which suffered a 60% collapse that it's never recovered from – even 25 years later.
A 60% collapse is the minimum the Chinese should expect. But it would actually take 80% to get back to the pre-bubble values of early 2000.
This would be devastating to the Chinese. It is estimated that household wealth in China is $27.2 trillion, or about three times GDP. With 75% of that in real estate, that comes out to $20.4 trillion.
If real estate falls 60% as it did in Japan, that would mean $12.2 trillion in wealth would just disappear.
And if it falls 80%-plus due to the larger size of China's bubble like I expect, we're talking $16 trillion or more evaporating!
FOR MORE NEWS BY VOICE OF REASON CLICK HERE!
How would the already insecure Chinese consumers feel (after past poverty and weak social safety nets) if their rapidly built wealth suddenly disappears?
I say: it means they're going to spend less money! That will halt China's efforts at expanding into a consumer-driven economy.
What I predict… is that this crisis in China will be the largest relative evaporation of household wealth in modern history. And it's all from their over-investment in one illiquid and bubbly asset: housing. Among urban households, 20% own two or more homes, near twice the rate in the U.S.
But the Chinese not only over-invest in real estate – they often buy empty properties for the future, or even for pure investment. They don't actually use these properties. An independent firm monitored homes that were using no electricity and found a 27% vacancy rate.
Who would speculate in real estate with 27% of condos empty!?
In what country would real estate continue to soar with such vacancy rates!?
So, yes, the Chinese get an A for high savings, but their Achilles heel is an irrational belief that real estate will only go up, up, up! That is the worst assumption you could possibly make in the very country that has the greatest overbuilding bubble and the most overvalued real estate in the world.
What I see ahead: the sucking sound of shrinking savings!
China's unprecedented real estate wealth implosion will make Japan's in the 1990s look like nothing. And if you are in cities like Vancouver, Sydney, Melbourne, Brisbane, Singapore, San Francisco, L.A., New York and London – anywhere that thrives on affluent Chinese laundering their money out of their corrupt country, and into your real estate – you will hear that sucking sound as well!
SUBSCRIBE TO THE TOP STORIES OF THE WEEK IN THE NEWSLETTER HERE
FACEBOOK | GOOGLE+ | TWITTER | PINTEREST | STUMBLE UPON | TUMBLER
FOR MORE GREAT MATERIAL FROM JIM WILLIE:
Dr. Jim Willie: The Global "Banksters" Plan For the Economic Markets (Video)
Dr. Jim Willie: Expect More US Voter Fraud as US Debt Problem Looms
Jim Willie: Chinese Replace US Swift Banking System, Hastening US Dollar Collapse
Dr. Jim Willie – Secret Meeting at the G20 to Take Down the US Dollar
Dr. Jim Willie: Financial Deals Happening Behind Closed Doors; US Not Invited
Jim Willie: Putin, the Gulf Emirates, Iran, and Saudi Arabia Plan Death of US Dollar
Dr. Jim Willie: We're in the Bottom of the 9th; The US Dollar is Dying (2/28)
Dr. Jim Willie: Economic Collapse is On Our Doorstep
Jim Willie: "The Quickening" is Approaching Global Economic Markets
Dr. Jim Willie and How To Simplify Your Finances To Survive Economic Collapse
Jim Willie: Global Banking Cabal and Their Satanic Rules Are Ready to Strike
Jim Willie: Both Our Allies and the American People Absolutely Hate Our Government
Jim Willie: U.S. Dollar is Now a Matter of National Security Due to Poor Decisions
Jim Willie: Armageddon Coming to U.S. With Trillions Exposed In Derivatives
Jim Willie, the Crumbling Global Economy, and the Dollar Crisis
FOR MORE GREAT MATERIAL FROM PETER SCHIFF:
Peter Schiff: "Trump's Very Massive Recession May Have Already Begun"
Peter Schiff: Americans Fear Future With 'Dead-End Economy, Crap Jobs, and Awful Wages'
Peter Schiff: "Can Donald Trump Really Make America Great Again?"
Peter Schiff: "China is Bleeding It's Secret Account. Time to Panic!"
Peter Schiff: Newest Recession Hiding in Plain View; American Dream Is Dead
Peter Schiff: Dollar Collapse Will Be the Single Biggest Event In Human History
Peter Schiff: Obama "Peddling Fiction" As Unemployed Tops 100 Million People
Peter Schiff: Here Comes the Great, Great, Great, Great Recession!
Peter Schiff: "Whatever Obama Was Calling Recovery… is OVER!"
CNBC Actually Admits Peter Schiff Was Right… Again (Video)
Peter Schiff: Take a Good Look at the "New" American Dream!
Peter Schiff and Reagan Advisor: Complete Economic Collapse Immediately Ahead
Peter Schiff: Warning! Economic Storm Clouds Ready to Rain
Peter Schiff: Death of the US Dollar Is Imminent; Fed Out of Options
SUBSCRIBE TO THE TOP STORIES OF THE WEEK IN THE NEWSLETTER HERE
FACEBOOK | GOOGLE+ | TWITTER | PINTEREST | STUMBLE UPON | TUMBLER
DONATIONS ACCEPTED VIA PAYPAL TO GET THE RADIO SHOW RUNNING…
AND THEN TO HELP KEEP SPREADING THE MESSAGE!
COMING SOON TO INTERNET RADIO!
STAY TUNED!
FACEBOOK | GOOGLE+ | TWITTER | PINTEREST | STUMBLE UPON | TUMBLER