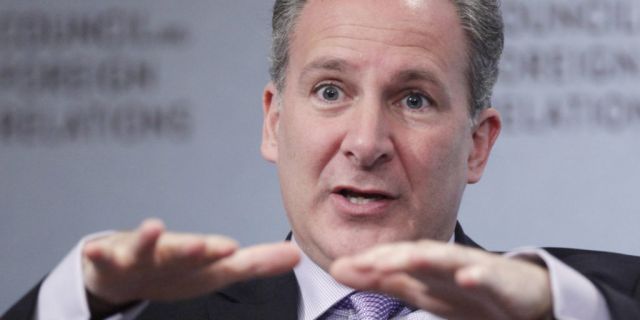 In the following video, Peter Schiff joins Stefan Molyneux to discuss the fallout of the Brexit vote, and the effects the Brexit vote will have on the U.S. economy. As I mentioned in a post yesterday titled, Peter Schiff and Jim Rogers on the U.S. Economy: Be Afraid… Be Very Afraid, thanks to artificial heights from central banks and plenty of cheap money, investors were already maxed out on the amount of risk they were willing to be exposed to, so in the immediate aftermath of Brexit we've seen investors looking to dump their more risky investments. The result has been the huge market fluctuations we've seen.
As Peter explains below, the reason U.S. markets (and eventually the U.S. Dollar), are going to collapse have nothing to do with Britain's decision to leave the European Union. Do not believe the propaganda that will soon be spewing out from the White House and the Fed. See the article below from Profit Confidential titled: 7 Signs of a U.S. Economic Collapse in 2016.
In the interview with Stefan, Peter shreds the government's manipulation of recent economic data, all of which suggest that history will show that we're actually in a recession right now, NOT a "recovery." Peter goes on to say the only thing keeping the U.S. economy from totally imploding right now is cheap money, and without another round of quantitative easing (printing money out of thin air), conditions could spiral out of control.
The propaganda that is going to start coming from the Fed and the White House will sound something like this:
"The American economy has been well on it's way to a robust recovery (two of Obama's favorite words) for quite some time, so we never considered cutting interest rates until now. In fact, you might recall we forecasted we were going to raise rates several times this year as a direct result of how well the economy has recovered… BUT… we do live in a global economy these days, and with all the uncertainty caused by Brexit, we're going to cut interest rates and provide the markets with a bit more liquidity during these uncertain times."
TRANSLATION: It's an election year, and without drastic action the markets will collapse before November, but we can't say that because that would be admitting our economic policies have been abysmal at best. So, thankfully Brexit happened allowing us to save face, and totally dupe American voters yet again…
SUBSCRIBE TO THE TOP STORIES OF THE WEEK IN THE NEWSLETTER HERE
FOR MORE NEWS BY VOICE OF REASON CLICK HERE!
7 Signs of a U.S. Economic Collapse in 2016
A U.S. economic collapse in 2016? Is it possible that the world's biggest economy will face its biggest challenge next year? While most talking heads on Wall Street think the U.S. is heading in the right direction, the fact of the matter is, there are more than enough indicators to suggest the U.S. economy will come under serious pressure in 2016.
The U.S. economy is rock solid! Or so the commission-dependent brokers, analysts, and fund managers will tell you. They would have told you the same thing back in 2007 and 2008… just before the Great Recession and the stock market crash.
But then reality set in. Only a few months later, the world was on the verge of economic collapse. Despite the warning signs, we're hearing the same kind of misguided optimism today. The pillars supporting the U.S. economy are more fragile than they were before the Great Recession.
Despite being in the midst of a so-called recovery, the global economy is still appears to be in a recession, American workers aren't benefiting from the long-in-the-tooth bull market, underemployment remains high, inflation is much higher than the U.S. government's official tally, a third of Americans have no emergency savings, and most worry more about their finances than anything else.
This is all after trillions of dollars and years of meddling from the Federal Reserve and other central banks around the world. As a result, the U.S. could experience an economic collapse in 2016.
Interestingly, according to a recent survey, 2018 is the year most economists believe the next downturn will hit the U.S. If not 2018, 2020 is the next date on the calendar before the U.S. economy falters. I think they're both wrong. (Source: Bloomberg.com, last accessed September 22, 2015.)
GET YOUR FREE GUIDE TO SURVIVING MARTIAL LAW HERE
BE SURE TO CHECK THELASTGREATSTAND.COM FOR SURVIVAL GEAR!
Sign #1: Government Statistics Hiding U.S. Economic Collapse
If inflation is under wraps, it doesn't really matter if wages are stagnant. But this simply isn't the case. And the official U.S. numbers are seriously misleading.
According to government statistics, inflation was held to just 0.6% during the first seven months of 2015. Unfortunately, that data disregards the most basic items that everyone uses, including food and energy costs. (Source: Bureau of Labor Statistics, September 22, 2015.)
Alternative non-government measures of inflation tell a completely different story. The Chapwood Index is an alternative inflation indicator that looks at the unadjusted costs and price fluctuation of the top 500 items that Americans spend their money on in the 50 largest cities in the country. (Source: chapwoodindex.com, last accessed September 22, 2015.)
The index looks at the fluctuations in the cost of items such as Advil, Starbucks coffee, insurance, gasoline, tolls, fast food restaurants, toothpaste, oil changes, car washes, cable TV and Internet service, cellphone service, dry cleaning, movie tickets, cosmetics, gym memberships, home repairs, piano lessons, laundry detergent, light bulbs, school supplies, parking meters, pet food, and People magazine.
For example, in 2014, the CPI rose 0.8%. But according to the Chapwood Index, major cities like New York, Los Angeles, Chicago, San Diego, and Boston saw inflation for the trailing 12 months (through to June of this year) run over 10%.
In San Jose, the Chapwood Index registered a 13.7% rise in the cost of living. Even Colorado Springs—the city with the lowest increase of 6.6%—was still 5.8% higher than the official CPI figure.
If you happen to work in Boston or San Jose and got a 0.8% raise in 2014, it wasn't nearly enough to cover the increase in your day-to-day expenses. No matter what the official government data tells you.
But inflation means more than just higher prices at the grocery store. Nominal Gross Domestic Product (GDP) is deflated by the measure of inflation being used to calculate real GDP and real GDP growth. Therefore, for a given nominal GDP growth rate, underestimating inflation over time would result in overestimating real GDP growth over time.
If this is true, a U.S. economic collapse may have already begun.
Sign #2: Real Wages Falling for Average Americans
Roughly 70% of U.S. gross domestic product (GDP) comes from consumer spending. The operative word there being consumer. So you can't really predict what the U.S. economy is going to do unless you see how the average American is doing.
It isn't pretty.
In spite of the highly touted unemployment rate, the underemployment rate (those working part time who want full-time work, and those who have stopped searching but want a job) remains above 10%. (Source: bls.gov, September last accessed 22, 2015.)
On top of that, most U.S. workers have not seen any improvement in their wages. In fact, when you factor in inflation since the recession apparently ended in 2009, wages have declined for most workers. (Source: nelp.org, last accessed September 22, 2015.)
I enter as evidence: between 2009 and 2015, 20% of people in the lowest-paid occupations saw their wages decline an average of 5.7%. Those included people working in retail, food preparation, personal care aids, cleaners, and home health aide. Specifically, for restaurant cooks, the decline was 9.8%; food prep workers 7.7%; and for home health aides, 6.2%.
For all U.S. workers, the purchasing power of their average income declined by four percent; meaning, the cost of living in the United States outpaced any increase in pay. This suggests that millions of Americans have little to no economic security.
It's not as if this is news to anyone. Even the Federal Reserve has said stagnating wages is proof the U.S economy has not fully recovered. And this will negatively impact the overall economy. If real wages fall, consumers cannot make ends meet—let alone help economy growth through spending.
Only loans and credit card is keeping households afloat. If consumers are forced to rein in spending, a global recession in 2016 is almost inevitable.
Sign #3: Millions of Americans Have Little to No Money
Not only are Americans making less and having to spend more, they also have little to no money set aside for emergencies.
According to one report, roughly one third (34%) of American adults do not have any emergency savings. That means 72 million Americans have no safety net in case they lose their job, have unexpected expenses, or can't afford the rising cost of living expenses. (Source: neighborworks.org, last accessed September 22, 2015.)
Almost half (47%) said their savings would cover their living expenses for 90 days or less. Add it up, and 81% of Americans are either at a breaking point or just 90 days away from it.
According to financial experts, those who make decent money and know how to budget their money, say Americans should set aside 15% of their gross income in case of emergencies, in addition to retirement and other goals. But it seems that few have been able to follow that sage advice.
It seems as if Americans are worse off than before the Great Recession.
Not surprisingly, Americans worry more about money on a daily basis than anything else, including their health. In another survey, one in five Americans fears living paycheck-to-paycheck for the rest of their lives—with almost as many people worried about being in debt forever! That translates into never being able to retire. (Source: marketwatch.com, last accessed September 22, 2015.)
But at least they have ultra-low interest rates to rely on!
Sign #4: U.S. Interest Rate Hike Could Cripple America
The Federal Reserve's fund rate has been coming down for more than 30 years. That means virtually everyone with a mortgage, loan, or credit card debt, is used to the low interest rate environment. But that's about to change.
Most expect the Federal Reserve to raise interest rates later this year. If so, it will be the first time it has raised interest rates in nine years. And with nowhere else to go but up, it will put an end to free, cheap money.
Admittedly, the world needs normal interest rates. The artificially low rates brought in by the Federal Reserve through quantitative easing have devastated returns on investment. On the other hand, rising interest rates could cripple those Americans who already have trouble making ends meet. That includes anyone with large amounts of debt, including student loans.
GET YOUR FREE GUIDE TO SURVIVING MARTIAL LAW HERE
BE SURE TO CHECK THELASTGREATSTAND.COM FOR SURVIVAL GEAR!
We could be swimming in debt in the not-too-distant future. And by "we" I mean the entire planet. The Bank for International Settlements (BIS) warned that the world has taken on so much debt that a rate hike led by the Fed could send the whole planet into a debt crisis.
The BIS warned that market instability, in particular in China, is a sign that the debt build-up is coming back to haunt the markets. And it could do so for a long time. The total accumulated debt is higher now than it was before the start of the U.S. economic collapse in 2008.
Since then, the world has taken on an additional $57.0 trillion in debt. As of the end of 2014, the planet owed $199 trillion on a world economy worth about $80.0 trillion annually. China, the world's second-largest economy, has quadrupled its debt since the last financial crisis. (Source: mckinsey.com, last accessed September 22, 2015.)
Sign #5: Global Economy Anemic
U.S. economic growth has not exactly been steamrolling the competition. And it's been consistently underwhelming. Before the Great Recession, in 2006, the U.S. reported GDP growth of 2.7%. Those were the good old days. In 2007, GDP was 1.8%. In 2008 it was -0.3%; and in 2009 it was -2.8%. (Source: worldbank.org, last accessed September 22, 2015.)
Fast forward to 2012 and the country's GDP came in at 2.3%, 2.2% in 2013, and 2.4% in 2014. While second-quarter 2015 GDP expanded at a solid 3.7% annualized rate, the overall GDP of the country has not been stellar. Especially when you consider that we are the world's largest economy.
China expects its GDP to grow at seven percent this year. Relative to the United States, that's pretty extraordinary. But for China, it represents the worst performance in more than 20 years.
With the two largest economies in the world limping along, the rest of the major global economies cannot be doing any better. And they're not. The eurozone isn't out of the water by any stretch. Germany continues to plug ahead. But France, Italy, and Greece are economic millstones. This has left the entire continent on the brink of recession.
Japan's economy shrank 1.6% in the second quarter and is a mess. It's hard to decide if the country is in recovery mode or not. Over the last 14 quarters, Japan has posted seven uneven quarters of growth and seven quarters of contraction. (Source:wsj.com, last accessed September 22, 2015.)
Then we have Canada. The country is in a technical recession after its GDP fell -0.5% in the second quarter after slipping -0.8% in the first quarter. Not a big deal, you say? Janet Yellen said recently that while China was an issue, Canada's economic slowdown was one of the reasons why the U.S. economy is too weak to raise interest rates. She described Canada as "an important trading partner of ours that has been negatively affected by declining commodity prices, declining energy prices."
While China is a big trading partner with the U.S., Canada is actually the number one export market, accounting for 19% of all exports. That's more than double China's seven percent share.
On top of that, Canada's resource-heavy dollar has been in freefall, down 12% against the U.S. dollar since the beginning of the year. The Chinese yuan, on the other hand, is down just three percent.
Sign #6: U.S Companies Increasingly Relying on Foreign Sales
All of this could mean a U.S. economic collapse in 2016. A weak global economy will put added pressure not just on the global stock markets but also U.S. exchanges. Remember, stock exchanges are only as strong as the stocks that go into making them up.
And with the global economy anemic, no one major economy can carry the country to prosperity. The average American certainly can't. With interest rates at zero, there isn't much central banks can do to kick-start the economy. Interest rates have been artificially low since the last recession. Where can you go from here?
A study by the BIS found that much of the global financial system is anchored to U.S. borrowing rates. On average, a 100 point move in U.S. rates results in a 43 point move for emerging markets and open developed economies. A rise in interest rates could shock emerging economies and stagnant developed ones.
Why should we care? For S&P 500 companies, the percentage of sales from foreign countries has increased after five years of stagnation. The percentage of S&P 500 sales coming from outside the U.S. was 47.82% in 2014, up from 46.29 in 2013 and 46% for each of the previous four years. (Source: spindices.com, last accessed September 22, 2015.)
The U.S. is not an economic island. It's relying more and more on sales from outside the country. But it isn't working. At least as far as earnings and sales go.
Earnings growth for the third quarter of 2015 is projected to decline -4.4%. That's much higher than the forecasted decline of just one percent at the start third quarter. If this data holds true, this will mark the first back-to-back quarter of earnings declines since 2009. (Source: Factset.com, last accessed September 22, 2015)
As for revenues, third-quarter sales are projected to fall -2.9%. This is also higher than the estimated year-over-year revenue decline of -2.5% at the beginning of the quarter. If this comes to fruition, it will mark the first time the index has seen three consecutive quarters of year-over-year revenue declines since the first quarter of 2009.
Sign #7: Nosebleed Valuations Could Lead to Stock Market Crash in 2016
Despite the seesaw that stocks have been riding in 2015, investors remain overly optimistic. Approximately 33.3% of investors are bullish on the stock market for the next six months. Just 29.1% are bearish and an astonishing 37.6% are somehow neutral. Investor sentiment is at its most bullish since April. (Source: aaii.com, last accessed September 22, 2015.)
Despite weak manufacturing data coming out from the U.S., a weak outlook on the global economy, and nothing really positive being announced since Black Monday, investors are still exceptionally optimistic.
Two key indicators back this up.
According to the Case Shiller CAPE P/E Ratio, the S&P 500 is overvalued by around 62%. Over the last 10 years, that average CAPE ratio has been 15. Today, it's sitting at 24.34. What that means is, for every $1.00 of earnings a company makes, investors are willing to pay $24.34. To put that into context, the only times the ratio was higher were in 1929, 2000, and 2007. All three instances were followed by a collapse. (Source: Yale University, last accessed September 22, 2015.)
The market cap to GDP ratio compares the total price of all publicly traded companies to GDP. Warren Buffett calls it the single best measure of where valuations stand at any given moment. Who would argue with that? There is obviously a correlation between the country's economic output and the earnings of its companies. As a result, stocks and their valuations should bear some relationship to the benefits of investing or not investing.
A reading of 100% suggests U.S. stocks are fairly valued. The higher the ratio over 100%, the more overvalued the stock market. It currently sits at 117.3. The Warren Buffett Indicator has only been higher once since 1950. In 1999 it came in at 153.6%. It was only at 108% before the housing bubble burst in 2008.
Eventually stocks and their valuations will run in step. But for that to happen, the stock market needs to experience a significant correction. What could that look like? The S&P 500 is currently at 1,938; Shiller thinks it should be closer to 1,300. That suggests a drop of roughly 33%. Shiller also thinks the DOW, which is at 16,280, should be closer to 11,000; a 32.5% correction. (Source: nytimes.com, last accessed September 22, 2015.)
Those kinds of corrections could seriously undermine the U.S. and global stock markets. Rising interest rates could also hammer the average American and negatively impact foreign markets.
The fact of the matter is that the U.S. economy is not doing nearly as well as we're being led to believe. And the global economy is no better off. Crash. Recession. Economic collapse. However you want to say it, 2016 is not shaping up to be a good year for the U.S. economy.
GET YOUR FREE GUIDE TO SURVIVING MARTIAL LAW HERE
BE SURE TO CHECK THELASTGREATSTAND.COM FOR SURVIVAL GEAR!
IF YOU READ NOTHING ELSE, THE FOLLOWING POSTS ARE ESSENTIAL:
How Will the U.S. Conduct Trade With Worthless U.S. Dollars and No Gold? (Video)
Why Did Illuminated George Soros Liquidate 37% of His Stock to Buy Gold? (Video)
What Exactly Does Global Economic Collapse Coming May 2016 Mean?
Dr. Willie and Peter Schiff Together: Total Currency Collapse and Reset Coming
Economic Implosion Will Lead to Stock Market at 5,000 by 2017 Forecaster Says
When Obama Suspends 2016 Election, a Guide to Survive Martial Law (Videos)
FOR MORE GREAT MATERIAL FROM JIM WILLIE:
Dr. Jim Willie: Deutsche Bank Valued at -$1 Trillion; Economic Chaos Ahead
Dr. Jim Willie: The Corruption Cannot Stop the Masses! 3 Part Interview (Videos)
Dr. Jim Willie: Brexit Result Could Detonate Deutsche Bank!
Dr. Jim Willie: We've Got "Educated People" That Are Stupid As Bedposts
Dr. Jim Willie: Death Sentence for Banks, Businesses, Families, and the US Dollar
Dr. Jim Willie: There Are No Prisoners Taken in The Global Money War
Dr. Jim Willie: Deutsche Bank Could Very Well Collapse Entire Banking System
Dr. Jim Willie: 7 Signs U.S. Economy Collapses; Gold Will Soon Back US Dollar!
Dr. Jim Willie: "Violent Gold and Silver Breakout" Coming to Economic Markets!
Dr. Jim Willie: Western Economic Markets Collapsing; Eurasian Markets Rise
Dr. Jim Willie: The Dollar is Dead! Even Mainstream Media Realizes it!
Dr. Jim Willie – Secret Meeting at the G20 to Take Down the US Dollar
Dr. Jim Willie: Financial Deals Happening Behind Closed Doors; US Not Invited
Jim Willie: "The Quickening" is Approaching Global Economic Markets
Jim Willie: U.S. Dollar is Now a Matter of National Security Due to Poor Decisions
FOR MORE GREAT MATERIAL FROM PETER SCHIFF:
Peter Schiff: Don't Believe the Hype! The Real Economic Fallout From Brexit (Video)
Peter Schiff and Jim Rogers on the U.S. Economy: Be Afraid… Be Very Afraid (Videos)
Peter Schiff: Are People Going to Wake Up? The Economy Is Out of Road! (Video)
Peter Schiff: "Trump's Very Massive Recession May Have Already Begun"
Peter Schiff: Americans Fear Future With 'Dead-End Economy, Crap Jobs, and Awful Wages'
Peter Schiff: "Can Donald Trump Really Make America Great Again?"
Peter Schiff: Dollar Collapse Will Be the Single Biggest Event In Human History
Peter Schiff: Obama "Peddling Fiction" As Unemployed Tops 100 Million People
Peter Schiff: Here Comes the Great, Great, Great, Great Recession!
Peter Schiff: "Whatever Obama Was Calling Recovery… is OVER!"
CNBC Actually Admits Peter Schiff Was Right… Again (Video)
Peter Schiff and Reagan Advisor: Complete Economic Collapse Immediately Ahead
Peter Schiff: Warning! Economic Storm Clouds Ready to Rain
Peter Schiff: Death of the US Dollar Is Imminent; Fed Out of Options
SUBSCRIBE TO THE TOP STORIES OF THE WEEK IN THE NEWSLETTER HERE
FACEBOOK | GOOGLE+ | TWITTER | PINTEREST | STUMBLE UPON | TUMBLR
FREE GUIDE TO ECONOMIC COLLAPSE OR MARTIAL LAW…
AT THE OFFICIAL BLOG SITE BELOW!
FACEBOOK | GOOGLE+ | TWITTER | PINTEREST | STUMBLE UPON | TUMBLER