In the following interview, Elijah Johnson from Finance and Liberty once again has Dr. Jim Willie on the show to discuss all the things currently happening in global economic markets, and what it all means for U.S. investors. To begin the interview, Dr. Willie was asked what he thinks will happen if the negative interest rates currently in Europe find their way to banks here in the U.S.
Dr. Willie explains that such a move would undoubtedly trigger a run on U.S. banks. After all, in a market that is already as uncertain as the one we're in, why would anyone be willing to pay to keep their assets on deposit somewhere? If anything, negative interest rates could force a run on gold and silver, because it would be all hands on deck to get accounts out of anything denominated in U.S. Dollars and convert them into another reliable asset as quickly as possible.
In a bit of somewhat optimistic news, Dr. Willie also talks about what is most likely to happen to the U.S. Dollar as the World's Reserve Currency once the Yuan is adopted as part of the IMF's Special Drawing Rights (SDR's). Over the last decade, global trade denominated in U.S. Dollars has been cut almost in half, down from about 75% of all trade settling in U.S. Dollars ten years ago, to a approximately 35% of all trade settled in U.S. Dollars today.
For some time, many economists have believed that any addition of China's currency to SDR's would come at an expense to the U.S. Dollar's percentage of the mixed basket, however Dr. Willie gives hope that the Dollar's last gasp won't immediately follow. Enjoy! After the interview is an article from the New York Times discussing the impact negative interest rates have had in Europe.
SUBSCRIBE TO THE TOP STORIES OF THE WEEK IN THE NEWSLETTER HERE
FOR MORE NEWS BY VOICE OF REASON CLICK HERE!
JUST UPDATED AT 2:15 EST:
On the heals of the interview with Dr. Willie above, Peter Schiff just posted the following article to his own website about the unfortunate side effects of negative interest rates:
Several economists for the International Monetary Fund (IMF) recently expressed concerns about moving interest rates into negative territory. They believe it could backfire on the European Central Bank (ECB), making banks less profitable overall and reducing lending.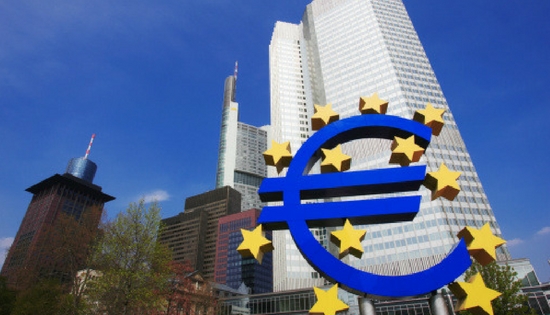 The IMF promotes international monetary cooperation, facilitates trade, and fosters sustainable economic growth for its member countries. In a recent paper on the ECB's monetary policy, two IMF economists, Andy Jobst and Huidan Lin, warned member banks of the monetary union were struggling to produce profits because of low-interest rates.
Further policy rate cuts could bring into focus the potential trade-off between effective monetary transmission and bank profitability. Lower bank profitability and equity prices could pressure banks with slender capital buffers to reduce lending, especially those with high levels of troubled loans."
With a move towards low to negative rates instigated by the ECB, more money is available for investment; however, running the economy so "hot" has its downsides, not the least of which is inflation and lack of purchasing power for the euro and other countries.
Another consequence is the slim profit margins member banks are realizing. Less interest paid on loans means less profit. Banks must make up the difference by making more loans:
To some extent banks have been able to mitigate the squeeze on profitability with higher lending volumes, lower interest expenses, capital gains from investments, lower risk provisioning, small increases in fees and commissions, as well as savings from cost cutting … but there are clearly limits to such mitigation measures.
In short, instituting negative interest rates, which is tantamount to price controls, force financial institutions to a profit margin that's untenable. Lower profitability could pressure banks to reduce lending, which is the opposite of the intention.
Rather than let the economy correct itself and establish real rates of interest, interference from central banks like the ECB risk pushing distorted financial markets beyond their ability to function.
Overall, the ECB has limited room for further substantial rate cuts without hurting the profitability of banks … the prospect of prolonged low policy rates has clouded the earnings outlook for most banks, suggesting that the benefits from a negative interest rate policy might diminish over time, while future lending growth may be insufficient to offset declining interest margins in some countries."
Jobst and Lin point to countries like Italy and Spain where low-interest margins are resulting in weaker credit growth.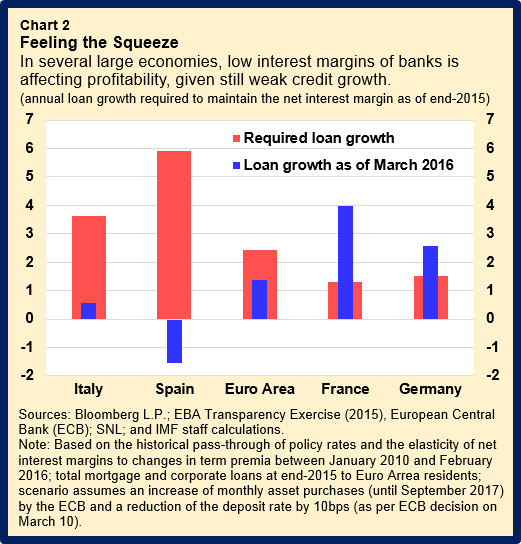 While banks may suffer from low and negative interest rates, there's one positive consequence: negative interest rates are good news for gold.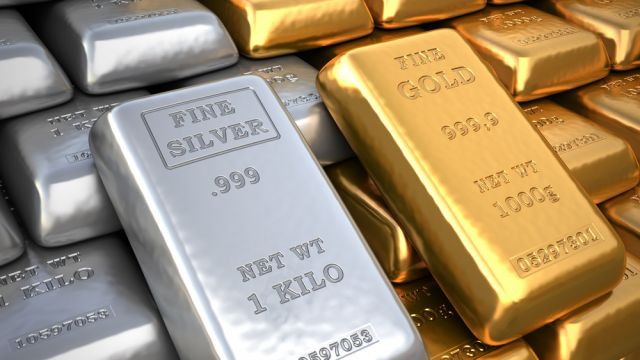 Hoping to kick-start European economies, the European Central Bank took the extraordinary step two years ago of lowering one of its key interest rates to below zero. The idea was to discourage banks from stashing their money in the central bank by charging them a modest rate for doing so. Since the banks would lose money rather than earn interest on their deposits, it was hoped they would be prompted instead to make more loans at lower rates to businesses and consumers.
It hasn't worked very well. As many experts predicted at the time, the policy has had only a modest impact on growth. It is also increasingly clear that pushing rates down further wouldn't help much and could, in fact, increase risks to the global financial system.
The European Central Bank, or E.C.B., sets monetary policy for the 19 countries that use the euro. In June 2014 it became the world's first major central bank to adopt so-called negative interest rates. Monetary officials in Denmark, Switzerland and Sweden adopted similar policies in the following months; the Bank of Japan joined them in January.
Negative rates have helped to push down the cost of borrowing, but that has not provided a big lift to the euro area. The E.C.B. expects growth of 1.6 percent this year, about the same as last year. This is not surprising, because lower rates don't address the real economic problems of many European countries: weak consumer demand and weak business investment. Companies are less likely to borrow for new investments when demand for their goods and services is not increasing — even if the cost of borrowing is cheaper than ever.
Of course, growth might have been even lower without negative interest rates. But there are limits to the benefits of such unconventional monetary policies. It would be far better if European governments used fiscal policy to increase demand by investing in roads, bridges, railroads, ports and other infrastructure. Government spending would create jobs and stimulate economic activity, and would not cost much. Bond investors are willing to lend money to the German government for 30 years at a rate of just 0.38 percent; in France, the rate is only 0.878 percent.
Meanwhile, continuing to rely on negative rates could be dangerous. The worry among many experts is that banks, institutional investors and even individuals desperate for higher returns might be seduced into taking foolish risks. They might also be tempted to make big investments overseas, driving up the price of stocks and bonds in the United States and Asia and creating bubbles that expose the global financial system and economy to another crisis. Some analysts are already worried about high prices for real estate, stocks and other assets.
In addition, persistently negative rates could well force European banks to raise fees on checking and savings accounts to recoup the rising cost of depositing reserves at the central bank. This, in turn, would encourage individuals and businesses to take some of their money out of banks and stash it in safes, or under mattresses. And that would not be good for the stability of European banks.
Mario Draghi, the president of the E.C.B., clearly understands the risks of negative interests rates, which is probably why he did not lower rates further last month. But there is only so much he can do. The political leaders of Europe need to help him revive Europe's economy.
BE SURE TO CHECK THELASTGREATSTAND.COM FOR SURVIVAL GEAR!
FREE DETAILED GUIDE TO SURVIVING ECONOMIC COLLAPSE OR MARTIAL LAW HERE
IF YOU READ NOTHING ELSE, THE FOLLOWING POSTS ARE ESSENTIAL:
Peter Schiff: Don't Believe the Hype! The Real Economic Fallout From Brexit (Video)
How Will the U.S. Conduct Trade With Worthless U.S. Dollars and No Gold? (Video)
Why Did Illuminated George Soros Liquidate 37% of His Stock to Buy Gold? (Video)
What Exactly Does Global Economic Collapse Coming May 2016 Mean?
Dr. Willie and Peter Schiff Together: Total Currency Collapse and Reset Coming
Economic Implosion Will Lead to Stock Market at 5,000 by 2017 Forecaster Says
FOR MORE GREAT MATERIAL FROM JIM WILLIE:
Dr. Jim Willie: Precious Metals Market (COMEX) on the Verge of Default (Video)
Dr. Jim Willie and the Systematic Bankruptcy of Western Society (Video)
Dr. Jim Willie: New World Order Elites in Absolute Terror of Gold Standard (Audio)
Dr. Jim Willie: Deutsche Bank Valued at -$1 Trillion; Economic Chaos Ahead
Dr. Jim Willie: The Corruption Cannot Stop the Masses! 3 Part Interview (Videos)
Dr. Jim Willie: Brexit Result Could Detonate Deutsche Bank!
Dr. Jim Willie: We've Got "Educated People" That Are Stupid As Bedposts
Dr. Jim Willie: Death Sentence for Banks, Businesses, Families, and the US Dollar
Dr. Jim Willie: There Are No Prisoners Taken in The Global Money War
Dr. Jim Willie: 7 Signs U.S. Economy Collapses; Gold Will Soon Back US Dollar!
Dr. Jim Willie: Western Economic Markets Collapsing; Eurasian Markets Rise
Dr. Jim Willie: The Dollar is Dead! Even Mainstream Media Realizes it!
Dr. Jim Willie – Secret Meeting at the G20 to Take Down the US Dollar
Dr. Jim Willie: Financial Deals Happening Behind Closed Doors; US Not Invited
Jim Willie: U.S. Dollar is Now a Matter of National Security Due to Poor Decisions
FOR MORE GREAT MATERIAL FROM PETER SCHIFF:
Peter Schiff: Expect An Economic Crisis Infinitely Worse Than 2008 (Videos)
Dr. Jim Willie and Peter Schiff: The Morgue Is Next Stop for U.S. Economy
Peter Schiff: Don't Believe the Hype! The Real Economic Fallout From Brexit (Video)
Peter Schiff and Jim Rogers on the U.S. Economy: Be Afraid… Be Very Afraid (Videos)
Peter Schiff: Are People Going to Wake Up? The Economy Is Out of Road! (Video)
Peter Schiff: "Trump's Very Massive Recession May Have Already Begun"
Peter Schiff: Americans Fear Future With 'Dead-End Economy, Crap Jobs, and Awful Wages'
Peter Schiff: "Can Donald Trump Really Make America Great Again?"
Peter Schiff: Dollar Collapse Will Be the Single Biggest Event In Human History
Peter Schiff: Obama "Peddling Fiction" As Unemployed Tops 100 Million People
Peter Schiff: Here Comes the Great, Great, Great, Great Recession!
Peter Schiff: "Whatever Obama Was Calling Recovery… is OVER!"
Peter Schiff: Death of the US Dollar Is Imminent; Fed Out of Options
SUBSCRIBE TO THE TOP STORIES OF THE WEEK IN THE NEWSLETTER HERE
FACEBOOK | GOOGLE+ | TWITTER | PINTEREST | STUMBLE UPON | TUMBLR
FREE GUIDE TO ECONOMIC COLLAPSE OR MARTIAL LAW…
AT THE OFFICIAL BLOG SITE BELOW!
FACEBOOK | GOOGLE+ | TWITTER | PINTEREST | STUMBLE UPON | TUMBLER