Sen. Debbie Stabenow (left), accompanied by Sen. Gary Peters and others, discusses proposed legislation to help Flint, Mich., with its water crisis in Washington on Thursday, Jan. 28, 2016. Nine months later, Flint aid has emerged as the crucial issue in negotiations to avert an Oct. 1 government shutdown. (AP Photo/Alex Brandon)
How many Americans know that we are less than 100 hours away from a government shutdown over the federal budget? If you listen to Senator Elizabeth Warren in the video below, aka Pocahontas, you might think it is the Republicans who are the ones threatening the shutdown, but then again… we've heard this story before.
The truth is, other than the "race card," blaming Republicans for a looming government shutdown is one of the last moves left in the liberal playbook. Listen to how insane Warren sounds in the video below, and then wait until you learn what is REALLY going on in the subsequent video…
SUBSCRIBE TO THE TOP STORIES OF THE WEEK IN THE NEWSLETTER HERE
FOR MORE NEWS BY VOICE OF REASON CLICK HERE
If i didn't know better, I'd think perhaps Senator Warren might have possibly ingested a bit too much Peyote on her last trip to the Indian reservation because she has absolutely "left the reservation" so to speak with that ridiculous speech. In fact, what she says is so ridiculous, that not even the liberal mainstream media has has tried to blame the potential shutdown on the Republicans. Even they're as silent as a mouse. Why is that?
Because even the mainstream media knows the reason that we're less than 100 hours away from a government shutdown has absolutely nothing to do with any of the nonsense spewed by Senator Warren in her blathering above, and everything to do with how our government actually operates according to the Constitution.
The Democrats want what they want, and they want it whether it's legal or not, because they use these stunts to buy votes. They stomp their feet, yell real loud, and call people names until they get their way… except it doesn't look like they're going to get their way this time.
Senator Warren above, and Congressman Elijah Cummings (in the video below) epitomize how dishonest and disingenuous liberals are. In the first video below, I'll explain why Senator Pocahontas should lay off the Peyote next time, and pick up a copy of the Constitution.
FACEBOOK | GOOGLE+ | TWITTER | PINTEREST | STUMBLE UPON | TUMBLR
CHECK OUT THE NEW GOOGLE+ PAGE!
The Senate blocked progress Tuesday on a bill that would keep the government fully operating past midnight Friday, led by Democrats who are vowing not to support any spending extension until Congress guarantees federal funding to address the drinking-water crisis in Flint, Mich.
Flint relief has emerged as the crucial sticking point in negotiations on the stopgap spending extension necessary to avert an unusual election-year shutdown.
Senate Majority Leader Mitch McConnell (R-Ky.) unveiled a bill last week that addressed several Democratic demands, including a deal on Zika response funding and the elimination of several contentious policy riders. But it did not incorporate the $220 million Flint aid package that passed the Senate in separate legislation earlier this month.
The bill failed to advance Tuesday on a 55-to-45 vote. That means, due to provisions in Senate rules, that there could be a brief shutdown if all 100 senators do not agree in the coming days to speed up procedural hurdles.
Top Democrats in both chambers, as well as members of the Michigan congressional delegation, renewed their calls Thursday for swift action on Flint.
"We have to get Flint done, the sooner the better," House Minority Leader Nancy Pelosi (D-Calif.) told reporters Tuesday, calling the stopgap spending bill the "best possible place" for the relief package. "We just want to get it done. We want a result, and we don't see a result right this minute."
Republican leaders in both the House and Senate have countered by pointing out that Flint aid is likely to pass later this year as part of a separate water projects bill, which cleared the Senate on Sept. 15 on a 95-3 vote.
Instead, Senate GOP leaders charged, Democrats are trying to create a shutdown crisis for political reasons.
"It's almost as if a few Democratic leaders decided long ago that bringing our country to the brink would make for good election-year politics, and then they've just made up the rationale as they go along," McConnell said Tuesday.
Sen. John Cornyn (R-Texas), the majority whip, pointed to a remark that Sen. Jon Tester (D-Mont.), chairman of the Senate Democrats' campaign arm, recently gave to The Washington Post where he said candidates need to "show the fact that the Republicans really haven't done anything" in Congress.
"In order for them to win seats, they have to show that under Republican leadership, nothing has been done," Cornyn said. "Well, the facts would show otherwise."
Democrats have sought federal relief money for the Flint crisis since January, and they are eager to get the funding passed into law. The issue has stirred resentments over the inequities in the treatment of a majority-black city, and it has stayed near the top of Democrats' congressional agenda for months.
"We understand the communities that we represent, and our minority caucuses do not want to vote for a bill that does not have Flint in it," Pelosi said.
SUBSCRIBE TO THE TOP STORIES OF THE WEEK IN THE NEWSLETTER HERE
FOR MORE NEWS BY VOICE OF REASON CLICK HERE
Michigan Gov. Rick Snyder (R) and EPA Administrator Gina McCarthy testified in front of the House Oversight Committee on March 17, and things got a little heated. (Peter Stevenson/The Washington Post)
While the water bill that included Flint relief easily passed the Senate, the House version of the water bill, which is set to pass Wednesday, does not include the Flint funding.
House Majority Leader Kevin McCarthy (R-Calif.) told reporters Monday that "we are going to deal with Flint," but House Republicans moved later in the day to deny a vote on an amendment that would add it to the House water bill. That has Democrats skeptical that their GOP counterparts are making a good-faith effort to pass the aid package.
"If I had any sense that the leadership in the House felt that Flint relief was appropriate, and the only question is which [bill] it should be placed in, that would be a different question," said Rep. Dan Kildee (D-Mich.), who represents Flint. "But I hear from the Republican leadership a question as to whether they should help Flint at all."
The Flint crisis is now into its second year, with most households and businesses in the Rust Belt city still unable to use their lead-tainted tap water for drinking or cooking. A decision made by a state-appointed emergency manager to switch water sources led to the corrosion of water-supply pipes that now must be replaced at a cost of hundreds of millions of dollars.
The federal aid package would fund a portion of those costs, while also helping Flint and other communities deal with the public health implications of lead exposure.
Democrats prefer the aid be attached to the stopgap spending bill, known as a continuing resolution or CR, because it is a must-pass bill that is guaranteed to become law. Even if the water-projects bill passes the House this week, the two chambers will have to resolve differences between the two bills, and there is no guarantee the final product — which might not emerge until November or December — will include Flint aid.
Pelosi said Democrats want a solution that is "legislated now," not later in the year: "We are not talking about pie-in-the-sky. … Sen. McConnell, in my conversations with him, he's been pretty firm we will have this; I don't get that from the House."
Cornyn suggested that adding Flint to the stopgap would "jeopardize their ability" to pass the bill in the GOP-controlled House, where many conservatives are already skeptical of a short-term spending measure. "We can't ignore that," he said.
The White House said Monday that "Congress should quickly pass targeted funding to support Flint, Michigan, whether in the Water Resources Development Act or another vehicle."
Also aggravating Democrats is McConnell's decision to include in the stopgap spending bill $500 million in disaster relief for flooding in areas largely represented by Republicans — mainly Louisiana and Texas.
"We are happy to help with the disaster that took place in Louisiana … but couldn't they help Flint?" Reid said on Tuesday. "The Republicans are essentially saying the disasters in our states are more important than the disasters in your state. It is unfair, and it is wrong."
McConnell suggested Tuesday that dropping both the flood relief and the Flint package from the bill was "certainly an option worth discussing" that could break the impasse and avert a shutdown.
But Democrats said there was no need to delay aid to any of the ailing communities. "Let's take action, but let's not pick and choose who we take action for," said Sen. Gary Peters (D-Mich.).
SUBSCRIBE TO THE TOP STORIES OF THE WEEK IN THE NEWSLETTER HERE
FACEBOOK | GOOGLE+ | TWITTER | PINTEREST | STUMBLE UPON | TUMBLER
FOR MORE ON LIBERALISM: THE IDEOLOGY OF HATE, GENOCIDE, & IDIOCY:
New York Times Drops Huge Bomb About Trump Debates… (Video)
Hundreds of Delegates Walk Out of DNC and Launch Protest In Philly Streets (Video)
New World Order's Plan for the Fall of America Upon Us? (Video)
Scientists: 40% Of People Have Newly Discovered Brain Parasite (Video)
Disbarment Charges Are Filed Against Baltimore State Attorney Mosby (Video)
Watch: BLM Protesters Block Roads… Motorists Take Brutal Action (Video)
Why Are Mass Shootings Up 700% and at an All Time High Under Barack Obama (Videos)?
New World Order's New Super Weapon Almost Complete (Video)
Video: Sharpton Begs for Mercy as Megyn Destroys Him on National TV
Millennials: History Tells Us Socialism Always Ends in Genocide (Video)
Secret Audio Of Hillary Clinton's Real Plans For Guns Leaks Out (Videos)
Top 10 Liberal Lies About The Constitution
Florida Drunken College Students 'Urinate and Spit' On Wounded Veterans
Which Corporations Use Aborted Fetal Cells to Sell You Products
Peter Schiff: This Is Who Really Determines U.S. Presidents
FACEBOOK | GOOGLE+ | TWITTER | PINTEREST | STUMBLE UPON | TUMBLER
"I'M WITH THE DEPLORABLES" T-SHIRTS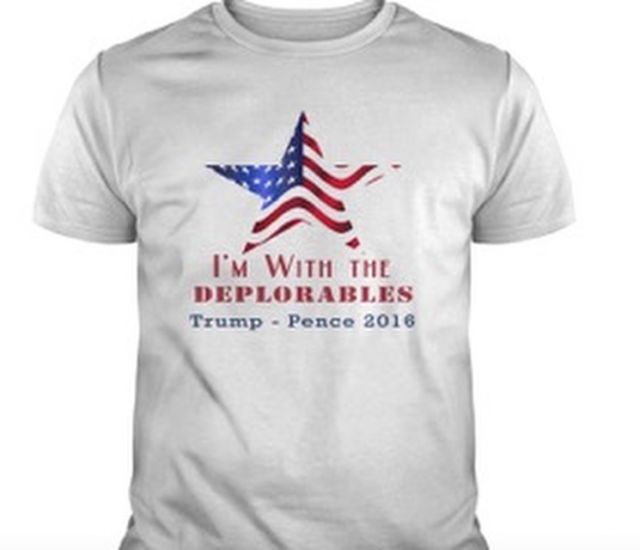 FACEBOOK | GOOGLE+ | TWITTER | PINTEREST | STUMBLE UPON | TUMBLER
SaveSaveSaveSave