SIGNIFICANT SOLAR FLARE: Sunspot AR2644 erupted on April 1st, producing a significant M4-class solar flare. UV radiation from the flare caused a brief shortwave radio blackout on the Pacific side of Earth: map. People who might have noticed the blackout include ham radio operators and mariners using low-frequency rigs for communication at frequencies below 10 MHz.
The explosion also hurled a coronal mass ejection (CME) into space. The cloud is not heading directly for Earth, but a glancing blow is possible in the days ahead. NOAA analysts are evaluating this possibility now. Big sunspot AR2645 is facing Earth. Any such explosion will be towards our planet.
R1 (MINOR) RADIO BLACKOUT OBSERVED ON 01 APRIL 2017 AT 2148 UTC. An R1 (Minor) Radio Blackout was observed on 01 April 2017 at 2148 UTC (5:48 PM ET). The source region for the M4 flare was Region 2644 (N12W52) which has shown an increase in magnetic complexity over the last 24 hours. SWPC forecasters will continue to diligently monitor the solar disk for additional solar flare activity.
THE SUN WAKES UP: Suddenly, solar flare activity is high. With little warning, sunspot AR2644 started exploding yesterday, producing an M4.4-class flare on April 1st followed by an even stronger M5.3-class flare on April 2nd.
LOCATION OF HF FADEOUT: SE Asia/India/Indian Ocean/Sthn Africa/Central Africa/Middle East/. Region 2644 just produced a moderately strong M5.3 solar flare peaking at 08:02 UTC Sundaymorning.
A Type II radio emission with an estimated velocity of 628 km/s was associated with this event. Just like with the previous M4.4 event, an Earth directed coronal mass ejection (CME) is unlikely. Additional flaring will be possible.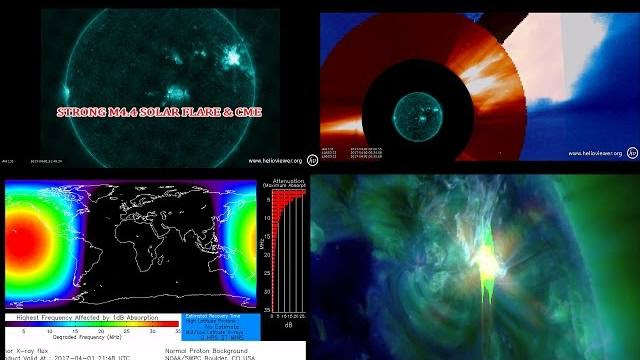 sources:
http://www.spaceweather.com/
http://www.solarham.net/
Clips, images credit: NASA/SDO, SOHO, Helioviewer.org & NOAA/SWPC
http://www.sws.bom.gov.au/Solar/1/8