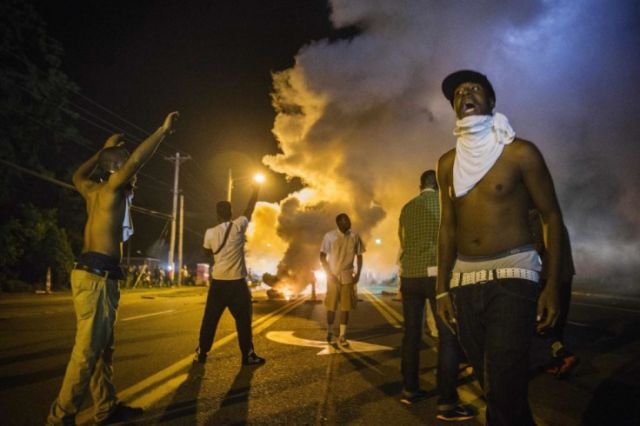 In the video below, Alex Jones talks with former Clinton insider Larry Nichols about the possible continuation of the Clinton dynasty and what the Tea Party can do to take over the republican party. It should come as no shock the Clinton is pushing for a race war. Divide and conquer has been the message coming out the Democratic Party since the day Obama took office. If you recall, not too long ago a DHS Insider Said Obama Gave the Green Light to a Race War. In the video below, hear what former Clinton insider Larry Nichols has to say about the end goal: Communism! He says he can barely wake up each day knowing he helped write the plan that got the country where it is!
Join my Twitter feed | Like my Facebook page
By: Voice of Reason
FOR MORE NEWS BY VOICE OF REASON CLICK HERE!
Anyone recall which party has been egging on this fight about race for some time now? Hmmm. We know ERIC HOLDER'S DEPARTMENT OF INJUSTICE GAVE FINANCIAL BACKING TO TRAYVON MARTIN RALLIES FIRST. Later, after the Michael Brown shooting took place, ERIC HOLDER AGAIN INSERTED HIMSELF AND SENT "COMMUNITY ORGANIZERS" TO HELP WITH THE RACE PROTESTS IN FERGUSON. ONE FERGUSON GANG LEADER EVEN CLAIMS HOLDER PAID HIM AND HIS GANG TO ACTUALLY START RIOTS. Now, do you remember who elevated a man as vile as Al Sharpton to the pedestal he now sits on as some ambassador to something or another for the White House? That would be Obama. When things started to get really HOT in Ferguson, it was OBAMA WHO TOLD SHARPTON TO, "STAY THE COURSE," and we saw how well that worked out.
GOOD CHANCE THE REASON FOR ALL THE INSTIGATION IS TO EGG ON MARTIAL LAW!
What might begin as Al Sharpton's posse going after white police officers, will in short time boil over into nobody being safe. Police against the citizens, citizens against the police, blacks against whites, whites against blacks… It COULD QUICKLY BECOME TOTAL CHAOS, and Overlord Barry can sit back and watch from his ivory tower and let us slaughter each other, or bring in the military to do it for him.
Maybe His Highness's Ass will opt for a combination strategy? Why not right? He could let "We the People" duke it out amongst ourselves long enough until we've killed off enough of one another, and then it would only require a much smaller number of U.S. and International soldiers to come in and confiscate any remaining firearms. At present, THERE ARE ALREADY WELL OVER 500,000 INTERNATIONAL TROOPS ON U.S. SOIL. See the links below. Whatever the soldiers cannot handle, Obama's armed to the teeth federal agencies with their 12 BILLION HOLLOW POINT BULLETS should be able to assist with wrapping up.
SOUND CRAZY?
THEN IT'S EVEN MORE PROBABLE I'M CORRECT!
Join my Twitter feed | Like my Facebook page
Before It's News Reports: In the video below by TRUTH FED, some alarming information is put together, via news articles, that leave the question of "Why are American police departments preparing for war " in the streets of America?
From battlefield equipment to out-of-control police activity across the country, we are left wondering if the US government isn't preparing for a civil war, but instead of brother against brother and neighbor against neighbor, perhaps more of a revolutionary war, of the people against the government.
In the second video below, Alex Jones describes the death toll such a war would bring upon the American people and it is chilling.
Join my Twitter feed | Like my Facebook page
FOR MORE NEWS BY VOICE OF REASON CLICK HERE!
MAKE NO MISTAKE…
THERE IS NOW A STATE OF OPEN WARFARE ON THE STREETS OF AMERICA!
Michael Snyder of the Economic Collapse Blog reports: Earlier this year it was being reported that the number of police officers killed on the job was up 40 percent in 2014, and that was before all of the civil unrest caused by the deaths of Michael Brown and Eric Garner. At this point, attacks on police officers are becoming a frequent occurrence all over the country, but no incident has stunned the nation as much as the "execution-style" murder of two NYPD officers on Saturday by a radical Islamic gunman identified as Ismaaiyl Brinsley.
Just prior to the attack, Brinsley posted a message on Instagram in which he declared that he was "putting wings on pigs today". Many would like to dismiss this as an "isolated incident" and pretend that everything is just fine in America, but that is not the truth. The reality of the matter is that anti-police sentiment in this country is at an all-time high, and the level of anger and frustration in our increasingly radicalized urban communities has reached a boiling point. As economic conditions continue to deteriorate and police tactics become even more brutal in the years ahead, the kind of rioting, looting and senseless violence that we witnessed in Ferguson is going to become commonplace in major cities all over the United States.
The mainstream MEDIA and many national leaders on the LEFT end of the spectrum have been STIRRING UP STRIFE AND DIVISION FOR MONTHS ON END. So now a toxic environment has been created which is inevitably going to lead to even more violence. At some recent "protest marches", we have heard demonstrators enthusiastically chant extremely threatening slogans such as this: "What do we want? Dead cops!" And when news broke that Ismaaiyl Brinsley had brutally murdered two NYPD police officers, lots of very twisted people on Twitter were actually celebrating.
Join my Twitter feed | Like my Facebook page
We are moving into a period of time when it is going to be extraordinarily difficult to be a police officer in America. I couldn't even imagine going to work every day knowing that you could become the next target at any time.
When the Sandy Hook Hoax was unable to achieve Obama's coveted dream of a gun grab, that did not deter him. Post Sandy Hook, Obama Personally Lit The Fuse in Ferguson and Baltimore, but neither of those resulted in Martial Law either. Never forget that Michelle Obama Promised Obama Will Get All the Guns Before Leaving Office. That SHOULD have been our sign that the fight was far from over. Was it? Of course not.