In a new report by Amy Moreno at TruthFeed, we've learned through a Freedom of Information Act that Hillary Clinton is no longer mobile. In an email from Huma Abedin, Huma says, "she's so weak and frail that she can't "walk around" a town hall-type event…"
Like so many other things Trump has said, one can't help but wonder after the fact if he was onto something when he said he felt both candidates should be drug tested before the debate. If you recall, he claimed in their second debate, Hillary was acting very strange toward the end, as if a medication had worn off, or something to that effect.
In the following video, I break down this latest bombshell from the Clinton campaign regarding Hillary's rapidly declining health, and what it means for the rest of us…
In the video, I voice my concern for something I've been saying for over a year now… which is that I'm not convinced Obama has any intention of vacating the office when the time comes. It won't require much for him to stay, especially with Clinton's health.
All he needs under the John Warner Defense Authorization Act, which was signed into law by President Bush in 2006, is to declare a "public emergency," and the discretion to do so is solely up to the President.
Is it all that unreasonable to think that if Hillary is incapacitated and cannot run, and Trump was assured to be Obama's successor, that all of a sudden Obama would declare a "public emergency," putting the nation under a state of Martial Law, which has been my fear for over a year now?
Stay tuned…
SUBSCRIBE TO THE TOP STORIES OF THE WEEK IN THE NEWSLETTER HERE
FOR MORE NEWS BY VOICE OF REASON CLICK HERE!
Amy Moreno at TruthFeed writes:
According to an email obtained via A FOIA (Freedom of Information Act) request from Citizens United, Hillary Clinton's health is so bad, and she's so weak and frail that she can't "walk around" a town hall-type event.
Wake up America; this woman does NOT HAVE "pneumonia," it's so much worse than that.
According to the email, Huma Abedin states that Hillary needs a podium (using it as a crutch).
We also know from dozens of past photos that Hillary also uses STOOLS.
Also, Huma goes on to say that Hillary "can't walk around" like Bill has done in the past.
Both Bill and Hillary are half-dead decrepit horror shows.
Besides all the scandal and corruption, his woman is not fit to run for office.
In the video just in from Ben King, on her way to the podium to speak after Trump chewed her up and spit her out, you'll see that she has to grip the table as if her life depends on it, and then proceeds to stumble toward the podium, which she was presumably able to use a crutch, per the email from Huma Abedin.
The following is the display put on by Trump that no doubt is what inspired Mrs. Clinton to get up to that podium and defend herself, no matter how difficult the task! When you see Trump below, you'll MORE than understand. Dare I say you MIGHT even feel a bit bad for Hilary Trump was so brutal.
One thing is clear, Trump hates Hillary so much that he can't even pull back at the Alfred E. Smith Dinner! You've never seen anything like this! Look at the faces of the people around him, including Maria in the background. They are stunned!!! Brutal!! And where is Bill Clinton! Have no idea who would have written that for Trump, but it was brutal and REALLY funny!!!
SUBSCRIBE TO THE TOP STORIES OF THE WEEK IN THE NEWSLETTER HERE
FACEBOOK | GOOGLE+ | TWITTER | PINTEREST | STUMBLE UPON | TUMBLR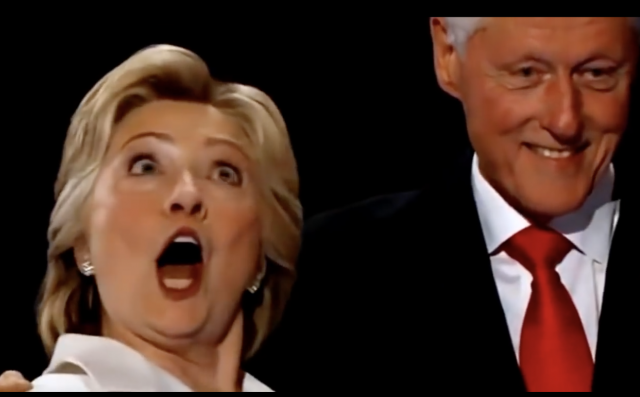 RECENT LINKS ON HILLARY'S HEALTH:
Was Hillary Clinton Wearing a Wire and Earpiece for Hofstra Debate (Video)
Hillary's Obituary Prepares Masses for Crushing Clinton Defeat (Video)
Dr. Milton Wolf Proves Hillary's "Pneumonia" Story Is Impossible… (Video)
Shocking Email: Hillary Asks NFL's Roger Goodell for Help Treating 'Cracked Head' (Video)
Medical Community Worried About Hillary's Obvious Declining Health (Video)
Hillary Clinton Freezes in Fear – Secret Agents Says To "Keep Talking" (Video)​
See Which Doctors Say Hillary Clinton is Hiding Major Health Issue (Videos)
Everything You Need to Know About Hillary's Health All in One Post (Videos)
Hillary's Poor Health and Odd Behavior: Massive Cover-Up Continues (Video)
FOR MORE ON THE CHAOS COMING FROM THE 2016 ELECTION:
Hillary's New Investigation Is No Joke; Possibilities Aren't Either (Videos)
FBI Director Comey Working Behind the Scenes on 'Suprise' Hillary Arrest (Video)
Julian Assange Drops Bombshell Involving Murder on Hillary Clinton (Video)
DNC Insider: Clinton Being Pounded in Polls – Don't Believe Mainstream Media! (Video)
Clinton Adds +5 to Body Count in 6 Weeks Totaling 67 Dead Associates (Video)
NSA Whistleblower Shocks Radio Host: We Have All Hillary's Deleted Emails (Video)
Julian Assange (7/27/16): "Next Leak Will Lead to Arrest of Hillary Clinton" (Video)
Bernie Caught on Hot Mic Proves He Was Never a 'Real' Candidate (Video)
Leak: Hillary Not Indicted Because Everyone in D.C. Tied to Clinton Foundation (Videos)
Looks Like President Barack Obama May Suspend 2016 Presidential Elections…
Is Obama Really Going to Suspend Elections and Declare Martial Law? (Videos)
When Obama Suspends 2016 Election, a Guide to Survive Martial Law (Videos)
Black Lives Matter and Soros Plan to Escalate Chaos Forcing Martial Law (Video)
Americans Are Protesting the Fake Election Process Everywhere; Media Silent
Former Military Officer: The 2016 Election Doesn't Even Matter (Videos)
Trump Protesters Admit Answering Craigslist Ad Paying $16/hr to Protest (Video)
Stop 2016 Election, Then Begin Martial Law Is Goals of Soros' Democracy Spring (Video)
A Former Federal Prosecutor Warned: Obama Plans to Incite Race War This Summer (Video)
FOR MORE LINKS ON MARTIAL LAW:
U.N. Says They Will Soon Occupy America: "Going Door-to-Door Taking Guns…"
Mainstream Media Blasts Alternative News Personality on FEMA Camps (Videos)
Ron Paul: Undeniable Proof Martial Law Is Coming Because of the Economy (Video)
Virginia Police and Homeland Security Doing Exercises for Marital Law Conditions (Video)
Latest News on Government's Preparing For Civil War or Martial Law (Videos)
Martial Law Convoys Sent to Baton Rouge, Dallas, and St. Paul Before Shootings (Videos)
Pentagon Approves U.N. Use Of Force Against American Civilians (Video)
What Is the U.S. Government Endlessly Preparing For (Videos)
Patriot Films Shocking New Video of a FEMA Camp Recently Discovered in Texas
Major Update to Military Movement and Actual Documentation of Their Plans (Video)
United Nations Troops on U.S. Soil Prepared to Assist With Martial Law? (Videos)
Obama Has Prepared FEMA for All Four Storms… Are You Prepared?
13 States Obama Is Using for His Nefarious Secret Agenda (Video)
Obama: Be Ready For EMP Attacks, Engineered Pandemics, Earthquakes, and Martial Law
How Likely is Martial Law in the US, and What Happens Under Martial Law
Law Enforcement Preparing For Rioting on National Scale (Videos)
All Armed Americans To Be Detained In FEMA Camps Starting In 2017? (Video)
Beware of Martial Law: Obama Will Confiscate Firearms Of All 50 States in 2016
Army Not Prepping for Battle; Training For Riot Control and Martial Law
Pentagon Says Preparing For Huge Civil Unrest in U.S. (Videos)
Political Dissidents Homes Being Marked By FEMA Prior to Martial Law?
All You Need To Know About Obama's Coming Gun Grab
Obama Signs Executive Order Permanently Implementing Martial Law
FEMA Concentration Camps Disguised As Malls Being Built Everywhere
Government "Threat List:" 8 Million People To Be Detained Immediately
SUBSCRIBE TO THE TOP STORIES OF THE WEEK IN THE NEWSLETTER HERE
FACEBOOK | GOOGLE+ | TWITTER | PINTEREST | STUMBLE UPON | TUMBLR
FREE GUIDE TO ECONOMIC COLLAPSE OR MARTIAL LAW…
AT THE OFFICIAL BLOG SITE BELOW!
FACEBOOK | GOOGLE+ | TWITTER | PINTEREST | STUMBLE UPON | TUMBLER