When the President of the United States sends a team of FBI agents to another country to frame someone who is not a U.S. citizen, and does so under the guise of trying to help said country better equip themselves to fight off hackers but gets caught, is that news?
Thanks to an interview this week published in Katoikos with Ogmundur Jonasson, the interior minister of Iceland when Obama pulled this stunt, now we have even more proof of how morally bankrupt both Obama and the Democrat party truly are.
Why are we just learning about this now? At the time, the mainstream media (otherwise known as the true purveyors of "fake news" in this country), didn't seem to think that the story was newsworthy. Perhaps you might be wondering what were they did find newsworthy and reported on instead, right?
Funny you should ask. The mainstream media was far more interested in pushing their warped narrative of what caused the Arab Spring ("Fake News"), versus what actually happened, they gave seemingly endless time devoted to the plight of the poor Occupy Wall Street heathens, and who can forget all the lovely stories about Anthony Weiner tweeting out pictures of his manhood to millions of people while serving in Congress just as you were sitting down to dinner every night?
It's not like the "real news' could have taken a few minutes from any of the time devoted to those stories to cover something as big as the President of the United States sending a team of FBI agents to frame someone for revealing the truth, right?
Question: Are we still having this asinine conversation about who the "real" news is, and who the "fake" news is…
AND… ARE YOU READY FOR THIS????
Earlier this week, as part of the 2016 NDAA that just passed, "Fake News" Sites Are Now Subject to Treason Investigations…
Anyway, in the following video I break down several parts of the interview with Ogmundur Jonasson which can be found in its entirety HERE. I also can't help but question how sincere Democrats are about this nonsense with Russia having the election by citing several definitive examples of when Democrats showed their total lack of concern for cyber-security.
SUBSCRIBE TO THE TOP STORIES OF THE WEEK IN THE NEWSLETTER HERE
FOR MORE NEWS BY VOICE OF REASON CLICK HERE!
According to Iceland's former minister of interior, the US sent a "planeload of FBI agents" to Iceland in June 2011 in an attempt to frame WikiLeaks and its co-founder Julian Assange.
In an interview with the Katoikos publication, Ogmundur Jonasson who was the interior minister at the time, said the Obama administration implied to Icelandic authorities that they had knowledge of hackers who wanted to destroy software systems in their country and offered help. However, Jonasson became suspicious and refused to cooperate with the agents and asked them to cease their activities.
BE SURE TO CHECK THELASTGREATSTAND.COM FOR SURVIVAL GEAR!
FREE DETAILED GUIDE TO SURVIVING ECONOMIC COLLAPSE OR MARTIAL LAW HERE
RT reports:
However, Jonasson said he instantly became "suspicious" of the US good intentions, "well aware that a helping hand might easily become a manipulating hand."
Later in the summer 2011, the US "sent a planeload of FBI agents to Iceland seeking our cooperation in what I understood as an operation set up to frame Julian Assange and WikiLeaks," Jonasson said.
Icelanders seemed like a tough nut to crack, though.
"Since they had not been authorized by the Icelandic authorities to carry out police work in Iceland and since a crack-down on WikiLeaks was not on my agenda, to say the least, I ordered that all cooperation with them be promptly terminated and I also made it clear that they should cease all activities in Iceland immediately," the politician said.
So the US were told to leave, and moreover, the politician made things quite clear for them.
"If I had to take sides with either WikiLeaks or the FBI or CIA, I would have no difficulty in choosing: I would be on the side of WikiLeaks," he said.
Jónasson went on to discuss other whistleblowers like Edward Snowden: the Althing, the Icelandic parliament, debated whether Snowden should have been granted citizenship, but "there hasn't been political consensus" on the matter.
"Iceland is part of NATO and such a decision would be strongly objected to by the US," Jonasson said.
Both whistleblowers have spent several years under protection: Assange has been staying in the Ecuadorian Embassy in London for about four years, while Snowden was granted asylum in Russia in 2013, and he is still staying at an undisclosed location there.
BE SURE TO CHECK THELASTGREATSTAND.COM FOR SURVIVAL GEAR!
FREE DETAILED GUIDE TO SURVIVING ECONOMIC COLLAPSE OR MARTIAL LAW HERE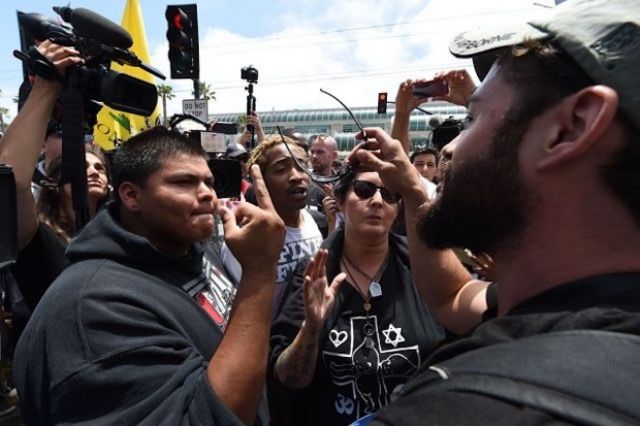 FOR MORE ON THE CHAOS COMING FROM THE 2016 ELECTION:
Hillary Coup Attempting to Steal Presidency From Trump in 6 Days (Video)
Mutiny: 15 Electors Refusing to Vote Trump on 12/19 in States Trump Won (Video)
Attention: Expect Obama To Run Dangerously Wild Until Inauguration Day (Video)
Trump Supporters Have a Plan To Unite and Bring CNN to its Knees (Video)
Sorry Protestors: Looks Like Hillary Got Pummeled in the Popular Vote Too (Video)
What is Obama Doing to Stop Planned BLM Chaos, Rioting, and Violence? (Video)
Is George Soros Leading Trump Straight into a Very Costly Ambush? (Video)
Media Blackout on Shootings Taking Place at Seattle Anti-Trump Rallies? (Video)​
U.S. Intelligence Agencies Stopped a Silent Obama/Clinton Coup; Now You Are Needed
Reason Wi-Fi on Hillary's Campaign Jet Was Turned Off Should Chill You (Video
DNC Insider: Clinton Being Pounded in Polls – Don't Believe Mainstream Media! (Video)
Clinton Adds +5 to Body Count in 6 Weeks Totaling 67 Dead Associates (Video)
NSA Whistleblower Shocks Radio Host: We Have All Hillary's Deleted Emails (Video)
Leak: Hillary Not Indicted Because Everyone in D.C. Tied to Clinton Foundation (Videos)
Black Lives Matter and Soros Plan to Escalate Chaos Forcing Martial Law (Video)
Former Military Officer: The 2016 Election Doesn't Even Matter (Videos)
Trump Protesters Admit Answering Craigslist Ad Paying $16/hr to Protest (Video)
FOR MORE ON OBAMA'S TREASONOUS ACTS!
Two Generals Interviewed: Constitutional Crisis Could Force Military To Remove Obama
Shocking: CIA Director Says Domestic Attack is Inevitable On National TV
Email From Colonel Harry Reilly About Obama's Articles of Impeachment Vote 1/13
Resolution Drafted For Obama Impeachment Consists of 48 Criminal Charges
Obama Caught Smuggling In Up To 100,000 Refugees Per Year on UPS Planes!
Four-Star Navy Admiral Blasts Obama For Treason, and Reveals Obama's Plans
Top Obama Appointee: "President Knowingly and Willingly Armed ISIS"
Former FBI Assistant Director Risks His Life – Just Exposed Obama In Huge Way!
The Proof You've Wanted Regarding Obama's Treason
Former CIA Director Unloads, Then Issues Severe Warning About Obama
SUBSCRIBE TO THE TOP STORIES OF THE WEEK IN THE NEWSLETTER HERE
FACEBOOK | GOOGLE+ | TWITTER | PINTEREST | STUMBLE UPON | TUMBLR
FREE GUIDE TO ECONOMIC COLLAPSE OR MARTIAL LAW…
AT THE OFFICIAL BLOG SITE BELOW!
FACEBOOK | GOOGLE+ | TWITTER | PINTEREST | STUMBLE UPON | TUMBLER