This is probably the best forum for this story (Before it's News) and even though I have sent it to everyone no one knows it exists. So maybe here before it's news, after? It will become NEWS…
I will know before I even start this I will do an aweful job. That one or two people will see it. By miracle, " Before It's News " would feature this story but that won't happen. If I was some phony, liar, con artists, doing a story about a false haunted house it would be everywhere, THAT should be your PROOF I am for real and the story you are about to read is for real.
The paranormal. A topic that many people see as a con perpetrated upon the world. I was one of them. I never believed in ghosts, demons, etc. That was until the dead decided to make me their poster boy. The story you are about to read is true. Unless after you decide I am the greatest special effects artists on the planet, well, at least one of them. The truth is… I can't even do lighting for green screen. Something 10 years olds can do, and I do video, etc, I have another channel on YT and if you saw it? You would be the first to say " Ok it's real " lol However, I can't reveal who I am, to protect the identities of my family and this house.
It all started on April 1st 2010 2:34 pm. The first of events that would escalate into bigger and worse events. I had just rented this duplex apartment and as I was buying curtains at bed bath and beyond I lost my life savings 5300.00. Some life scum bag in queens after buying his bunk beds stole my money. I left my jacket there by accident and he found the money. Every time I see someone return something of value I text this prick and remind him I have not forgotten him. As the days progressed I began to hurt myself constantly. I would fall, I would bash my foot into something, it almost felt like I was being attacked by invisible things. I was not being attacked but these demons in the house where using ALL the earths elements to attack me. I can't explain it. But I would walk by my cat and he would viciously attack me, things like that. It is 5 years later and I literally have to watch the ground as I walk, be on full guard for anything that is coming. Even people. They use people to get to me as well. SEE as a man of faith they can't touch me directly, so they do it like this. It's complicated. I began to feel like I was cursed. Not by ghosts or demons but someone somewhere put a root on me or something. Other than the attacks I would get deathly sick, it was 24-7 of misery. No good thing was happening. Any job that came my way was immediately gone. ALL attempts to regain my financial life was stopped. Even now, here I am with a YT channel that should be generating millions of hits and it has two or three (and they are mostly mine) Even it they are bs they should be looked at for curiosity purposes and no one sees them. It wasn't until 2 years later when my eldest daughter came to live here. As I did not believe the entities in the house could not reach me. So, they used my daughter to get to me. She came to us with a picture (see below)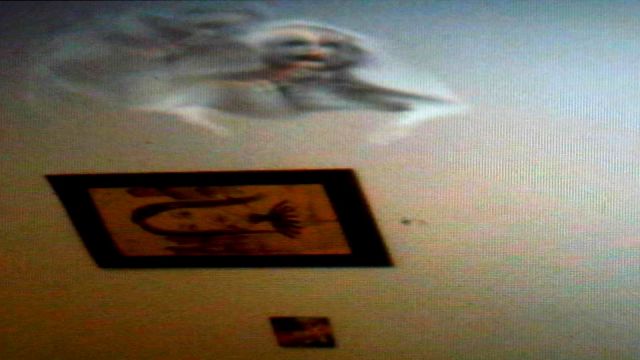 We immediately thought (photo shopped etc) but her phone (metro pc) didn't have these apps on it. She swore she didn't do it. Then came the writing all over the ceilings. Words, Symbols, numbers, pictures, it was insane. They are still there. The walls and ceilings are covered with this stuff. Even as I saw this I STILL didn't believe. I convinced myself that the tenant before was some devil worshipper and his writing seeped through the paint or something. But then, they began to write on my lazy Susan, my TV, places that the old tenant never was. Ok… (they were trying to communicate with me or prove what my daughter was saying) I began to have my eyes opened a tad. Then when me and her were in our (I would like to point out that the picture is coming in upside down) now why would I do that if it was fake? How would I even know to do that? Anyway, there we were in our kitchen and all of a sudden she began to film the door of the pantry and before my eyes a white light went ZIPPING by! Then she took me around the house and in every room these lights whipping by at such speeds. I stopped being a skeptic and began to believe, as I believed, they entities in the house left my daughter and began to concentrate on the true target me. In fact as the haunting progressed, she became disgusted at the mere mention of ghosts. They did what they wanted to do, used her to get to me. They didn't need her anymore. I began posting videos of these lights, of which everyone argued away as dust orbs, or, I had 10 people behind me with flash lights. Penn Jillette (yes the real Penn) actually said " it's normal " that everyone has these lights in their house " lol. Then came the next stage " The Mirrors " For no reason whatsoever I began filming my vanity mirrors. As I did this faces manifested themselves inside. Not apparitions, dust, smoke, no, REAL FACES! I showed them to few people and they said " It's the lights reflecting off the camera onto the mirror " I was like yeah right! (you can see all these videos on my channel) there is a ton of these videos. https://www.youtube.com/watch?v=JEkSTj6kf58 pay strict attention to time line :30 and after. Then the next stage was for no reason I found myself filming my refrigerator. As I was reviewing the footage I caught the most disgusting, horrified, images. Some how the demons in the house placed their faces over the original pics. One person said " Matrixing " I then began to investigate every single picture on the net and could not find anything like this. Just an FYI: All these excuses and things to explain away this real haunting was given by people that believe in the paranormal except Mr. Jillette. Not only the skeptics do not believe this haunting even the those that do believe do not believe. That is because out of all the haunting's you have been forced to see? THIS is the REAL deal! No one wants evidence the paranormal exists, they want the ILLUSION, the illusion sells, the truth does nothing. People will ALWAYS embrace the false and crucify the true. I mean just look at what they did to the original pictures SICK!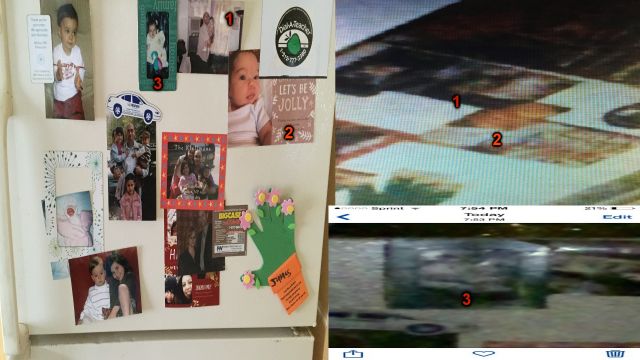 The fact of the matter is I have been trained by the entities in this house how to film them, capture them, it's all based on speed and light. You must also need to know how to film them, where to film them, etc. The dead HIDE in our homes (universal protection) we are NOT supposed to know about life after death. The truth? When you die most likely you will REMAIN here on Earth and be tormented and oppressed by demons. It is so hot in this house but as I write (the winds WHIP UP outside lol nice cold air. The universe is losing it over what is going on here in this house. It is a clear cut REBELLION plain and simple. The ghosts here are FED UP with being here and they are revolting and using me to get them publicity. However, they are just ghosts and can not manipulate earthly affairs but demons can and these demons do not want the publicity! As a man of God that is guided by his hand I KNOW he has a part in this… I also know that Lucifer has a part in this. WHY there is an ANGEL here I have no idea. I know more about the paranormal than anyone, as I have been personally trained by them. Bold statement I know but true. I can go into anyone's house and show them the ghosts or demons that reside. God has turned me into that Constantine dude lol. No really he has. It's insane what I see.
I will say that I never lose things anymore. The entities in this house guide me to where something is lost. They do not talk to me but it's more like a feeling, an impulse, to do this or that. I can't explain it.
To any media source that wishes to do this story? I am looking for 100K (which is fair for the story of the 20th and 21st century don't you think)? As I said the ONE picture that VALIDATES it all. A demon and an Angel, and the Angel is PRAYING! I am prepared to meet with any of you to prove this. Let your professionals look at the picture, they will concur it is real. Doesn't hurt to look…
Here is my twitter page where I post all new faces (some people can see some people can't) https://twitter.com/real_spirits387
Ghosts, Demons, Angels, oh my… All mythical as far as seeing one, or catching one. But for some reason I have been permitted to catch both. Just as the world seeks out real pictures of Big Foot, Aliens, I have caught the picture of pictures.
To the skeptics: Before you judge this story WATCH my videos, and LOOK at my pictures… THEN judge. That is the FAIR thing to do… †