In the following interview with the X22Report Spotlight report, Dr. Jim Willie unleashes with both guns blazing on a subject I've been warning about for about for over two years now, which is the loss the U.S. Dollar's status as the World's Global Reserve Currency.
For the simple fact that no one under the age of 70 has never known a planet earth where the U.S. Dollar has not been the World's Reserve Currency, most Americans in particular have no idea what it will mean when we lose that status.
The subject is not one that is taught in schools until well into the graduate school level in most cases, so unless a person has done independent research on the subject, the average American cannot comprehend how painful it will be for individual American families not IF, but WHEN the inevitable finally happens.
Losing the World Reserve Currency status is a process, just like losing the world's faith in the U.S. was a process. Both are processes that have been well underway for the better part of the last two decades, especially this past decade. Roughly ten years ago, 75% of global trade was denominated in U.S. Dollars, and that makes sense. After all, we've been the Reserve Currency.
Over the last ten years, that figure has dropped to roughly 35% of all global trade which is now settled in U.S. Dollars, because countries are rushing to distance themselves from the U.S. for many of the reasons Dr. Willie outlines in another interview from earlier today titled, Dr. Jim Willie: Unprecedented Bond Dumping Means U.S. Dollar Collapse Ahead.
DO NOT MISS: Dr. Jim Willie: Unprecedented Bond Dumping Means U.S. Dollar Collapse Ahead
The bottom line is this: The U.S. has grossly abused its privilege of being the World Reserve Currency, largely because we've adopted the practice of monetizing our debt by printing money out of thin air. Giving that process a fancy name like Quantitative Easing, doesn't change the reality of what it is. We print money out of thin air, and rip-off every country we've borrowed from when we pay them back with Dollars worth less than the ones we borrowed.

Now, the world has lost all faith in the only thing that backs the U.S. Dollar in the first place: The Full Faith and Credit of the United States Government. In the interview, Dr. Willie gives a BLISTERING account of what to expect. He begins the first 30 seconds of the interview by explaining how once the U.S. Dollar is finished being phased out, a process that as I've said is well underway, he expects the Dollar to experience a massive currency devaluation of 30% almost instantly.
DO NOT MISS: Dr. Jim Willie: We Are on the Brink of World War; Americans Totally Clueless
After the initial devaluation of 30%, Dr. Willie expects there to be another another 30% devaluation six to eight months down the road, followed by a long series of 20% devaluations over the next several years, until we reach a point in about 4-5 years when our currency is completely devalued, and worth about 10% of what it is today.
For a country with a trade deficit of over $500 BILLION, and as a country that imports over 50% of our food… that means conditions Americans once considered to be unthinkable here in the United States, will soon become ordinary. Let that sink in for a moment. The unthinkable will become ordinary.
DO NOT MISS: Dr. Jim Willie: Soon the Fireworks Will Start, then Hell on Earth Follows
The time to prepare is now. Brace yourself for a very intense interview… one of Dr. Willie's most intense ever!
DO NOT MISS THE SECOND VIDEO BELOW WITH CANADIAN BILLIONAIRE NED GOODMAN, AS HE LECTURES ON THE COMING COLLAPSE OF THE U.S. DOLLAR!
SUBSCRIBE TO THE TOP STORIES OF THE WEEK IN THE NEWSLETTER HERE
FOR MORE NEWS BY VOICE OF REASON CLICK HERE!
As individual Americans or as families, in the past when we've heard news from pundits or politicians talking about issues like trade deficits, bad trade deals, or the federal debt, many times what we hear goes in one ear and out the other, because many of us cannot SEE or FEEL how those reports affect our families on a daily basis, or in our every day lives.
DO NOT MISS: Dr. Jim Willie: Understanding the Root Cause of the Coming Global Reset…
The loss of the Reserve Currency is not something that might happen. It's not something that could happen. It's an eventually that there's no chance of avoiding. That ship set sail far too long ago to fix the damage already done, and what lies ahead. It's not an event where a vote is taken, and we'll lose the status over night thanks to anything done by a U.N. vote, or by our own politicians in Washington. What's done is done, now it just has to play out.
DO NOT MISS: Dr. Jim Willie: China Isolating the U.S. (and U.S. Dollar) From Trade
As explained, it's a process, and it's well underway. I could not be more serious when I say that conditions Americans once considered to be unthinkable in the United States, will soon become ordinary.
If you're fortunate enough to still be working, and you have an income, do not squander your opportunity to protect your family. Begin preparing. There is a reason Peter Schiff has said: The Collapse of the Dollar Will Be the Single Biggest Event In All of Human History.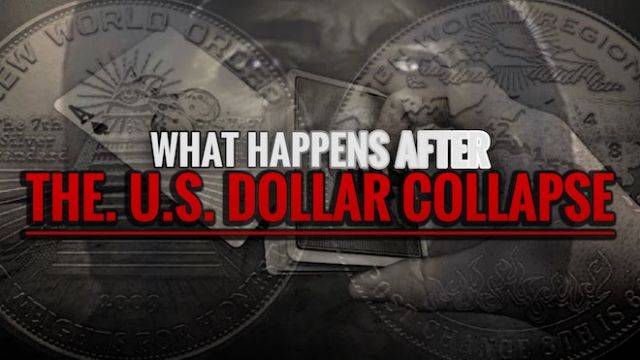 How The Coming Dollar Collapse Will Leave Americans Destitute
An increasing number of financial experts are saying the United States dollar is no longer a reliable and dependable currency – and that its downfall is inevitable. There are even some experts who think the dollar is so unstable that the Chinese Yuan will soon become the world's reserve currency, or currency of choice.
"Our addictions to debt and cheap money have finally caused our major international creditors to call for an end to dollar hegemony and to push for a 'de-Americanized' world," investment advisor and financial strategist Micheal Pento wrote in an op-ed piece for CNBC.
Others agree.
"In my view the dollar is about to become dethroned as the world's defacto currency basically," Canadian billionaire investor Ned Goodman said. "We're headed to a period of stagflation, maybe serious inflation, and the United States will be losing the privilege of being able to print at its will the global reserve currency."
Goodman believes the US already is in another recession. The unemployment numbers are understated and the "real" unemployment number likely is closer to 15 percent, he said.
Over half of 200 international institutional investors surveyed by the Economist think that the Yuan will eventually replace the dollar as the world's reserve currency. The reserve currency is the money most commonly accepted for international trade.

Why Reserve Currencies Matter
Having money with a reserve currency status enables a nation to dominate and control the world's financial markets, as their currency is used for international trade and transactions. The US has the ability to maintain a $17 trillion national debt largely because the dollar is the reserve currency.
A nation with a reserve currency can simply print money to pay its debts.
In past centuries nations such as Britain, France, Spain, the Netherlands, and Portugal lost their status as super powers in part when their money lost reserve currency status. Reserve currencies collapse because people no longer trust or believe in the governments that issue them.
Goodman says that the US dollar became the reserve currency in the 1970s because Saudi Arabia agreed to only accept only the dollar as payment for oil. Goodman noted that at least one major producer, Russia, is now accepting Yuan in payment for oil.
Goodman was referring to a deal that Chinese President Xi Jinping and Russian leader Vladimir Putin made last May. Under the terms of deal, Russian companies can borrow money directly from China in exchange for oil.
The US dollar once was backed by gold and silver, Goodman said, but now is "backed by nothing."
Australia Starts Using Yuan
One of America's oldest and closest allies may have taken the first step to ending the dollar's reign as the reserve currency. CNBC reported that the Yuan will now be traded in Australia's financial markets. Among other things that will let Chinese customers pay Australian firms in Yuan. China is the biggest market for Australia's exports such as iron and coal.
Story continues below video
INSTAGRAM | FACEBOOK | GOOGLE+ | TWITTER | PINTEREST | STUMBLE UPON | TUMBLR
CHECK OUT THE NEW GOOGLE+ PAGE!
The Australian government has endorsed the deal because China is Australia's biggest trading partner. Arthur Sinodinos, Australia's Assistant Treasurer (treasury secretary) even went on CNBC's Asia Squawk Box show to endorse the deal.
"It's a big vote of confidence by both countries in the future of the relationship," Sinodinos said. Not even recent economic problems in China seemed to dampen Sinodinos' enthusiasm for the arrangement.
"There's no doubt that the Chinese authorities are having to manage issues in the financial sector to make sure that growth is sustained, but they've shown great skill at that in the past they were very adept at the fallout from the global financial crisis," Sinodinos said. In other words, Sinokinos believes the Chinese are doing a very good job of managing their economy and their currency is reliable.

How will the Dethroning of the Dollar Affect You?
Observers disagree widely on how the end of the dollar's reign as reserve currency would affect the US economy and average Americans. Retired neurosurgeon and pundit Dr. Ben Carson thinks it would turn the US into a third world nation and lead to unrest that would lead to martial law, as Off The Grid News recently reported.
Goodman believes there will soon be a massive sell off of US dollars that will lead to inflation. He also suggested a way for people to protect their assets.
"The Chinese have three and a half trillion US dollars and they're spending these dollars as quickly as they can, and it will not be long before the rest of the world and the US will be thinking likewise. I do." Goodman said.
In the 1930s, everyone wanted US dollars, he said, but today they're trying to get rid of them. He thinks that many investors are trying to spend all of their dollars to buy hard assets in order to avoid losing money invested in dollars.
That means average people might be able to protect themselves by investing in hard assets such as gold, real estate or silver, Goodman said.
BE SURE TO CHECK THELASTGREATSTAND.COM FOR SURVIVAL GEAR!
FREE DETAILED GUIDE TO SURVIVING ECONOMIC COLLAPSE OR MARTIAL LAW HERE

IF YOU READ NOTHING ELSE, THE FOLLOWING POSTS ARE ESSENTIAL:
Bill Holter: Between Now and Election Will Be Extremely Dangerous (Video)
Dr. Jim Willie: We Are on the Brink of World War; Americans Totally Clueless - Pt. 1
Dr. Jim Willie: We Are on the Brink of World War; Americans Totally Clueless - Pt. 2
Dr. Jim Willie Reveals 2nd Death Threat From U.S. Government (Video)
Bill Holter: Newly Solidified Chinese Superpower Will Replace Dead U.S. Dollar (Interview)
Peter Schiff: Don't Believe the Hype! The Real Economic Fallout From Brexit (Video)
How Will the U.S. Conduct Trade With Worthless U.S. Dollars and No Gold? (Video)
Why Did Illuminated George Soros Liquidate 37% of His Stock to Buy Gold? (Video)
What Exactly Does Global Economic Collapse Coming May 2016 Mean?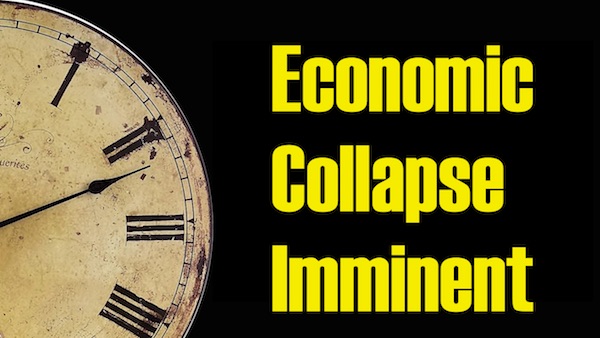 FOR MORE GREAT MATERIAL FROM JIM WILLIE:
Dr. Jim Willie: Western Banking Is Totally Broken, Insolvent and Corrupt
Dr. Jim Willie: Huge Red Flags Could Be Telling Us Global Currency Reset Is Upon Us!
Dr. Jim Willie: The Earth Continues to Turn, Even as it Continues to Crumble
Dr. Jim Willie: Collapse of U.S. Dollar, Rise of Gold, and Global Economic Rehab (Video)
Dr. Jim Willie: Understanding the Root Cause of the Coming Global Reset… (Videos)
Dr. Jim Willie: Soon the Fireworks Will Start, then Hell on Earth Follows (Video)
Dr. Jim Willie: China Isolating the U.S. (and U.S. Dollar) From Trade (Video)
Dr. Jim Willie: Banks Are Beginning to Prepare for Nuclear Winter (Interview)
Dr. Jim Willie: U.S. Elites Are Losing All Their Power (Video)
Dr. Jim Willie and the Systematic Bankruptcy of Western Society (Video)
Dr. Jim Willie: New World Order Elites in Absolute Terror of Gold Standard (Audio)
Dr. Jim Willie: We've Got "Educated People" That Are Stupid As Bedposts
Dr. Jim Willie: The Dollar is Dead! Even Mainstream Media Realizes it!
Dr. Jim Willie: U.S. Dollar is Now a Matter of National Security Due to Poor Decisions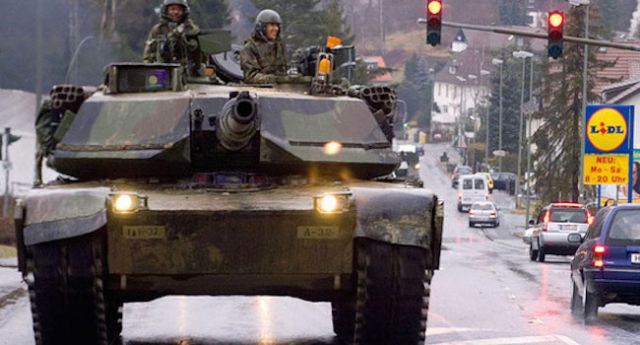 FOR MORE LINKS ON MARTIAL LAW:
Reports of Active U.S. Military Drilling for "Authoritarian Rule of Law" (Martial Law)
U.N. Soldier Says They Will Soon Occupy America: "Going Door-to-Door Taking Guns…"
1,500 Pages of New Documents That Reveal U.S. Government's Martial Law Agenda (Video)
Mainstream Media Blasts Alternative News Personality on FEMA Camps (Videos)
Ron Paul: Undeniable Proof Martial Law Is Coming Because of the Economy (Video)
Virginia Police and Homeland Security Doing Exercises for Marital Law Conditions (Video)
Latest News on Government's Preparing For Civil War or Martial Law (Videos)
Martial Law Convoys Sent to Baton Rouge, Dallas, and St. Paul Before Shootings (Videos)
Pentagon Approves U.N. Use Of Force Against American Civilians (Video)
What Is the U.S. Government Endlessly Preparing For (Videos)
Patriot Films Shocking New Video of a FEMA Camp Recently Discovered in Texas
Major Update to Military Movement and Actual Documentation of Their Plans (Video)
United Nations Troops on U.S. Soil Prepared to Assist With Martial Law? (Videos)
Obama Has Prepared FEMA for All Four Storms… Are You Prepared?
13 States Obama Is Using for His Nefarious Secret Agenda (Video)
Obama: Be Ready For EMP Attacks, Engineered Pandemics, Earthquakes, and Martial Law
How Likely is Martial Law in the US, and What Happens Under Martial Law
Law Enforcement Preparing For Rioting on National Scale (Videos)
All Armed Americans To Be Detained In FEMA Camps Starting In 2017? (Video)
Beware of Martial Law: Obama Will Confiscate Firearms Of All 50 States in 2016
Army Not Prepping for Battle; Training For Riot Control and Martial Law
Pentagon Says Preparing For Huge Civil Unrest in U.S. (Videos)
Political Dissidents Homes Being Marked By FEMA Prior to Martial Law?
Government "Threat List:" 8 Million People To Be Detained Immediately
SUBSCRIBE TO THE TOP STORIES OF THE WEEK IN THE NEWSLETTER HERE
FACEBOOK | GOOGLE+ | TWITTER | PINTEREST | STUMBLE UPON | TUMBLR
FREE GUIDE TO ECONOMIC COLLAPSE OR MARTIAL LAW…
AT THE OFFICIAL BLOG SITE BELOW!
FACEBOOK | GOOGLE+ | TWITTER | PINTEREST | STUMBLE UPON | TUMBLER