If there was ever a doubt that the mainstream media has failed in its responsibility to provide the American people with honest and relevant news, this ends that debate right now. In a time when virtually everything we see or hear on both social media or the news is held up for scrutiny to determine whether it is "real" or "fake" news, I truly wish what you are about to learn was fake. Sadly, it is not.
For well over a year, many of the world's leading financial experts, men like Bill Holter, Jim Rogers, Dr. Jim Willie, Peter Schiff, Jim Rickards, and countless others have been warning people about a coming global financial reset, the likes of which the world has never seen. One of those experts even refers to the coming global reset as something that will be so big, he says it will be remembered as the single biggest event in all of human history. So, we're not talking about a minor economic correction by any means.
Despite all the evidence that a major collapse is on the horizon, and despite almost 100 million Americans being out of work, our politicians and the mainstream media have been relentless in their effort to keep advancing the nonsensical Obama administration narrative that the country has been in a "recovery." In the video below, while interviewing Ronnie McMullen (creator of GetTheTea.com), Ronnie shared with me news from an article on CNN Money that documents one of this past Christmas' hottest items, one that sold out nationwide at the upscale department store Nordstrom's.
The article absolutely confirms that the mainstream media has not just failed at honestly reporting on political news, but it has utterly failed in keeping Americans informed on matters of critical importance. While the mainstream media's talking heads go on insisting that the economy is getting better, in the article following my interview with Ronnie, thankfully at least someone is asking the question, "Why Are Wal-Mart And Boeing Laying Off Workers If The U.S. Economy Is In Good Shape?" Don't expect an honest answer from the mainstream media on that anytime soon.
In my interview with Ronnie below, we discuss issues like the economy, corruption within the government, the recent phenomena known as "fake news," the repealing of Obamacare, and some of the dangers that may arise during the January 20th inauguration of Donald Trump. Because many Americans today are facing serious struggles, we also discuss the need for people to become more self-reliant, particularly as it relates to their health.
It's crazy to think people aren't doing more to take better care of themselves and their families, especially when you learn that this year's red hot, sold out, Christmas item at the high end retailer Nordstrom's's was: A Pet Rock (with Matching Leather Pants) that sold for $85. What is wrong with people?
SUBSCRIBE TO THE TOP STORIES OF THE WEEK IN THE NEWSLETTER HERE
FOR MORE NEWS BY VOICE OF REASON CLICK HERE!
The stock market has been on quite a roll in recent weeks, but signs of trouble continue to plague the real economy. Earlier this week, I talked about the "retail apocalypse" that is sweeping America. Major retail chains such as Sears and Macy's are closing stores and laying off workers, but I didn't think that Wal-Mart would be feeling the pain as well. Unfortunately, that is precisely what is happening. USA Today is reporting that approximately 1,000 jobs will be cut at Wal-Mart's corporate headquarters in Bentonville, Arkansas by the end of this month…
Walmart's plan to lay off of hundreds of employees is the latest ripple in a wave of job cuts and store closures that are roiling the retail industry.
The world's largest retailer is cutting roughly 1,000 jobs at its corporate headquarters in Bentonville, Ark., later this month, according to a person familiar with the matter who was not authorized to speak about it.
The company is saying that these cuts are necessary because Wal-Mart is always "looking for ways to operate more efficiently and effectively". But something doesn't smell right here. You don't get rid of 1,000 employees at your corporate headquarters if everything is just fine.
I have driven past Wal-Mart's headquarters in Bentonville a number of times, and it is in a beautiful part of the country. Bentonville and the surrounding areas had been booming, but it looks like times may be changing.
Meanwhile, there are signs of trouble out on the west coast as well. The Los Angeles Times is reporting that there is going to be a new round of engineering job cuts at Boeing…
Boeing Co. has internally announced a new round of employee buyouts for engineers companywide, including in Southern California, and warned that layoff notices will follow later this month to engineers in Washington state, where the company has a large presence.
Management did not cite a target for the number of projected job cuts.
The news comes after company Vice Chairman Ray Conner and the new chief executive of Boeing Commercial Airplanes, or BCA, Kevin McAllister, warned in December of the need to aim for further cuts in 2017.
And according to Boeing spokesperson Doug Alder, similar job cut announcements are coming for other classes of workers as well.
So why is Boeing getting rid of so many employees?
Well, the truth is that Boeing's business is way down. The following comes from Wolf Richter…
Business has been tough. In 2016, deliveries fell by 14 jets from a year ago, to 748. Net orders dropped 13% from an already rotten level in 2015, to just 668, down 53% from 2014. And the lowest level since 2010!
When the economy is doing well, air traffic tends to rise, and when the economy is doing poorly it tends to go down.
BE SURE TO CHECK THELASTGREATSTAND.COM FOR SURVIVAL GEAR!
FREE DETAILED GUIDE TO SURVIVING ECONOMIC COLLAPSE OR MARTIAL LAW HERE
Needless to say, the fact that Boeing is doing so poorly does not bode well for the future.
In addition to Wal-Mart, another major retailer that is letting people go is Petco…
Petco is cutting 180 positions with about 50 at its San Diego headquarters, the pet supply retailer confirmed Wednesday.
The company made the cuts across its workforce and include both existing and open positions.
Petco has about 650 workers at its headquarters in Rancho Bernardo. It employs 27,000 in the U.S.
My wife and I have three cats, and even though Petco tends to be a bit overpriced we have always appreciated the work that they do.
Unfortunately, when the economy gets tough spending on pets tends to be one of the first things to get cut back, and this current trouble at Petco could be a sign that rough sledding is ahead for the entire economy.
Of course your personal perspective on these things is likely to be very heavily influenced by your immediate surroundings. Those that live in wealthy enclaves of major cities such as San Francisco, New York City or Washington D.C. may be wondering how anyone could possibly be talking about economic trouble right now.
But if you live in economically depressed areas of Appalachia or the upper Midwest, it may seem like the last economic recession never even ended.
There have been pockets of economic prosperity in recent years, and this has resulted in some people becoming exceedingly wealthy. Meanwhile, things have just continued to become even tougher for millions of other families as the cost of living always seems to grow faster than their paychecks do.
If you are in the top one percent of all income earners, maybe to you it seems like things have never been better. But most of the country is living paycheck to paycheck and is just struggling to survive from month to month. The following comes from CNN…
The rich are money-making machines. Today, the top mega wealthy — the top 1% — earn an average of $1.3 million a year. It's more than three times as much as the 1980s, when the rich "only" made $428,000, on average, according to economists Thomas Piketty, Emmanuel Saez and Gabriel Zucman.
Meanwhile, the bottom 50% of the American population earned an average of $16,000 in pre-tax income in 1980. That hasn't changed in over three decades.
The workers being laid off at the companies discussed above are real people with real hopes and real dreams. Perhaps many of them will be able to land other employment fairly soon, but the truth is that the job market is really tough in many areas of the country right now.
Finding a good job that will allow you to pay the bills and support your family is not easy. You may find that out the hard way if you end up losing your current job during the economic troubles that will come in 2017.
Earlier today, I came across an excellent article by Gail Tverberg that detailed a whole bunch of reasons why a significant economic downturn appears to be imminent in 2017. If you would like to read it, you can find it here. She points to many of the same things that I have been pointing to for a very long time.
Even though economic conditions were fairly stable throughout 2016, our long-term problems just continued to get even worse. So the truth is that we are more primed for a major crisis today than we have been at any point since the last recession.
My hope is that things will not be nearly as bad in 2017 as Gail Tverberg and others are projecting that they could be, but the warning signs are definitely there, and it isn't going to take much to push the U.S. economy off the rails.
BE SURE TO CHECK THELASTGREATSTAND.COM FOR SURVIVAL GEAR!
FREE DETAILED GUIDE TO SURVIVING ECONOMIC COLLAPSE OR MARTIAL LAW HERE
For those of you who are finally starting to realize there is major trouble on the horizon, largely as a result of the corruption within our own government and the 2016 election, the failure of the U.S. Dollar and Western banks, deteriorating conditions here domestically, or perhaps even because of nuclear tensions reaching all new heights, then I suggest you get your FREE GUIDE for how to survive Martial Law here, because if/when things begin to go south, by then it will be too late to do anything about it.
For anyone with no idea where to begin making preparations, a very good, and very inexpensive tool to teach you how and what you should be preparing, is a book called "Conquering the Collapse." Since I've practically worn out my own iPad reading my copy, in the following link I provide you with a review of the book: Be Ready For Any Emergency – The Crucial Guide For Any Family's Safety (Videos).
If you do nothing else, you can learn more about the coming crisis in the links at the bottom under the heading titled, "If nothing else, these links are essential." The writing is on the wall everywhere… I strongly suggest checking out the post titled, Start "Doubling Up On Your Prepping;" Countdown to Economic Collapse.

IF YOU READ NOTHING ELSE, THE FOLLOWING POSTS ARE ESSENTIAL:
Bill Holter: Global Economic System Is Going to Resemble Caveman Times Soon (Video)
Peter Schiff: "Default or Not, U.S. Dollar Is Going to Collapse Either Way" (Video)
Jim Rickards Discusses Looming Shut Down of the Entire US Economy (Video)
Dr. Jim Willie: Worst Bond Crisis in 15 Years, World Quickly Losing Confidence in US
Bill Holter: Between Now and Election Will Be Extremely Dangerous (Video)
Dr. Jim Willie: We Are on the Brink of World War; Americans Totally Clueless - Pt. 1
Dr. Jim Willie: We Are on the Brink of World War; Americans Totally Clueless - Pt. 2
Bill Holter: Newly Solidified Chinese Superpower Will Replace Dead U.S. Dollar (Interview)
Peter Schiff: Don't Believe the Hype! The Real Economic Fallout From Brexit (Video)
How Will the U.S. Conduct Trade With Worthless U.S. Dollars and No Gold? (Video)
Why Did Illuminated George Soros Liquidate 37% of His Stock to Buy Gold? (Video)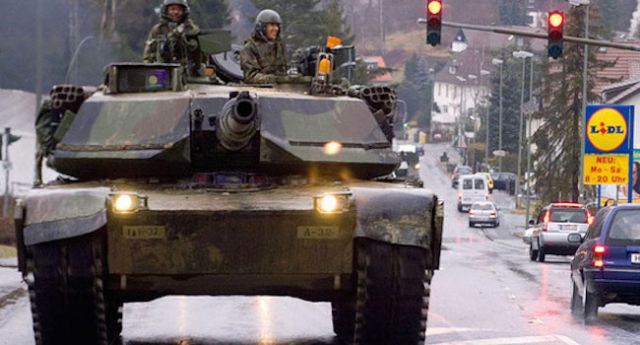 FOR MORE LINKS ON MARTIAL LAW:
Reports of Active U.S. Military Drilling for "Authoritarian Rule of Law" (Martial Law)
U.N. Soldier Says They Will Soon Occupy America: "Going Door-to-Door Taking Guns…"
1,500 Pages of New Documents That Reveal U.S. Government's Martial Law Agenda (Video)
Mainstream Media Blasts Alternative News Personality on FEMA Camps (Videos)
Ron Paul: Undeniable Proof Martial Law Is Coming Because of the Economy (Video)
Virginia Police and Homeland Security Doing Exercises for Marital Law Conditions (Video)
Latest News on Government's Preparing For Civil War or Martial Law (Videos)
Martial Law Convoys Sent to Baton Rouge, Dallas, and St. Paul Before Shootings (Videos)
Pentagon Approves U.N. Use Of Force Against American Civilians (Video)
What Is the U.S. Government Endlessly Preparing For (Videos)
Patriot Films Shocking New Video of a FEMA Camp Recently Discovered in Texas
Major Update to Military Movement and Actual Documentation of Their Plans (Video)
United Nations Troops on U.S. Soil Prepared to Assist With Martial Law? (Videos)
Obama Has Prepared FEMA for All Four Storms… Are You Prepared?
13 States Obama Is Using for His Nefarious Secret Agenda (Video)
Obama: Be Ready For EMP Attacks, Engineered Pandemics, Earthquakes, and Martial Law
How Likely is Martial Law in the US, and What Happens Under Martial Law
Law Enforcement Preparing For Rioting on National Scale (Videos)
All Armed Americans To Be Detained In FEMA Camps Starting In 2017? (Video)
Beware of Martial Law: Obama Will Confiscate Firearms Of All 50 States in 2016
Army Not Prepping for Battle; Training For Riot Control and Martial Law
Pentagon Says Preparing For Huge Civil Unrest in U.S. (Videos)
Political Dissidents Homes Being Marked By FEMA Prior to Martial Law?
Government "Threat List:" 8 Million People To Be Detained Immediately
SUBSCRIBE TO THE TOP STORIES OF THE WEEK IN THE NEWSLETTER HERE
FACEBOOK | GOOGLE+ | TWITTER | PINTEREST | STUMBLE UPON | TUMBLR
FREE GUIDE TO ECONOMIC COLLAPSE OR MARTIAL LAW…
AT THE OFFICIAL BLOG SITE BELOW!
FACEBOOK | GOOGLE+ | TWITTER | PINTEREST | STUMBLE UPON | TUMBLER