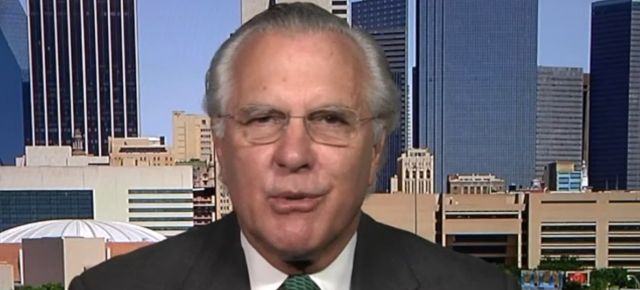 An Exclusive You Have To See: The Last Frontier of Free Press Is Here! No More Censorship, Unlike YouTube and Others!
Former Federal Reserve President Richard Fisher was a guest on CNBC last week and during the interview, he made some absolutely shocking remarks. While everyone kept talking about how the market crash in China was causing the U.S. markets to also crash, Mr. Fisher said that was nonsense, and that it was the Fed causing the state of U.S. stock markets.
You may recall, just last week Peter Schiff said that Due to the Fed's Antics, the Market is Very Dangerous, and now the former Fed President has confirmed the fact. More specifically, shockingly, Richard Fisher said:
"It is not China," it is The Fed that is at fault: "What The Fed did, and I was part of it, was front-load an enormous market rally in order to create a wealth effect… and an uncomfortable digestive period is likely now." He concludes there simply can't be much more accommodation. "The Fed is a giant weapon that has no ammunition left."
Fisher appears to be undertaking a major "cover-your-ass" episode, proclaiming that he was against QE3 which is what has forced "valuations to be very richly priced." The former Federal Reserve President then goes on to say:
"In my tenure at The Fed, every market participant was demanding we do more… It was The Fed, The Fed, The Fed… and in my opinion, people got lazy… Everyone was looking for the Fed to float all boats… Now we go back to fundamental analysis, the kind of work that USED to be done, analyzing which companies are going to grow their bottom line on their OWN, increase their shareholders value, and be priced accordingly… and as [The Fed] tide recedes we are going to see who is wearing a bathing suit and who is not…"
JUST HOW BAD ARE MARKET CONDITIONS GOING TO GET?
At one point Simon Hobbs asks the former Federal Reserve President, "Will The Fed come on and say 'we're sorry, we over-inflated the market' when it crashes?"
NOT LIKELY SIMON!
To add to the cheery news, the article below by Michael Snyder continues with more of the same. He says we have NEVER seen a year start like this, and there is NOTHING to suggest things are gong to get better either! In the first video below, you can watch the interview for yourself where the former Federal Reserve President revealed all. For some reason, the audio didn't match up with the video, but you can still see his demeanor and hear every word he says.
SUBSCRIBE TO THE TOP STORIES OF THE WEEK IN THE NEWSLETTER HERE
CHECK OUT THE NEW GOOGLE+ PAGE!
In the second video, Former Federal Reserve President Richard Fisher continues his revelation's during the CNBC interview. Then his words are compared alongside several recent articles.
Proof of Federal Reserve Stock Market Manipulation
Bank of America Explains How Central Banks Rigged And Manipulated The Market
How Much Does the Federal Reserve Juice Stock Prices?
How The Fed Is Helping To Rig The Stock Market
Former Fed President: Fed Has No Ammunition Left!
Explosive CNBC interview With Former Fed President
CHECK OUT THE NEW GOOGLE+ PAGE!
An Exclusive You Have To See: The Last Frontier of Free Press Is Here! No More Censorship, Unlike YouTube and Others!
Never before have we seen a year start like this. On Monday, Chinese stocks crashed once again. The Shanghai Composite Index plummeted another 5.29 percent, and this comes on the heels of two historic single day crashes last week. All of this chaos over in China is one of the factors that continues to push commodity prices even lower. Today the price of copper fell another 2.40 percent to $1.97, and the price of oil continued to implode. At one point, the price of U.S. oil plunged all the way down to $30.99 a barrel before rebounding just a little bit. As I write this article, oil is down a total of 6.12 percent for the day, and is currently sitting at $31.13. U.S. stocks were mixed on Monday, but it is important to note that the Russell 2000 did officially enter bear market territory. This is yet another confirmation of what I was talking about yesterday. And junk bonds continue to plummet. As I write this, JNK is down to 33.42. All of these numbers are huge red flags that are screaming that big trouble is ahead. Unfortunately, the mainstream media continues to insist that there is absolutely nothing to be concerned about.
A little over a year ago, I wrote an article that explained that anyone that believed that low oil prices were good for the economy was "crazy". At the time, many people really didn't understand what I was trying to communicate, but now it is becoming exceedingly clear. On Monday, one veteran oil and gas analyst told CNBC that "half of U.S. shale oil producers could go bankrupt" over the next couple of years…
Half of U.S. shale oil producers could go bankrupt before the crude market reaches equilibrium, Fadel Gheit, said Monday.
The senior oil and gas analyst at Oppenheimer & Co. said the "new normal oil price" could be 50 to 100 percent above current levels. He ultimately sees crude prices stabilizing near $60, but it could be more than two years before that happens.
By then it will be too late for many marginal U.S. drillers, who must drill into and break up shale rock to release oil and gas through a process called hydraulic fracturing. Fracking is significantly more expensive than extracting oil from conventional wells.
Since the last recession, the energy industry has been the number one producer of good paying jobs in this country.
Now that those firms are starting to drop like flies, what is that going to mean for employment in America?
Just today, a huge coal company filed for bankruptcy, and so did a U.S. unit of commodity trading giant Glencore. The following comes from Zero Hedge…
While the biggest bankruptcy story of the day is this morning's chapter 11 filing by Arch Coal, one which would trim $4.5 billion in debt from its balance sheet while handing over the bulk of the post-reorg company to its first-lien holders as part of the proposed debt-for-equity exchange, the reality is that the Arch default was widely anticipated by the market.
However, another far less noted and perhaps far more significant bankruptcy filing was that of Sherwin Alumina Co., a U.S. unit of commodity trading giant Glencore PLC, whose troubles have been extensively detailed on these pages. The stated reason for this far more troubling chapter 11 was "challenging market conditions" which is one way to describe an industry in which just one remaining U.S. smelter will be left in operation after Alcoa shut down its Warrick Country smelting ops last week.
A spokesman for Glencore, which owns the entire business, said the commodities producer and trader is "supportive of the restructuring process undertaken by Sherwin and is hopeful of an outcome that will allow for the continued operation of the Sherwin facility."
We desperately need prices for oil and other commodities to rebound significantly. Unfortunately, that does appear to be likely to happen any time soon. In fact, according to CNN we could soon see the price of oil fall quite a bit more…
The strengthening U.S. dollar could send oil plunging to $20 per barrel.
That's the view of analysts at Morgan Stanley. In a report published Monday, they say a 5% increase in the value of the dollar against a basket of currencies could push oil down by between 10% and 25% — which would mean prices falling by as much as $8 per barrel.
If prices for oil and other commodities keep falling, what is going to happen?
Well, Gina Martin Adams of Wells Fargo Securities says that what is happening right now reminds her of the correction of 1998…
Recent market volatility has dredged up memories of previous times of turmoil, most notably the 2008 crisis. But Gina Martin Adams of Wells Fargo Securities has been reminded of another, less dramatic correction year — 1998.
Adams posits that the current economic environment is suffering from themes that also played out in 1998, including falling oil prices, a rising U.S. dollar and troubles in emerging markets. Consequently, stocks may see a similar move to the 1998 correction, which saw a 20 percent drop for stocks over six weeks.
To me, it is much more serious than that. Just before U.S. stocks crashed horribly in 2008, we saw Chinese stocks crash, the price of oil crashed, commodity prices crashed, and junk bonds crashed really hard.
All of those things are happening again, and yet most of the "experts" continue to refuse to see the warning signs.
In fact, the mainstream media is full of articles that are telling people not to panic while the financial markets crumble all around them…
There's no need to make big moves in response to the recent volatility. "Regular folks should take on a long-term view and avoid trying to anticipate short-term market movements," says Stephen Horan, the managing director of credentialing at CFA Institute. "There is almost no evidence to suggest that professionals can do it effectively and a plethora of evidence suggesting individuals do it poorly."
They want "regular folks" to keep holding on to their investments as the "smart money" dumps their stocks at a staggering pace.
A little more than six months ago, I predicted that "our problems will only be just beginning as we enter 2016″, and that is turning out to be dead on correct.
The financial crisis that began during the second half of last year is greatly accelerating, and yet most of the population continues to be in denial even though the average stock price has already fallen by more than 20 percent.
Hopefully it will not take another 20 percent decline before people begin to wake up.
FOR MORE GREAT MATERIAL FROM JIM WILLIE:
Dr. Jim Willie: Watch the Rise of the US Dollar, then the Demise of the US Dollar
Jim Willie: U.S. Dollar is Now a Matter of National Security Due to Poor Decisions
Jim Willie: Armageddon Coming to U.S. With Trillions Exposed In Derivatives
Jim Willie, The Fed's Week of Reckoning, and an Isolated United States
Jim Willie: After Banks Fail, Government Seizes IRA's, 401k's, and Pensions
Jim Willie, the Crumbling Global Economy, and the Dollar Crisis
Jim Willie: What Do the Oil Black Market, NATO, and ISIS Have in Common?
Jim Willie; One on One -Taking Questions On the Most Pressing Matters of the Day
Jim Willie: The Fed, Yellen, US Dollar, and Negative Interest Are a Joke!
Jim Willie Explains U.S. Nuclear Threats to China & Russia Over Challenging the Dollar
Jim Willie: What Will It Mean If the Yuan Gets Reserve-Currency Status?
Jim Willie and 20 Reasons Why Quitting Prepping After September Was Wrong
Jim Willie: The Mid East Carnage Left by the American Wrecking Ball
Jim Willie: The Fractured Bond Market and the Economic Collapse
FOR MORE GREAT MATERIAL FROM PETER SCHIFF:
Peter Schiff: Due to the Feds Antics, the Market is Very Dangerous Now
Peter Schiff: 2015 Was The Worst Year Since 2008 and Stocks Still Dropping
Peter Schiff: Janet Yellen Strayed From Her Own Plan and Went Nuts!
Peter Schiff: Higher Spending During Holidays Does Not Fix Screwed Economy
Peter Schiff and "If The Economy Is Fine, Why Are So Many Large Retailers Imploding?"
Peter Schiff: Take a Good Look at the "New" American Dream!
Peter Schiff: Did the Fed's Luck Run Out On Friday the 13th?
Peter Schiff and "The 4 Harbingers Of Stock Market Doom"
Peter Schiff and Reagan Advisor: Complete Economic Collapse Immediately Ahead
Peter Schiff: Warning! Economic Storm Clouds Ready to Rain
Peter Schiff: Death of the US Dollar Is Imminent; Fed Out of Options
Peter Schiff: 11 Trillion In Global Stock Losses and Awful Jobs Report
Peter Schiff: "The Fed Admits Rates Could Stay at Zero Forever"
Peter Schiff with Mr. "I Have No Fear Of an Economic or Stock Market Collapse"
Peter Schiff Explains Why Financial Bubbles Are Ready to Pop
Peter Schiff: Everybody Is Preparing for Wrong Outcome in US Economy
2 Day Crash That Was Larger Than Any 1 Day Market Crash In U.S. History
Peter Schiff On China's Currency Devaluation and the Federal Reserve Board
Peter Schiff: Greece Was a Sideshow. Americans Need to Worry About Starving
Peter Schiff: China and Switzerland is Killing U.S. Dollar
FOR MORE NEWS BY VOICE OF REASON CLICK HERE!
SUBSCRIBE TO THE TOP STORIES OF THE WEEK IN THE NEWSLETTER HERE
BE SURE TO GO MY PROFILE'S BELOW AT OTHER SOCIAL MEDIA:
FACEBOOK | TWITTER | PINTEREST | STUMBLE UPON | TUMBLER
THE VOICE OF REASON