In recent weeks since Donald Trump was announced victorious in his bid for the White House, the general sentiment among a growing number ordinary Americans across country has shifted to the idea that Mr. Trump can somehow turn around the derelict vessel otherwise known as the U.S. economy, and prevent it from sinking.
With daily sound bites covering how the "Post-Election Trump Bounce" has yielded a rise in the Dow by more than 1,200 points since Trump's historic win, the announcement of Softbank investing $50 billion dollars and creating 50,000 new jobs in the United States, or the announcement of how the U.S. Dollar index is now at its highest levels since March of 2003, it's hard to imagine why people wouldn't be hopeful, right?
In the first video below I am joined by Bob Kudla, a financial expert otherwise known as the Trade Genius from www.tradegenius.co. Bob joins me for an interview to discuss concerns over how many Americans have suddenly slowed or stopped preparing for the looming global economic reset based on a false narrative being pushed by the media. If the sound bites like the ones mentioned above were the only information to report on the U.S. economy, perhaps Americans' optimism would be justified.
However, because the media chooses to completely ignore large pieces of information that would provide the American people with adequate information to make informed decisions about how to plan for their family's future, more Americans are at risk today than before Donald Trump's win. As you watch the interview below, do not forget the words of Obama himself warning Americans from the FEMA Coordination Response Center in Washington DC on May 31st earlier this year. The following excerpt from Obama's speech comes directly from the official White House website…
"One of the things that we have learned over the course of the last seven and a half years is that government plays a vital role, but it is every citizen's responsibility to be prepared for a disaster. And that means taking proactive steps, like having an evacuation plan, having a fully stocked disaster supply kit. If your local authorities ask you to evacuate, you have to do it. DO NOT WAIT!"
After the interview with Bob Kudla, the stock market expert also known as the Trade Genius from www.tradegenius.co, this post also reviews the scary statistics about the sudden drop in Americans who are no longer preparing for disaster, as well as a video detailing several facts about the economy the media isn't reporting, but ones that all Americans deserve to know so that they can make the best decisions moving forward…
DO NOT MISS: Bill Holter: Every Society is Only 72 Hours From Pure Anarchy
SUBSCRIBE TO THE TOP STORIES OF THE WEEK IN THE NEWSLETTER HERE
FOR MORE NEWS BY VOICE OF REASON CLICK HERE!
Is the prepper movement in the United States dying? At one time it was estimated that there were 3 million preppers in the United States, but in late 2016 interest in prepping has hit a multi-year low. The big reason for this, of course, is that the election of Donald Trump has fueled a tremendous wave of optimism among those that consider themselves to be conservatives, patriots and evangelical Christians. Not since the election of Ronald Reagan has the mood on the right shifted in such a positive direction so suddenly. But now that everyone is feeling so good about things, very few people still seem interested in prepping for hard times ahead. In fact, it is like a nuclear bomb went off in the prepping community.
As the publisher of The Economic Collapse Blog, I am in contact with a lot of people that serve the prepping community. And I can tell you that sales of emergency food and supplies have been crashing since Donald Trump's surprise election victory. Firms that help people relocate outside of the United States have seen business really dry up, and I know of one high profile individual that has actually decided to move back to the country after Trump's victory. It is almost as if the apocalypse has been canceled and the future history of the U.S. has been rewritten with a much happier ending.
DO NOT MISS: Peter Schiff: "Default or Not, U.S. Dollar Is Going to Collapse Either Way" (Video)
Personally, I am quite alarmed that so many people are suddenly letting their guard down, but it is difficult to convince people to be vigilant when things seem to be going so well. Just consider some of the things that have been happening in recent weeks…
-Donald Trump was just named Time Magazine's Person of the Year.
-The Dow just keeps setting brand new record high after brand new record high. In fact, the Dow has now risen by more than 1,200 points since Donald Trump won the election.
-The Russell 2000 has shot up an astounding 13 percent just since Trump's victory.
-Donald Trump has convinced heating, ventilation and air conditioning giant Carrier to keep about 1,000 jobs in the United States instead of shipping them to Mexico.
-Donald Trump has convinced SoftBank to invest 50 billion dollars and create 50,000 new jobs in the United States.
-The U.S. dollar index recently hit the highest level that we have witnessed since March 2003.
-We just learned that U.S. Steel wants to bring back somewhere around 10,000 jobs to communities that lost them.
At this point there is an overwhelming belief among those on the right that Donald Trump is going to be able to do what he has promised to do.
BE SURE TO CHECK THELASTGREATSTAND.COM FOR SURVIVAL GEAR!
FREE DETAILED GUIDE TO SURVIVING ECONOMIC COLLAPSE OR MARTIAL LAW HERE
And the numbers back this up. In a previous article, I discussed the fact that a recent Gallup survey discovered that the percentage of Republicans that believe that the U.S. economy is "getting better" increased from just 16 percent immediately prior to the election to 49 percent immediately after the election.
DO NOT MISS: The U.S. Will Lose Global Reserve Status, Expect 80-90% Devaluation Of the U.S. Dollar
I don't recall ever seeing such a shift in public sentiment in just a few days. Tens of millions of Americans have put their faith in Donald Trump, and time will tell if he will be able to deliver. As billionaire Mark Cuban recently pointed out, Donald Trump is like a number one draft pick that has not proven himself yet…
"I'll analogize it to the NBA draft: He's the No. 1 pick," Cuban said. "He's who we put our hopes and dreams with, and we're going to believe in him. Right now it's a little bit easier because we haven't played a game yet."
"There's no reason to rush to judgment or come to any conclusions now," he continued. "Let's see what happens starting January 21 and go from there. I hope he's a superstar, and I hope everything turns out the way we all hope it will. But until January 21, there's no real point at going into detail."
Let us hope that President Trump will be everything that people are hoping that he will be.
DO NOT MISS: The Dollar Collapse Has Begun; U.S. Bank Failures Soon to Follow (Video)
I would love it if 2017 is a year filled with peace and prosperity. That way I could write less about our economic troubles and instead do more of the positive stories that I have been sharing lately. And my wife and I could take some time off and just spend some time enjoying our quiet life up here in the mountains.
I don't think that is the way it is going to go, but I do hope that the optimists are right. At this point I could start listing out all of the reasons why our economy is doomed no matter who is president, but unless you are already convinced all of that reasoning would probably fall on deaf ears.
In the following video, many pieces of vital information about our economy that the media is not telling the American people are reviewed. They are not up for debate, as they are quantifiable fact. The information revealed below most likely has a lot to do with why Bill Holter, one the world's leading forensic economists made the following comment very recently in a post titled, Bill Holter: Every Society Is Only 72 Hours From Pure Anarchy:​
"It seems by looking on the surface of equity markets, all is well. Under the hood not so much. Equities have rallied since the election in what they're calling a "Trump bounce," and the general sentiment among people has shifted to a thought process that Mr. Trump can turn the ship around."
"As I wrote a week or two back, I don't believe anyone can "fix" what is wrong. The best Mr. Trump can do is preside over the bankruptcy of the United States with some form of rule of law and fairness."
Optimism and hope are good things without a doubt, assuming they are based on factual information or truth. When they are based on lies, and families have let their guard down believing those lies, those families could be hurt (or worse), as a result.
DO NOT MISS: Soon the Fireworks Will Start, then Hell on Earth Follows
INSTAGRAM | FACEBOOK | GOOGLE+ | TWITTER | PINTEREST | STUMBLE UPON | TUMBLR
CHECK OUT THE NEW GOOGLE+ PAGE!
For those of you who are finally starting to realize there is major trouble on the horizon, largely as a result of the corruption within our own government and the 2016 election, the failure of the U.S. Dollar and Western banks, deteriorating conditions here domestically, or perhaps even because of nuclear tensions reaching all new heights, then I suggest you get your FREE GUIDE for how to survive Martial Law here, because if/when things begin to go south, by then it will be too late to do anything about it.
DO NOT MISS: We Are on the Brink of World War; Americans Totally Clueless
For anyone with no idea where to begin making preparations, a very good, and very inexpensive tool to teach you how and what you should be preparing, is a book called "Conquering the Collapse." Since I've practically worn out my own iPad reading my copy, in the following link I provide you with a review of the book: Be Ready For Any Emergency – The Crucial Guide For Any Family's Safety (Videos).
If you do nothing else, you can learn more about the coming crisis in the links at the bottom under the heading titled, "If nothing else, these links are essential." The writing is on the wall everywhere… I strongly suggest checking out the post titled, Start "Doubling Up On Your Prepping;" Countdown to Economic Collapse.
Tens of millions of Americans are completely convinced that we are heading into a new golden era for America just because Donald Trump won the election, and for the sake of the nation let us hope that they are correct.
But what if they are wrong?
What if the rioting, violence and civil unrest that the radical left is planning for the Inauguration on January 20th sparks a movement that plunges many of our major cities into chaos throughout Trump's presidency?
What if all of the incredibly bad decisions that were made during the Obama years result in the biggest economic downturn we have ever seen early in the Trump years?
What if Trump's inability to get along with China results in a major trade war between the two largest economies on the entire planet?
DO NOT MISS: China Isolating the U.S. (and U.S. Dollar) From Trade
What if the growing financial instability in Europe results in a new global financial crisis that Trump will not be able to do anything to stop?
I could go on and on, but I think that you get the point.
All of the things that myself and other watchmen have been warning about all this time are coming.
My hope is that the optimists are right and that the horrible events that are coming will be put off for as long as possible.
But I wouldn't count on it.
A day of reckoning for America is fast approaching, and those that are wise understand the signs of the times.
BE SURE TO CHECK THELASTGREATSTAND.COM FOR SURVIVAL GEAR!
FREE DETAILED GUIDE TO SURVIVING ECONOMIC COLLAPSE OR MARTIAL LAW HERE

IF YOU READ NOTHING ELSE, THE FOLLOWING POSTS ARE ESSENTIAL:
Dr. Jim Willlie, Peter Schiff, and Bill Holter: Cracks Forming in Bond Markets (Videos)​
Bill Holter: Every Society Is Only 72 Hours From Pure Anarchy (Video)
Peter Schiff: "Default or Not, U.S. Dollar Is Going to Collapse Either Way" (Video)
Jim Rickards Discusses Looming Shut Down of the Entire US Economy (Video)
Dr. Jim Willie: Worst Bond Crisis in 15 Years, World Quickly Losing Confidence in US
Bill Holter: Between Now and Election Will Be Extremely Dangerous (Video)
Dr. Jim Willie: We Are on the Brink of World War; Americans Totally Clueless - Pt. 1
Dr. Jim Willie: We Are on the Brink of World War; Americans Totally Clueless - Pt. 2
Bill Holter: Newly Solidified Chinese Superpower Will Replace Dead U.S. Dollar (Interview)
Peter Schiff: Don't Believe the Hype! The Real Economic Fallout From Brexit (Video)
How Will the U.S. Conduct Trade With Worthless U.S. Dollars and No Gold? (Video)
Why Did Illuminated George Soros Liquidate 37% of His Stock to Buy Gold? (Video)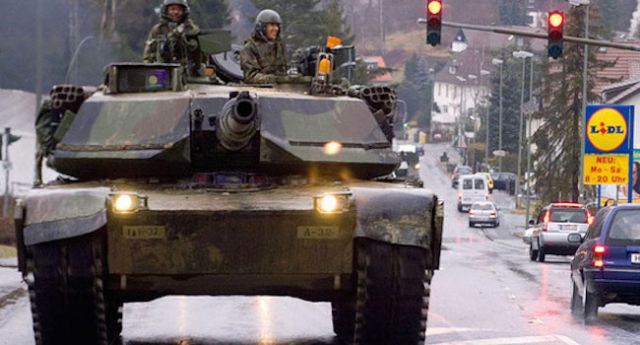 FOR MORE LINKS ON MARTIAL LAW:
Reports of Active U.S. Military Drilling for "Authoritarian Rule of Law" (Martial Law)
U.N. Soldier Says They Will Soon Occupy America: "Going Door-to-Door Taking Guns…"
1,500 Pages of New Documents That Reveal U.S. Government's Martial Law Agenda (Video)
Mainstream Media Blasts Alternative News Personality on FEMA Camps (Videos)
Ron Paul: Undeniable Proof Martial Law Is Coming Because of the Economy (Video)
Virginia Police and Homeland Security Doing Exercises for Marital Law Conditions (Video)
Latest News on Government's Preparing For Civil War or Martial Law (Videos)
Martial Law Convoys Sent to Baton Rouge, Dallas, and St. Paul Before Shootings (Videos)
Pentagon Approves U.N. Use Of Force Against American Civilians (Video)
What Is the U.S. Government Endlessly Preparing For (Videos)
Patriot Films Shocking New Video of a FEMA Camp Recently Discovered in Texas
Major Update to Military Movement and Actual Documentation of Their Plans (Video)
United Nations Troops on U.S. Soil Prepared to Assist With Martial Law? (Videos)
Obama Has Prepared FEMA for All Four Storms… Are You Prepared?
13 States Obama Is Using for His Nefarious Secret Agenda (Video)
Obama: Be Ready For EMP Attacks, Engineered Pandemics, Earthquakes, and Martial Law
How Likely is Martial Law in the US, and What Happens Under Martial Law
Law Enforcement Preparing For Rioting on National Scale (Videos)
All Armed Americans To Be Detained In FEMA Camps Starting In 2017? (Video)
Beware of Martial Law: Obama Will Confiscate Firearms Of All 50 States in 2016
Army Not Prepping for Battle; Training For Riot Control and Martial Law
Pentagon Says Preparing For Huge Civil Unrest in U.S. (Videos)
Political Dissidents Homes Being Marked By FEMA Prior to Martial Law?
Government "Threat List:" 8 Million People To Be Detained Immediately
SUBSCRIBE TO THE TOP STORIES OF THE WEEK IN THE NEWSLETTER HERE
FACEBOOK | GOOGLE+ | TWITTER | PINTEREST | STUMBLE UPON | TUMBLR
FREE GUIDE TO ECONOMIC COLLAPSE OR MARTIAL LAW…
AT THE OFFICIAL BLOG SITE BELOW!
FACEBOOK | GOOGLE+ | TWITTER | PINTEREST | STUMBLE UPON | TUMBLER