If one looks back at the U.S. stock markets reaction since the historic election that was held in November, it's difficult to find a comparable period of euphoria over the last couple of years that matches the one we've seen the last 60 days or so.
With that said, even though optimism is always is a better recipe for success than than pessimism, many have lost touch with "realism," and the end result has been anything but responsible planning on the part of most Americans. Most are too busy enjoying what many have referred to as "Trumphoria."
Make no mistake, a global economic crisis is coming, and it's coming fast, but you have to give credit where credit is due, and this statistic about the U.S. national debt is nothing short of miraculous.
Well done President Trump. Well done indeed.
SUBSCRIBE TO THE TOP STORIES OF THE WEEK IN THE NEWSLETTER HERE
SIGN UP FOR THE AMERICAN INTELLIGENCE NEWSLETTER AT
President Trump has done something that hasn't been done by a president in decades; he started taking his campaign promises seriously. His track record, even during his short tenure in office, has caused a ripple effect across not only the nation, but the world. His leadership has caused foreign diplomats, both friend and foe, to revise how they treat the United States.
While it's true that President Trump is acting like a veritable Chuck Norris of Presidents, to be fair, most of what he's doing is just un-doing. Undoing the "change" that his predecessor so proudly enacted. While it wouldn't take much to show up our illustrious former President, one impressive reversal that President Trump has accomplished has to do with the national debt. Trump's impressive business instincts have kicked into high gear and a little bit of budget tweaking has gone a long way.
When the President took office on January 20th, the US Debt stood at $19,947 billion. On March 8th, about 6 1/2 weeks later, the US Debt stood at $19,879 billion. That means that in under 2 months Trump has lowered the national debt by $68 billion since his inauguration.
Here's a breakdown of the debt decrease.
This is a stark comparison to what President Obama accomplished during his time in office. Between his inauguration and March 8th, 2009 the US Debt burden increased by more than $320 billion. Obama also enacted the trillion-dollar 'Stimulus' bill which, surprise surprise, turned out to be a colossal failure and waste of US tax dollars. Overall, Obama doubled the US deficit during his tenure in office and set new records for the largest debt increase during any presidency.
Here's a comparison chart of Obama's first few weeks in office.
Even if the United States just put it on cruise control, and nothing else changed during the Trump Administration, cleaning up this colossal financial mess that has been made by corrupt politicians who can't seem to balance a checkbook, would be completely worth it. Obama promised us change, and after 8 years that's pretty much all he left us with. Trump promised to make America great again, and this debt decrease is just the beginning of many more great things to come.
How Long Has Trump Been President? http://howlonghasdonaldtrumpbeenpresident.com/ ?
(Source: Gateway Pundit)
BE SURE TO CHECK THELASTGREATSTAND.COM FOR SURVIVAL GEAR!
FREE DETAILED GUIDE TO SURVIVING ECONOMIC COLLAPSE OR MARTIAL LAW HERE

IF YOU READ NOTHING ELSE, THE FOLLOWING POSTS ARE ESSENTIAL:
Bill Holter: Paper Currencies Approaching Their Real Value: Zero (Video)
Bill Holter: Global Economic System Is Going to Resemble Caveman Times Soon
Peter Schiff: "Default or Not, U.S. Dollar Is Going to Collapse Either Way" (Video)
Jim Rickards Discusses Looming Shut Down of the Entire US Economy (Video)
Dr. Jim Willie: Worst Bond Crisis in 15 Years, World Quickly Losing Confidence in US
Bill Holter: Between Now and Election Will Be Extremely Dangerous (Video)
Dr. Jim Willie: We Are on the Brink of World War; Americans Totally Clueless - Pt. 1
Dr. Jim Willie: We Are on the Brink of World War; Americans Totally Clueless - Pt. 2
Bill Holter: Newly Solidified Chinese Superpower Will Replace Dead U.S. Dollar (Interview)
Peter Schiff: Don't Believe the Hype! The Real Economic Fallout From Brexit (Video)
How Will the U.S. Conduct Trade With Worthless U.S. Dollars and No Gold? (Video)
Why Did Illuminated George Soros Liquidate 37% of His Stock to Buy Gold? (Video)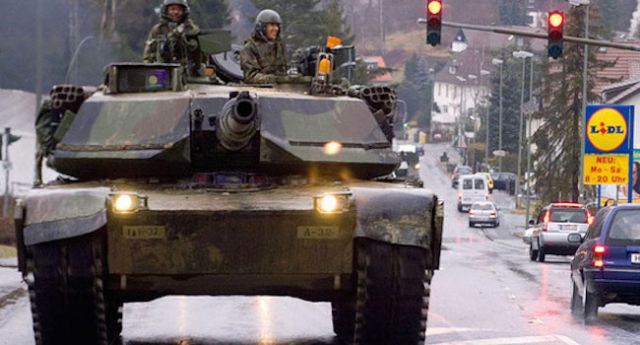 FOR MORE LINKS ON MARTIAL LAW:
Reports of Active U.S. Military Drilling for "Authoritarian Rule of Law" (Martial Law)
U.N. Soldier Says They Will Soon Occupy America: "Going Door-to-Door Taking Guns…"
1,500 Pages of New Documents That Reveal U.S. Government's Martial Law Agenda (Video)
Mainstream Media Blasts Alternative News Personality on FEMA Camps (Videos)
Ron Paul: Undeniable Proof Martial Law Is Coming Because of the Economy (Video)
Virginia Police and Homeland Security Doing Exercises for Marital Law Conditions (Video)
Latest News on Government's Preparing For Civil War or Martial Law (Videos)
Martial Law Convoys Sent to Baton Rouge, Dallas, and St. Paul Before Shootings (Videos)
Pentagon Approves U.N. Use Of Force Against American Civilians (Video)
What Is the U.S. Government Endlessly Preparing For (Videos)
Patriot Films Shocking New Video of a FEMA Camp Recently Discovered in Texas
Major Update to Military Movement and Actual Documentation of Their Plans (Video)
United Nations Troops on U.S. Soil Prepared to Assist With Martial Law? (Videos)
Obama Has Prepared FEMA for All Four Storms… Are You Prepared?
13 States Obama Is Using for His Nefarious Secret Agenda (Video)
Obama: Be Ready For EMP Attacks, Engineered Pandemics, Earthquakes, and Martial Law
How Likely is Martial Law in the US, and What Happens Under Martial Law
Law Enforcement Preparing For Rioting on National Scale (Videos)
All Armed Americans To Be Detained In FEMA Camps Starting In 2017? (Video)
Beware of Martial Law: Obama Will Confiscate Firearms Of All 50 States in 2016
Army Not Prepping for Battle; Training For Riot Control and Martial Law
Pentagon Says Preparing For Huge Civil Unrest in U.S. (Videos)
Political Dissidents Homes Being Marked By FEMA Prior to Martial Law?
Government "Threat List:" 8 Million People To Be Detained Immediately
SUBSCRIBE TO THE TOP STORIES OF THE WEEK IN THE NEWSLETTER HERE
FACEBOOK | GOOGLE+ | TWITTER | PINTEREST | STUMBLE UPON | TUMBLR
FREE GUIDE TO ECONOMIC COLLAPSE OR MARTIAL LAW…
AT THE OFFICIAL BLOG SITE BELOW!
FACEBOOK | GOOGLE+ | TWITTER | PINTEREST | STUMBLE UPON | TUMBLER