After Donald Trump's surprise presidential victory, and the stock market's performance since that victory, many Americans are convinced that somehow decades worth of awful monetary policy will somehow be fixed during a Trump presidency.
It's not the fault of ordinary Americans that they don't understand a global collapse of epic proportions is coming. It's the fault of a corrupt and dishonest mainstream media that the American people rely on, an institution that they should be able to trust, but one that has become ridiculously politicized in recent years.
As I've said in many recent posts, the mainstream media is far too interested in making up "fake news" about Donald Trump, to devote their resources to anything of importance that might actually be happening in reality…
Why is no one in the mainstream talking about what Donald Trump said back in 2014? He made it very clear back then that "Americans should be preparing for 'Financial Ruin.'" During the time that's elapsed since Trump made that comment, the underlying economic concerns that prompted it in the first place have only gotten exponentially worse.
Still, the media insists on lying to the public and pushing the false narrative that the economy is improving, or that we are in a recovery of some type. The fact that equity markets are at all-time highs right now is NOT a good sign, but rather it's indicative of the problem, but by the time people realize what's happening, it will be like 2008 all over again, only far, far worse. Families that aren't aren't already broke, will be utterly wiped out financially.
As I said in a recent post post titled, You Are Never Going to Believe What Is Sold Out in America, all the proof you need to realize how misinformed the American public is, can be evidenced by the fact that one of nation's highest end retailers, Nordstrom's, sold out nationally this past Christmas on one of their red hot new items: An $85 Pet Rock that comes with matching leather pants.
An $85 Pet Rock. Are you kidding? I can't help but wonder, how many people who actually paid $85 for a pet rock already have emergency food and supplies for their loves ones for if/when the economy does crash? Thanks to lying politicians, and our corrupt media, based on the fact that the giant retailer sold out of the item nationally, plenty of families have pet rocks with leather pants in the event an emergency strikes! Whew!
Does that sound like a nation bracing for the massive economic crisis Bill Holter, one of the world's leading forensic economists, talks about during the interview below? Furthermore, does it sound like Americans have any idea that the current U.S. stock market is one of the most overvalued markets in U.S. history, as the article afterward from Investment Research Dynamics reports? Hardly.
It's not too late to begin preparing, and after listening to what Bill Holter has to say about he future of the U.S. Dollar, hopefully people will begin taking the threat more seriously.
SUBSCRIBE TO THE TOP STORIES OF THE WEEK IN THE NEWSLETTER HERE
FOR MORE NEWS BY VOICE OF REASON CLICK HERE!
Investment Research Dynamics writes:
I find it to be mind-blowing when financial advisors and stock market gurus get in bubblevision or write Seeking Alpha articles and assert that the stock market is good "relative" value right now. They are either dishonest, unethical or just stupid. Likely a combination of all three in varying degrees.
Here's a chart with which everyone is familiar:
Based on that graphic, it looks like the current stock market is only the third most overvalued in history, right? WRONG.
The problem comparing the current p/e ratio of the S&P 500 with that of previous stock bubble tops is that the accounting used to produce the "e" is not comparable. Over time, FASB and the SEC have colluded to make it easier for companies to hide losses and report non-cash income as GAAP cash flow and earnings..
As an example, in 2010 FASB issued a bulletin which changed the way big Wall Street banks were allowed to account for bonds and other forms of debt issued by others that are held as assets. Originally, banks had to market their bond/debt/loan holdings to market and accrue any market to market gains or losses at quarter-end as either income or expense. FASB decided to let banks classify any and all debt as "hold-to-maturity," and allowed banks to hold this debt at face (maturity) value without ever marking to market. Any debt that was marked below maturity value (par value) could be marked up to par and moved into a "held to maturity" account. By doing this, the banks created non-cash gains in these holdings that was counted as income. Banks hold $100's of billions in bonds/loans and, starting in 2011, this rule change allowed banks to create billions in phantom, non-cash income. This of course translates into lower p/e ratios.
There's several areas of accounting over the years that have accomplished a similar feat for all publicly traded companies. The problem is that it has rendered p/e ratios over time incomparable. Of course, NO ONE points out this fact and certainly any Wall Street analyst would be fired if they went on a truth tirade. The bottom line is that, looking at the p/e ratio graph above, we don't know how the current p/e ratio for the SPX compares with the p/e ratios at the market peaks in 2007 and 2000 and 1929.
What we do know is that the current p/e ratio is significantly understated relative to the p/e ratios in 2007 in 2000 because earnings are overstated relative to those years because of the accounting gimmicks that enable companies to boost GAAP non-cash earnings. It could be that the current p/e ratio is the highest on record if we could make an "apples to apple" comparison of p/e ratios across time. In fact, I would assert that applying standardized GAAP across time would prove that the current market is more overvalued than at any time in U.S. history.
The above analysis is an excerpt from my latest issue of the Short Seller's Journal. In this issue I presented two retail stock ideas for shorting. One of them was down 3.7% today and the other was down just under 1%. In the past couple of issues I have explained in detail why the retail sector is short opportunity right now. But that window will close quickly as more companies do what happened to Macy's and Kohl's last week. You can get more details on the SSJ and subscribe clicking on this link: Short Seller's Journal.
BE SURE TO CHECK THELASTGREATSTAND.COM FOR SURVIVAL GEAR!
FREE DETAILED GUIDE TO SURVIVING ECONOMIC COLLAPSE OR MARTIAL LAW HERE

IF YOU READ NOTHING ELSE, THE FOLLOWING POSTS ARE ESSENTIAL:
Bill Holter: Global Economic System Is Going to Resemble Caveman Times Soon
Peter Schiff: "Default or Not, U.S. Dollar Is Going to Collapse Either Way" (Video)
Jim Rickards Discusses Looming Shut Down of the Entire US Economy (Video)
Dr. Jim Willie: Worst Bond Crisis in 15 Years, World Quickly Losing Confidence in US
Bill Holter: Between Now and Election Will Be Extremely Dangerous (Video)
Dr. Jim Willie: We Are on the Brink of World War; Americans Totally Clueless - Pt. 1
Dr. Jim Willie: We Are on the Brink of World War; Americans Totally Clueless - Pt. 2
Bill Holter: Newly Solidified Chinese Superpower Will Replace Dead U.S. Dollar (Interview)
Peter Schiff: Don't Believe the Hype! The Real Economic Fallout From Brexit (Video)
How Will the U.S. Conduct Trade With Worthless U.S. Dollars and No Gold? (Video)
Why Did Illuminated George Soros Liquidate 37% of His Stock to Buy Gold? (Video)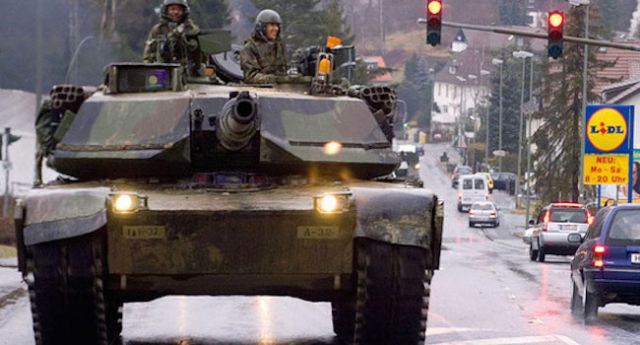 FOR MORE LINKS ON MARTIAL LAW:
Reports of Active U.S. Military Drilling for "Authoritarian Rule of Law" (Martial Law)
U.N. Soldier Says They Will Soon Occupy America: "Going Door-to-Door Taking Guns…"
1,500 Pages of New Documents That Reveal U.S. Government's Martial Law Agenda (Video)
Mainstream Media Blasts Alternative News Personality on FEMA Camps (Videos)
Ron Paul: Undeniable Proof Martial Law Is Coming Because of the Economy (Video)
Virginia Police and Homeland Security Doing Exercises for Marital Law Conditions (Video)
Latest News on Government's Preparing For Civil War or Martial Law (Videos)
Martial Law Convoys Sent to Baton Rouge, Dallas, and St. Paul Before Shootings (Videos)
Pentagon Approves U.N. Use Of Force Against American Civilians (Video)
What Is the U.S. Government Endlessly Preparing For (Videos)
Patriot Films Shocking New Video of a FEMA Camp Recently Discovered in Texas
Major Update to Military Movement and Actual Documentation of Their Plans (Video)
United Nations Troops on U.S. Soil Prepared to Assist With Martial Law? (Videos)
Obama Has Prepared FEMA for All Four Storms… Are You Prepared?
13 States Obama Is Using for His Nefarious Secret Agenda (Video)
Obama: Be Ready For EMP Attacks, Engineered Pandemics, Earthquakes, and Martial Law
How Likely is Martial Law in the US, and What Happens Under Martial Law
Law Enforcement Preparing For Rioting on National Scale (Videos)
All Armed Americans To Be Detained In FEMA Camps Starting In 2017? (Video)
Beware of Martial Law: Obama Will Confiscate Firearms Of All 50 States in 2016
Army Not Prepping for Battle; Training For Riot Control and Martial Law
Pentagon Says Preparing For Huge Civil Unrest in U.S. (Videos)
Political Dissidents Homes Being Marked By FEMA Prior to Martial Law?
Government "Threat List:" 8 Million People To Be Detained Immediately
SUBSCRIBE TO THE TOP STORIES OF THE WEEK IN THE NEWSLETTER HERE
FACEBOOK | GOOGLE+ | TWITTER | PINTEREST | STUMBLE UPON | TUMBLR
FREE GUIDE TO ECONOMIC COLLAPSE OR MARTIAL LAW…
AT THE OFFICIAL BLOG SITE BELOW!
FACEBOOK | GOOGLE+ | TWITTER | PINTEREST | STUMBLE UPON | TUMBLER