Many Americans tend to regard their pension funds as 'untouchable' and are counting on it to support them through their retirement years. This is a mistake, because American pension funds are a ticking time bomb that could collapse any moment. Nearly all of them are woefully underfunded, to the tune of $1.9 trillion, compared to $292 billion in 2007. That's a more than fivefold increase in just 10 years.
In the following video, Right Wing News looks at the dismal state of pensions in the United States and asks, just how much longer can this continue? Already cracks are showing, as seen in the case of the Dallas Police and Fire Pension system. By the way, that $1.9 trillion in unfunded liabilities? Those are using highly optimistic assumed rates of return, if something a bit closer to Treasury yields were used, that figure would be closer to $6.0 trillion. Plus, given how exposed pension funds are to the stock market, when the market corrects itself, which is already happening, we may witness a mass implosion of pension funds all around the nation.
SUBSCRIBE TO THE TOP STORIES OF THE WEEK IN THE NEWSLETTER HERE
SIGN UP FOR THE AMERICAN INTELLIGENCE NEWSLETTER AT
Are millions of Americans about to see the big, juicy pensions that they were counting on to fund their golden years go up in flames in the biggest financial disaster in U.S. history? When Bloomberg published an editorial entitled "Pension Crisis Too Big for Markets to Ignore", it simply confirmed what a lot of people already knew to be true. Pension funds all over America are woefully underfunded, and they have been pouring mind boggling amounts of money into very risky investments such as Internet stocks and commercial mortgages. Just like with subprime mortgages in 2008, this is a crisis that everyone can see coming well in advance, and yet nothing is being done about it.
DO NOT MISS: Trump Facing a Looming Government Shutdown He May Not Be Able To Stop (Video)
On a day to day basis, Americans generally don't think very much about pensions. Most of those that have been promised pensions simply have faith that they will be there when they need them.
Unfortunately, the truth is that pension plans all over the country are severely underfunded, and this has already resulted in local fiascos such as the one that we just witnessed in Dallas.
But what happened in Dallas is just the very small tip of a very large iceberg. According to Bloomberg, unfunded pension obligations on a national basis "have risen to $1.9 trillion from $292 billion since 2007″…
As was the case with the subprime crisis, the writing appears to be on the wall. And yet calamity has yet to strike. How so? Call it the triumvirate of conspirators – the actuaries, accountants and their accomplices in office. Throw in the law of big numbers, very big numbers, and you get to a disaster in a seemingly permanent state of making. Unfunded pension obligations have risen to $1.9 trillion from $292 billion since 2007.
And of course that $1.9 trillion number is not actually the real number.
That same Bloomberg article goes on to admit that if honest math was being used that the real number would actually be closer to 6 trillion dollars…
So why not just flip the switch and require truth and honesty in public pension math? Too many cities and potentially states would buckle under the weight of more realistic assumed rates of return. By some estimates, unfunded liabilities would triple to upwards of $6 trillion if the prevailing yields on Treasuries were used. That would translate into much steeper funding requirements at a time when budgets are already severely constrained. Pockets of the country would face essential public service budgets being slashed to dangerous levels.
So where are all of these pensions eventually going to come up with 6 trillion dollars
That is a very good question.
Ultimately, even if financial conditions stay as stable as they are right now, a whole lot of people are not going to get the money that they were promised.
DO NOT MISS: Dr. Jim Willie: Top 10 Risks to the U.S. Dollar (Interview)
But things will get really "interesting" if we see a major downturn in the financial markets. According to Dave Kranzler, if the stock market were to fall by 10 percent or more and stay there for a number of months, that "would cause every single public pension fund to blow up". And Kranzler is also deeply concerned about the tremendous amount of exposure that these pension funds have to commercial mortgages…
Circling back to the mall/REIT ticking time-bomb, while the Fed can keep the stock market propped up as means of preventing an immediate nuclear melt-down in U.S. pensions (all of which are substantially "maxed-out" in their mandated equities allocation), the collapse of commercial mortgage-back securities (CMBS) will have the affect of launching a nuclear sub-missile directly into the side of the U.S. financial system.
DO NOT MISS: Peter Schiff: "Default or Not, U.S. Dollar Is Going to Collapse Either Way"
The commercial mortgage market is about $3 trillion, of which about $1 trillion has been packaged into asset-backed securities and stuffed into yield-starved pension funds. Without a doubt, the same degree of fraud of has been used to concoct the various tranches in these CMBS trusts that was employed during the mid-2000's mortgage/housing bubble, with full cooperation of the ratings agencies then and now. Just like in 2008, with the derivatives that have been layered into the mix, the embedded leverage in the commercial mortgage/CMBS/REIT model is the financial equivalent of the Fukushima nuclear power plant collapse.
I have previously talked about the ongoing retail apocalypse in the United States which threatens to make so many of these commercial mortgage securities go bad. It is being projected that somewhere around 3,500 stores will close in the months ahead, and this is going to absolutely devastate mall owners. In turn, it is inevitable that a lot of their debts will start to go bad, and pension funds will be hit extremely hard by this.
DO NOT MISS: Economic Recovery? No, Get Ready For the Retail Apocalypse (Video)
But the coming stock market crash is going to hit pension funds even harder. Stocks are ridiculously overvalued right now, and if they simply return to "normal valuations", pension funds are going to lose trillions of dollars.
We are talking about a financial tsunami that will be absolutely unprecedented in our history, and yet investors continue to act like the party can last forever. In fact, we just learned that margin debt on Wall Street has just hit another brand new record high…
The latest data from the New York Stock Exchange show margin debt, or cash borrowed to buy shares, hit a record $528.2 billion in February, up from its prior high of $513.3 billion in January.
Of course my regular readers already know that margin debt also shot up to dramatic peaks just before the last two stock market crashes as well…
Prior periods when margin debt hit records occurred around stock market peaks, including 2000 when the dot-com stock boom went bust, and 2007 when stocks began to crater amid early signs of trouble in the housing market ahead of the 2008 financial crisis.
DO NOT MISS: Bill Holter: Paper Currencies Approaching Their Real Value: Zero
Margin debt jumped 22% from the end of 1999 before peaking in March 2000 at $278.5 billion, the same month stocks peaked. In 2007, margin debt shot up to $381.4 billion in July, three months before stocks topped.
We are perfectly primed for the greatest financial disaster in American history, and yet very few people are sounding the alarm.
This massive financial bubble is a ticking time bomb, and when it finally goes off it is going to wipe out virtually every pension fund in the United States.
BE SURE TO CHECK THELASTGREATSTAND.COM FOR SURVIVAL GEAR!
FREE DETAILED GUIDE TO SURVIVING ECONOMIC COLLAPSE OR MARTIAL LAW HERE

IF YOU READ NOTHING ELSE, THE FOLLOWING POSTS ARE ESSENTIAL:
Dr. Jim Willie Interview: Top 10 Risks to the U.S. Dollar (Video)
Bill Holter: Paper Currencies Approaching Their Real Value: Zero (Video)
Bill Holter: Global Economic System Is Going to Resemble Caveman Times Soon
Peter Schiff: "Default or Not, U.S. Dollar Is Going to Collapse Either Way" (Video)
Jim Rickards Discusses Looming Shut Down of the Entire US Economy (Video)
Dr. Jim Willie: Worst Bond Crisis in 15 Years, World Quickly Losing Confidence in US
Bill Holter: Between Now and Election Will Be Extremely Dangerous (Video)
Dr. Jim Willie: We Are on the Brink of World War; Americans Totally Clueless - Pt. 1
Dr. Jim Willie: We Are on the Brink of World War; Americans Totally Clueless - Pt. 2
Bill Holter: Newly Solidified Chinese Superpower Will Replace Dead U.S. Dollar (Interview)
Peter Schiff: Don't Believe the Hype! The Real Economic Fallout From Brexit (Video)
How Will the U.S. Conduct Trade With Worthless U.S. Dollars and No Gold? (Video)
Why Did Illuminated George Soros Liquidate 37% of His Stock to Buy Gold? (Video)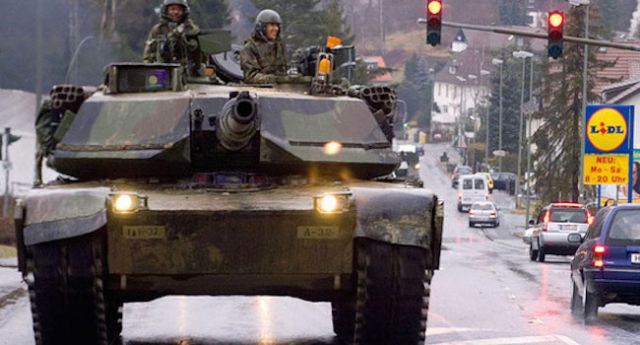 FOR MORE LINKS ON MARTIAL LAW:
Reports of Active U.S. Military Drilling for "Authoritarian Rule of Law" (Martial Law)
U.N. Soldier Says They Will Soon Occupy America: "Going Door-to-Door Taking Guns…"
1,500 Pages of New Documents That Reveal U.S. Government's Martial Law Agenda (Video)
Mainstream Media Blasts Alternative News Personality on FEMA Camps (Videos)
Ron Paul: Undeniable Proof Martial Law Is Coming Because of the Economy (Video)
Virginia Police and Homeland Security Doing Exercises for Marital Law Conditions (Video)
Latest News on Government's Preparing For Civil War or Martial Law (Videos)
Martial Law Convoys Sent to Baton Rouge, Dallas, and St. Paul Before Shootings (Videos)
Pentagon Approves U.N. Use Of Force Against American Civilians (Video)
What Is the U.S. Government Endlessly Preparing For (Videos)
Patriot Films Shocking New Video of a FEMA Camp Recently Discovered in Texas
Major Update to Military Movement and Actual Documentation of Their Plans (Video)
United Nations Troops on U.S. Soil Prepared to Assist With Martial Law? (Videos)
Obama Has Prepared FEMA for All Four Storms… Are You Prepared?
13 States Obama Is Using for His Nefarious Secret Agenda (Video)
Obama: Be Ready For EMP Attacks, Engineered Pandemics, Earthquakes, and Martial Law
How Likely is Martial Law in the US, and What Happens Under Martial Law
Law Enforcement Preparing For Rioting on National Scale (Videos)
All Armed Americans To Be Detained In FEMA Camps Starting In 2017? (Video)
Beware of Martial Law: Obama Will Confiscate Firearms Of All 50 States in 2016
Army Not Prepping for Battle; Training For Riot Control and Martial Law
Pentagon Says Preparing For Huge Civil Unrest in U.S. (Videos)
Political Dissidents Homes Being Marked By FEMA Prior to Martial Law?
Government "Threat List:" 8 Million People To Be Detained Immediately
SUBSCRIBE TO THE TOP STORIES OF THE WEEK IN THE NEWSLETTER HERE
FACEBOOK | GOOGLE+ | TWITTER | PINTEREST | STUMBLE UPON | TUMBLR
FREE GUIDE TO ECONOMIC COLLAPSE OR MARTIAL LAW…
AT THE OFFICIAL BLOG SITE BELOW!
FACEBOOK | GOOGLE+ | TWITTER | PINTEREST | STUMBLE UPON | TUMBLER