The Dow breaks 20,000 and everyone is excited so why are stores like J.C. Penny and Sears getting close to bankruptcy and Family Christian Stores closing completely after 85 years?
In the following video, Right Wing News questions why mainstream media refuses to report on the obvious pending doom to the US economy and becomes a little unhinged in his discussion.
Is this the beginning of the end?
SUBSCRIBE TO THE TOP STORIES OF THE WEEK IN THE NEWSLETTER HERE
J.C. Penney and Family Christian Stores are the latest retail giants to announce widespread store closings. As you will see below, J.C. Penney plans to close between 130 and 140 stores, and Family Christian is closing all of their 240 stores. In recent months the stock market has been absolutely soaring, and so most people have simply assumed that the "real economy" must be doing well. But that is not the case at all. In fact, the retail apocalypse that I have been documenting for quite some time appears to be gaining momentum.
J.C. Penney is not in as rough shape as Sears is just yet, but it is definitely on a similar trajectory. In the end, they are both headed for bankruptcy. That is why it wasn't too much of a surprise when J.C. Penney announced that they are getting rid of about 6,000 workers and closing at least 130 stores…
J.C. Penney (JCP) plans to close 130 to 140 stores and offer buyouts to 6,000 workers as the department-store industry sags in competition with online sellers and nimble niche retailers.
The company said Friday that it would shutter 13% to 14% of its locations and introduce new goods and services aimed at the shifting preferences of its customer base.
Meanwhile, many observers were quite surprised when Family Christian Stores decided to fold up shop for good. They were known as the largest Christian retailer on the entire planet, but now after 85 years they are going out of business forever…
Family Christian, which bills itself as the "world's largest retailer of Christian-themed merchandise," announced Thursday it is closing after 85 years.
The non-profit company, employing more than 3,000 people in 240 stores in 36 states, said in a brief statement that the retailer had been facing declining sales since filing for bankruptcy protection in 2015 and had no choice but to shut down.
These two announcements are part of larger trend that we have been witnessing all over the country. As I have documented previously, Macy's announced that it would be closing 100 stores earlier this year, and about the same time Sears said that it would be closing another 150 stores.
Back in 2010, Sears had a staggering 3,555 stores.
Before their recent announcement, Sears was down to 1,503 stores, and now this latest round of cuts will leave them with somewhere around 1,350.
Of course it won't be too long before Sears has zero stores, and my regular readers know that I have been talking about the demise of Sears for a very long time.
The cold, hard truth of the matter is that the "real economy" is a total mess, and that is one of the primary reasons why these ridiculous stock market valuations that we are seeing right now are not sustainable.
One expert that agrees with my assessment is former Reagan Administration White House Budget Director David Stockman. In a recent interview, he explained why he believes that "everything will grind to a halt" after March 15th…
Stockman, who wrote a book titled "Trumped" predicting a Trump victory in 2016, says, "I don't think there is a snowball's chance in the hot place that's going to happen. This is delusional. This is the greatest suckers' rally of all time. It is based on pure hopium and not any analysis at all as what it will take to push through a big tax cut. Donald Trump is in a trap. Today the debt is $20 trillion. It's 106% of GDP. . . .Trump is inheriting a built-in deficit of $10 trillion over the next decade under current policies that are built in. Yet, he wants more defense spending, not less. He wants drastic sweeping tax cuts for corporations and individuals. He wants to spend more money on border security and law enforcement. He's going to do more for the veterans. He wants this big trillion dollar infrastructure program. You put all that together and it's madness. It doesn't even begin to add up, and it won't happen when you are struggling with the $10 trillion of debt that's coming down the pike and the $20 trillion that's already on the books."
Then, Stockman drops this bomb and says:
"I think what people are missing is this date, March 15th 2017. That's the day that this debt ceiling holiday that Obama and Boehner put together right before the last election in October of 2015. That holiday expires. The debt ceiling will freeze in at $20 trillion. It will then be law. It will be a hard stop. The Treasury will have roughly $200 billion in cash. We are burning cash at a $75 billion a month rate. By summer, they will be out of cash. Then we will be in the mother of all debt ceiling crises. Everything will grind to a halt. I think we will have a government shutdown. There will not be Obama Care repeal and replace. There will be no tax cut. There will be no infrastructure stimulus. There will be just one giant fiscal bloodbath over a debt ceiling that has to be increased and no one wants to vote for."
In that same interview, Stockman also predicted that "markets will easily correct by 20% and probably a lot more", and he noted the glaring disconnect between current stock prices and how the U.S. economy is actually performing…
"The S&P 500 has been trading at 26 times earnings while earnings have been dropping for the past six or seven quarters. There is no booming recovery coming. There is going to be a recession and there will be no stimulus baton to bail it out. That is the new fact that neither Trump nor the Wall Street gamblers remotely understand."
It is very difficult to argue with Stockman on this.
There are some people out there that seem to think that Donald Trump can miraculously turn the U.S. economy around just because he is Donald Trump.
It doesn't work that way.
We are 20 trillion dollars in debt, and we are currently adding about a trillion dollars a year to that total. There is no possible way that Trump can cut taxes, increase military spending, build a border wall, spend much more on veterans and spend an extra trillion dollars on rebuilding our crumbling infrastructure.
We are flat broke as a nation and there simply is not money available to do everything that Donald Trump wants to do.
So we shall see what happens after March 15th. Unfortunately, I happen to agree with Stockman that economic reality is about to come knocking and Trump and his supporters are about to get a very rude wake up call.
BE SURE TO CHECK THELASTGREATSTAND.COM FOR SURVIVAL GEAR!
FREE DETAILED GUIDE TO SURVIVING ECONOMIC COLLAPSE OR MARTIAL LAW HERE

IF YOU READ NOTHING ELSE, THE FOLLOWING POSTS ARE ESSENTIAL:
Bill Holter: This Is the Biggest Bubble in the History of History
Bill Holter: Paper Currencies Approaching Their Real Value: Zero (Video)
Bill Holter: Global Economic System Is Going to Resemble Caveman Times Soon
Peter Schiff: "Default or Not, U.S. Dollar Is Going to Collapse Either Way" (Video)
Jim Rickards Discusses Looming Shut Down of the Entire US Economy (Video)
Dr. Jim Willie: Worst Bond Crisis in 15 Years, World Quickly Losing Confidence in US
Bill Holter: Between Now and Election Will Be Extremely Dangerous (Video)
Dr. Jim Willie: We Are on the Brink of World War; Americans Totally Clueless - Pt. 1
Dr. Jim Willie: We Are on the Brink of World War; Americans Totally Clueless - Pt. 2
Bill Holter: Newly Solidified Chinese Superpower Will Replace Dead U.S. Dollar (Interview)
Peter Schiff: Don't Believe the Hype! The Real Economic Fallout From Brexit (Video)
How Will the U.S. Conduct Trade With Worthless U.S. Dollars and No Gold? (Video)
Why Did Illuminated George Soros Liquidate 37% of His Stock to Buy Gold? (Video)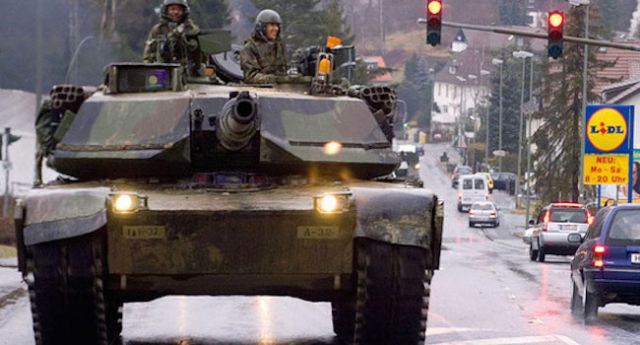 FOR MORE LINKS ON MARTIAL LAW:
Reports of Active U.S. Military Drilling for "Authoritarian Rule of Law" (Martial Law)
U.N. Soldier Says They Will Soon Occupy America: "Going Door-to-Door Taking Guns…"
1,500 Pages of New Documents That Reveal U.S. Government's Martial Law Agenda (Video)
Mainstream Media Blasts Alternative News Personality on FEMA Camps (Videos)
Ron Paul: Undeniable Proof Martial Law Is Coming Because of the Economy (Video)
Virginia Police and Homeland Security Doing Exercises for Marital Law Conditions (Video)
Latest News on Government's Preparing For Civil War or Martial Law (Videos)
Martial Law Convoys Sent to Baton Rouge, Dallas, and St. Paul Before Shootings (Videos)
Pentagon Approves U.N. Use Of Force Against American Civilians (Video)
What Is the U.S. Government Endlessly Preparing For (Videos)
Patriot Films Shocking New Video of a FEMA Camp Recently Discovered in Texas
Major Update to Military Movement and Actual Documentation of Their Plans (Video)
United Nations Troops on U.S. Soil Prepared to Assist With Martial Law? (Videos)
Obama Has Prepared FEMA for All Four Storms… Are You Prepared?
13 States Obama Is Using for His Nefarious Secret Agenda (Video)
Obama: Be Ready For EMP Attacks, Engineered Pandemics, Earthquakes, and Martial Law
How Likely is Martial Law in the US, and What Happens Under Martial Law
Law Enforcement Preparing For Rioting on National Scale (Videos)
All Armed Americans To Be Detained In FEMA Camps Starting In 2017? (Video)
Beware of Martial Law: Obama Will Confiscate Firearms Of All 50 States in 2016
Army Not Prepping for Battle; Training For Riot Control and Martial Law
Pentagon Says Preparing For Huge Civil Unrest in U.S. (Videos)
Political Dissidents Homes Being Marked By FEMA Prior to Martial Law?
Government "Threat List:" 8 Million People To Be Detained Immediately
SUBSCRIBE TO THE TOP STORIES OF THE WEEK IN THE NEWSLETTER HERE
FACEBOOK | GOOGLE+ | TWITTER | PINTEREST | STUMBLE UPON | TUMBLR
FREE GUIDE TO ECONOMIC COLLAPSE OR MARTIAL LAW…
AT THE OFFICIAL BLOG SITE BELOW!
FACEBOOK | GOOGLE+ | TWITTER | PINTEREST | STUMBLE UPON | TUMBLER