The Federal Reserve bears a large portion of the responsibility behind the massive debt-fueled bubble that we are all living in right now. The worst part is that as an independent central bank, the Fed holds itself accountable to no one, and despite its history of massive screw up after massive screw up, the Fed has continued to operate unpunished. Making matters worse, just last week the Federal Reserve decided to raise interest rated again, from 0.75% to 1.00%, in a move that some say could spell disaster for the American economy.
In the following video, Right Wing News looks at why the Fed's interest rate hike was ill-timed. With US GDP growth projections falling, ease of credit is crucial to keep the economy chugging along. The rise of interest rates will also hit those with adjustable rate loans hard at a time when defaults on auto loans are on the rise, recalling the specter of adjustable rate mortgage loans that exacerbated the recession.
Of course, no matter what the Fed does, at some point we are going to have to have to face the consequences of our irresponsible monetary policy. Until then, the debt bubble keeps growing and growing, but it's only a matter of time before it bursts. Furthermore, make no mistake about it, the debt bubble is in search of a pin at this very moment. The question is, will you be prepared when it finds one?
SUBSCRIBE TO THE TOP STORIES OF THE WEEK IN THE NEWSLETTER HERE
CHECK OUT: Aim4Truth.org
The Economic Collapse reports:
Has the Federal Reserve gone completely insane? On Wednesday, the Fed raised interest rates for the second time in three months, and it signaled that more rate hikes are coming in the months ahead. When the Federal Reserve lowers interest rates, it becomes less expensive to borrow money and that tends to stimulate more economic activity. But when the Federal Reserve raises rate, that makes it more expensive to borrow money and that tends to slow down economic activity.
So why in the world is the Fed raising rates when the U.S. economy is already showing signs of slowing down dramatically? The following are 12 reasons why the Federal Reserve may have just made the biggest economic mistake since the last financial crisis…
#1 Just hours before the Fed announced this rate hike, the Federal Reserve Bank of Atlanta's projection for U.S. GDP growth in the first quarter fell to just 0.9 percent. If that projection turns out to be accurate, this will be the weakest quarter of economic growth during which rates were hiked in 37 years.
DO NOT MISS: The Largest Debt Bomb In Human History is About to go BOOM!
#2 The flow of credit is more critical to our economy than ever before, and higher rates will mean higher interest payments on adjustable rate mortgages, auto loans and credit card debt. Needless to say, this is going to slow the economy down substantially…
The Federal Reserve decision Wednesday to lift its benchmark short-term interest rate by a quarter percentage point is likely to have a domino effect across the economy as it gradually pushes up rates for everything from mortgages and credit card rates to small business loans.
Consumers with credit card debt, adjustable-rate mortgages and home equity lines of credit are the most likely to be affected by a rate hike, says Greg McBride, chief analyst at Bankrate.com. He says it's the cumulative effect that's important, especially since the Fed already raised rates in December 2015 and December 2016.
#3 Speaking of auto loans, the number of people that are defaulting on them had already been rising even before this rate hike by the Fed…
The number of Americans who have stopped paying their car loans appears to be increasing — a development that has the potential to send ripple effects through the US economy.
Losses on subprime auto loans have spiked in the last few months, according to Steven Ricchiuto, Mizuho's chief US economist. They jumped to 9.1% in January, up from 7.9% in January 2016.
"Recoveries on subprime auto loans also fell to just 34.8%, the worst performance in over seven years," he said in a note.
#4 Higher rates will likely accelerate the ongoing "retail apocalypse", and we just recently learned that department store sales are crashing "by the most on record".
DO NOT MISS: Economic Recovery? No, Get Ready For the Retail Apocalypse (Video)
#5 We also recently learned that the number of "distressed retailers" in the United States is now at the highest level that we have seen since the last recession.
#6 We have just been through "the worst financial recovery in 65 years", and now the Fed's actions threaten to plunge us into a brand new crisis.
#7 U.S. consumers certainly aren't thriving, and so an economic slowdown will hit many of them extremely hard. In fact, about half of all Americans could not even write a $500 check for an unexpected emergency expense if they had to do so right now.
#8 The bond market is already crashing. Most casual observers only watch stocks, but the truth is that a bond crash almost always comes before a stock market crash. Bonds have been falling like a rock since Donald Trump's election victory, and we are not too far away from a full-blown crisis. If you follow my work on a regular basis you know this is a hot button issue for me, and if bonds continue to plummet I will be writing quite a bit about this in the weeks ahead.
DO NOT MISS: Worst Bond Crisis in 15 Years, World Quickly Losing Confidence in U.S. (Video)
#9 On top of everything else, we could soon be facing a new debt ceiling crisis. The suspension of the debt ceiling has ended, and Donald Trump could have a very hard time finding the votes that he needs to raise it. The following comes from Bloomberg…
In particular, the markets seem to be ignoring two vital numbers, which together could have profound consequences for global markets: 218 and $189 billion. In order to raise or suspend the debt ceiling (which will technically be reinstated on March 16), 218 votes are needed in the House of Representatives. The Treasury's cash balance will need to last until this happens, or the U.S. will default.
The opening cash balance this month was $189 billion, and Treasury is burning an average of $2 billion per day – with the ability to issue new debt. Net redemptions of existing debt not held by the government are running north of $100 billion a month. Treasury Secretary Steven Mnuchin has acknowledged the coming deadline, encouraging Congress last week to raise the limit immediately.
If something is not done soon, the federal government could be out of cash around the beginning of the summer, and this could create a political crisis of unprecedented proportions.
DO NOT MISS: How Will the U.S. Conduct Trade With Worthless U.S. Dollars and No Gold? (Video)
#10 And even if the debt ceiling is raised, that does not mean that everything is okay. It is being reported that U.S. government revenues just experienced their largest decline since the last financial crisis.
BE SURE TO CHECK THELASTGREATSTAND.COM FOR SURVIVAL GEAR!
FREE DETAILED GUIDE TO SURVIVING ECONOMIC COLLAPSE OR MARTIAL LAW HERE
#11 What do corporate insiders know that the rest of us do not? Stock purchases by corporate insiders are at the lowest level that we have seen in three decades…
It's usually a good sign when the CEO of a major company is buying shares; s/he is an insider and knows what's going on, so their confidence is a positive sign.
Well, according to public data filed with the Securities and Exchange Commission, insider buying is at its LOWEST level in THREE DECADES.
In other words, the people at the top of the corporate food chain who have privileged information about their businesses are NOT buying.
DO NOT MISS: What the Super Wealthy Know, But Ordinary Americans Do Not… (Video)
#12 A survey that was just released found that corporate executives are extremely concerned that Donald Trump's policies could trigger a trade war…
As business leaders are nearly split over the effectiveness of Washington's new leadership, they are in unison when it comes to fears over trade and immigration. Nearly all CFOs surveyed are concerned that the Trump administration's policies could trigger a trade war between the United States and China.
A decline in global trade could deepen the economic downturns that are already going on all over the planet. For example, Brazil is already experiencing "its longest and deepest recession in recorded history", and right next door people are literally starving in Venezuela.
After everything that you just read, would you say that the economy is "doing well"?
Of course not.
But after raising rates on Wednesday, that is precisely what Federal Reserve Chair Janet Yellen told the press…
"The simple message is — the economy is doing well." Federal Reserve Chair Janet Yellen said at a news conference. "The unemployment rate has moved way down and many more people are feeling more optimistic about their labor prospects."
However, after she was challenged with some hard economic data by a reporter, Yellen seemed to change her tune somewhat…
Well, look, our policy is not set in stone. It is data- dependent and we're — we're not locked into any particular policy path. Our — you know, as you said, the data have not notably strengthened. I — there's noise always in the data from quarter to quarter. But we haven't changed our view of the outlook. We think we're on the same path, not — we haven't boosted the outlook, projected faster growth. We think we're moving along the same course we've been on, but it is one that involves gradual tightening in the labor market.
Just like in 2008, the Federal Reserve really doesn't understand the economic environment. At that time, Federal Reserve Chair Ben Bernanke assured everyone that there was not going to be a recession, but when he made that statement a recession was actually already underway.
And as I have said before, I wouldn't be surprised in the least if it is ultimately announced that GDP growth for the first quarter of 2017 was negative.
Whether it happens now or a bit later, the truth is that the U.S. economy is heading for a new recession, and the Federal Reserve has just given us a major shove in that direction.
Is the Fed really so clueless about the true state of the economy, or could it be possible that they are raising rates just to hurt Donald Trump?
I don't know the answer to that question, but clearly something very strange is going on…
For those of you who are finally starting to realize there is major trouble on the horizon, largely as a result of the corrupt and seditious acts taking place within our own government, the failure of the U.S. Dollar and Western banks, deteriorating conditions here domestically, or perhaps even because of nuclear tensions reaching all new heights, then I suggest you get your FREE GUIDE for how to survive Martial Law here, because if/when things begin to go south, by then it will be too late to do anything about it.
For anyone with no idea where to begin making preparations, a very good, and very inexpensive tool to teach you how and what you should be preparing, is a book called "Conquering the Collapse." Since I've practically worn out my own iPad reading my copy, in the following link I provide you with a review of the book: Be Ready For Any Emergency – The Crucial Guide For Any Family's Safety (Videos).
If you do nothing else, you can learn more about the coming crisis in the links at the bottom under the heading titled, "If nothing else, these links are essential." The writing is on the wall everywhere… I strongly suggest checking out the post titled, Start "Doubling Up On Your Prepping;" Countdown to Economic Collapse.
BE SURE TO CHECK THELASTGREATSTAND.COM FOR SURVIVAL GEAR!
FREE DETAILED GUIDE TO SURVIVING ECONOMIC COLLAPSE OR MARTIAL LAW HERE

IF YOU READ NOTHING ELSE, THE FOLLOWING POSTS ARE ESSENTIAL:
Economic Recovery? No, Get Ready For the Retail Apocalypse (Video)
Bill Holter: This Is the Biggest Bubble in the History of History
Bill Holter: Paper Currencies Approaching Their Real Value: Zero (Video)
Bill Holter: Global Economic System Is Going to Resemble Caveman Times Soon
Peter Schiff: "Default or Not, U.S. Dollar Is Going to Collapse Either Way" (Video)
Jim Rickards Discusses Looming Shut Down of the Entire US Economy (Video)
Dr. Jim Willie: Worst Bond Crisis in 15 Years, World Quickly Losing Confidence in US
Bill Holter: Between Now and Election Will Be Extremely Dangerous (Video)
Dr. Jim Willie: We Are on the Brink of World War; Americans Totally Clueless - Pt. 1
Dr. Jim Willie: We Are on the Brink of World War; Americans Totally Clueless - Pt. 2
Bill Holter: Newly Solidified Chinese Superpower Will Replace Dead U.S. Dollar (Interview)
Peter Schiff: Don't Believe the Hype! The Real Economic Fallout From Brexit (Video)
How Will the U.S. Conduct Trade With Worthless U.S. Dollars and No Gold? (Video)
Why Did Illuminated George Soros Liquidate 37% of His Stock to Buy Gold? (Video)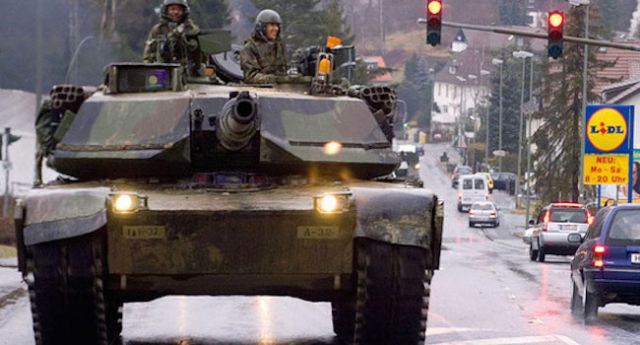 FOR MORE LINKS ON MARTIAL LAW:
Reports of Active U.S. Military Drilling for "Authoritarian Rule of Law" (Martial Law)
U.N. Soldier Says They Will Soon Occupy America: "Going Door-to-Door Taking Guns…"
1,500 Pages of New Documents That Reveal U.S. Government's Martial Law Agenda (Video)
Mainstream Media Blasts Alternative News Personality on FEMA Camps (Videos)
Ron Paul: Undeniable Proof Martial Law Is Coming Because of the Economy (Video)
Virginia Police and Homeland Security Doing Exercises for Marital Law Conditions (Video)
Latest News on Government's Preparing For Civil War or Martial Law (Videos)
Martial Law Convoys Sent to Baton Rouge, Dallas, and St. Paul Before Shootings (Videos)
Pentagon Approves U.N. Use Of Force Against American Civilians (Video)
What Is the U.S. Government Endlessly Preparing For (Videos)
Patriot Films Shocking New Video of a FEMA Camp Recently Discovered in Texas
Major Update to Military Movement and Actual Documentation of Their Plans (Video)
United Nations Troops on U.S. Soil Prepared to Assist With Martial Law? (Videos)
Obama Has Prepared FEMA for All Four Storms… Are You Prepared?
13 States Obama Is Using for His Nefarious Secret Agenda (Video)
Obama: Be Ready For EMP Attacks, Engineered Pandemics, Earthquakes, and Martial Law
How Likely is Martial Law in the US, and What Happens Under Martial Law
Law Enforcement Preparing For Rioting on National Scale (Videos)
All Armed Americans To Be Detained In FEMA Camps Starting In 2017? (Video)
Beware of Martial Law: Obama Will Confiscate Firearms Of All 50 States in 2016
Army Not Prepping for Battle; Training For Riot Control and Martial Law
Pentagon Says Preparing For Huge Civil Unrest in U.S. (Videos)
Political Dissidents Homes Being Marked By FEMA Prior to Martial Law?
Government "Threat List:" 8 Million People To Be Detained Immediately
SUBSCRIBE TO THE TOP STORIES OF THE WEEK IN THE NEWSLETTER HERE
FACEBOOK | GOOGLE+ | TWITTER | PINTEREST | STUMBLE UPON | TUMBLR
FREE GUIDE TO ECONOMIC COLLAPSE OR MARTIAL LAW…
AT THE OFFICIAL BLOG SITE BELOW!
FACEBOOK | GOOGLE+ | TWITTER | PINTEREST | STUMBLE UPON | TUMBLER